Help for clubs, leagues, regions and organisations to support #GameTime.
Run your own Commonwealth Games-inspired basketball event and promote your activities.
Major events like the Commonwealth Games are fantastic moments for the nation to come together and celebrate sporting success and inspire more people to try basketball and be active.
Basketball England's #GameTime campaign aims to capitalise on a rise in awareness of basketball and 3x3 – after it made its debut at Birmingham 2022 – and inspire over 1 million people to engage with, play and support the game.
There are three elements to the campaign:
#TeamEngland – to support the England men's and women's 3x3 and 5v5 teams 
#GetInvolved – to promote the ways people can get involved in basketball, as a player, coach, official, volunteer or fan
#ProjectSwish – to improve local courts and boost playing opportunities.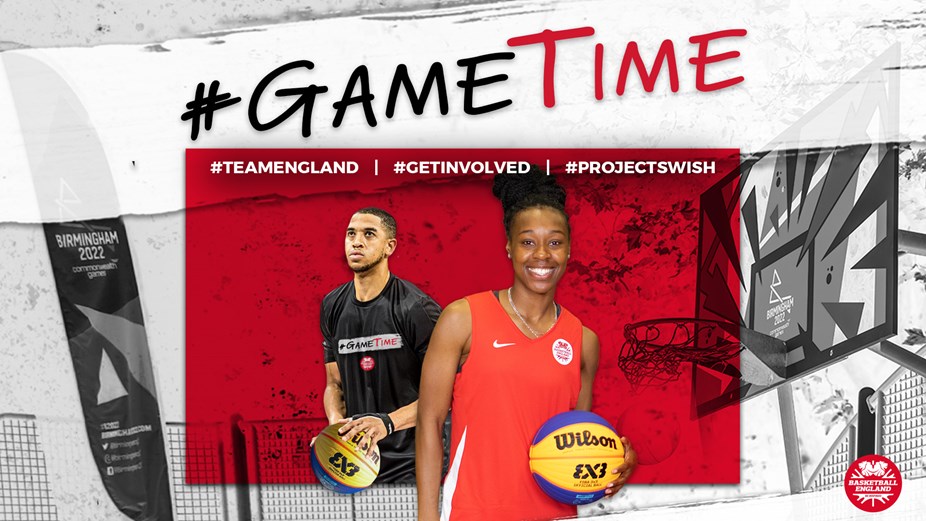 Plan and host your own #GameTime event, promote your activities and get behind Team England!
One of the best ways to show people that they can get involved with basketball – whether 5v5 or 3x3 – is to run a #GameTime event.
Your event could bring together people who know nothing about basketball with those who do. Having face-to-face conversations about the power of basketball can help engage a new and diverse basketball family, by:
Positively engaging with your local community
Exposing a wider audience to the benefits of basketball
Providing further information about basketball through face-to-face conversations
Signposting those interested to basketballengland.co.uk to see all the ways they can get involved
Below are some assets and advice on how your club, region, league or organisation can use #GameTime to promote your events, programmes and activities or host a 3x3 or 5v5 tournament.
Remember, players - even in local events - need to get a free profile on PLAY.FIBA3x3, and you can schedule your event on the easy-to-use FIBA3x3 EVENT MAKER.