It has been a great opening day for England's representatives at the Jr. NBA World Championship Europe Camp in Rogla, Slovenia. The camp will determine the boys and girls teams aged 14 and under that will represent Europe at the Jr. NBA World Championship in Florida this August.
The Jr. NBA World Championship Europe Camp features participants from 17 of the European countries where a Jr. NBA League currently operates, including England. Newham Youngbloods' players Oluwademilade Dada, Tinu Fakunle and Marc Mendoza have all been selected to attend and so far they're giving it their all on the court and loving the experience off it.
"The guys have enjoyed their first day of camp, interacting with nearly 50 players from across the various countries. Tinu, Marc and Demi are doing great and really enjoying being put through their paces on court by the NBA coaches," said Basketball England's Relationship & Coordination Manager Laura Doherty, who is out in Slovenia with the camp. "All three players have got off to a great start and we're excited to see how they fare at the NBA's draft event today."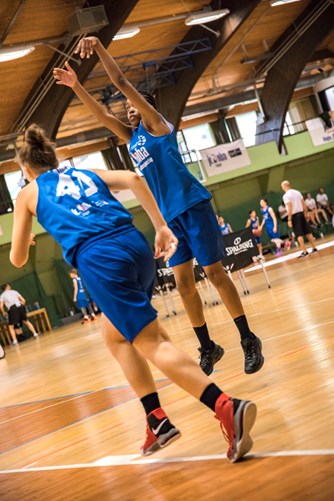 The camp will focus on developing technical and tactical skills in addition to three-on-three and five-on-five competition. The top 10 boys and top 10 girls will then be selected by a committee of coaches and NBA staff to attend the Jr. NBA World Championships at ESPN Wide World of Sports Complex near Orlando, Florida.
Undoubtedly an incredible opportunity for all three players to broaden their horizons as players, the trip is also a chance to see a new part of the world and experience new cultures. "We've tried some local Slovenian food and explored the resort which is very picturesque," said Doherty. "This is a beautiful country and it's great that the players can enjoy this experience for more than just basketball."
The camp will conclude this Friday and we'll have more on how Tinu, Marc and Demi are getting on as the week progresses. With the Jr. NBA Basketball England Leagues continuing to go from strength to strength and with expansion plans already under way, this week's camp and the performance of our players shows just how bright the future is for the sport at this age group.