Basketball England's December national programmes' camps will get underway on 21 December for all Men's squads and on 27 December for all Women's squads.
The camps will be used to select England players for consideration for the GB U18 and U16 teams, as well as the England U15 and U17 programmes. 130 players have been chosen to attend the two camps, with the boys in action on 21 and 22 December, and the girls taking to the floor on 27 and 28 December.
After a hugely successful year for the British teams in 2017, with the under 18 Men securing promotion to Division A, the under 16 boys and under 18 Women finishing 4th in Division B and the under 16 Girls capturing 18th in Division B, there is plenty of hope on the horizon for continued success.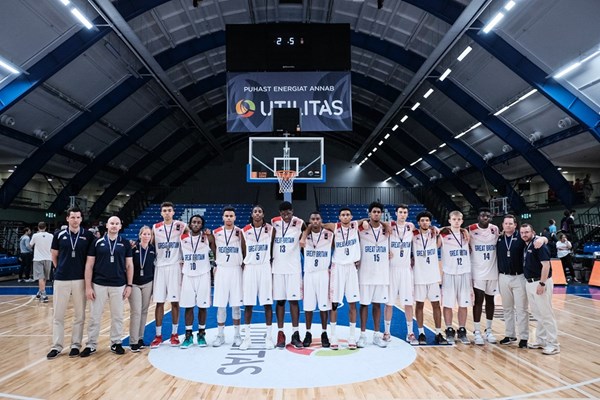 The 2017 GB U18 Men with their silver medals after a 2nd place finish in Tallinn, Estonia - FIBA Europe
The pool of players for selection to reach this stage began at 1,500 during the Regional Development Tournaments (RDTs) earlier this year and thanks must go to the Basketball England regions, clubs, coaches, support staff and parents that have helped players along their journey to reach this stage. 80 players will be chosen from these camps for consideration for the under 15, under 16, under 17 and under 18 programmes, and a selection of players and coaches from both Scotland and Wales have been invited to the upcoming camps to further strengthen the ties between the performance pathways of the home nations.
The players selected to the under 18 Men's side will have the opportunity to take part in the Haris Tournament in Manchester over 27, 28 and 29 December. An invitation tournament run by Greater Manchester Basketball Club, teams from across the world come together for 3 days of high quality basketball and our under 18's will once again be one of the sides involved. For more information on the Haris Tournament, please click here.
The camps will also provide the opportunity for staff development as a workshop has been organised for those in attendance to learn from others within the game. Basketball England's Head of Physiotherapy and Sports Science Paul Fisher and well as Strength and Conditioning lead Duncan Ogilvie will both deliver sessions on Sport Science and Medicine (SSM) and how research from Basketball England's Basketball Development Model (BDM) is being integrated into the Talent Pathway. Guest speakers Mark Bennett and Paul Connolly will also present to National Teams staff, as will England Men's Commonwealth Games Team Manager Mark Lloyd. For more information on the Basketball England BDM, please click here.
Basketball England's Talent Development & Performance Manager Vladan Dragosavac said, "With players and coaches in attendance from the various Home Nations and with the development workshop planned, this is another excellent example of stakeholders within the game working together to improve best practice. On the court, there is an opportunity for all athletes to be seen, challenged and improve. 2017 was the most successful summer ever with regards to results in the FIBA European Championships and more than 92% of players and 93% of staff on those teams were from the Basketball England Talent Pathway. That is a great achievement, but also presents a challenge for us to continue moving forward. This camp is an important step in doing just that. "
Basketball England Board member Steve Bucknall said, "Basketball England is dedicated to helping young players reach their potential. That is why these camps for all 8 of the England programmes are an important step on the Performance Pathway. These players have done amazingly well to reach this stage and we will continue to support all of them along their journey."