Under 15 Boys inter-county tournament
On Sunday 13th May the East Region U15 Boys and Girls Inter-County Tournament was held at the University of Essex Arena. Both tournaments were very well organised and also had a friendly atmosphere. All counties were represented from Hertfordshire, Essex, Suffolk, Bedfordshire, Cambridgeshire and Norfolk. The boys played in the morning and the girls played in the afternoon. Each team would play a number of group games; if they had won enough games they would advance to the semi-final and then final. The boy's final was played by two strong teams from Hertfordshire and Essex, with Essex eventually winning. The girl's final was played by Hertfordshire and Suffolk, with a very talented Suffolk team winning. All players showed an excellent level of basketball, competitiveness and sportsmanship.
In my last article I wrote about my experiences of being the assistant coach for the Hertfordshire U11 and U13 boys teams. I talked about the player talent identification process to play regional basketball. For the U15 tournaments, the same process was used. If you do not know about the process, please give my other article a read.
As mentioned, I was the assistant coach for the Hertfordshire U11 and U13 boy's teams. I thought I was only going to coach these two age groups. I thought wrong. A week before the U15 boys tournament I was asked to be part of the Hertfordshire U15 boys coaching staff. I took the opportunity and was truly excited for the experience. I had already successfully worked with the coaching staff, with the U11 age group. Therefore, it was a great chance for me to develop with the coaches.
I learnt many new skills coaching the U11' and U13's. However, working with the U15's taught me many more. One new skill I developed was the understanding of how to coach different aged players. Coaching different ages meant that I had to seriously change my coaching style, communication with players and how I motivated players. This was a very valuable experience. Furthermore, I learnt how to effectively take in-game statistics, scout opposing teams and give feedback to players.
The Hertfordshire U15 boy's team reached the final. The team was exceptional and I am very proud to have coached them. More importantly, one thing I know I will not forget is the opportunities I have had to coach great players and coach alongside great coaches. I have now been given an opportunity to be the Assistant coach of the EAST region U13 boy's team. I can't wait for another challenge. It is truly amazing how EAST do this for so many people within basketball. Everyone is given an eye-opening opportunity to do something amazing. So get involved now!
Report from Hertfordshire Under 15 Boys' Coach Harry Hughes (pictured below).
Hertfordshire Under 15 Boys Assistant Coach Harry Hughes - Glyn Hughes.
Under 15 Girls inter-county tournament
On Sunday May 13th, U15 girls teams travelled from all over the East Region to play in the U15 Girls Inter-County Tournament. It is always a fantastic and exciting event and provides opportunities to develop as a regional player. It's a friendly yet competitive tournament, and the process of selection means everyone brings their A-game. This always makes for exciting matches and tournaments like these are great for encouraging female sport as well as increasing the number of girls playing basketball. You could see all of this at the tournament.
All of the games on the day were intense and high energy. Everyone playing had a passion for the game. With every girl driven towards an end goal of bringing the title home to their county (as a team) and getting into east (as an individual). It was a great thing to be a part of. Throughout the day matches were played and everyone was playing their best game. There was a supportive environment and it was great for players to meet other players and coaches to meet other coaches. Everyone was there because of their love for basketball. After a day of fighting for a spot in the final, two teams made it - Hertfordshire and Suffolk. Both teams were determined to win and worked hard until the final buzzer, when Suffolk won the game.
After all matches had been played we ended the afternoon with an awards ceremony. Appreciation was given to all players, coaches, supporters, and the people that had organised the day. Of course, then medals were distributed and the shield was passed on to Suffolk, the players selected for east had their names called out. It was a great day and opportunity for all of us girls to develop as players and continue along the Basketball England pathway.
Report from Hertfordshire Under 15 Girls' Player Millie Moore (#6 pictured below).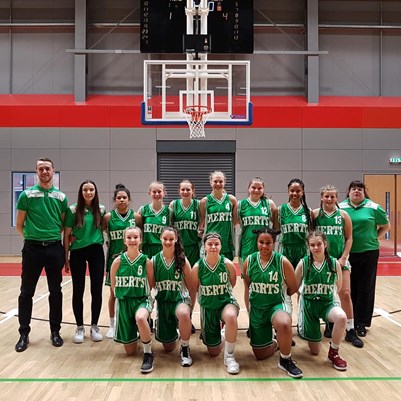 Hertfordshire Under 15 Girls Team - Sarah Moore.