­­Opportunities to improve both on and off the court continue to come thick and fast as the second day of the Jr. NBA World Championship Europe Camp concluded yesterday. Marc Mendoza and Oluwademilade (Demi) Dada from St Bonaventure's School and Tinu Fakunle from St Angela's School are all taking part in the week long NBA camp in Slovenia which will be used to decide the players that will represent Europe at the Jr. NBA World Championship in Florida this August.
The morning's work featured an interactive discussion centred on teamwork, one of the core Jr. NBA values. The group then ran through several high-energy drills focused on offensive concepts and learning the fundamentals through games, such as "dribble tag."
After lunch, while the campers were enjoying a ride on the nearby alpine slide, the coaches conducted a draft to determine the teams who will compete for the remainder of the camp, representing the Boston Celtics, Chicago Bulls, Golden State Warriors, L.A. Lakers, Miami Heat and the San Antonio Spurs. Before breaking into more five on five full court competition in their newly formed teams, the second half of the afternoon saw the campers challenged with various drills aimed at improving their on and off-ball defence.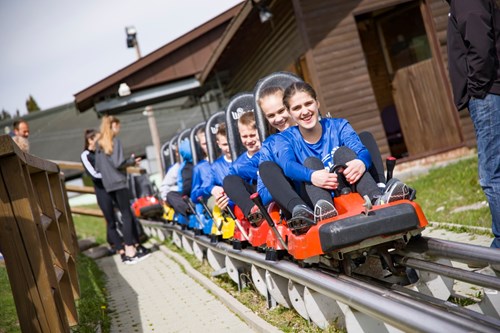 "The players are really getting stuck in and making the most of the experience, they're really keen to absorb as much knowledge as possible from the NBA staff, the coached and their peers," said Basketball England's Relationship & Coordination Manager Laura Doherty. "It's really nice to see them mixing with children from different parts of Europe and learning about their lives back home. It's not just about learning experiences on court, but off the court too."
In the evening, the campers were treated to a torch walk outside to further explore the area around the Rogla Olympic Sports Resort, before getting some well-deserved rest! Today's schedule involves more on court work as well as the opportunity for each player to impress as part of their newly drafted sides in team v team competition.
Any schools interested in being a part of the Jr. NBA in the future can email jr.nba@basketballengland.co.uk to register their interest and learn more about the programme. We'll have more on Marc, Demi and Tinu as the week progresses.