With the Jr. NBA programme well underway for 2018, both the draft events and the early season fixtures have proven to be a huge success.
Jr. NBA Basketball England League drafts were scattered across the calendar in late January with two in London, one in the East, one in the West Midlands and one in Greater Manchester. Last year England was the first country outside America to run the Jr. NBA programme and due to its initial success, the programme has already been expanded. As announced by NBA Commissioner Adam Silver in January 2018, further growth is planned year on year until 2021.
The draft events enabled each school to find out more about the Jr. NBA, take part in competitions for NBA goodies, interact with the other Jr. NBA players and coaches, meet professional basketball players, but most importantly find out which NBA team they would be representing this year. As each team was drawn, young players crossed their fingers and hoped to be kitted out as one of their favourite sides, with the likes of the Golden State Warriors, Cleveland Cavaliers and Boston Celtics high on most people's wish list. Throughout each event, DJs & hosts playing the latest music and commentated on proceedings to make for an amazing atmosphere. Finally, each team an NBA Spalding match ball to use throughout the season.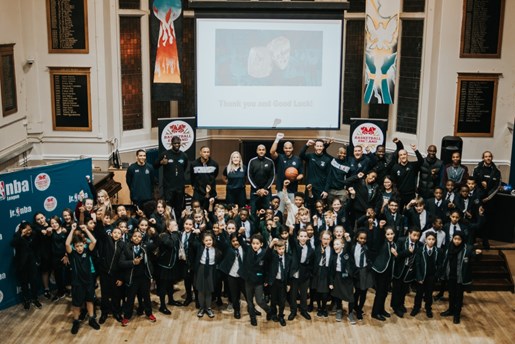 Basketball England's Relationship & Coordination Manager (South) Laura Doherty said, "We're thrilled to see how much of an impact our continued partnership with the NBA is having on young people playing basketball. We know how key that transition from primary to secondary basketball can be and the feedback we're receiving from teachers and students is fantastic"
In total there are 150 teams taking part in this year's programme and each one will be hoping they can make it through to our Finals events where the top teams will face off for a chance be crowned Jr. NBA Champions. Plus, every winning player will receive their very own Jr. NBA Championship ring!
Ian Berry, a teacher from Crest Academy, London said, "The Jr. NBA programme has been great. The kids love every minute and have been inspired to have met some really amazing players!" Sam Edwards from Oasis Academy, Manchester shared a similar sentiment, "As a school we're really pleased to be able to provide the Jr. NBA programme to students. We want to make it a regular fixture each year, the students always love the kit and are excited to start!"
The competition in the early going has been incredible, with so many high quality games taking place and thousands of young children engaging with the programme. Which teams will book their place at the Finals in June? There is still some way to go to find that out, but right now the Jr. NBA is proving to be a big hit across the country.
For further information, please see visit our website: https://www.basketballengland.co.uk/competitions/jr-nba/