The fourth day of the Jr. NBA World Championship Europe Camp tipped off yesterday with optional form shooting exercises which the vast majority of campers elected to take part in. Neal Meyer, NBA Associate Vice President of Basketball Operations in Europe and the Middle East, continued his series of discussions surrounding Jr. NBA values, focusing on sportsmanship and specifically respecting one's opponent and the importance of winning or losing with dignity.
Tinu, Marc and Demi were kept as busy as ever with morning drills on the agenda once again, with a particular focus on dribbling as the coaches continued to challenge the players in attendance. After that came more skill station work to focus on various fundamentals and bring each area of learning together before the morning wrapped with a lively shooting competition.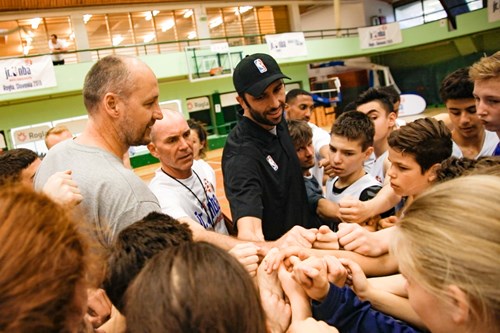 Dino Rada (left in grey), Neal Mayer (centre) and Vladimir Radmanovic (right in black) huddle up at the Jr. NBA World Championship Europe Camp
In the afternoon, the campers were joined by former NBA players Marko Milič (Slovenia), Dino Rađa (Croatia) and Vladimir Radmanović (Serbia), who watched the five on five games and offered advice and encouragement to the players during breaks. Milic spent time with the Phoenix Suns as well as Real Madrid during a decorated playing career, Rada was recently elected to the Basketball Hall of Fame as part of the 2018 class and Radmanović is a 12-year NBA veteran, playing for Golden State, Chicago and the LA Lakers, amongst others. The knowledge they were able to pass on was invaluable and something the campers really gained a lot from.
Vladimir Radmanovic and Dino Rada watch on as the campers play some five on five games
Today is the final of day of camp and competition will be the main focus as the winning boys' and girls' teams will be crowned. Regardless of the outcome, this has been an incredible experience for Tinu Fakunle, Marc Mendoza and Demi Dada, with the three players from Newham Youngbloods making friends as well as pushing their game to the next level. "We have all had the best time and learnt so much here, on and off court," said Tinu. "We have made so many friends and have invitations to stay with players all over Europe!"