Worthing Thunder v Hemel Storm 

NBL Division Two Men Playoff Final - 3:30pm - National Basketball Performance Centre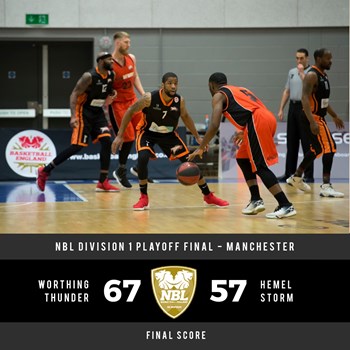 MVP - Marquis Mathis has been announced as the Division One Men Playoff Final MVP, as he led all scorers with 26 points; while adding six rebounds.
FINAL - 67-57 - Worthing Thunder are your NBL Division One Men Playoff champions! 
Q4 0:10 - 67-57 - Jorge Ebanks takes the shot clock violation and this one will be in the books.
Q4 0:35 - 67-57 - Mathis flies through the air for the alley-oop slam in transition - the Thunder fans love it!
Q4 1:03 - 65-57 - Okoronkwo is called for the unsportsmanlike on a transition foul on AJ Roberts; he splits the pair at the foul line. 
Q4 1:37 - 65-54 - Worthing find Mathis at the rim, who gets a crucial bucket to go!
Q4 2:12 - 63-54 - It's getting heated here at the National Basketball Performance Centre! Bodies flying everywhere and the foul is called on Walid Mumuni. Coach Youngblood uses his final timeout to roll the dice here down the stretch!
Q4 4:14 - 61-52 - Tom Ward gets the three to fall as Worthing pull away again!
Q4 5:46 - 54-50 - Van-Beest is fouled on the put-back by Taylor, steps to the foul line and splits the pair.
Q4 7:37 - 54-49 - AJ Roberts has found his stroke! Seven points in a row as he knocks down the triple in the face of Jorge Ebanks... and he lets him know about it! Timeout Worthing as their lead is cut to five.
Q4 8:39 - 54-46 - AJ Roberts glides to the goal for back-to-back point blank lay-ins!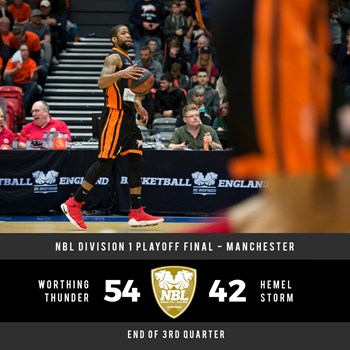 End of Q3 - 54-42 - Marquis Mathis returns the favour and drops in a triple of his own from the corner!
Q3 0:40 - 51-42 - Big triple from Ajumobi cuts the lead to single digits!
Q3 1:35 - 51-39 - David Ajumobi gets the lay-up to go, but Worthing are holding on to their double-digit lead!
Q3 4:56 - 46-30 - Mathis slams one home, then Okoronkwo is left alone for the lay-in! Coach Youngblood takes timeout to talk things over.
Q3 7:32 - 42-30 - Okoronkwo goes behind the back for the nice dime to Taylor for the three!
Q3 9:45 - 39-28 - Worthing get us underway for the second half as Mathis glides to the hoop!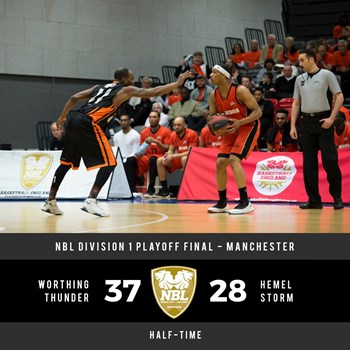 Half-Time - 37-28 - Worthing hold the advantage at the half, behind good play from Marquis Mathis who has 12 points. Zaire Taylor joins him in double figures with 10 points. Darlow paces Hemel with seven points; while AJ Roberts has just two points, held scoreless for the first 18 minutes of the game!
Q2 0:43 - 37-28 - Taylor rattles home the triple as Worthing hold off the Hemel fight back!
Q2 3:01 - 34-24 - Okoronkwo goes flying out of bounds to save the loose ball, Mathis converts on the other end! Hemel need a timeout after that fast break!
Q2 4:21 - 30-24 - End to end action here as the pace isn't letting up!
Q2 7:10 - 25-21 - Hemel are on a roll here as they cut the lead to four via a Bode Adeluola lay-in!
Q2 9:00 - 21-15 - Darlow glides through the lane for two!
Q2 10:00 - 18-13 - Worthing will hope to continue their great defensive effort on AJ Roberts thus far, as he went 0/5 from the floor in the first quarter.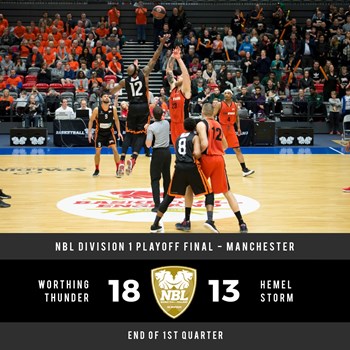 End of Q1 - 18-13 - Hemel come up empty on the final possession of the quarter, the Thunder hold a narrow lead after one!
Q1 1:25 - 18-13 - Van-Beest draws the contact from Ebanks, heads to the line for two; splits the pair.
Q1 2:01 - 18-12 - Tom Ward hits the mid-range pull-up and Worthing are finding their rhythm! Timeout called by Coach Youngblood.
Q1 3:42 - 12-12 - Okoronkwo finds Mathis on the rim run in transition for the lay-in!
Q1 5:08 - 8-10 - Greenan shows his skill with a touch pass back to Adorian who slams it home! Timeout called by Coach Gayle.
Q1 5:53 - 8-8 - Zaire Taylor steps into a triple for his first basket of the game!
Q1 7:55 - 4-6 - Marquis Mathis gets onto the scoreboard with a tough bucket inside.
Q1 9:23 - 0-4 - Hemel draw first blood, first Adorian, then Greenan with lay-ins at the rim!
Q1 10:00 - 0-0 - Mathis wins the tip for the Thunder... we are underway!
Q1 10:00 - 0-0 - For Hemel: Roberts, Adeluola, Adorian, Darlow, Greenan
Q1 10:00 - 0-0 - For Worthing: Ebanks, Okoronkwo, Ward, Taylor, Mathis
Q1 10:00 - 0-0 - The starters are in... we are two minutes away from the Division One Playoff Final!