Essex Blades v Anglia Ruskin University 

NBL Division One Women Playoff Final - 1:15pm - National Basketball Performance Centre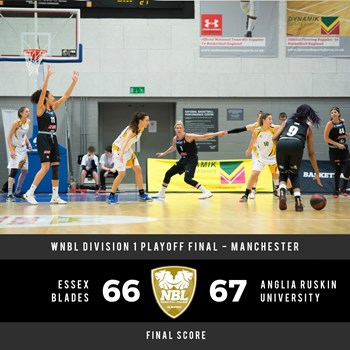 MVP - Katrin Hulme has been announced as the Division One Women Playoff Final MVP, as her game-saving block was the exclamation point on a good overall performance, as she had nine points, nine rebounds, four steals and three blocks.
FINAL - 66-67 - Cat Lutz is blocked on the buzzer and Anglia Ruskin University are your NBL Division One Women Playoff Champions! What a game of basketball!
Q4 5.8 - 66-67 - Gyulai is fouled as she makes the lay-up, steps to the line and converts the and-one! Coach Lloyd takes timeout!
Q4 0:34 - 66-64 - Nadege Talva is fouled on the way to the basket, heads to the foul line... makes the first... misses the second!
Q4 0:38 - 66-63 - Jump ball called... possession arrow favours Anglia Ruskin! Coach Baiocco takes timeout.
Q4 1:20 - 66-63 - Coleen Leung with the BIG triple for the Blades... but Maddaloni responds with a three of her own!
Q4 3:19 - 63-60 - Palacios-Gonzales makes it a three point game as she splashes the triple, then gets the lay-up to fall!
Q4 5:34 - 61-55 - Coach Mark Lloyd uses his first timeout of the contest as the Blades talk things over.
Q4 6:07 - 61-55 - The Blades continue to edge ahead, but Talva cuts the deficit with a nice spin move in the lane!
Q4 9:55 - 54-50 - Koutsourelaki gets us started in the fourth with a triple as Ruskin cut the lead to four!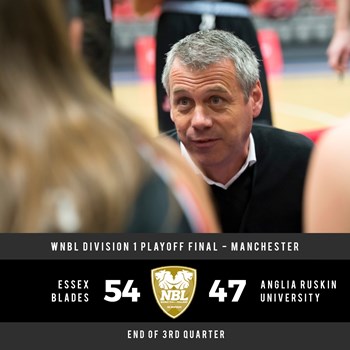 End of Q3 - 54-47 - Anglia Ruskin go on a nice run to end the quarter and cut the deficit to just seven points heading into the final ten minutes!
Q3 1:43 - 53-43 - Maddaloni joins in from behind the arc, as she also gets the three to fall!
Q3 3:56 - 50-39 - Katrin Hulme steps out and shows her range as she gets the triple to drop!
Q3 4:50 - 50-36 - Anglia Ruskin take timeout as Coach Baiocco wants to talk it over.
Q3 7:32 - 47-34 - Talva gets fouled hard; heads to the line and sinks both. The Rhinos have some work to do!
Q3 9:40 - 41-29 - Ellie Shaxon gets the first score of the third quarter, as she gets the score in the post through contact!
Q3 10:00 - 39-29 - Anglia Ruskin get us started for the second half!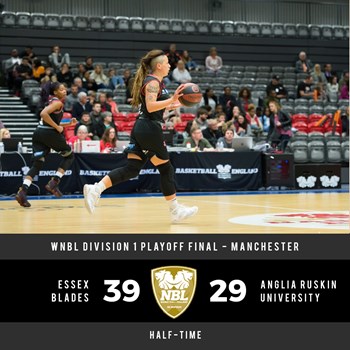 Half-Time - 39-29 - Monika Kucerkova gets the short-corner jump shot to fall on the last play of the half as Essex take their first double-digit lead! Nadege Talva was held scoreless in the second, but still leads her team with 10 points; Cat Lutz paces all scorers with 13 points. 
Q2 0:40 - 37-29 - A nice alley-oop from Anglia Ruskin has Ellie Shaxon reply with a triple from the corner!
Q2 2:31 - 32-26 - A scrappy couple of minutes sees Anglia Ruskin use their second timeout of the first half.
Q2 5:56 - 28-24 - Nice inbound play for Anglia gets Palacios-Gonzales a look from three, which she splashes!
Q2 7:11 - 28-21 - Cat Lutz gets the mid-range pull-up to fall.
Q2 8:42 - 24-21 - Jazmin Gyulai rips the rebound off Karla Powlesland and gets the and-one to fall!
Q2 10:00 - 21-18 - Anglia Ruskin Rhinos get us going in quarter two, chasing the narrow gap!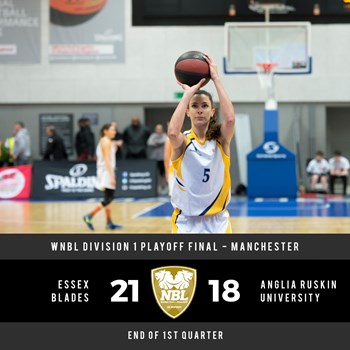 End of Q1 - 21-18 - Balanced first quarter in the Division One Women Playoff Final! Nadege Talva and Cat Lutz have 10 points apiece to lead their teams.
Q1 0:27 - 21-18 - Talva again for two! The Rhinos have been going to her early and often!
Q1 2:38 - 19-14 - Talva continues her good early play as she gets the lefty lay-up to fall!
Q1 5:21 - 18-9 - Back-to-back triples for Ellie Shaxon and Cat Lutz! Anglia Ruskin call timeout to stop the run!
Q1 6:31 - 10-9 - Nice ball movement gets Talva open at the elbow, gets the mid-range to fall.
Q1 7:25 - 7-5 - Shaxon gets the lay-up to fall behind the zone, off a nice feed from Tom. 
Q1 9:23 - 0-2 - Nadege Talva gets us underway with a nice drive to the rim!
Q1 10:00 - 0-0 - For Anglia Ruskin: Palacios-Gonzales, Talva, Gyulai, Maddaloni, Hulme
Q1 10:00 - 0-0 - For Essex: Shaxon, Tom, Powlesland, Leung, Lutz
Q1 10:00 - 0-0 - The starters are on the floor, we are ready to get going!