Ipswich v Derbyshire Gems 

NBL Division Two Women Playoff Final - 2:15pm - National Basketball Performance Centre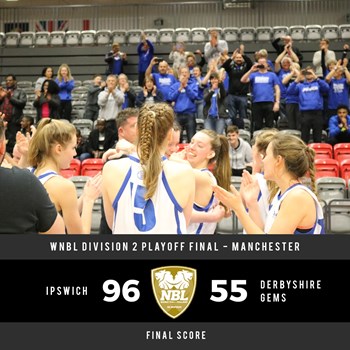 MVP - Harriet Welham is announced as the Division Two Women's Playoff Final MVP; amassing an impressive stat-line of 33 points, six rebounds, three assists and five steals!
FINAL - 96-55 - Ipswich Basketball Club are your Division Two Women Playoff Champions! Congratulations to Coach Nick Drane and the team as they complete a historic season; undefeated in league, cup and playoffs!
Q4 0:13 - 96-55 - Welham adds to her tally with the final basket of the game.
Q4 2:25 - 91-54 - Little with back-to-back buckets from behind the arc!
Q4 3:44 - 88-50 - Esther adds to the triples from deep as Ipswich continue to pile on the points.
Q4 5:45 - 85-48 - Nerea Iniguez drops in a triple of her own, timeout Ipswich as they want to talk things over.
Q4 6:56 - 85-45 - Ipswich go back-to-back-to-back from behind the arc, as Ashleigh Pink and Danni Cazey join in the fun!
Q4 7:48 - 79-41 - With her first basket of the game, Jess Baker drops in a triple that sends the Ipswich crowd into hysterics! 
Q4 9:24 - 76-41 - Jess Baker finds Danni Cazey in transition as Ipswich open up the scoring in the fourth!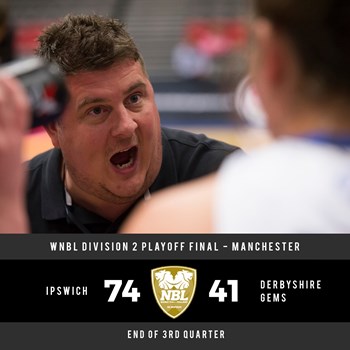 End of Q3 - 74-41 - Kendal James blocked at the rim on the final play of the quarter; Ipswich continue to control the matchup.
Q3 1:41 - 72-36 - Helena Palmer carves out some space inside and gets the shot at the rim to fall.
Q3 4:32 - 68-29 - Maya Price goes coast-to-coast and draws the contact at the rim; splits a pair at the line.
Q3 5:03 - 66-29 - Pink with the touch pass for the Welham lay-up! Pete Kelly calls timeout as the Gems huddle up.
Q3 6:44 - 60-29 - Ipswich Coach Nick Drane calls the first timeout of the second half.
Q3 7:39 - 60-29 - Kendal James gets the long two to fall as Gems continue competing!
Q3 9:46 - 56-27 - Gems on the board first to start the second half as Nerea Iniguez glides in for the lay-up.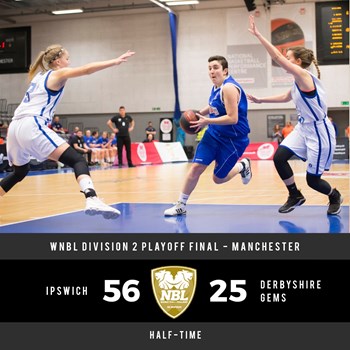 Half-Time - 56-25 - A commanding lead for Ipswich, who are well on their way to ending their historic season on another high! Division Two Women North MVP Harriet Welham has showed her class, as she leads all scorers with 23 points. 
Q2 0:40 - 54-25 - A big block by Maya Price sees a shot clock violation called; Coach Pete Kelly calls his second timeout.
Q2 1:24 - 54-25 - Another great fast break for the Gems sees Ogden add to her tally again; now with 14 points.
Q2 2:14 -52-23 - Iniguez gets the scoop lay-up to fall in transition, as the Gems keep fighting hard.
Q2 4:02 - 49-21 - Esther Little drops in the fast break lay-up for Ipswich, who now hold a commanding lead.
Q2 5:30 - 41-19 - Rachel Campbell gets the lay-up to fall for the Gems; timeout Ipswich as Coach Nick Drane wants to talk it over.
Q2 6:55 - 37-17 - Ogden crosses up a couple of defenders and draws the contact; knocks down both at the line.
Q2 7:50 - 37-15 - Pink grabs the steal and goes coast-to-coast for the assist as Welham gets the lay-in to drop for Ipswich.
Q2 9:33 - 28-15 - Steph Ogden takes her tally for the game to 10 points for the Gems with a triple off the Nerea Iniguez assist.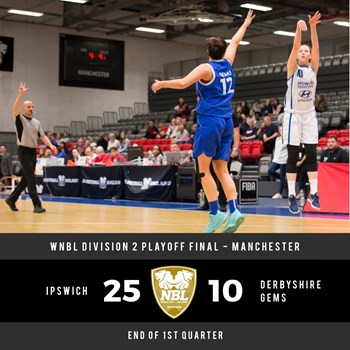 End of Q1 - 25-12 - Danni Cazey comes up short on a lay-up on the final play of the first period, but Ipswich lead after quarter one!
Q1 0:52 - 25-10 - Steph Ogden finds Franky Harper on the break for the lay-in, but Esther Little comes down the other end and splashes a triple for Ipswich!
Q1 2:18 - 19-8 - Kendal James comes up empty on back-to-back drives for the Gems; frustrated by the no call and earns herself a technical foul. Ipswich covert at the foul line.
Q1 4:00 - 13-5 - Offensive foul called on Ashleigh Pink as Ipswich can't take advantage of a couple of bonus possessions off the offensive glass.
Q1 5:16 - 13-3 - Harriet Welham steps into the triple from deep to give Ipswich a double-digit lead! Timeout called by Gem's Coach Pete Kelly.
Q1 8:04 - 7-2 - End-to-end stuff here early on, as Kendal James goes coast-to-coast for the and-one for the Gems first score of the game.
Q1 8:53 - 4-0 - Early calls going Ipswich's way, as Esther Little knocks down two from two at the foul line.
Q1 10:00 - 0-0 - Ipswich win the tip and we are underway in the Division Two Women Playoff Final!