Melita Emanuel-Carr has come a long way from bouncing a ball as a youngster in London's Moberly Sports Centre. Progressing through the National Basketball League, moving to America, representing her country and turning professional, she has always been thankful for the people who have helped her along the way. From her parents and sisters to coaches and teachers, Emanuel-Carr now highlights her own pleasure at passing on her knowledge and experiences to a younger generation.
"When I first started I never knew how far I could potentially go," said the 23-year-old. "Once I started playing for Haringey Angels and I saw the older players playing internationally, it then became a goal of mine." That message is something Emanuel-Carr always wants to pass on to other young players. "I always been enjoying going into schools and basketball clubs to speak to the younger generation about my experience in hopes of inspiring them," she said.
When her own journey first began, it was Emanuel-Carr's mother who got her into playing basketball, but then committed coaches who got her hooked. "My mum works within sport and got me to play lots of different things, including basketball," she recalled. "I started playing after school with Westminster Warriors, working with George Abouba, James Malcom and Che Porteous."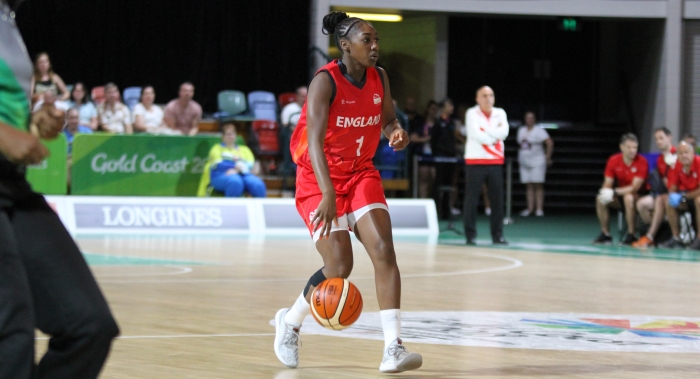 From Westminster, her journey took her to Haringey and then Barking Abbey. Along the way the current GB international has always been able to fall back on the same people when needed. "My parents, family and coaches who have always pushed and encouraged me as I moved through the game. People like Steve Vear, Mark Clark, Lloyd Gardner, Dan Bowmaker and Phil Hayfield all had a real influence on me and I always create goals for myself to keep myself motivated and stay focused."
Like so many others, Emanuel-Carr embraced the opportunity to move to America to progress her game as a young player. She was a 4-year starter at University of Illinois – Chicago Flames but moving away from the people who had supported her was tough, "College basketball in America was a big challenge for me especially in my first year because I was home sick and I found it hard adjusting to my new coach's principals. However, I got a tattoo on my wrist to remind myself that I am here for a reason and to never forget where I came from and how hard I have worked to get where I am today."
Finishing college with a degree in Criminology, Emanuel-Carr set out for a life as a professional player. She currently plays for CABC in France and despite being far from home she never forgets how she got to where she is today, "My parents and my sisters have definitely been the biggest support system for me throughout my career. They not only motivate me, but they also support me to. I also tend to have a vent to them from time to time, but that always helps!"
As is often the case, adversity has only strengthened the young shooters resolve. Now an established member of the Great Britain set up and enjoying a productive club career, Emanuel-Carr's journey has now led her to Australia's Gold Coast and a shot at a medal at the 2018 Commonwealth Games. "It feels amazing to represent my country here in Australia, I'm very honoured and thankful. I'd always say to young players to remember to work hard for days, weeks, months and even years for their one opportunity and right now this is mine." Hopefully this will be another chapter in the West Londoners career that she will be able to use to inspire the young players she speaks to in the future.