The Jr. NBA World Championship Europe Camp is now at its mid-way point, with campers beginning Day 3 with an extended movement education session led by the camp's dedicated athletic development trainer, aimed at teaching body awareness and improving balance. The afternoon featured another group of drills designed to work as fundamentals as the Jr. NBA coaches try to assess which players they want to take to August's Jr. NBA World Championship in Florida.
Passing the half way stage of the week has also given the English trio of Marc Mendoza and Oluwademilade (Demi) Dada from St Bonaventure's School and Tinu Fakunle from St Angela's School a chance to reflect on what they have already covered during their time in Slovenia and how they can continue to improve before the week is out.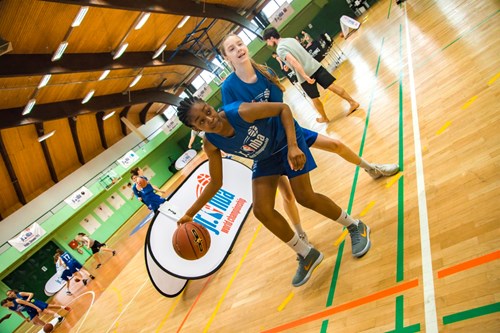 "Today's sessions were very lively, really good," said Mendoza. "We had to keep our concentration while doing the dribbling drills and it pushed my ball handling skills to another level. Doing that work has already lead me to become a better dribbler under pressure. It's also been good to keep reviewing all the stuff we've done over the previous few days so we can keep trying to get better at it."
It was a sentiment echoed by Dada, who is also enjoying the different elements to the camp and how they are helping his game, "Training was intense today since we had only one session but overall it was fun. We had stations this afternoon where we would work on different parts of our game like defence for example, we learnt the proper defensive stance and how to use it effectively. Before the main session we worked on our ball handling and reactions. It got harder when we had someone trying to steal the ball and pushing you. But it was fun, engaging and challenging. I'm having a great time!"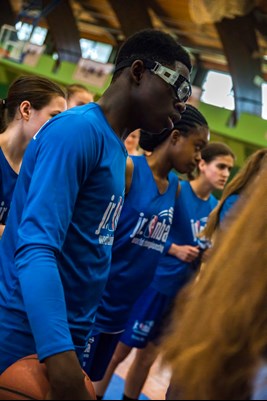 It's not all hard work for the campers though and after a brief cool down session, the boys and girls enjoyed a free afternoon to rest and recharge before returning to five-on-five competition today. They also had the opportunity to play a series of light-hearted games after lunch led by FUN4U, competing in groups according to the NBA teams they were designated on Day 2 to further build camaraderie.
With the camp's focus now moving to five on five competition, all three of our players will have a chance to take everything they've learned so far and put it all into use to impress the watching Jr. NBA coaches. We'll have more on how Marc, Demi and Tinu are getting on tomorrow!
Any schools interested in being a part of the Jr. NBA in the future can email jr.nba@basketballengland.co.uk to register their interest and learn more about the programme.