Reading Rockets' Scotty Hendricks
Can you tell us a little about yourself Scotty?
Scotty Hendricks, From Radford, Virginia. I have a very big loving family who supports me from Virginia, West Virginia and Tennessee. I played NCAA Div. 2 at King University. My pro career started with Tees Valley Mohawks in 2015 which led me to going to NBL of Canada playing with Orangeville A's last season before returning back to England now playing with Reading Rockets.
What brought you to the National Basketball League in the first place?
After being on a professional tour team who went to Spain, France and England. I was spotted by Tees Valley Mohawks after playing well in The Bexhill On Sea Tournament. I was named MVP of the tournament and I'm still in contact with many great people and families around the Bexhill, Brighton and Hastings area that I met during my tour of England in the summer of 2015.
What was your first impression? How has that changed?
My first impression of National Basketball League was it is a very growing league. A lot of great guards represent this league such as myself, guys like Lewis Champion, Stephen Gill and the list goes on. I believe the league is going in the right direction with more media coverage for each team and popular athletes. More teams are competitive, More teams have a balance of great athletes who have either come from The BBL or imported from different countries.
What was your first "bright spot" with Reading?
Coming to Reading Rockets from the NBL of Canada and my previous year with Tees Valley, I wanted to show everyone that I wasn't just a prolific scorer that I could play alongside a very talented team and do whatever it takes to win. I believe from the start I have shown I'm willing to leave it all out on the floor and play as hard as I can every single game. I'm the spark plug for our team, and we are off to what looks like a great run at something special. I have to give a huge thanks to owner Gary Johnson for bringing me in, my great coaching staff Manuel Garcés and Alan Keane and of course my teammates for trusting me.
What was your biggest challenge?
The biggest challenge is always being 'The New Guy' on a well established team. No matter the country or team, I believe it is always a great challenge to come in and mingle with everyone. When you have a strong personality such as myself you just want to be trusted, respected and liked amongst your guys because this is your family for the time you are over here.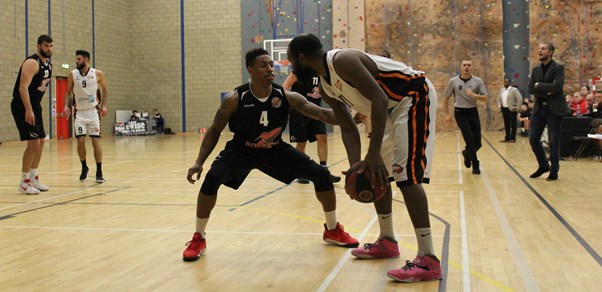 Photo Credit - Shaun Colley
What changes have you noticed in yourself since joining the NBL?
Physically I worked a lot on getting stronger. With goals of playing in the BBL I believe I have to get stronger and improve my shape physically. Since joining the NBL in 2015 I really trained my body to endure a long, healthy season as well. Mentally I worked a lot to stay focused and keeping my eyes on the prize of winning the National Cup and Playoff titles for Reading Rockets. Emotionally, I think I'm strong, I try to stay on and even keel throughout the year. I understand it is a long season while competing for the National Trophy, National Cup and National League titles.
What are you working on right now, what are your current goals?
To win the National Cup & National League Championship.
What is your favourite NBL memory?
As this season goes on I believe I will have many more NBL memories! However One of my favourite memories so far in the NBL is battling with Northumbria whilst at Tees Valley. We won at home and it was great feeling battling against a great team.
What advice would you give someone who is just getting started in basketball?
Have fun! And learn as much as you can from your coaches. Be coachable. Be obsessed with wanting to get better. As a pro athlete its amazing how many times I rely on fundamental teachings that I learned at a young age from the many great coaches I've had in my life.
What do you like to do outside of basketball?
Outside of basketball I like to sight see. England is my favourite country. Its a beautiful place with many places to go and see cultured roots with so much history. Another thing I like to do is write. I'm preparing a book of my overseas experiences which I hope will inspire someone to follow their dreams as I did. I hope to publish at the end of my playing career, wherever it takes me.
Finally, who is your favourite British basketball player and why?
My favourite British basketball players would probably be Loul Deng & Ben Gordon overall. Ben Gordon was one of my favourite players in the NBA at one time. Loul Deng is much appreciated for his heart and hustle that he provides no matter what team he is on. He is a leader for wanting to better his country in the game of basketball. I respect everything he has done in his career.
Header image credit - MirrorBox Studios