Division 1 Men

Leicester Warriors (6-9) v Loughborough Students Riders (12-2)

Saturday 10 February 2018 – 3.00pm
Big wins against Worthing and Derby over their last 4 games will have provided Leicester will ample belief that they can avoid relegation from D1M this season. This weekend's match up with an in-form Loughborough side will be tough, and in truth the Warriors may be better served shifting their focus to the games against Kent and Lancashire that follow this clash in the next few weeks. The Riders are currently in the midst of one of the softer parts of their schedule, playing Kent, Lancashire and Derby over the last 3 weeks. The title challengers won all 3 of those games by a combined score of 289-179, including a 102-44 mauling of the Crusaders last time out.  They should be good value for a win tomorrow if all goes to form.

Lancashire Spinners (0-16) v Kent Crusaders (6-10)

Saturday 10 February 2018 – 5.45pm
Lancashire's opportunity to survive in D1M may have passed all but mathematically, their say on the relegation battle is far from over. With a game against Kent here and then Leicester in a few weeks' time, the Spinners could still grab a first win on the season that would have a big impact on the sides around them. Kent have also struggled on the road this season, going 1-6 and their only win came back in October. That heavy loss against Loughborough will surely have some residual effect this weekend, that will be something the visitors need to put behind them.

Team Newcastle University (6-11) v Worthing Thunder (10-5)

Saturday 10 February 2018 – 6.00pm
One of the longest trips in D1M this season, Worthing are taking their turn to play the two North East sides this weekend. The Thunder would like to make their 700-mile excursion up and down the country worthwhile with 4 points and they'll get that task underway on Saturday against Team Newcastle. After a mid-season revival, the Knights have levelled off in recent weeks to go 2-3 in their last 5. Newcastle only lost by 7 when these sides met earlier in the season, so they'll feel they can be a match for Worthing with home court advantage on their side. Zaire Taylor will probably have something to say about that though, the Worthing talisman had 29 in that November contest and he'd like a similar output again here. Back to back losses to Leicester and Solent may have derailed the Worthing title push, but a 4-point win last time out against Reading will have been a boost to the Thunder going forward. With 2 wins this weekend, and games with Lancashire, Derby and Kent still to go, there is an opportunity for the visitors to build momentum to close the regular season. That would make them a very tough side to face in the playoffs.
Worthing Thunder Head Coach Daniel Gayle, "We've been real focused on the defensive side of the ball this week. That's what's going to keep us in a lot of games where we aren't hitting like we usually are. We know it's getting closer to playoffs so we've got to start tightening up our play."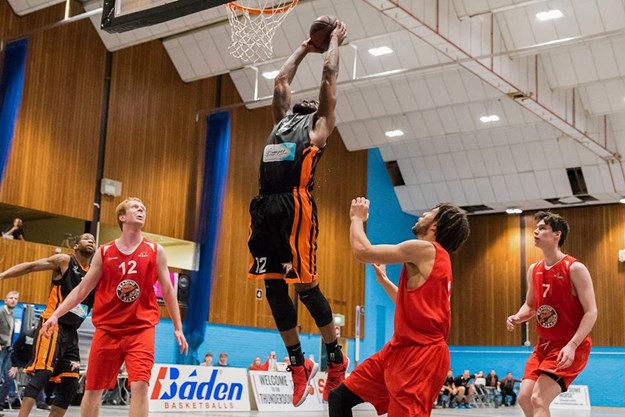 Marquis Mathis has been in good form since signing for Worthing last month - Alex Hemsley Photography

Hemel Storm (9-6) v Team Northumbria (9-4)

Saturday 10 February 2018 – 7.00pm
Northumbria don't have the luxury of waiting for their Sunday game with Worthing, they're on the road in Hemel on Saturday and a win for either side could go a long way towards helping to decide which team can claim 4th seed down the stretch. Hemel are currently in pole position with regards to securing the head to head between these sides after an 89-66 win back in November, though 2 points and the win is always the priority. Blayne Freckleton was in solid form last weekend as Northumbria overturned local rivals Team Newcastle, he'll be one to watch here. Atif Russell and reigning MVP Malcolm Smith always have the potential to do plenty of damage as well. Hemel are deep at both ends of the court though, with AJ Roberts, Wayne Yeboah, Lee Greenan and Bode Adeluola all likely to play their part this weekend.  

Team Solent Kestrels (14-3) v Derby Trailblazers (6-10)

Saturday 10 February 2018 – 3.00pm
Team Solent continue to churn out clutch performances as they refuse to relinquish their hold on top spot in D1M. A buzzer beater win in Manchester last weekend followed a narrow 3-point victory in Bradford the day before and the Kestrels look good value to win their 5th in a row this weekend. 3-3 on the road this season, Derby have generally travelled well to date but a long journey to the South Coast will be tough. Crushing defeats in back to back games to relegation rivals Leicester and Kent were body blows for the Trailblazers, it remains to be seen how they'll pick themselves up from here.

Reading Rockets (8-7) v Manchester Magic (6-7)

Sunday 11 February 2018 – 5.00pm
Whilst these two sides are certainly no strangers to each other, the circumstances surrounding this contest are anything but familiar. You need to go all the way back to 2011/12 to find a season where the final top 4 in D1M didn't feature either Reading or Manchester, but with the Magic under .500 right now and Reading on a 4 game losing streak, that run is in jeopardy. Both sides could use a boost here to strengthen their post season aspirations, with Manchester also surprisingly in the mix for potential relegation. With 5 of the division's bottom half dozen sides all on 12 points right now, including Manchester, the margins between the playoffs and the relegation trapdoor continue to be razor thin.
Reading Rockets Head Coach Manuel Peña Garcés, "Manchester has been one of the best teams in recent years and despite a 6-7 record so far this season, they provide one of the toughest tests. Coach Paul (Middleton) will be wanting to get back to winning ways after last Saturday's defeat to Solent and will definitely have his team prepared to face us. However, I think with all the improvements we are making and the application and intent of the players in practice and in games, we will be difficult to play against during the rest of this season. I'm hopeful this will start on Sunday by picking up a much needed win, rewarding our performance."

Team Northumbria (9-4) v Worthing Thunder (10-5)

Sunday 11 February 2018 – 5.00pm
A number of teams will have their eye on this game on Sunday as these 2 leading lights face off in the North East. With both sides in action on the Saturday, the outcome of those fixtures are sure to have an effect here but in the lead up to tip the advantage is with Worthing. 85-76 winners when the two sides met on the South coast in November, Zaire Taylor recorded one of his more impressive performance in that one as he knocked down 36 points to go with 7 boards. Atif Russell wasn't with Northumbria during that contest and he's sure to be an x-factor in the rematch. Blayne Freckleton and Lewis Champion combined for 10 points and a 4-18 shooting performance from the floor that day as well. It's unlikely either of those players will be that quiet again on Sunday.
Division 1 Women

 Southwark Pride (8-4) v Loughborough Students Riders (6-8)

Saturday 10 February 2018 – 2.30pm
A regular amongst the WEABL fixtures each year, these two sides lock horns in the WNBL this weekend with D1W playoff aspirations on their mind. Winners of 3 straight, Southwark are looking to peak at the right time and string some results together down the stretch. Without a game last weekend, they've had plenty of time to prepare for this one and should be a formidable opponent. 1 win in their last 5 means that the Riders are a team trending in the opposite direction. One of the calling cards of their season so far has been their inconsistency. If the visitors are likely to get a win here, it's probably because they've been struggling to do just that in recent weeks. Had Loughborough won a couple of games on the spin, the outlook for this weekend may strangely be somewhat bleaker.

Team Solent Kestrels (5-11) v Essex Blades (12-1)

Saturday 10 February 2018 – 3.45pm
Last Saturday's defeat to Bristol couldn't halt Solent's improved form as they bounced back on the Sunday to claim a vital victory over Nottingham. That win was their 3rd in the last 4 for the Kestrels who are slowly but surely edging away from the relegation scrap below them and towards the potential playoff spots above. Whilst Essex are currently on course for a maiden D1W regular season title, this game should be closer than the standings suggest. Even during Solent's struggles pre-Christmas, this was only a 56-47 win for the Blades when the sides met in November. Jodi Jerram has been a long term absentee but returned to action in last Sunday's win against Nottingham, playing 38 minutes for 16 points, 6 rebounds and 4 assists. Her availability will be a big plus for the Kestrels going forward.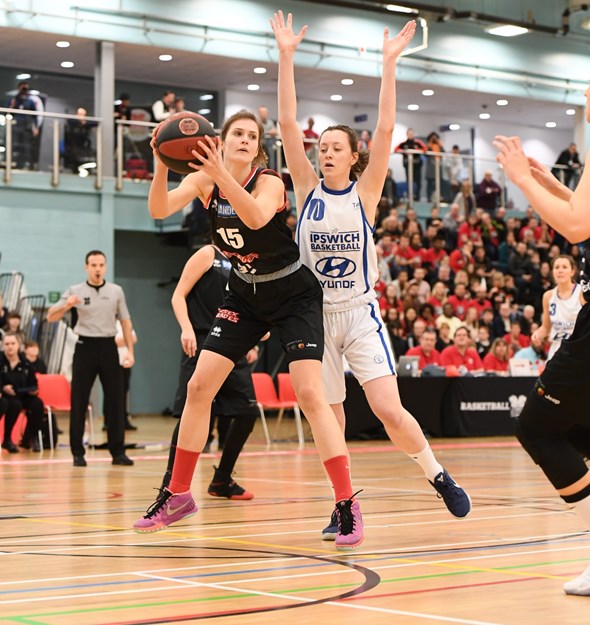 Monika Kucerkova has been a consistent threat inside for table-topping Essex this season

University of Nottingham (3-10) v BA London Lions II (2-12)

Saturday 10 February 2018 – 3.45pm
University of Nottingham face two pivotal games this weekend that could decide their D1W future. One of Notts' 3 wins this season came when these 2 sides met in London back in early November, taking that contest 63-55 thanks to 12 points from Ellie Bishop. Scoring 3 points in the opening quarter doomed the Lions that day, it's unlikely they'll be so slow out of the gates tomorrow. Dami Adeyinka has been in fine form for BA all year, with only a foot injury really finding a way to slow her down. She had 23 when these sides last met so will be hoping for another big outing. If she can get one, it could be key for her side as they try and move off the bottom of D1W.

Oxford Brookes University (9-5) v Team Birmingham Elite (5-8)

Saturday 10 February 2018 – 5.00pm
Another side at somewhat of a crossroads and needing a big performance, Oxford Brookes fall into that category. Winning 1 in their last 4 has threatened to drop Brookes from a once solid top 4 position into the mix with the teams in 5th and 6th. Halting that dip should be aided by their upcoming fixtures as match ups with Birmingham here then Anglia Ruskin, Loughborough and Nottingham could bring positive results. The only team out of that group that Oxford haven't beaten so far this season is Birmingham, the sides are yet to play each other. Elite recently managed a solid 61-51 win over Bristol to go with a victory over Loughborough but they couldn't overcome Essex last weekend to come into this game with a 3 game win streak. Of Birmingham's 4 wins this season, 3 have come when they've kept their opponents below 54 points. Oxford have passed that mark 13 times this season over their 14 games so far.

 Anglia Ruskin University (4-9) v Bristol Academy Flyers (10-4)

Saturday 10 February 2018 – 6.45pm
Just like Nottingham, Anglia Ruskin face a big double header weekend and they need to get points on the board. The two sides meet on Sunday, but not before Ruskin host 2nd placed Bristol. Their surprise loss to Birmingham is their only defeat in the last 4 games as the Flyers continue to put pressure on leaders Essex. Falling 84-63 when these sides met earlier in the season, the Rhinos are now a much more confident outfit after going 4-1 over their last 5 games. They'll hope that newly acquired confidence and momentum works in their favour this time round.

 Anglia Ruskin University (4-9) v University of Nottingham (3-10)

Sunday 11 February 2018 – 1.50pm
Sunday sees these two sides clash as the battle to avoid D1W relegation heats up. Opening the season against each other way back in September, Nottingham took the spoils that day 71-47. The 24-point advantage could well come into play when deciding any potential head to head tie breakers, a possible decider that is looming large right now with such a tight bunch of teams in the lower reaches of the standings. Saturday's fixtures will play a factor here, but nerves and expectation could also play a part.

Reading Rockets (9-4) v Lancashire Spinners (8-5)

Sunday 11 February 2018 – 2.30pm
While Anglia Ruskin and Nottingham get involved in double header action, Reading and Lancashire will play their only game of the weekend on Sunday. With just 1 win separating these sides, this is a battle that could have a big impact on the playoff race down the stretch. Spinners won by 21 when the sides met in Lancashire, so the Rockets will hope that home court advantage will help them avenge that result. The visitors will hope that a combination of Milly Knowles and Shauna Harrison can counter the ever present threat of Reading's Andrea De La Vara Gomez. The Spaniard averages 24.75PPG over her last 4 outings.
Lancashire Spinners guard Kyra Smith, "If we play like we did in our last game against Barking and carry forward how we trained in our latest practice session, we should get the results what we want in reading. As a team we need to bring the intensity from the start, do what we do best and play our style of basketball."
Division 2 Men

Liverpool (9-6) v London Greenhouse Pioneers (4-9)

Saturday 10 February 2018 – 3.00pm
3 of Liverpool's losses this season have come at the hands of Nottingham or Thames Valley, leaving a 9-3 record against the rest of the pack. The Merseyside outfit have done well to maintain a top 4 position this season and once the regular season comes to an end, they will be a dangerous playoff side in the early rounds. This weekend's match up with London Greenhouse should help them pick up a 10th win of the season, but they can't take that as a given despite beating the Pioneers once already this season. That game took place back in November and the London side are an improved team in 2018. 2-2 in their last 4, Mark Reynolds and Luca Piccini have both impressed in recent weeks.

Ipswich (6-9) v Middlesex LTBC (4-9)

Saturday 10 February 2018 – 5.00pm
Back to back wins for Middlesex have helped lift them back in contention at the bottom of D2M after their 4-point deduction earlier in the season. Those victories could prove important as LTBC still have Liverpool, Thames Valley, Nottingham, Essex and Westminster to play before the season is out. That's the current top 5 in the division. Sat just outside that top 5 are Saturday's opponent Ipswich in 6th who will be hoping for a few more wins before the season is out to help secure a playoff position. A high scoring 5-point loss to leaders Nottingham suggests Ipswich can challenge the top teams on their day, but a disappointing 79-62 loss to the Pioneers last time out highlighted this young side's inconsistency. Which team will turn up tomorrow against Middlesex?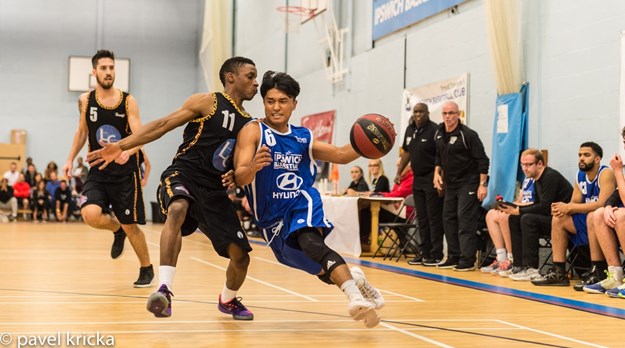 Rabi Rai drives to the basket against Essex earlier this season - Pavel Kricka

Sussex Bears (5-10) v London Westside (3-9)

Saturday 10 February 2018 – 5.00pm
1 win in their last 5 has left Sussex slipping down the table at just thee wrong time. This weekend's game really is a must win if the Bears want to cling on to their playoff aspirations. Upcoming games with Derbyshire and Birmingham plus this weekend's tie with Westside will be key, after that the former D3M outfit's schedule gets pretty tough. Joe Carter was quiet last time out in the loss to Essex, leaving Tomas Seduikis to step up with 31 points. If the Bears can get both players going this weekend, they'll have a strong chance to win. When a side has won only 3 games in a season, it can be tough to find positives at times. But of those 3 wins for Westside, one was against Sussex when these sides met in November. Phil Lartey top scored with 12 that day but he's been quiet lately, leaving Theo Deleligne and Max Hufschlagg to pick up the slack.

Nottingham Hoods (13-1) v Derbyshire Arrows (5-8)

Saturday 10 February 2018 – 6.30pm
The Hoods continue to tick off the games as they edge ever closer to promotion and a potential D2M regular season title. Since a maiden loss on the season to Thames Valley, Nottingham have now won 3 straight and their schedule remains favourable until the end of the month. If they can pick up a win here vs Derbyshire then triumph over Birmingham, Greenhouse and Middlesex, the leaders will be in a strong position heading into March with just 4 games to go. The Arrows looked outmatched when these sides met in November, falling to a 98-63 home loss. They'll want to give a better account of themselves this time round and build some confidence even if the final result doesn't go their way. Coach Kelly's side face Sussex, Greenhouse and Birmingham in upcoming weeks, fixtures that could have a large say on their goal of grabbing a playoff spot.

Essex Leopards (9-3) v Team Birmingham Elite (4-10)

Saturday 10 February 2018 – 6.30pm
Essex face a decisive promotion fixture on Sunday against rivals Thames Valley, but they can't afford to take their eye off the ball here. Saturday sees Team Birmingham take a trip to The Brentwood Centre and the Elite need some points themselves. Mired in the mix at the bottom of the division, the newly promoted side would love a victory to help ease away from the chasing pack. These sides met just a few weeks ago and the Leopards ran out to a comfortable 84-67 win thanks to 19 points from Will Ashby. With home court advantage this time round as well, you'd expect a similar result but Essex can't take any chances.

Thames Valley Cavaliers (12-2) v Westminster Warriors (8-6)

Saturday 10 February 2018 – 7.00pm
Promotion is in Thames Valley's hands, and winning out from here will secure them a potential spot at the top table of the NBL next season. With 8 games to go, they still have to play the Leopards in Essex but outside of this game with Westminster tomorrow, plus Ipswich, the Cavs don't have anyone in the division's top 6 to play the rest of the way. That means this game would represent another big step forward if the London side can secure the 2 points. The Warriors lost 99-87 when these sides last met but it was a 2-point contest heading into the final 10 minutes. That suggests Westminster can match this Cavs side given the chance. They've been hot from beyond the arc in recent weeks and if the Warriors keep hitting the long ball, they'll be a tough opponent.

Team Birmingham Elite (4-10) v Nottingham Hoods (13-1)

Sunday 11 February 2018 – 4.00pm
With all 12 D2M teams in action on Saturday, that leaves 4 sides to double up on Sunday. Both games have a big impact on the race for promotion, starting in Birmingham. Safe in the knowledge that either Essex or Thames Valley will lose this weekend, a 2-win weekend for the Hoods will give them some much needed breathing room if they can put in a couple of solid performances themselves. Birmingham haven't won on their own court since mid-November, which is a tough streak to overcome, and the Hoods triumphed 89-50 when these sides met to open the season. Playing 2 of the division's top 3 sides back to back could make for a difficult weekend for the Elite, though games against Westside, Sussex and Derbyshire follow and should remain a priority.

Essex Leopards (9-3) v Thames Valley Cavaliers (12-2)

Sunday 11 February 2018 – 4.00pm
A huge fixture in the race for a spot in D1M, this is a must win game for Essex if they're going to keep themselves firmly in the picture at the top. With the number of fixtures left on the season ever diminishing, falling 2 losses back of the top 2 would be a tough, though not insurmountable, situation to overcome. Which side carries the greater pressure in this one is debatable, the front runner who just needs to win to stay on target, or the team that really can't afford another loss? Home court advantage could be big here, but the Cavs are yet to lose on the road this season and haven't tasted D2M defeat since October 14th.