Division 1 Men

Loughborough Students Riders (8-2) v Bradford Dragons (5-7)

Saturday 13 January 2018 – 2.00pm
Loughborough need to move on from the disappointment of last weekend's Semi-Final defeat in the National Cup and re-focus on their positive position in D1M. With that Cup game being their first of 2018, the Riders haven't been in league action since 2017 when they lost on the road to Worthing though a home tie with Bradford is a game Loughborough can use to bounce back. The Dragons also lost last time out, their defeat coming against a rejuvenated Derby side, so this one would be a useful 2 points for both teams as they look to get back on track.

Leicester Warriors (4-7) v Worthing Thunder (9-3)

Saturday 13 January 2018 – 3.00pm
Yet to play in 2018, this will be the first time the Warriors have taken to the court in nearly a month. To compound that issue, they'll be hosting one of D1M's hottest teams in Worthing Thunder. It remains to be seen if Leicester's layoff provides them with plenty of energy and extra running, or if rust will have crept in, but they'll need to bring their A game to get anything from this fixture. Jorge Ebanks continues his road to recovery from a shoulder injury and after playing more minutes than perhaps the Thunder would have liked last weekend, it remains to be seen how he will be used here. Still, look for Zaire Taylor to be the focal point as Worthing try to extend their D1M win streak to 8.

Kent Crusaders (3-8) v Manchester Magic (6-5)

Saturday 13 January 2018 – 4.00pm
A long trip down the country greets Manchester in their last game before next weekend's National Cup Final, but they'll be hoping they can take advantage of Kent's poor form to build some momentum of their own. Having lost 6 in a row, the Crusaders are slipping further down the D1M table with each passing week, they'd love to use their home court to help correct that trend. For Manchester, it's business as usual. Their league form hasn't been up to its usual standard so far, but the main remedy for that is to win, and win now. They'll look to get that going this weekend.

Lancashire Spinners (0-13) v Derby Trailblazers (5-7)

Saturday 13 January 2018 – 5.45pm
The Spinners matched Reading in the early going last weekend before fading away in the 2nd half. A few weeks ago they may well have had this game marked down as a very realistic opportunity for a win, but the Trailblazers are 3-1 in the last 4 and look to be a team that is beginning to click. That could spell trouble for the winless Spinners, but at least they have their own court and loyal fans to help provide some support. 18 assists for Derby's Kayne King last weekend earned him the kind of plaudits he deserved, he'll be looking to continue that form for as long as possible.

Hemel Storm (7-5) v Reading Rockets (8-4)

Saturday 13 January 2018 – 7.00pm
Buoyed by booking a place in the National Cup Final, Hemel will need to be wary of looking too far ahead as a dangerous Rockets team heads to town this weekend. Somewhat of a wounded beast, Reading have the players to be a serious factor in this league but at 1-2 in their last 3 games, they're not really on form right now. Hemel will try to take advantage of that but despite their Cup success, they have struggled in D1M recently as well. 0-3 isn't good form for the hosts to be carrying into this one.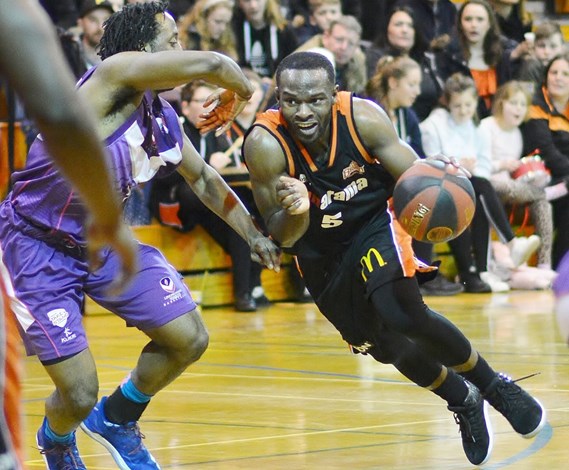 Hemel's captain Bode Adeluola drives to the rim - Lin Titmuss

Team Solent Kestrels (10-2) v Team Northumbria (6-4)

Saturday 13 January 2018 – 8.00pm
Solent continue to ride high in D1M, holding on to top spot after a hard-fought 87-86 win over Hemel last week. That meant the Kestrels began 2018 in the same way they finished 2017, with a win, and they look to be the team to beat right now. Next up to try and do just that will be Team Northumbria, who are another side who didn't play last week and must try and navigate the pros and cons of not playing in 4 weeks. It hasn't been the sort of campaign for Northumbria that many fans might have expected after last season, but in Malcolm Smith the North East side still have a match winning talent that they're sure to lean on in this one.

Leicester Warriors (4-7) v Team Northumbria (6-4)

Sunday 14 January 2018 – 1.30pm
To lessen the blow of a trip from Northumbria to Solent on Saturday, the University side make a Sunday stop in the Midlands to face Leicester on their way back up the country. It is always tough to predict double header games due to the unknowns that each team will encounter during their Saturday contests, but at least with both these teams coming off considerable breaks without a game then playing twice in one weekend they're both in the same boat. Leicester did beat Hemel in their final match up before Christmas, on the road as well, showing they have the talent to compete. Northumbria are 3-1 in their last 4, if form can be used after such a long break, but team chemistry doesn't disappear overnight.
Division 1 Women

Loughborough Students Riders (5-5) v Team Birmingham Elite (3-7)

Saturday 13 January 2018 – 3.30pm
As one of D1W's more difficult to predict teams, Loughborough open their 2018 fixtures with a home tie against Birmingham. The Riders have the ability to be competitive in this game, but at 1-3 in their last 4, finding that winning formula hasn't been easy of late. Birmingham were the latest team to fall to a surging Anglia Ruskin side last week, that can't have done too much for their confidence. Another loss here could see the side slip out of the playoff places if results elsewhere don't go their way.

Bristol Academy Flyers (7-3) v University of Nottingham (3-6)

Saturday 13 January 2018 – 4.00pm
University of Nottingham get their year underway with a difficult trip to Bristol to face a Flyers team doing very well in D1W. Their title push received a blow last week after a great performance from Reading saw the Rockets get the better of Bristol, but the hosts will be hoping to bounce back from that loss here. Essex continue to look ominously good in the league this season, but as the only side to beat the Blades, Bristol know they can be defeated and won't want to slip up in case that happens. Nottingham are entering a brutal stretch of their schedule, playing @ Bristol, v Essex, v Oxford then @ Oxford, though that does mean their fixtures to end the D1W regular season should be much kinder.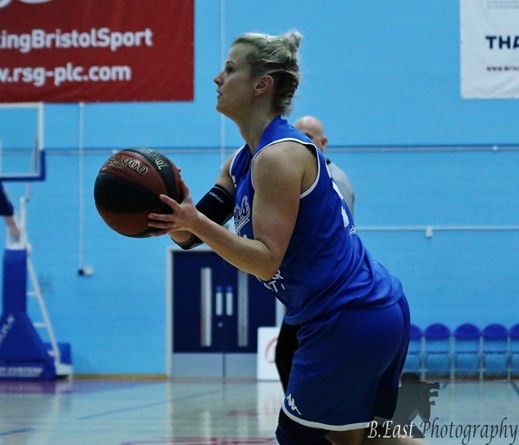 Bristol's Liisa Juul lines up a shot - B.East Photography

Essex Blades (8-1) v Reading Rockets (6-3)

Saturday 13 January 2018 – 5.00pm
Essex will need to take care this weekend as their home tie with Reading carries all the signs of a potential slip up for the league leaders. Next weekend's National Cup Final provides the Blades with an understandable opportunity to take their eye of the ball in this one, that is something that they will need to guard against. A loss to Anglia Ruskin lowered some expectation for this Rockets team, but wins over Loughborough and Bristol since then have shown this is a side with talent. A 34-11 final quarter in that Bristol win suggests that the Berkshire side can also get hot, and be an offensive force when needed. Will they have enough to match Essex? It could happen, and the Blades will need to stay focussed to make sure they're at the best tomorrow.

Oxford Brookes University (8-2) v Lancashire Spinners (6-4)

Saturday 13 January 2018 – 5.00pm
In an interesting twist, it could be that Oxford's title rivals Essex have done them a favour this weekend. Last time out, the Spinners suffered an 81-53 home loss to the Blades and that is something that Brookes will be hoping they can take advantage of. The defeat for Lancashire plus results elsewhere dropped the Spinners from 3rd to 6th in the standings and they need to make sure they bounce back if they are going to continue their good form from 2017. With a number of young players on their roster, confidence could well be very important to this Spinners side so a positive result in Oxfordshire tomorrow would be more than welcome.

Anglia Ruskin University (2-8) v Team Solent Kestrels (2-9)

Saturday 13 January 2018 – 6.45pm
From an 0-8 run to a 2-0 run, Anglia Ruskin are flipping their season on its head. And they have an excellent chance of making it 3 wins in a row, moving themselves off the foot of the D1W table in the process. Tomorrow sees the Rhinos welcome 11th placed Solent Kestrels for an early evening tip and the South Coast side have lost 5 on the spin going into this one. It's not often a team bottom of the league going into a game as the favourites, but that's probably the case here. If Solent can't correct their form in this one, it will become increasing difficult to see where it would happen between now and the end of the season.

BA London Lions II (2-6) v Southwark Pride (6-4)

Sunday 14 January 2018 – 2.00pm
Southwark began 2018 with a win and will look to carry that momentum into this game. With 3 postponed games from 2017 to fit into their schedule in the coming months, a few double header weekends could allow the Pride to really build some momentum down the stretch if results go their way. A W here and next week's game against Anglia Ruskin would mean the potential for a 3 game winning streak as the London side head North to take on Lancashire to begin February. A win there would really set Southwark up for a shot at a high playoff seeding come the end of the regular season.
Division 2 Men

Liverpool (7-5) v Ipswich (5-6)

Saturday 13 January 2018 – 5.00pm
Liverpool's 91-71 loss to Thames Valley last weekend provided a major setback to their promotion hopes. Still, this is a talented team and if results do fall their way down the stretch, they want to be able to take advantage. It means the Merseyside outfit needs to bounce back from their loss this weekend, though Ipswich won't see it that way. At 5-6, the Suffolk side could use a few more wins to cement themselves as a playoff team and with some luck, potentially snag a top 4 finish to ensure at least 1 home tie in the post season. Ipswich took their first encounter between these sides comfortably, an 87-63 win back in October. It's hard to imagine this tie being so one sided though.

London Westside (3-7) v Westminster Warriors (5-6)

Saturday 13 January 2018 – 6.15pm
A much needed win last weekend over relegation rivals Middlesex LTBC will have done much to lift the mood inside the Westside camp and a game with Westminster will provide another opportunity to continue that uptick in form. The Warriors took both points when these sides met in October, but Westminster's recent 1-3 record suggests they may be vulnerable to another slip up tomorrow. That would help put some more pressure on bottom side Middlesex, and potentially help increase the gap between Westside and the teams around them.

Nottingham Hoods (10-0) v Thames Valley Cavaliers (10-2)

Saturday 13 January 2018 – 6.30pm
Possibly the NBL tie of the weekend, unbeaten Nottingham host their closest D2M rivals Thames Valley in what is sure to be a thrilling 40 minutes of basketball. The Hoods are still unbeaten on the season and if that record can survive this weekend, they would be hard to bet against the rest of the way. A strong as the Cavs have been this year, they did lose to Nottingham at home in the early season, going down 73-65 as Tevis Robinson scored 27 points for the visitors. It going to make for a fantastic game on Saturday evening.

London Greenhouse Pioneers (2-8) v Team Birmingham Elite (4-6)

Sunday 14 January 2018 – 1.30pm
With London Westside picking up a win last weekend, a narrow 85-82 defeat against Sussex will have hurt a little bit more for the Pioneers than any loss normally would. The pressure to pick up points for teams in the potential relegation spots will grow and grow as the games tick by so any opportunity for wins cannot be passed up. 1-3 in their last 4 games and without a game since 16 December, Team Birmingham head to London needing to find some form themselves. 77-50 to the Elite when these sides first met, the Pioneers will want to give a much better account of themselves in this match up if nothing else.

Nottingham Hoods (10-0) v Liverpool (7-5)

Sunday 14 January 2018 – 3.00pm
It is a defining weekend for the Hoods as they face 2nd placed Thames Valley and then 3rd placed Liverpool in as many days. 2 wins would leave Nottingham in a formidable position in the race for promotion but it is a big ask. For Liverpool, they may still need help with results from elsewhere to ensure sides like Essex and Thames Valley slip up down the stretch, but with this fixture they have a direct opportunity for a promotion team to lose ground. They can't let that chance pass them by.

Derbyshire Arrows (4-5) v Essex Leopards (6-2)

Sunday 14 January 2018 – 3.30pm
With Nottingham taking on Thames Valley and Liverpool this weekend, there will be the at least one promotion hopeful losing ground at the top. As a 2 loss team Essex are firmly in the promotion hunt and will want a win here to keep up their push for an immediate return to D1M. The Arrows stand in the way of that goal right now and will do everything they can to throw a spanner in the works. 3 of Derbyshire's next 4 are at home so building some momentum on their own court would be a bonus. They'll have playoff aspirations of their own, and also one eye on the battle below them.

Middlesex LTBC (2-9) v Sussex Bears (5-7)

Sunday 14 January 2018 – 4.00pm
Middlesex couldn't come up with a win against fellow strugglers London Westside last weekend and that will have hurt, but a home encounter with Sussex offers another opportunity for improvement. A win for the Bears last time out against London Greenhouse snapped a 5 games losing streak for the Sussex side, but it remains to be seen if that win was a one off or the start of a change of fortunes. That win over the Pioneers was also Sussex's first road win of the season, suggesting they don't always travel well. That could hold the key to this one.
National Shield
London Thunder Lewisham v Myerscough College
Saturday 13 January 2018 – 3.00pm
The Quarter-Finals for the National Shield take place this weekend as 8 sides from D3M and D4M need to go down to 4 ahead of February's Semi-Finals. At 8-1, D3M North leaders Myerscough College will like their chances of being in the draw for the next round, but in order to do that they'll need to navigate a tough trip to London to take on the D4M South East side. At 3-6 the Thunder haven't always shined in the league this season but they still have plenty of talent at their disposal.
Birmingham Mets v Manchester Giants II
Sunday 14 January 2018 – 1.00pm
Despite being bottom of D3M North, the Giants II continually raise their game for the National Shield and are well deserving of a Quarter-Final spot. If they can progress any further will depend on fellow D3M North side Birmingham Mets and their match up this Sunday. These 2 sides have already met twice this season, including last weekend, with the Mets taking both match ups. In Knockout basketball though, anything can happen.
WLV Albion v Team Solent Kestrels II
Sunday 14 January 2018 – 2.00pm
D3M North v D3M South in this one as Solent take the trip up to the West Midlands to take on an Albion side sat 5th in their division. WLV's Shield campaign began right back in September with a narrow 1-point win over D4M side City of Birmingham Rockets. Since that scare they've gone from strength to strength and will fancy their chances of booking a Semi-Final place with home court advantage at their disposal. Don't count the Kestrels out though. They won on the road against Taunton in the last round and will travel to this fixture knowing they can get a result.
East London All Stars v Barking Abbey Crusaders
Sunday 14 January 2018 – 5.30pm
At 6-3 in D3M South, East London All Stars will no doubt fancy themselves as one of the favourites in this competition. As a former D2M side, they retained plenty of quality from last season and have the ability to compete with any side left in the Shield. A home tie strengthens then opportunity to make the Semi-Final, though Barking will see this as an opportunity themselves. At 8-2 in D4M South East, they have been playing great basketball this season and will relish the opportunity to take a step up against D3M opposition.