Division 1 Men

 (1) Loughborough Student Riders v (4) Worthing Thunder 

Saturday 14th April 2018 – 2.00pm
Matchups this Season: Thunder 82-80 Riders (Dec 16th); Riders 91-75 Thunder (Mar 18th)
Coming off a narrow overtime victory last weekend, the Riders now face an even tougher task as the travelling Worthing Thunder roll into town. The South-coast side edged an extremely close contest back in December when the sides first met; but the Riders will be hoping that home advantage can lead them to victory – as it did back in March.
A balanced scoring effort from the East Midlands side last weekend was enough to outlast Manchester, as Lucien Christofis led the way. A quiet outing from Sesan Russell will surely have the Riders expecting a big game this week from their lead guard. In contrast, Worthing only needed the scoring efforts of four of the roster to end Team Northumbria's season – as those four scored in bunches. Multiple weapons for the road team could make this one to watch for an upset – if the Riders don't handle their business.
Riders' Coach Mark Jarram is loving the pressure of playoff basketball, "We are pleased to be one of the four remaining teams and at this stage of the season it is about enjoying it and playing the game the right way.  Worthing are an extremely talented team with a tonne of fire-power.  They can score in many ways and our defence will be tested on Saturday.  Survive and advance basketball is always exciting and we know this will be an entertaining match up."
​Meanwhile, Thunder Coach Daniel Gayle is looking forward to the challenge the Riders present, "We're excited to be playing in the semi finals against the league champions. Last time we played at Loughborough, we got sent home with tail between our legs. Since then we've been playing some of our best basketball, so we are keen to go back and redeem ourselves in this semi final match up." Gayle continued, "It's been 5 years since the clubs last deep playoff run, so we figure its now our time to get back in the finals." Worthing guard Jorge Ebanks echoed his play-caller's views, "This weekend game will be a good match. We won and lost a game to them so it's a grudge match. Their a well drilled and balanced team so our defence will have to be ready as they play at a fast pace like us. But we will be ready as we had a good week of preparation."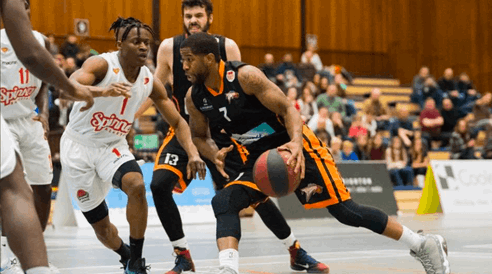 Jorge Ebanks attacks the basket for Worthing - Kyle Hemsley Photography

 (7) Hemel Storm v (3) Reading Rockets 

Saturday 14th April 2018 – 7.00pm
Matchups this Season: Rockets 95-94 Storm (Oct 14th); Storm 88-81 Rockets (Jan 13th)
An upset victory for seventh seed Hemel Storm over Team Solent Kestrels has earned them right to steal home advantage in this exciting semi-final matchup. On the opening day of regular season, 26 points from AJ Roberts wasn't enough for the Storm to snatch the victory, as Reading were able pinch a close one at Bohunt School. The Storm were spurred on by their home crowd at Sportspace to grab the win in January; they will be hoping the Storm-troopers will on form again in the stands.
Roberts filled up the box score last weekend, so Coach Robert Youngblood will be hoping for another big performance from his star on the wing. Captain Bode Adeluola was also key; another crucial piece in the Storm's plight to add the playoff title to their National Cup victory. A breakout game from Declan Soukup in the quarter-final against Bradford will have the Rockets faithful that their guard pairing of Soukup and Jerrod Hendricks can be just as influential on the semi-final in matching Hemel's explosive back-court.
Coach Youngblood is hoping Hemel can continue their playoff run, "Reading is on a great run at the moment but although they're the third seed and we're the seventh we've proved this season that we have a team capable of excelling in big, one-off games. We're at home which is fantastic for us and we've been able to prepare well this week with all our guys back from injuries and niggles. Reading have has a terrific and well-balanced roster, they're well-coached and have adjusted to their talent as the season has progressed. I expect a great game."
Rockets' Danny Carter was crucial against Team Northumbria, and the veteran forward is ready for both the tactical and physical battle ahead, "Hemel is an extremely tough outfit, a great club and must be riding high after last weekend's upset win over Solent. We had to tough out a good win against a strong Bradford side which pushed us all the way. In the playoffs, past records, stats, everything go out the window. It's who executes better on Saturday night and can play under pressure that will decide the outcome."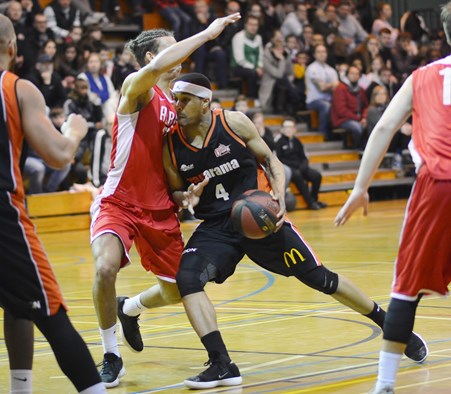 Reading will need to find a way to slow down AJ Roberts - Lin Titmuss
Division 1 Women

 (1) Essex Blades v (4) Lancashire Spinners 

Saturday 14th April 2018 – 5.00pm
Matchups this Season: Blades 66-48 Spinners (Oct 7th); Spinners 53-81 Blades (Jan 6th)
Essex Blades began their league championship winning campaign with a routine win over Lancashire back in October, as a strong fourth quarter allowed them to pull away from the young Spinners. After a solid run of form heading into the Christmas break, the Spinners were looking for an improved performance in their first contest back after their time off. The Christmas indulgence may have been a factor as a strong second half performance from Essex saw Lancashire unable to keep up down the stretch. Cat Lutz had her way in that one, as she paced all scorers with 25 points.
Essex were able to smoothly progress to this semi-final stage last weekend as they comfortably defeated Loughborough, 87-49, at the University of Essex Arena. Lutz was again impressive in that one, as her 24 points continued to add to her resume as one of the best scorers in D1W. A dominant start on the defensive end for Lancashire against their quarter-final opponents, Reading Rockets, saw them jump out to 22-6 first quarter lead that they never relinquished. Kyra Smith's 18 points were crucial in that one, showing that the Spinners have offensive threats outside of their national team duo of Shauna Harrison and Milly Knowles.
Smith is focused on the game-plan heading into this contest, "We have prepared well physically and mentally, with a good week of training leading up to our semi-final. If we stick to the game plan that we have implemented this week, we believe we can be successful. If we play our game from the start like we have been doing recently it should be a really exciting game." Smith declared, "This is what we have worked hard for, and we couldn't be more ready."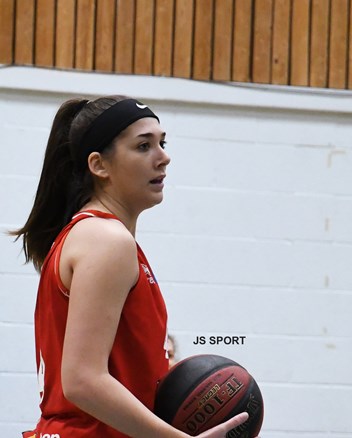 Slowing down Cat Lutz will be a big test for the young Spinners - JS Sport Photo

 (7) Anglia Ruskin University v (6) Oxford Brookes University 

Sunday 15th April 2018 – 2.45pm
Matchups this Season: Brookes 63-50 Anglia (Nov 18th); Anglia 62-39 Brookes (Feb 24th)
Anglia Ruskin continue to surprise, as they have got to be one of the stories of the NBL this season! From going 0-8 to start the season, to clawing their way into the playoffs, to now causing a big upset by defeating Southwark Pride in the playoff quarter-finals. A fantastic year of progression sees the Rhinos snatch home advantage as they welcome Oxford Brookes on Sunday. Oxford were giant-killers themselves last weekend, as an efficient scoring outing for Julie Fricke led them to victory. Even more impressive was the fact that Brookes snatched the win over Bristol without lead guard Alice Walton.
The matchups so far this season are a perfect microcosm of Anglia's season, with Oxford easing to a double-digit victory in November, behind 18 points from Courtney Gray. Anglia then flipped this result on its head to dominant the contest in February, as an explosive 21-2 first quarter laid the foundations for an impressive victory on their run into the final playoff spots.
Rhinos' forward Katrin Hulme is aware of how far they have come, "During the first part of the season, I don't think many people would have backed us to make playoffs, let alone get to the semi-final stage. The fact we are here now is testament to the hard work and belief from the players and coaches, not just in the last few weeks but across the whole season." Hulme added, "We're excited for the game and the chance to go one step further, but it won't be easy. Oxford have a strong squad so we're going to have to make sure we put everything we've learnt into practice and play hard. No doubt it's going to be a good game!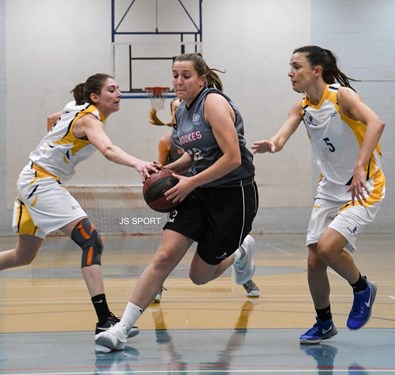 Courtney Gray is coming off an impressive double-double performance - JS Sport Photo
Division 2 Men

 (1) Nottingham Hoods v (5) Westminster Warriors 

Sunday 15th April 2018 – 6.30pm
Matchups this Season: Hoods 85-69 Warriors (Nov 25th); Warriors 89-85 Hoods (Mar 31st)
Nottingham and Westminster have progressed to the semi-finals of the playoffs having already taken home silverware this season. A win for the Warriors on the final day of the regular season was enough to clinch them the fifth seed, as Hoods had already wrapped up the league title, and the first seed, in the previous weeks. Tevis Robinson and Jon Johnson have both been vital for their teams in the previous matchups, with Robinson totalling 52 points on the Warriors this season, while Johnson has poured in 48 points in the two matchups.
Hoods comfortably advanced last weekend with a 20-point win over Middlesex LTBC, behind impressive contributions from Robinson, David Watts and Janes Casimiro Mestre. The Warriors were involved in a much closer affair at The Brentwood Centre as they upset the fourth seeded Essex Leopards behind 41 points from Johnson. They will need another big effort from their player-coach if they to upset the league champion Hoods at Wildcats Arena.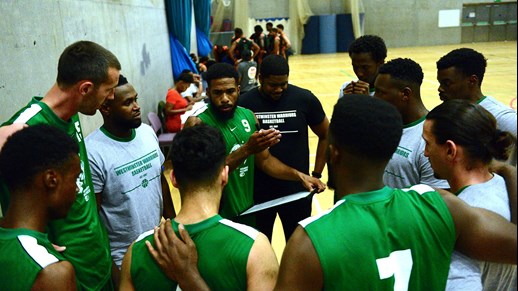 Warriors player-coach Jon Johnson looking to lead his team into the final - Westminster Warriors

 (2) Thames Valley Cavaliers v (3) Liverpool 

Sunday 15th April 2018 – 3.30pm
Matchups this Season: Cavaliers 57-58 Liverpool (Oct 7th); Liverpool 71-91 Cavaliers (Jan 6th)
Liverpool were able to take the spoils on the first day of the regular season, edging the previous matchup of these sides by a single point in a low-scoring contest. With baskets tough to come by in that one at Uxbridge College, 24 points from star big man David Ulph was enough to swing the contest in the North West's side favour. A complete reversal of events in January saw Thames Valley back to their high scoring brand of basketball as 37 points from Martelle McLemore spurred them to a 20-point victory.
Liverpool cruised into the semi-finals with a comfortable win over Derbyshire Arrows last weekend, as Ulph's 27-point, 12-rebound double-double paced them to victory. Meanwhile, in battle in the capital, the Cavaliers needed a fourth quarter comeback to defeat London Greenhouse Pioneers, with Robert Banks Jr's 29 points leading the way in a game that could have gone either way.
Cavaliers' play-caller Robert Banks hopes his troops will be at their best this weekend, "We are looking forward to a very competitive match against Liverpool. They have been playing outstanding basketball, with one of league's most talented players, plus they have outstanding coaching. We know that we will have to be our best on Sunday and hope to treat the fans with an outstanding game."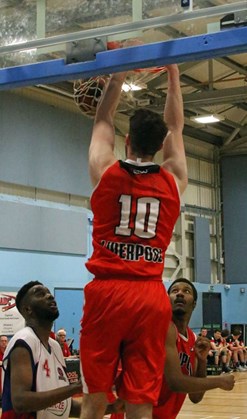 David Ulph goes up for the dunk in Liverpool's quarter-final victory - Liverpool BC
Division Two Women
(N1) Ipswich v (S2) Sevenoaks Suns - Saturday 14th April 2018 - 5.00pm
(S1) West Herts Warriors v (N2) Derbyshire Gems - Saturday 14th April 2018 - 3.00pm
Division Three Men
(N1) Myerscough College v (S2) Northants Tauras - Saturday 14th April 2018 - 1.00pm
(S1) Greenwich Titans v (S3) East London All Stars - Saturday 14th April 2018 - 5.15pm
Division Four Men
(1) BC Medelynas London v (5) Derby Trailblazers II - Saturday 14th April 2018 - 6.00pm
(7) Barking Abbey v (3) Team Derby - Saturday 14th April 2018 - 2.00pm