Division 1 Men

Kent Crusaders (7-10) v Leicester Warriors (6-10)

Saturday 17 February 2018 – 4.00pm
Two sides heavily involved in the tight battle against relegation and also to grab a low playoff seedings, Kent will hope their recent form plus home court advantage will swing this contest in their favour. In Caleb Fuller they have a match winner, and Dwayne Orija has caught fire as the Crusaders have won 3 of their last 4. Similarly, the Warriors are .500 in their last 6 and have shown signs of life since the turn of the year. American guard Rodney Sanders has averaged 23.5ppg during that 6 game stretch and is also capable of carrying the load for the visitors. Leicester were 96-80 winners when these sides met in November, such a wide margin of victory could be important with the head-to-head tie breaker on the line.

Reading Rockets (9-7) v Team Northumbria (11-4)

Saturday 17 February 2018 – 5.00pm
Reading snapped their 4-game losing streak last weekend with a commanding win over Manchester, but this weekend's opponents will put that return to form to the test. Winning 8 of their last 9 in the league, and on a 6 game winning streak heading into this weekend, Northumbria have steadily moved up the D1M table as they look to defend their regular season crown. The signing of Atif Russell has helped that charge as the American averages just under 20ppg since his arrival in January, and Malcolm Smith is heating up as he dropped 30 on Worthing last weekend. Reading have no new injury concerns so will once again look to lean on American due Scotty Hendricks and Tim Gill, the latter is currently one of only 5 players in the league to average north of 10 rebounds per game.
Reading Rockets Head Coach Manuel Peña Garcés said, "Last Sunday we put in another good performance against Manchester and got ourselves a much needed win but we definitely have a lot more to give and the test of this will be this Saturday against Northumbria. Over the last few weeks we have played a lot better basketball and made a bigger commitment to what we are doing; the key for us now is to do this more and for longer periods and the players and coaching staff are working hard each practice to make this a habit and in turn produce better performances each time we play."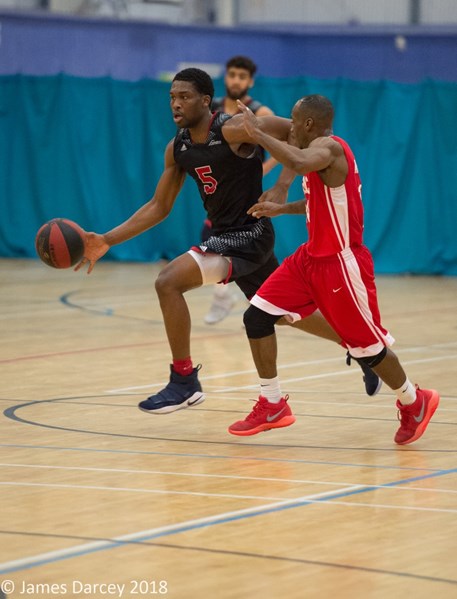 Team Northumbria's Atif Russell (black kit) - James Darcey

Manchester Magic (6-8) v Team Newcastle University (6-12) 

Saturday 17 February 2018 – 6.30pm
Another potential scrap for relegation or battle for the playoffs, depending which way you want to look at it, Manchester host Team Newcastle on Saturday evening. The Magic are currently on a 4-game skid and they need to get back to winning ways as soon as possible. A single digit loss to leaders Solent to start the month showed this is a team that can compete, but right now it just isn't clicking for Coach Middleton's side. Team Newcastle will look to exploit that this weekend and that job will be made much easier if they can get another dominant performance from Captain Patrick Wretcher. The talented scorer dropped 34 points to go with 17 rebounds and 3 steals last weekend against Worthing. Another performance like that could tip the balance in this one.

Team Solent Kestrels (15-3) v Loughborough Students Riders (13-2)

Saturday 17 February 2018 – 7.00pm
A huge game on the South coast this weekend, the top two sides in D1M lock horns as Solent host Loughborough on Saturday night. The Riders enter the contest after winning 5 in a row, and the Kestrels are on an identical streak of their own right now but one side must lose here and that is going to have a big impact at the top of the division. Loughborough handled Solent easily in the first league meeting between these two sides, running out 86-67 winners behind a balanced offensive attack spearheaded by Lucien Christofis, Sesan Russell and Alex Roberts. It's unlikely the hosts will go so quietly in this one, especially since Loughborough have lost just 2 games this season compared to Solent's 3, as things stand. The Kestrels really need to win this one, for Loughborough a loss would be less damaging, especially if they can keep hold of the head-to-head.

Worthing Thunder (11-6) v Hemel Storm (9-7)

Saturday 17 February 2018 – 7.30pm
With both these teams more than likely too far off the pace to challenge for a top 3 place, Worthing and Hemel go into this one fighting over 4th and a more favourable seed in the post season. Zaire Taylor needs no introduction at this stage as he's still leading D1M in points per game by some distance. The mid-season acquisition of Marquis Mathis is continuing to pay dividends as the American dropped 35 points against Newcastle last weekend, though Thunder are only 2-2 since his arrival. Since claiming the National Cup, Hemel are 1-2 with their lone win coming against bottom side Lancashire. Cup MVP AJ Roberts has cooled off in recent weeks in conjuncture with Hemel's recent dip, though Storm Coach Robert Youngblood pinpointed a lack of defensive focus for the recent defeat against Northumbria. If Hemel can't correct those mistakes this weekend, Taylor, Mathis, and Brandan Okoronkwo will be in for a big day.
Worthing Thunder's Brendan Okorokwo, "Building moment in the second half of the season and into the Playoffs is key. We're a much better team protecting our home court and with Hemel's recent form after winning the Cup, we should have the upper hand going into the weekend."

Team Northumbria (11-4) v Lancashire Spinners (0-17)

Sunday 18 February 2018 – 4.00pm
This weekend's double header is the 3rd for Team Northumbria since the start of 2018 and they have 3 more scheduled before the end of the regular season. Rather than drain the legs, compressing their schedule has allowed the North East side to really build some momentum and string victories together to quickly move up the standings. With Loughborough or Solent guaranteed to pick up a loss on Saturday when the two teams square off, the title race could be tight come Sunday night if Northumbria can secure another 2-win weekend. A 96-79 home loss to Kent last time out was a blow for Lancashire, considering how close they have played some teams since the turn of the year. Loick Pouale and Harold Truobo continue to feature heavily each week, and Allie Fullah has been a good addition since signing in mid-December from Leeds Force. It is also possible that Lancashire's inability to mathematically escape the bottom two could be confirmed this weekend, though it is more likely to happen the week after if they can't secure a win soon.

Bradford Dragons (7-9) v Manchester Magic (6-8)

Sunday 18 February 2018 – 4.15pm
1-4 in their last 5, Bradford are in danger of dropping out of the playoff picture if they can't pick up some points soon. This Sunday's game with Manchester should be a good one as both sides are in a similar situation and will be fighting hard for a valuable win. History hasn't been kind to the Dragons in this match up, failing to record a win against Manchester since January 2015 but at 2 games under .500, this season isn't looking to be the Magic's finest. This is the first meeting of the year between the two sides with this fixture previously being rearranged due to Manchester's National Cup Semi-Final. It will be great to watch high quality guards Donte Gittens and Marcus Gooding face off, and the battle between Ricky Fetske and Lee Goldsbrough down low and on the boards is sure to provide excellent viewing as well.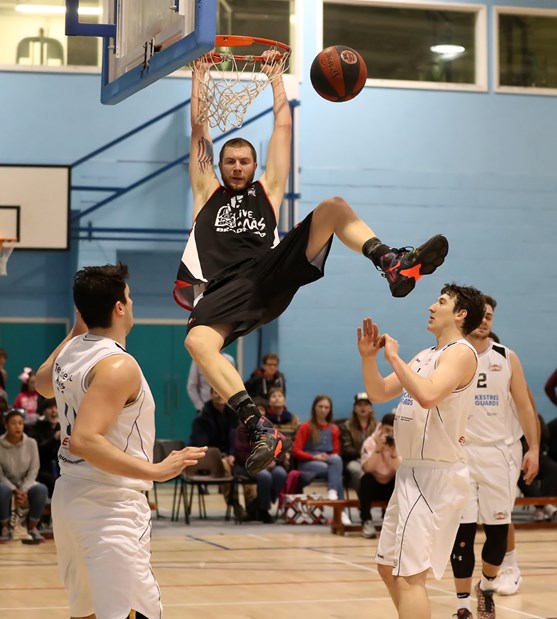 Ricky Fetske takes flight vs Solent - Alex Daniel Photgraphy
Division 1 Women

University of Nottingham (4-11) v Loughborough Students Riders (6-9)

Friday 16 February 2018 – 6.00pm
For NBL fans wanting a warm up to this weekend's action, they're in luck as Nottingham and Loughborough are set to tip off tonight at 6.00pm. Notts' managed a big win over BA London Lions II last Saturday, but couldn't make it a 2-win weekend as they fell on Sunday to Anglia Ruskin. The need for points is becoming more pressing with each passing week and the former D2W side need to start stringing together wins to stop the likes of Solent, Birmingham and Anglia Ruskin from pulling away. Loughborough will be hoping they can also pick up a couple of useful victories this weekend, starting here on Friday night, and those points would help in the Riders' quest to cement a playoff spot. 62-45 Loughborough was the score when these teams met in early October, though a lot has happened in D1W since.

Lancashire Spinners (9-5) v University of Nottingham (4-11)

Saturday 17 February 2018 – 2.00pm
With a game Friday, Nottingham are also the first team to tip on Saturday as they venture cross-country to face the Spinners in Lancashire.  The North West side are in reasonable form right now, going 3-1 in their last 4 and both Shauna Harrison and Milly Knowles are heating up. A win here would allow the Spinners to keep the pace in the race for a top 4 finish, something that is very much a possibility right now. Nottingham don't have a lot to fall back on in this one having already lost to Lancashire in November. The score was 64-56 that day and Harrison enjoyed 22 points, the visitors will need to find an answer for the age group GB shooter if they're going to get something from the game.

Bristol Academy Flyers (11-4) v Loughborough Students Riders (6-9)

Saturday 17 February 2018 – 4.00pm
Currently sat in 2nd place, the heat is on for Bristol as a host of teams are all hovering around the 4 and 5 loss mark as things stand. That means there could be a lot of scope for movement in the coming weeks as the 2nd to 6th seeds take shape.  One of the Flyers 4 defeats this season came against the Riders, so that is a positive omen for Loughborough. Ebony Horton had 16 in that game and Mai Zilbeti was largely held in check. Keeping the Spaniard quiet is probably the visitors best route to success here, though it is a tough task.

Reading Rockets (9-5) v Southwark Pride (9-4)

Saturday 17 February 2018 – 5.00pm
With their initial match up in November being postponed, these two sides meet for the first time on Saturday and given their current records, it should be a very even contest. Reading lost out to Lancashire last weekend to halt a streak of 3 straight wins, slowing their momentum. Aside from the two remaining games with Southwark, the Rockets have Nottingham, Birmingham, Solent and Anglia Ruskin left to play this season. Solent and Ruskin have certainly improved in recent weeks, but that run in suggests that a good end to the season could be on the way. As a team in direct competition with Reading for a playoff spot, Southwark would like nothing more than a win here and another when the sides eventually meet for a 2nd time. Playing on the road on Saturday won't help, but Megan Haines has been in fine form in recent weeks. She averages 22.25PPG over the last 4 games, all of which the Pride have won.

Essex Blades (13-1) v Anglia Ruskin University (5-10)

Saturday 17 February 2018 – 5.00pm
The Blades are yet to lose in the NBL since moving into their new home at the University of Essex, and if Saturday's game goes to form, that streak may be set to continue here That said, Anglia Ruskin played Essex hard when the two sides met back in November, with the current league leaders edging a 67-61 win. Cat Lutz had 22 in that game, and 28 in her side's win over Solent last weekend. The Rhino's Nadege Talva will hope to match the American on Saturday, the French star is one of the league's elite scorers when she's on form.

 BA London Lions II (2-13) v Team Birmingham Elite (5-9)

Sunday 18 February 2018 – 2.00pm
Time is begging to run short for BA if they are going to climb away from the foot of the D1W standings. 7 games remain on the Lions' regular season schedule and they are 3 wins away from potential safety as things stand. That leaves little room to for error from a side that has lost their last 9 games. A young, developing side that has had to cope with their share of injuries, regardless of the outcome of the season it is likely the London roster will learn a lot from this experience. Team Birmingham will be hoping to take advantage of the Lions' form to record their 6th win of the season and get a firmer footing on the post season's 8th seed.
Division 2 Men

London Westside (3-10) v Team Birmingham Elite (4-12)

Saturday 17 February 2018 – 6.15pm
With the resurgent form of Middlesex LTBC, London Westside have now slipped to the bottom of D2M. 6 scheduled games remain on their season, plus 3 postponements that need to be slotted in before the end of next month. With a possible 18 points on offer, it is likely the London side would need at least 6 of them to have a shot at safety, maybe more. Losing their last 2 games by 9 points combined is also tough on the struggling side, converting either of those close defeats into a win would have been huge. This weekend represents a key fixture for both sides as a win for either team would not only provide 2 points but also hinder a rival in the relegation battle. Birmingham took the 1st game between these sides 75-59 after a fast start to the game put them in control, Westside will need to avoid that this time around if they're going to secure their 4th win of the season.

Westminster Warriors (9-6) v Ipswich (6-10)

Saturday 17 February 2018 – 6.30pm
Westminster have won 4 in a row ahead of next weekend's Patrons Cup Final, including a 104-89 victory over Thames Valley last Saturday. The Cavs will be Westminster's opponents for that Final, and the Warriors would love to keep their good form going with a win over Ipswich here. Westminster have hit the 90-point mark in each of their last 3 games, and Ipswich have only dipped under that mark twice in their last 6 outings. That suggests there should be plenty on scoring on offer here, with the likes of Ipswich's Ryan Wilson and Westminster's Juan Manning and Jon Johnson set to prosper.

Derbyshire Arrows (5-9) v Sussex Bears (6-10)

Saturday 17 February 2018 – 6.30pm
On the other end of the scale, Derbyshire have struggled in recent weeks, going 1-5 in the last 6 and failing to get above 55 points twice in their last 3 games. In Joseph Baugh the Arrows have a talented scorer, the trick may be to find ways to get contributions from elsewhere on the roster. Sussex found a way to win last time out and end a run of 3 straight defeats, beating London Westside 89-84. Joe Carter was once again influential in that result, and he'll feature heavily this weekend for the South coast side. Another game that carries both potential relegation as well as playoff implications, this will be a big game for these two sides.

Nottingham Hoods (15-1) v London Greenhouse Pioneers (4-10)

Saturday 17 February 2018 – 6.30pm
With Thames Valley losing last Saturday, then beating Essex on Sunday, it was a pretty great weekend for league leaders Nottingham. They picked up a couple of wins of their own and now have a cushion at the top of the D2M standings with 6 games to go. Luke Mitchell exploded for 30 points in their Sunday victory over Team Birmingham, and if he could get hot down the stretch to compliment the quality of Tevis Robinson and the experience of David Watts, the Hoods will be difficult to take down in those remaining 6 contests. Desperate for points, the Pioneers will try and do just that though. They couldn't really get close to their opponents when they met back in November, falling to an 88-71 defeat. It'll be interesting to see what Greenhouse can try and do to counter that this time around.

Middlesex LTBC (5-9) v Liverpool (10-6)

Sunday 18 February 2018 – 4.00pm
3 straight wins mean that Middlesex are now one of the form teams in the division and sides with playoff aspirations are unlikely to want to face them any time soon. That means bad news for Liverpool, who are trying to secure a top 4 finish and must hit the road in this one. David Ulph and Uche Umekwe did the damage when these sides last met, combining for 36 points in an 84-67 win. Regardless of how they do it, Liverpool would no doubt love to come away from London with both points here, this is a tricky match up for them right now.
Elsewhere in the NBL
With 5 games remaining on their season and a 3 game cushion at the top of D2W North, Ipswich are likely to become our first confirmed regular season winners of 2017/18 pretty soon. They travel to Northamptonshire to face the Titans this weekend. In the South, it's still a tight 3-team race for the title between Cardiff City, West Herts and Sevenoaks Suns II. Cardiff host Team Solent Kestrels II on Sunday, with West Herts hitting the road for a long trip to Exeter on the same day. Sevenoaks play on the Saturday in Surrey against the Goldhawks, who will be featuring on our social media take over this weekend. Look out for that!
D3M North leaders Myerscough College are another looking to tie up a regular season title in the near future. They have a 3 game lead over Loughborough Students Riders II and have 5 games left in their season. University of Chester is their destination this weekend as they look to take another step towards securing that division. D3M South is a lot tighter, with 11 win leaders Northants and 10 win 3rd placed Greenwich both taking a weekend off. That leaves East London All Stars to try and move themselves onto 11 wins and joint top as they welcome Cardiff Met Archers to UEL SportsDock.
Things couldn't be tighter in D4M Midlands as 3 sides are all very evenly matched as we close in on the end of the regular season. This weekend the top 2 sides in Team Derby and Northants Thunder lock horns, with 3rd placed Derby Trailblazers facing a road game in Warwickshire against the Hawks.  Calderdale Explorers continue to look fairly comfortable atop D4M North, and at 13-1 and 2 games in front of 2nd placed Blackpool, they must navigate a visit from Manchester Magic II this Sunday.
BC Medelynas London continue to be one of the few undefeated teams in the NBL and 3rd placed Richmond Knights will be the latest team to try and end that streak for the D4M South East leaders on Saturday. And in D4M South West, Huish Taunton Tigers and Bristol Academy Flyers II both continue to put on a show, tied on 2 losses each with the Tigers edging ahead right now by a single win. Which side will slip up first, and will it come this weekend? Taunton entertain Reading Rockets II on Saturday, Bristol head to Oxford on Sunday.