Division 1 Men

 Loughborough Student Riders v Team Northumbria 

Saturday 17th March 2018 – 2.00pm
Coming off an important overtime win last weekend, the Riders will need another top performance to overcome fellow top-four side Team Northumbria. This game serves as an important test for the home side, who need to maintain their good run to keep pace with Team Solent Kestrels at the top. The fixture also is a preview to the upcoming BUCS Big Wednesday final, where Loughborough University and Northumbria University will be facing off to decide the BUCS Men's Championship. Loughborough will be hoping for continued production from young guard Sesan Russell (12.8ppg, 2.8apg) in this one, while it is Malcolm Smith (20.3ppg) who could provide to be key for the North East side.

 Team Newcastle University v Leicester Warriors 

Saturday 17th March 2018 – 3.00pm
With both teams dropping close games last weekend that may have all but ended their playoff hopes, this is an important fixture for one of these sides to get back on track. Tied in the standings on seven wins, this fixture could push one of these away from the bottom few places – but with both of their fates secure in D1M next season, the biggest thing at stake on Saturday may be pride. Newcastle scored by committee last weekend and will hope to play similar team basketball, while the key man to stop on the visiting team is Carl Pearson. Pearson has had an outstanding last couple of weeks for the Warriors, averaging 18.0ppg in his last five outings.

 Reading Rockets v Team Solent Kestrels 

Saturday 17th March 2018 – 5.00pm
Picking up two important wins last weekend did Reading a world of good as they climbed their way into third in the D1M table – close to clinching home-court advantage in the playoff first round. Their task this weekend is much tougher than that which they faced last weekend however, as the top dogs Team Solent roll into town. Well rested after a weekend off, the Kestrels will again be looking to stars Joe Tagarelli (18.6ppg) and Herman Senior II (17.3ppg) to lead from the front; while Reading will lean on big man Tim Gill to keep up his production inside (16.5ppg, 12.3rpg).
Rockets' Coach Manuel Pena Garces is very much looking forward to this weekend's challenge, "We have a great weekend in front of us. I think it's going to be a great tactical game, with options for both teams and I hope we can offer a good competitive game. Solent is a deep team that we will need to control in the open court." This sentiment was echoed by Rockets' forward Sydney Donaldson, "Tomorrow we have a great opportunity. We've been working hard as a team to better ourselves every day. I'm excited for the chance to compete against a good team and continue our recent form."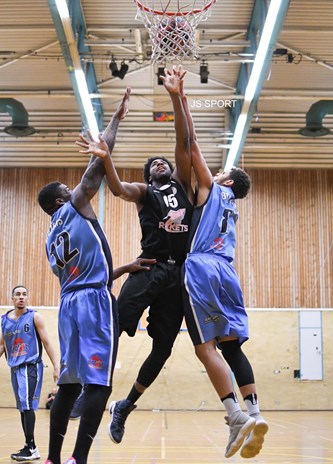 Tim Gill gets after the offensive rebound for Reading - JS Sport Photo

 Manchester Magic v Bradford Dragons 

Saturday 17th March 2018 – 6.30pm
Manchester clinched two key wins last weekend over the Spinners and Warriors to solidify their position in the final playoff spot. A win in this one would see them leapfrog Bradford and grab sixth place, while a loss may see them drop to ninth. The Dragons are coming in high off their own big result last weekend, as they defeated Worthing Thunder in overtime in a crazy 127-126 victory. Key performances from Marcus Gooding, Ricky Fetske and Rihard Sulcs saw them named in the D1M Players of the Week; all were big factors in the win. Manchester will again look for a big input from Donte Gittens, who is averaging 19.0ppg, 6.7rpg and 4.9apg this season, proving himself to one of the all-round talents in D1M.

 Hemel Storm v Kent Crusaders 

Saturday 17th March 2018 – 7.00pm
These two head into this fixture off very different experiences last weekend, as Hemel were the recipients of an overtime loss to Loughborough, while Kent managed to grab a narrow victory over Team Newcastle. The visiting side today will hope for another key win as they claw their way into the playoff race, relying on the production of young gun Caleb Fuller (19.0ppg, 5.6rpg). Hemel saw another good performance from AJ Roberts last weekend, as he led them with 16 points; they will need more of the same as they battle the Crusaders.

 Worthing Thunder v Derby Trailblazers 

Saturday 17th March 2018 – 7.30pm
Going zero-for-two in their double-header last weekend effectively put an end to the Trailblazers' playoff hopes this season, so they will hope for better this weekend as they make the trip down to the south coast. Worthing played an incredible spectacle of a game against Bradford, but saw the Dragons' take the spoils as Zaire Taylor's last second layup rimmed out. Taylor has been a key performer throughout this season, leading the league with 26.4 points per outing, so it is safe to assume he will bounce back from their disappointment last weekend. Derby's Kayne King will be a crucial factor for the visiting side, as he leads the league in assists with 6.9 per game.
Trailblazers' Coach Matt Shaw is looking to get the most of the final few games of this campaign, "Our aim is to finish the season as strongly as possible. We have four games left and we the focus is try and play our best basketball against a number of tough opponents. Worthing are a good side, but we know if we play our best basketball at both ends of the floor, they are both very much beatable. They are a high scoring team, as last weekend's 126-point game showed, so we will be trying to find ways to limit their key threats. It's normally a good crowd in Worthing and as a result, it's a fun place to play at."

 Leicester Warriors v Hemel Storm 

Sunday 18th March 2018 – 1.30pm
After travelling north the previous day, the Warriors will return home for this matchup against Hemel Storm. Leicester managed to pull out a win in the reverse fixture back in December, as Rodney Sanders and Case Bruton paced them to the win with 22 points and 18 points, respectively. Two wins for Leicester this weekend could see them right back in the mix for the playoffs, but two losses will likely see their season end in March.

 Loughborough Student Riders v Worthing Thunder 

Sunday 18th March 2018 – 2.00pm
It's a weekend of home comforts for Loughborough, as the Riders face Worthing in the back end of their home back-to-back. A double-header facing two of the top five teams in the league is no simple task however, knowing that a single slip-up at this point of the season could see Solent all but clinch the D1M league title. The reverse fixture down in Worthing before Christmas saw Lucien Christofis lead all scorers with 23 points, but the Thunder managed to grab a narrow win. 
Zaire Taylor is aware of the difficult task this weekend presents for the Thunder, "Having a double header this weekend, we expect a tough challenge from both opponents. Our goal right now is to improve every game and build some momentum as we approach the playoffs."

 Kent Crusaders v Team Northumbria 

Sunday 18th March 2018 – 2.30pm
The busy weekend of back-to-backs continues with this fixture, as Team Northumbria journey south, after their tough matchup with Loughborough the previous day. It was Team Northumbria who grabbed the win when the sides faced off at Sport Central, as Malcolm Smith (26 points) and Caleb Fuller (29 points) went shot-for-shot to lead their sides. This could prove a pivotal matchup, with Kent able to jump up into a playoff spot, and Northumbria jockeying for playoff seeding with Reading and Worthing.

 Derby Trailblazers v Manchester Magic 

Sunday 18th March 2018 – 4.15pm
More double-header basketball sees Manchester make the trip over to the East Midlands after facing off with Bradford, while Derby return home from a south coast battle with Worthing. A key fixture for Manchester, whose form this weekend could significantly affect the results they need moving forwards to clinch that final playoff spot. After going 0-2 in last weekends double-header, Derby will hope to at least split this weekend to avoid ending this season on somewhat of a tailspin of form.
Trailblazers' Coach Matt Shaw is hoping for an exciting contest for their home fans, "Our last home game of the season against Manchester also promises to be an exciting one. We've had some great battles with them over the years and our four point victory over them in December was one of our best performances of the current campaign." Shaw added, "We know their team pretty well, so hopefully playing the day after a trip to Worthing won't be too big an issue in terms of our preparation for the game."

 Bradford Dragons v Lancashire Spinners 

Sunday 18th March 2018 – 4.15pm
Seemingly the only side not involved in a double-header this weekend, Lancashire Spinners will be hoping to be well-rested as the head to Yorkshire to enter the Dragons' Den. Still searching for their first win this season, the Spinners will hope to travel with big man Allie Fullah, and will require a return to form for key scorer Loick Poule (16.6ppg) who contributed just 7 points in the loss to Manchester last weekend. Bradford will not be able to climb any higher than their current sixth position this weekend, but with two wins they can put real distance between themselves and the pack chasing the final few playoff spots.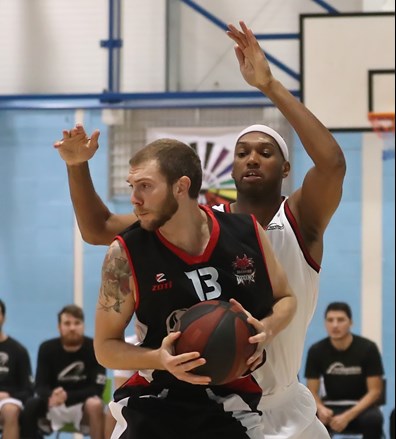 Ricky Fetske has been a key producer for Bradford in recent weeks - Alex Daniel Photography
Division 1 Women

 Reading Rockets v Anglia Ruskin University 

Saturday 17th March 2018 – 2.00pm
A busy Saturday of D1W action sees all 12 teams in action, as we tip off with the Rockets hosting the Rhinos. Reading were last gasp winners over Team Solent last weekend, holding their nerve at the line to clinch a key victory. Anglia Ruskin had a similar last gasp success, coming from behind to down Lancashire Spinners behind the hot shooting of Jazmin Gyulai, who paced the Rhinos with 27 points. Anglia Ruskin's surge into a playoff spot has been one of the stories of D1W this season, and a win here would put real distance between them and the teams hot on their heels.

 Lancashire Spinners v Loughborough Student Riders 

Saturday 17th March 2018 – 2.30pm
Dropping both in their road double-header last weekend will have left a sour taste in the Spinners' mouths as they made the journey back up to the North West last Sunday. Loughborough on the other hand grabbed a win in a low-scoring game against BA London Lions II, as their defence decided the matchup late in the game. Perimeter scoring was key when these two met in January, as Ebony Horton and Imogen Cook were hot from outside to give Loughborough the win, but were pushed all the way by a season-high 29 points from Shauna Harrison.

 University of Nottingham v Team Solent Kestrels 

Saturday 17th March 2018 – 3.00pm
Nottingham enjoyed a weekend off last weekend, and today play their final league game of the 2017-18 season, while Jodi Jerram's buzzer-beating three-point shot could only bring the Kestrels within one point as Reading grabbed the win at St. Mary's. Nottingham have been through a mixed season in their maiden campaign in D1W, falling short of the playoffs. A win in this matchup for either side would be vital to ensure they do not drop into the bottom two at the season's end, as they both sit tied for second-bottom on six wins.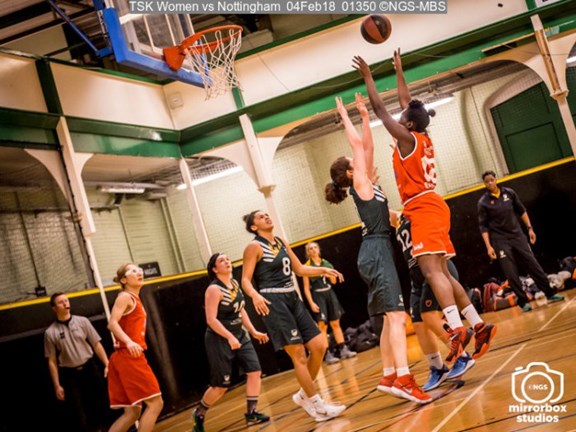 Earleesha Jackson attacks the basket for Team Solent - Mirrox Box Studios

 Bristol Academy Flyers v BA London Lions II 

Saturday 17th March 2018 – 4.00pm
With Essex Blades securing the league title last weekend, Bristol and the rest of the chasing pack will now focus all their attention on jockeying for position in a very tight D1W playoff race. With plenty of teams playing double-headers to get games played over the next two weekend, all is yet to be decided near the top. Three is the magic number for the Lions, as they sit three games adrift at the foot of the table, with three games left this season to add to their current tally of three wins.

 Oxford Brookes University v Essex Blades 

Saturday 17th March 2018 – 5.00pm
The newly crowned champions Essex Blades secured their title in the reverse of this fixture last Sunday and they will be pleased they got the job done last weekend with a tough double-header to come this weekend. First up, they travel to Oxford Brookes, who split their double-header last weekend by picking up a win in Bristol before heading to Essex. Alice Walton and Julie Fricke were key in the win against Bristol, but Oxford must find ways to slow down Cat Lutz and Ellie Shaxon to have better fortunes this weekend.

 Team Birmingham Elite v Southwark Pride 

Saturday 17th March 2018 – 6.00pm
Both with plenty of games still to fit in, Birmingham and Southwark get their double-header weekend's underway as they face off at The Factory on Saturday evening. Last weekend Southwark were able to give league champions a run for their money, but couldn't finish the job in the second half against a sturdy Blades' defence. Having pulled themselves into the top four after mixed results early on, this young Pride squad could really be a factor down the stretch.

 Southwark Pride v Lancashire Spinners 

Sunday 17th March 2018 – 2.00pm
Southwark tip off the D1W action on Sunday, as they host Lancashire Spinners who make the long journey down to London from the North West. With fixture rearrangements aplenty for both sides, it is unusual that the sides face off for the first time this season on the penultimate weekend. Coming off a double-header of losses last weekend, Lancashire will hope for better fortunes in their back-to-back this week, but will need a good performance at the City of London Academy to have the result go their way in this one.

 BA London Lions II v Anglia Ruskin University 

Sunday 18th March 2018 – 3.00pm
In another make-up game, this one sees Anglia Ruskin hosting this Lions' home game at Kelsey Kerridge. Both playing the second half of a back-to-back, this will again be a big test for the Lions, with the Rhinos on a good run of form. Two wins from two this weekend would be enough to clinch a playoff spot for Anglia Ruskin, who may yet match their seventh place finish from a season ago.

 Essex Blades v Bristol Academy Flyers 

Sunday 18th March 2018 – 4.00pm
Essex Blades return home after their travels to Oxford to face their closest rivals in terms of league standings. Bristol are the only team to have dealt Essex a loss in league play this season, so there is pride at stake for the Blades who will wish to make amends. Liisa Juul was key in the reverse fixture at SGS Wise Arena in November, pouring in 21 points, as the Flyers contained Cat Lutz to just 9 points.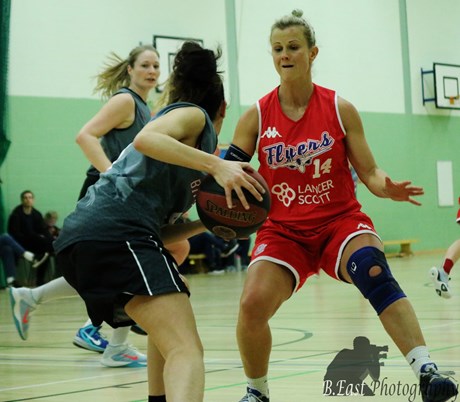 Liisa Juul will be vital for Bristol as they visit the D1W champions - B.East Photography

 Team Birmingham Elite v Oxford Brookes University 

Sunday 18th March 2018 – 5.00pm
It's all to play for at the bottom of the table, as Solent, Nottingham and Birmingham all control their fate in hopes of securing D1W status for next season. Birmingham's double-header against two top fours sides is a tough couple of games to play in need of results to guarantee safety, but the Elite ladies will hope they are up to the task. Slowing down Oxford's dynamic guard scoring could be the key in this one.
Division 2 Men

 Derbyshire Arrows v Westminster Warriors 

Saturday 17th March 2018 – 3.30pm
Patrons Cup champions Westminster Warriors head on the road this weekend to face a Derbyshire Arrows side coming off a vital road win last weekend. The Arrows found their target last weekend as Joseph Baugh's last gasp game winner against Middlesex brought them right back into the playoff race. D2M has been one of the most competitive leagues all season, and the tightness of the race for postseason spots sees Derbyshire, Middlesex, Sussex and Ipswich all tied on seven wins.
Warriors' Coach Jon Johnson is happy with his team's progression lately, "We as a team are going into this weekends double header with good confidence, we believe that we are getting stronger each week as a team and are still making improvements and finding form at the right time of year." Johnson added, "We know we are going to have to be at our very best this weekend as both Derbyshire and Liverpool are teams coming off good wins last weekend, both teams will be feeling very confident on there respective home courts, with both teams looking to strengthen there own playoff push just like ourselves."

 London Westside v London Greenhouse Pioneers 

Saturday 17th March 2018 – 4.00pm
In one of the many London derbies in D2M, this Saturday sees Pioneers make the trip across the capital to face Westside at St. Mary's University. Westside suffered a tough loss on the road at Liverpool last weekend, so will hope to bounce back at home. Meanwhile, 17 points from Pioneers' Mark Raynolds was not enough to get the job done in a midweek clash against Westminster Warriors.

 Ipswich v Thames Valley Cavaliers 

Saturday 17th March 2018 – 5.00pm
As mentioned, its still all to play for in D2M, with many teams in tight races to secure their fate. Ipswich's form over the last two weekends will see them either secure postseason play, or drop out of the playoff race; while Thames Valley mathematically still have a chance at the league title, if Hoods slip up in their final fixtures. After a number of outstanding performances this season, Ryan Wilson will be key for the Cavaliers to slow down, as he averages 24.3ppg, 8.6rpg and 3.1apg. On the Cavaliers, key performances in recent weeks from Martelle McLemore (24.5ppg) and Robert Banks Jr (19.5ppg) will make them the men to stop on the visiting side.

 Nottingham Hoods v Sussex Bears 

Saturday 17th March 2018 – 7.00pm
Spirits were high in the Nottingham Hoods' ranks last weekend, as they clinched promotion to D1M with their win over Essex Leopards. If the Cavaliers slip up at Ipswich, Nottingham can seal the league title with a win here over Sussex. To do so, the Hoods will need to slow down Joe Carter, who has averaged 19.7 points per outing this season, as he dropped a season-high 45 points on Ipswich last weekend.
Nottingham forward David 'Tin-Tin' Watts spoke appreciatively of the Hoods' support, "Our fans this year have been amazing and the last few games have seen the biggest crowds of the year so far and this weekend looks to be no different." Watts continued, "We have been prepping all week and everyone has been stepping up and demanding more of themselves as the end of the season approaches. We are looking forward to another tough challenge this Saturday. Its great to be a part of a team that has individuals that have bought in to playing basketball the right way and Coach Ryan has done a great job getting everyone on the same page and motivated."

 Team Birmingham Elite v Liverpool 

Saturday 17th March 2018 – 8.00pm
The late-game on Saturday sees Liverpool make the trip down the M6 to The Factory to face Team Birmingham Elite. In a tight race for third place, Liverpool's two wins last weekend did wonders to improve their chances of home-court advantage in the playoffs, but they will need to round out their season with wins as Essex and Westminster are chasing. Team Birmingham find themselves in a three-horse race to get out of the bottom two, as Elite, Pioneers and Westside have important games to come in the hopes of survival in D2M.
Liverpool Coach Delme Herriman reinforced the importance of keeping their good form going, "We had a great weekend last week with two wins including a huge win away at Essex. LBC hope to maintain their current third place position with a win at Birmingham on Saturday. Sunday will be another huge test against travelling Westminster Warriors, an important game as they are just a win behind Liverpool."

 London Greenhouse Pioneers v London Westside 

Sunday 18th March 2018 – 1.30pm
In a reverse of the fixture from the previous day, these two sides will be very used to one-another after this weekend is through! If either team can sweep the season season series this weekend, it will do wonders for their chances at survival, as the head-to-head in this matchup may prove critical when splitting the teams near the bottom.

 Liverpool v Westminster Warriors 

Sunday 18th March 2018 – 2.00pm
A key matchup between two teams in the tight race for third, this fixture could have real implications over the playoff seeding at the top of D2M. A narrow victory for Liverpool in the reverse of this fixture saw David Ulph have his way as he led all scorers with 25 points. Westminster will need to key in on slowing down Ulph, who has been one of the top performers in D2M throughout this season, averaging 23.6ppg and 11.8rpg.
Warriors' Coach Jon Johnson was honest about the tough task this weekend, "We know we are in for two very hard games however we have faith in our group of players and after a win on Tuesday and good practice this week we feel we are ready for the test this weekend will offer and confident that we can strengthen our chances of a playoff spot."

 Middlesex LTBC v Essex Leopards 

Sunday 18th March 2018 – 4.00pm
Middlesex were handed a last gasp defeat last weekend, as Modestas Krasauskas gave them the go-ahead basket, only to lose on a game-winner from Arrows' Joseph Baugh. Essex Leopards also had a tough weekend as they suffered two blow-out losses against top three sides Nottingham Hoods and Liverpool. Slowing down the big scorers in this one might the key, as Dougie Bennett paces the Big Cats with 17.4ppg, while Krasauskas tallies an impressive 22.6 per outing. Daniel Szatkowski has also been key since his transfer from London United D4M, averaging 18.6ppg in his five games in D2M so far.
Leopards' Coach Thomas Baker is hoping for a change of fortune for the Big Cats, "This weekend we will be looking to get our season back to winning ways. After losing both games last weekend with two very different performances, it is important for us to gain some momentum going into the playoffs. A good performance from the guys this weekend is what we are looking for, the result will then take care of itself."

 Derbyshire Arrows v Team Birmingham Elite 

Sunday 18th March 2018 – 5.40pm
In the final game of the D2M weekend, Derbyshire Arrows complete their home back-to-back as they host Team Birmingham. The result of the reverse fixture was a narrow victory for the Arrows, paced by 31 points from Joseph Baugh. It's a tough ask for Birmingham to get anything from their two games against higher-placed teams this weekend, but they will need to do so in search of safety at the foot of D2M.
Elsewhere in the NBL
Ipswich can clinch the D2W North league title this weekend if they manage to grab a road win over Worcester Wolves, while in D2W South a potential title-deciding game will take place between West Herts Warriors and Sevenoaks Suns II.
D3M North league-leaders Myerscough College face a double-header which could clinch the league title, especially if they grab a victory on Sunday over their closest rivals at the top, Loughborough Student Riders II. D3M South will be decided on Sunday as Northants Tauras travel down to Team Solent Kestrels II. A win for Northants will tie the records at the top of the league with Greenwich Titans, but as Northants hold the head-to-head tiebreaker, they would be crowned champions. Greenwich will have to cross their fingers and become Kestrels fans for the day as their schedule ended last Sunday!
A double-header for Derby Trailblazers II could see them leapfrog Team Derby at the top of D4M Midlands, as the Team Derby squad will enjoy a weekend off. In D4M North, an important double-header for Calderdale Explorers could see them clinch the league title, but any slip ups still give the chasing Sheffield Sabres, Blackpool and Tameside hope of a challenge.
BC Medelynas London will look to continue their undefeated season in D4M South East, but with their game against chasing Barking Abbey still to be played, the title is all but secure. Finally, in D4M South West, league-leaders Huish Taunton Tigers can put real pressure on the chasing Bristol Academy Flyers II with two wins from their double-header this weekend. However, Bristol hold a narrow two-point advantage over Taunton in the head-to-head this season, so the the title race may go right down to the wire in this one!