National Cup
Men's Final

Hemel Storm v Manchester Magic

Sunday 21 January 2018 – 3.30pm
National Trophy winners as well as D1M Playoff champions a year ago, the trophies continue to mount for this Manchester side. They'll want that momentum to continue for as long as possible and the National Cup Final presents another opportunity to make sure that happens. Manchester are no strangers to National Cup success either, last lifting the trophy in 2016 after a solid win over Worthing in Sheffield.
It's been a long time coming, but Hemel were finally able to book this spot in the Final just a few weeks ago, beating not only a dogged Loughborough side but also the weather. Originally scheduled to be played in mid-December, their Semi-Final fixture had to be cancelled because of snow, leaving the game to rearranged in 2018. Still, the delay didn't affect the Storm who marched to a 103-86 win over their D1M rivals.
It has been somewhat of a turnaround season for Hemel under the guidance of Coach Robert Youngblood. A 13-13 record and the 8th seed in the D1M playoffs a year ago, the Storm are now sat in 4th with an 8-5 record and previously occupied top spot in the division earlier in the campaign. Now their attention turns to the National Cup, a competition Hemel haven't reached the Quarter-Finals in since 2012/13. That has all changed now though and the Hertfordshire side will be going all out for victory today against a Manchester team they have already beaten 77-55 in D1M this season.
Hemel Storm Head Coach Robert Youngblood, "I'm very excited for the fans and all of the volunteers and players at the club that have been putting in the hard work over the years to get Storm to this level. Manchester is a great team that lives in the Finals year in and year out. They are well coached and they play hard and together and it will be a tough matchup for us. They're an athletic team that plays great defence and they've won at least one piece of silverware for the past 3 or 4 years. But we will be well prepared, up for the challenge and we're going to enjoy it."
Hemel's Coach Youngblood passes on instructions to his side - Lin Titmuss
Manchester Magic Coach Paul Middleton, "We are very excited about reaching another National Cup Final, particularly after losing in the Quarter Final last year. This feels like a great achievement for the team, especially given some of the influential players we lost after last season. We have had a mixed start to the year but beating a very talented Solent side on the road to reach the final is testament to the player's hard work over the last couple of months as we try to establish some consistency in our performance. As a club we have been to the cup final on a few occasions and we will be relying on our more experienced players to put us in the right mind-set for the game."
Women's Final

Essex Blades v Ipswich

Sunday 21 January 2018 – 1.00pm
The road to the Final for Essex has been relatively smooth, with no result being anything less than a double digit victory so far. Even playing Oxford Brookes in the Quarter-Finals, a rival at the top of D1W, the Blades still came away with a 76-59 win on the road. The league leaders won by 31 in the Semi-Final and have been in fine form in all competitions this season.
A match up with high flying Essex won't overawe Ipswich though as they have defeated 3 different D1W sides on their way to the Final. Their National Cup journey began back in mid-October with a commanding 106-67 win over fellow D2W side Northamptonshire Titans. From there, the fairy tale just went on and on. Loughborough Students Riders, Reading Rockets and Bristol Academy Flyers all fell to Ipswich as the Suffolk side time and again showed their class, winning on the road on all 3 occasions. Coach Drane's side saved their best until last as well, with their Semi-Final over Bristol coming in the most nail-biting fashion, a slender 74-72 win, and with it a place in the Final.
Essex Blades Head Coach Mark Lloyd, "We are obviously delighted to be appearing in our second National Cup final in our short three-year history in the NBL. It really is poised to be a truly memorable Final and advert for women's basketball in the East of England! Ipswich have shown that they are a D1W team playing in D2W this season in the results they have put together on route to the Final itself. They are not the under dogs by any means - the result against Bristol in the Semi-Final showed real character from their talented young players. We obviously know each other well being only half an hour away from each other geographically. As I say, I hope that the East of England derby is a great spectacle for the women's game in this country"
Ipswich Head Coach Nick Drane, "We are really excited to play in the National Cup Final, it's testament to the work the girls have put in, not just this season but for many years at junior and academy level. I have huge respect for the Essex Blades programme, and they are our close neighbours and a programme we have a strong link with. Essex have a number of former Ipswich players in their University programme, with Charlene Tom, one of our opponents this weekend someone who grew up playing for Ipswich. For me personally it's a special moment to be lining up opposite Essex Coach Mark Lloyd. Mark was my coach at both junior and senior NBL level and also inspired me to become a coach - he has played a huge part in my development as a professional so to coach in a National Final against him is great.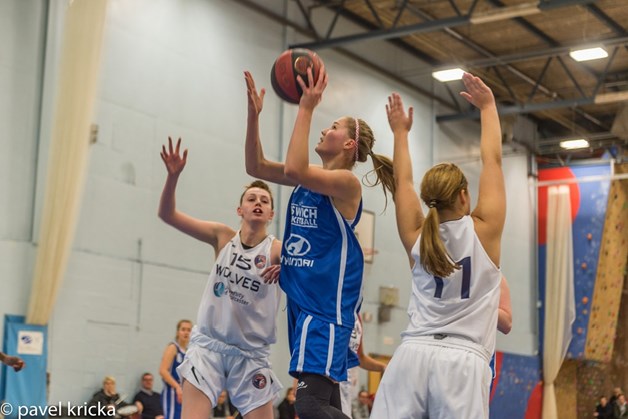 Ipswich will be going all out to win this weekend's National Cup, and they currently lead D2W North - Pavel Kricka
Division 1 Men

Team Newcastle University (5-10) v Lancashire Spinners (0-13)

Saturday 20 January 2018 – 6.00pm
Last weekend's road win in Reading will no doubt have provided a huge confidence boost for the Knights as they welcome Lancashire to the North East this weekend. Although their performances have picked up in recent weeks, the Spinners are still winless and will do everything they can to put that right here. 62-44 winners when the sides met in Lancashire in October, a home victory here would also seal the sweep over the Spinners for Newcastle, their first against any side this season.
Team Newcastle Head Coach Ian Hewitt, "It was great to start the year with the Reading performance and we will be looking to build on that against Lancashire.  The Spinners are a very talented team, especially now that they have added Fullah and Trobo.  Their record isn't a fair reflection on them so we know that we have to be ready defensively.  We are looking forward to the challenge of this game."

Loughborough Students Riders (9-2) v Derby Trailblazers (6-7)

Saturday 20 January 2018 – 6.15pm
4-1 in their last 5, Derby go into their road game against Loughborough with plenty of optimism. That said, the Riders are 4-1 in recently themselves and are haven't lost on their own court this season. Look out for great team basketball in this one, with the hosts known for their ability to get production each week from all 12 of their players. Derby have also been enjoying solid production from across their roster in recent weeks, including Kayne King, Matt Ward-Hibbert, Ollie Stanley, Jake Wesselingh and Simeon Esprit. All have contributed during their recent run and they still have Leighton Elliot-Sewell to add into the mix once he's able to return.
Loughborough Head Coach Mark Jarram, "Derby have been competitive all season. Many close games and their close loses are now turning into close wins and I'm not surprised. Matt has done a great job figuring out his players and how they can be more effective. This season has been one of the most competitive up and down the league and you have to be ready, focused and prepared for a battle every week no matter the opponent."
Derby Trailblazers Head Coach Matt Shaw, "The guys have picked up a lot of confidence in the last few week, it's amazing how one win can do that. I think it's been a real team effort, guys understanding their role and putting the team ahead of themselves.  We've also been able to get stops when we've needed them in recent weeks, and that has helped to."

Bradford Dragons (5-8) v Kent Crusaders (4-8)

Saturday 20 January 2018 – 6.15pm
Bradford continue to struggle with a depleted roster and are on a 2-5 run stretching back to late November. Eisley Swaine's absence is noticeable as the talented guard can produce at this level when available and right now Rafi Saipe, Rihard Sulcs, Ricky Fetske and Marcus Gooding are all logging serious minutes each game. Kent will try and take advantage of that situation coming off the back of a great win with Manchester. Caleb Fuller remains in red hot form and will look to keep that going here, whilst Pierce Maslan was 5-9 from beyond the arc against the Magic. If the youngster can find his range again here, he'll be dangerous to.
Kent Crusaders Head Coach Lloyd Gardner, "I was delighted with the win over Manchester, we felt that we had been playing better in games in recent weeks even though we didn't get the results.  Anytime you can beat a team like Manchester you know you have had to play at your best.  We have to now add some consistency to that performance rather than it become a one-off, for us with our league position, one win isn't enough we need to keep pushing to improve and challenge the teams around us"

Worthing Thunder (9-4) v Team Solent Kestrels (10-3)

Saturday 20 January 2018 – 7.30pm
When Solent head to Worthing on Saturday, they'll be greeted by the familiar face of former player Marquis Mathis. The American has signed with the Thunder for the remainder of the season and should feature. A real presence in the paint, he will be yet another dangerous player the Kestrels will need to keep tabs on. Not an easy task when Zaire Taylor, Jorge Ebanks and Brendan Okoronkwo all require plenty of attention. League leaders Solent lost last week to Northumbria, this game will provide a real test of the title credentials and if they can bounce back at the first time of asking.
Worthing Thunder Head Coach Daniel Gayle, "We are really excited for the signing of Marquis. Although the team has been really competitive and winning games, we often lose the battle of the boards. Marquis will bring some toughness in the paint, some much needed rebounding and another option offensively. He's reunited with former teammate Jorge Ebanks, which means he's familiar with the league, the type of talent there is, so I have no doubt that he will definitely compliment the team."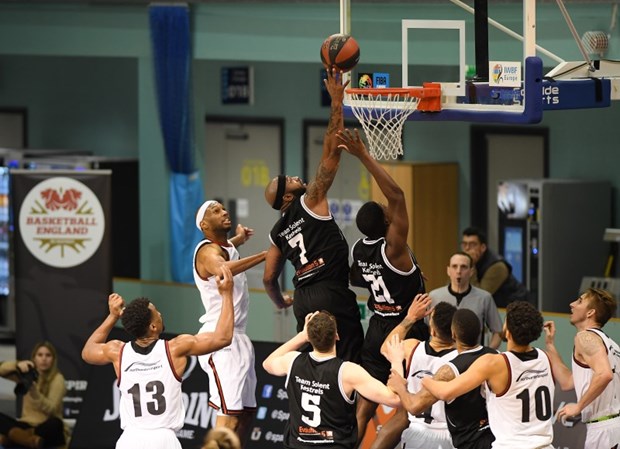 Marquis Mathis (black kit, #7) rises highest for Solent during last year's National Cup Final. Now, he's part of Worthing's roster and will face his former club this weekend.

Team Solent Kestrels (10-3) v Reading Rockets (8-5)

Sunday 21 January 2018 – 3.00pm
Things don't get any easier for Solent on Sunday as they entertain Reading, but the Kestrels can at least take solace in the fact the Rockets are on a bit of a slide right now. 1-3 in their last 4, recent form has left the Berkshire side in 6th place and a little way off the pace near the top of the division. This weekend could be a defining one for the Kestrels as games with Worthing and Reading will surely provide an indication of their ability to stay the course as D1M leaders. Big performances from Herman Senor II and Joe Tagarelli will no doubt be important but keep an eye on Louie Kirkman and Elliot Dadds, both can produce given the chance.
Reading Rockets Head Coach Manuel Pena Garcés, "We are focused on our own development, week after week, practice after practice. It's true that recent results are not as we would like, and we are accountable in it. However, this is going to be long season. This week we have another difficult game; but we won't rate our success only on the result. Consistency and intent will be some of the concepts that we will analyse, not just the result."
Division 1 Women

Reading Rockets (6-4) v BA London Lions II (2-7)

Saturday 20 January 2018 – 3.30pm
BA London Lions II will be going all out this weekend to beat Reading but their task won't be made any easier by the potential unavailability of Nikita Maldonado and Dimitria Tsavou. Both are currently injured and may struggle to feature, leaving the young roster to battle on in their absence. The Rockets recently defeated Bristol to show they can be a force against the teams near the top of D1W and they will want to secure a win here to keep momentum on their side.
BA London Lions II Head Coach Karen Burton, "We have played Reading once before this season in the Cup where they beat us. However, we are better than when we played them and I believe that we have a good chance to overturn that result. The team had a great midweek fixture in the schools' competition so that should take momentum into this weekend"

Loughborough Students Riders (5-6) v Lancashire Spinners (7-4)

Saturday 20 January 2018 – 4.00pm
After beginning the year with a loss to leaders Essex, Lancashire showed great resilience to bounce back and defeat Oxford last weekend. That win kept the Spinners firmly in the hunt for a top 4 finish to the regular season and the North West side will want another win here. 1-4 in their last 5, the Riders haven't been in top form recently either and that could make their prospects of securing a victory against the Spinners that bit more difficult.
Lancashire Spinners Nick Ibberson, "This group are mentally strong. It could be argued that the Christmas break was a factor in the loss to Essex because the group only had one training session between December 17 and January 6. Essex are a very strong team and after a good first half we were unable to sustain that performance in the second half.  The following week our players had been together for longer, the Academy girls were back in full training and that showed in the game against Oxford Brookes."

Oxford Brookes University (8-3) v Team Solent Kestrels (2-10)

Saturday 20 January 2018 – 5.00pm
Dropping a game last week at home to Lancashire means the gap between 3rd placed Oxford and leaders Essex is getting a little bigger. Still, Brookes should be delighted by their campaign to date as a newly promoted side despite that recent blip. This weekend presents an opportunity to get back to winning ways against a Solent side in freefall, but the hosts will need to keep their guard up. The Kestrels still possess plenty of talent on their roster and a turnaround in form could be just around the corner.

BA London Lions II (2-7) v Bristol Academy Flyers (8-3)

Sunday 21 January 2018 – 2.00pm
The only team in double header action this weekend, BA host Bristol on Sunday in another tough test for the London side. Mai Zilbeti continues to be a stand out player at this level for the Flyers and she is sure to be a factor for the visitors, as will Liisa Juul. Hannah Wallace enjoyed a 15 point outing last week to, so she'd no doubt like to continue that form here. For the Lions, Demi Adeyinka continues to be a bright spot. After dropping 24 against Oxford recently, she followed that up with a team high 13 against Southwark last weekend.
BA London Lions Head Coach Karen Burton, "Bristol will be tough test as they are more physical and deeper than Reading, our opponents on Saturday. Hopefully by the end of Sunday I will be happy with one win from two over the weekend as a minimum though."
Division 2 Men

Ipswich (5-7) v Derbyshire Arrows (4-6)

Saturday 20 January 2018 – 7.00pm
Currently occupying the final playoff spot in 8th, Derbyshire would love to secure a road win here. The Arrows have already beaten Ipswich this season, 88-72 victors when the season began back on October 7. A lot has changed since then, but this should still be a relatively even contest. Joseph Baugh was in stunning form last week, pulling down 18 boards to go with 23 points as the Arrows lost out to Essex, but more of the same from the talented forward will be a priority. Ipswich's young core of Rabi Rai, Ben Winter and Jonny Hall, along with experienced American Ryan Wilson, will no doubt keep this team competitive down the stretch. 
Derbyshire Arrows Head Coach Jonny Kelly, "We are obviously aware of the improvements Ipswich have made since we last met. They have added to their roster which we anticipate will give them a new edge. We do feel confident in our own ability to compete on every play and take what result comes to us. That being said, 2 wins at Copleston over the last 2 years gives us confidence to go there and play our best basketball. We hope that's enough for a win."

Essex Leopards (7-2) v Nottingham Hoods (11-1)

Saturday 20 January 2018 – 7.00pm
The big games just keep coming for Nottingham, but as the top side in the division at this stage of the season, every game is big. The Hoods lost their unbeaten record last season as 2nd placed Thames Valley found a way past them, but the leaders bounced back on the Sunday to beat Liverpool. This game is huge for both sides in their quest for promotion, though a loss wouldn't be terminal for either team as there is still a way to go. Essex have won 5 in a row and that momentum is sure to be important, but the Hoods have proved repeatedly this season that they can perform when needed.
Essex Leopards captain Dougie Bennett, "We will approach this game the same as we approach any other game, by working hard in training to polish our offensive and defensive understanding and of course we will scout accordingly. The loss last weekend for the Hoods puts us in a fantastic position to obtain our goal of gaining promotion. We have been given an opportunity which has been put in our own hands as we still have games to play against Hoods, Cavaliers and Liverpool."
Nottingham Hoods Head Coach Ryan Westley, "It's not been difficult at all to motivate the players after last weekend. The team are very professional and know we have a job to do this weekend against an in-form Leopards team. The loss has only served to motivate us more."

Team Birmingham Elite (4-7) v Essex Leopards (7-2)

Sunday 21 January 2018 – 4.20pm
Regardless of the result of their game against Nottingham, Essex will still need to regroup and make sure they give a good account of themselves 24 hours later against Birmingham. If the Leopards were to beat Nottingham then slip here, it would undo a lot of their hard work. 1-4 in their last 5 games, the Elite have found things tough recently. The hosts also haven't won on their own court since early November. Neither of those factors will help them here unless they can get things turned around.
Elsewhere in the NBL
In the pick of the D2W action, 2nd place side in the South Sevenoaks Suns II travel cross country to face 3rd placed Cardiff. The Welsh side are currently unbeaten at 3-0 whereas the Suns are 5-1, so plenty of interest there.
In D3M North, leaders Myerscough College return to league action after booking a place in the National Shield Semi-Final this weekend. They host WLV Albion, who dropped their Shield Quarter-Final to Team Solent Kestrels II. 2nd placed Team Sunderland need to win in Sheffield against the Hallam Sharks if they're going to keep up their title challenge.
In D3M South, Northants Taurus have a week off so East London All Stars have a chance to tie things up at the top at 8-3 if they can grab a win. They'll entertain Swindon Shock on Saturday afternoon.
Northants Thunder continue to lead D4M Midlands and they hit the road to take on Nottingham Trent Hoods on Saturday. 2nd place Derby Trailblazers are unbeaten though and will put that record on the line Sunday as they host City of Birmingham Rockets.
Calderdale, Blackpool and Kingston are all enjoying a week off as the top 3 sides in D4M North, meaning 4th placed Sheffield Sabres are the top side in action this week. They travel to 8th placed York Vikings on Sunday.
It's 1st v 3rd in D4M South East as Kent Crusaders II host leaders BC Medelynas and their unbeaten 10-0 record. And in D4M South West, it's a battle at the top as 1st plays 2nd. Leaders Huish Taunton Tigers welcome rivals Bristol Academy Flyers II though the Tigers are 10-1 and the Flyers are 8-1, meaning regardless of the result Taunton will retain top spot come Saturday night.