National Trophy
Semi-Finals

Manchester Magic v Team Northumbria

Sunday 28 January 2018 – 5.00pm
Manchester need to put the disappointment of National Cup defeat to the back of their mind as they get ready to host Team Northumbria this weekend. With both sides somewhat off the pace in D1M the National Trophy may represent their best avenue for silverware this season unless either side can mount a successful push in the playoffs. Having already played twice in the league this season, splitting those games in November 1-1, this one is sure to be tight throughout between a pair of evenly matched teams.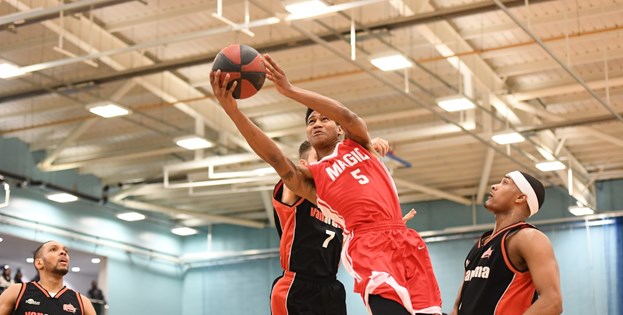 Donte Gittens couldn't help Manchester win the National Cup, but he'll look to lift them into the National Trophy Final this weekend

Team Solent Kestrels v Loughborough Students Riders

Sunday 28 January 2018 – 5.00pm
A much anticipated tie in the National Trophy, these sides are currently 1st and 2nd in D1M and another exciting game between these teams is always a bonus. During their previous meeting in early November, the Riders ran out comfortable 86-67 winners. Since then both sides have continued to strengthen, reflected in their position in the league right now. It might be hard to split these sides this weekend, but home court advantage may be key for the Kestrels.
Division 1 Men

Leicester Warriors (5-8) v Bradford Dragons (6-8)

Saturday 27 January 2018 – 3.00pm
Leicester will be hoping that a home game with Bradford can provide them with some vital points as the Warriors continue to try and move away from the relegation fight below them. Currently just 2 points above Kent, who occupy the final potential relegation spot in 12th, Leicester will also be hoping they can put up more a fight than they managed when these teams last met. The Dragons ran out 104-70 winners during that game in October, and Bradford will be looking to build on their win over Kent last weekend to consolidate their current playoff position. Bradford's Marcus Gooding went off for 30 points in that game so the hosts will need to be aware of his threat if they are to secure a result here.

Kent Crusaders (4-9) v Derby Trailblazers (6-8)

Saturday 27 January 2018 – 4.00pm
Kent were unable to build on their recent win over Manchester, falling to Bradford last weekend. The Crusaders will want to try and make sure they don't fall back into a downward spiral as they lost 6 in a row before that victory over the Magic. Derby will be facing exactly the same challenge as their own recent good form is in danger of being derailed after a heavy 89-56 loss in Loughborough last weekend. Before that defeat the Trailblazers had won 3 in a row, but this weekend will show which team can bounce back the quickest.

Lancashire Spinners (0-14) v Loughborough Students Riders (10-2)

Saturday 27 January 2018 – 5.45pm
Time is running out for the Spinners to put together the sort of form required to lift them off the foot of the table. 10 games remain on their season and with safety currently 5 wins away, it is becoming a tough ask. A recent 3-point loss to Derby was a positive in terms of performance, but last weekend's 31-point defeat by Team Newcastle won't have helped morale. For Loughborough, this game represents a warm up before their trip to Solent in the National Trophy on Sunday. 106-38 was the margin of victory for the Riders when the sides met back in October so it is tough to suggest that this one will end up as anything but a win for the visitors.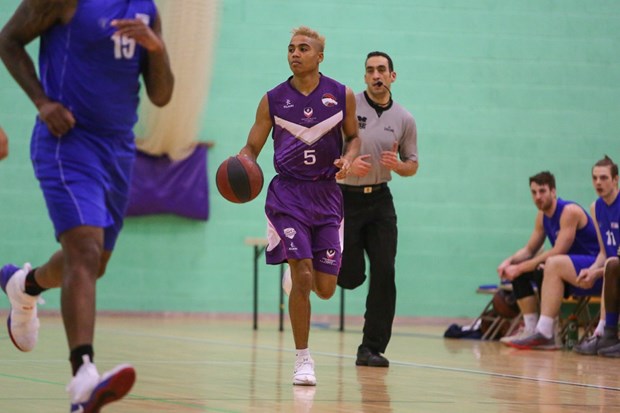 Loughborough's influential guard Reis Pinnock - Joe Pinchin

Kent Crusaders (4-9) v Hemel Storm (8-5)

Sunday 28 January 2018 – 3.00pm
Kent are the only side in double-header action this weekend as they welcome the newly-crowned National Cup champions to town on Sunday. The Storm would love to continue their title challenge this weekend and with Worthing not in action, Hemel can go joint 3rd with a win here. A lot will depend on Kent's fixture on Saturday when deciding an outcome here, but it's worth remembering that 3 of the Crusaders' 4 wins this season have come on their own court.
Division 1 Women

Reading Rockets (7-4) v Oxford Brookes University (8-4)

Saturday 27 January 2018 – 1.30pm
Reading were able to get a win against London Lions last weekend to move to 3-1 in their last 4 and will have hopes of continuing that good form this weekend. After a great campaign to date, Oxford have had a little wobble of late and have dropped their previous 2 games. Last weekend provided a major shock as Solent went to Oxford and secured a win so it remains to be seen how Brookes can deal with that result and pick themselves up. Andrea De La Vara Gomez continues to be a standout player at this level for Reading, her contribution will no doubt be a key to the result in this one.

Lancashire Spinners (7-5) v BA London Lions II (2-9)

Saturday 27 January 2018 – 2.00pm
29 points for Shauna Harrison couldn't stop Lancashire from falling to defeat last weekend, but the young shooter consistently provides the Spinners with a high volume scoring option. Harrison's side currently sit in 6th place in the standings but with just 6 points separating the top 7 teams in D1W, the opportunity for movement is always there. With the surprise win for Solent last weekend and the resurgent form of Anglia Ruskin, BA London Lions have unfortunately slipped to the foot of the table. The Spinners are 3-3 on their own court this season though so there is plenty of room for optimism for the Lions, especially if they can get Macy Spinks and Dami Adeyinka going early.

Southwark Pride (7-4) v Anglia Ruskin University (3-8)

Saturday 27 January 2018 – 2.30pm
The only thing that was able to slow down Anglia Ruskin's form right now was not having a game last weekend. They get back into action tomorrow against Southwark, a side firmly entrenched in the battle near the top. 3-1 in their last 4, the Pride are unbeaten in 2018 and would like to remain that way after this weekend. The same can be said of the Rhinos though as their recent run of good form has lifted them off the base of the D1W table.

University of Nottingham (3-7) v Essex Blades (9-1)

Saturday 27 January 2018 – 3.00pm
Another side that has been pulled down into the relegation fight at the bottom of the league, Nottingham have only played once so far in 2018. That game was a loss to Bristol a few weeks ago but the University side need to stay patient. This weekend's games against top side Essex and current 3rd placed Oxford are tough contests that are going to be a challenge. Once February comes, Nottingham face Solent, London Lions II and Anglia Ruskin. They will be key contests in deciding their D1W season. Essex need to put their National Cup defeat behind them and concentrate on league play. 76-47 winners when these 2 sides met back in October, this game should represent a real opportunity for the Blades to get back to winning ways.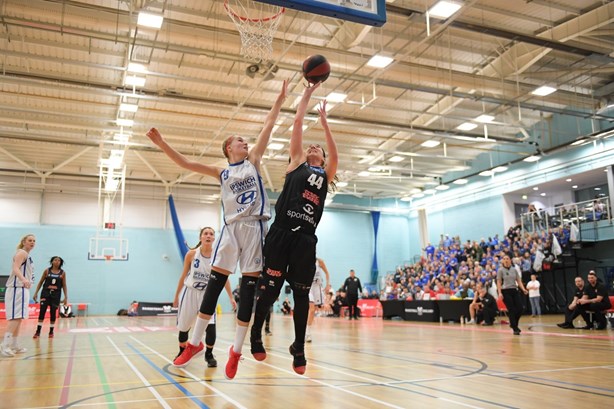 Essex's Cat Lutz (Black kit) puts one up in the National Cup Final

Team Solent Kestrels (3-10) v Loughborough Students Riders (6-6)

Saturday 27 January 2018 – 6.00pm
To say last weekend's result was a surprise would be an understatement, but the Kestrels victory snapped a 6 game losing streak and moved the former D1W regular season winners off the foot of the table. It would also appear the Kestrels have Oxford's number this season as that win completed the double over the 3rd placed side. The hosts will look to build on that win as they entertain Loughborough this weekend, a side they have already lost to once this season. The Riders produced a solid performance of their own last weekend to beat Lancashire and are now firmly in the mix from 3rd-7th. Another win here could really help if results elsewhere go their way.

Team Birmingham Elite (4-7) v Bristol Academy Flyers (9-3)

Saturday 27 January 2018 – 6.00pm
It's a busy Saturday in D1W as all 12 sides are set to hit the court. The last game of the day is in Birmingham as a struggling Elite side host 2nd placed Bristol. Birmingham are currently in the final playoff spot of 8th, but equally they're just 4 points off BA London Lions II at the foot of the table. That illustrates the thin margins that tend to be in play in this division and shows how valuable a few wins can be. The Elite triumphed in OT against Loughborough last time out and they'd love another win here. Whilst leaders Essex were unable to win in the National Cup last Sunday, Bristol were picking up a 9th victory of their D1W season against the Lions. That puts both teams level at the top right now but with games in hand and only 1 loss to their name, advantage still firmly sits with the Blades.

University of Nottingham (3-7) v Oxford Brookes University (8-4)

Sunday 28 January 2018 – 3.15pm
The only sides to pull double-header duty this weekend are Nottingham and Oxford in an all collegiate clash. Home court advantage will help for Nottingham here but it's unlikely they'll be heading into this game with much momentum after entertaining Essex on Saturday. Oxford's game with Reading could go either way so that will be an interesting one to watch. Depending on Saturday's result, Brookes will either have returned to winning ways or be on a 3 game losing streak. That could represent quite a swing in the dynamic of this one.  
Division 2 Men

Ipswich (6-7) v Nottingham Hoods (12-1)

Saturday 27 January 2018 – 5.00pm
Nottingham were able to take control of their own destiny and give themselves some breathing room in the race to D1M after beating Essex last weekend. That road win was a big one and means momentum can stay with the Hoods as they head to face Ipswich tomorrow. The hunt for promotion now looks to be a 3 team race, so Ipswich can focus on securing a play-off spot from here. The programme is on a high right now after the Women's National Cup Final victory last Sunday and with the Women's side also at home tomorrow, Coplestone is sure to have an incredible atmosphere throughout the day.

London Westside (3-8) v Essex Leopards (8-3)

Saturday 27 January 2018 – 6.15pm
Essex did well last weekend to bounce back from Saturday's loss to Nottingham with a comfortable road win over Birmingham. The margin for error for the Leopards is now pretty thin, though there is still a long way to go. Essex meet Thames Valley in early February but the Leopards must win out between now and that game, starting this weekend against London Westside. These two sides aren't far apart geographically but in the D2M standings they share opposing records. That means Westside are up against it near the bottom and need to start picking up points soon. If they can't, the likes of Greenhouse, Birmingham and Derbyshire could begin to pull away.

Westminster Warriors (6-6) v Sussex Bears (5-8)

Saturday 27 January 2018 – 6.30pm
As the side most likely to challenge Liverpool to 4th spot and a more favourable playoff run, Westminster will be hoping a home tie with Sussex will provide them with a victory. 2-2 over their last 4, in that stretch the Warriors have beaten Westside and Greenhouse who sit below them and lost to Essex and Nottingham who are above them. The London side would like that trend to continue this weekend based on Sussex's league position right now. Still, at 5-8 the Bears can focus on their own playoff aspirations. History suggests 6 wins should see a side safe in the division and the Bears are nearly at that mark with 9 game still to go.

Thames Valley Cavaliers (11-2) v London Greenhouse Pioneers (3-8)

Saturday 27 January 2018 – 7.00pm
Nottingham's victory over Essex didn't just help the Hoods, as a loss for the Leopards is also a positive for 2nd placed Thames Valley. The Cavs have received good news in back to back weekends now with that Essex loss last time out plus a victory of their own over the Hoods a week before. This Saturday should represent a fairly straight forward task for the promotion hopefuls as they entertain a Pioneers side they have already beaten 87-77 this season. Greenhouse have a win and two 3-point losses in their last 3 games, so they are fighting hard to try and remove themselves from the relegation battle. It's a tricky stretch for the hosts at the moment, playing the Cavs here and with games away to Liverpool and Nottingham in their next few weeks. The Pioneers season will hinge more on their last 6 games when they play Derbyshire, Middlesex and London Westside.

Team Birmingham Elite (4-8) v Middlesex LTBC (3-9)

Saturday 27 January 2018 – 8.00pm
Birmingham's current situation is either encouraging or an issue, depending on if you look up or down the table. Level on points with Derbyshire in the final playoff spot in 8th, Elite are also just a 2 points away from 11th and the final potential relegation place. Their game against bottom side Middlesex is a big one on Saturday night. LTBC are currently propping up the table due to their 4-point deduction earlier in the season so they have the roster to be higher up the standings than they appear right now. Middlesex won when these 2 sides first met back in October, a 78-71 victory, so expect another close game here.

Derbyshire Arrows (4-7) v Liverpool (8-6)

Sunday 28 January 2018 – 3.30pm
The only D2M game scheduled for Sunday sees Liverpool taking on the Arrows. Defeat to Nottingham a few weeks ago signalled the end of Liverpool's promotion aspirations, but they are still able to position themselves for a deep playoff push if all goes to plan. Aside for a game with Essex, the Merseyside outfit also face a good slate of fixtures from here on out. After this weekend, 3 of Liverpool's next 4 games are all at home and they still have a number of non-playoff teams to play. Last weekend's loss in Ipswich was Derbyshire's 3rd in a row and the Arrows are in danger of dropping out of the playoff places if they don't pick up some points soon. That might be a tough ask this weekend, but they do still have games against Westside, Greenhouse and Middlesex to focus on down the stretch.
Elsewhere in the NBL
It's 1st plays 2nd in D2W North as unbeaten leaders Ipswich will be able to show off the National Cup to their own fans as they host Derbyshire Gems on Saturday. In D2W South, joint leaders Sevenoaks Suns II and West Herts Warriors are both on the road, with the Suns heading to Folkestone on Saturday before Herts travel to Cardiff Met on Sunday.
Myerscough College now have a 4 game cushion atop the D3M North table and simply need to keep their form going for a shot at promotion. They face WLV Albion on Sunday. In the South, East London All Stars and Northants Taurus are both tied at the top on 8-3. East London could take the top spot outright on Saturday as they travel to winless Southwark, whereas Taurus don't play until Sunday when they host Cardiff City.
There's still plenty of excitement across D4M, but the pick of the action this weekend could once again be in D4M South West. Last time out, leaders Huish Taunton Tigers defeated 2nd placed side Bristol Academy Flyers II 74-73. Fans don't have to wait long for a rematch though as the same 2 sides meet again this weekend, this time in Bristol.
BC Medelynas are one of the few sides in the country who are still unbeaten. The D4M South East leaders head to 5th placed Chelmsford Lions on Saturday as they aim to move to 12-0. Calderdale Explorers are one of the other unbeaten sides though and their 12-0 record will go to Sefton this weekend while 2nd placed side Blackpool welcome Newcastle EaglesU23s on Sunday.
That leaves us with D4M Midlands where Derby Trailblazers II are 10-0, but by virtue of games played they sit in 3rd. They have a local derby away to Nottingham Hoods II on Sunday, with leaders Northants Thunder playing the same opponents on Saturday.