Patrons Cup
Semi-Finals

Thames Valley Cavaliers v Nottingham Hoods

Sunday 4 February 2018 – 4.30pm
The Semi-Finals of the Patrons Cup provides us with an opportunity to enjoy a third game this season between the two sides at the top of D2M. Nottingham took the first meeting back in October when they went on the road and beat the Cavs on their own court. A few weeks ago, Thames Valley returned the favour, winning 99-85 up in Nottingham. With home court failing to provide an advantage to either side so far, this game is very hard to call. Nottingham were able to get Tevis Robinson hot when they triumphed in October, and likewise Thames Valley got great production from Martelle McLemore during their recent win.  Sunday's result could hinge on which players can come out and produce when it matters most.

Team Birmingham Elite v Westminster Warriors

Sunday 4 February 2018 – 5.00pm
Also looking to book a place in February's Patrons Cup Final are Team Birmingham and Westminster. The Warriors are currently 5th in D2M and look likely to secure a place in the post season barring a serious dip. Birmingham are on the bubble and will need to pick up some form to do the same, but this competition provides both sides with their most likely route to silverware this year. The Warriors have already secured a victory in Birmingham this season, taking the D2M game 75-69 in late October. That game was an even one throughout but a lot has changed in the weeks and months since.
National Shield
Semi-Finals
Myerscough College v East London All Stars
Saturday 3 February 2018 – 1.00pm
In an extra treat for NBL fans, we also have the National Shield Semi-Finals this weekend and we open the weekend with an exciting D3M clash between two sides in great form.  Myerscough College have a great young core that keep stringing together wins in the North division as they strive for promotion. At 9-1, they haven't lost since early November and will do all they can to keep it that way tomorrow. East London All Stars are also a team on the up, and at 9-3 they're joint top of the South division. David Walsh and Konrad Kantorski should feature heavily for the hosts, with Brian Baehl and Daniel Delgado looking to counter for East London.
Birmingham Mets v Team Solent Kestrels II
Sunday 4 February 2018 – TBC
By Sunday night we'll have our 2nd finalist after Birmingham Mets and Team Solent Kestrels II have done battle in the West Midlands. Unlike the other Semi-Final, neither of these sides have been lighting up the standings in D3M but both have excelled when it comes to knock-out basketball. Mets are currently 9th from 10 in the Northern division at 4-7, whilst Solent are 4th in the South with a record of 6-5. Both sides also lost last time out in league play so it's hard to say momentum is with either team here.
Division 1 Men

Loughborough Students Riders (11-2) v Kent Crusaders (6-9)

Saturday 3 February 2018 – 2.00pm
2 wins last weekend were vital to Kent's D1M survival hopes, but continuing that form this weekend will be a serious test as they hit the road to play one of the division's leading sides. The Riders have only lost once since October 7, they're a team who know how to get the job done. They also put in professional performances to handle Lancashire and Derby in recent weeks, so it appears unlikely the hosts will take their eye of the ball and slip up here. Still, Kent only lost by 7 when these sides met in late October and if they can get Dwayne Orija and Caleb Fuller firing, they will feel they can have a go at getting a result on Saturday afternoon.

Bradford Dragons (7-8) v Team Solent Kestrels (12-3)

Saturday 3 February 2018 – 6.15pm
Bradford have done what they needed to do in recent weeks to keep their heads above water in the battle for D1M survival.  Wins against Kent and Leicester were key and although they couldn't overcome Loughborough, that's less of an issue. Solent probably represent a similar test to the Riders, but anything the Dragons can take from their upcoming run will be a bonus. Games against Manchester at home and away, plus Hemel, Northumbria and Worthing take the Yorkshire side deep into their schedule and will provide tough tests, though new signing Disraeli Lufadeju should add some rebounding and defensive effort to their roster. The Kestrels recent home loss to Northumbria looks to be behind them after recent victories against Worthing and Reading and this weekend will allow the Kestrels to take further steps in their quest for a D1M regular season title. Joe Tagarelli and Herman Senor II will both continue to play an important role in that.
Bradford Dragons Head Coach Chris Mellor, "Disraeli is a very good defensive player, who rebounds well. He's also a good athlete who can create things off the dribble offensively. He fits in with what we are trying to do at the club and I've been impressed with his attitude, work-ethic and character."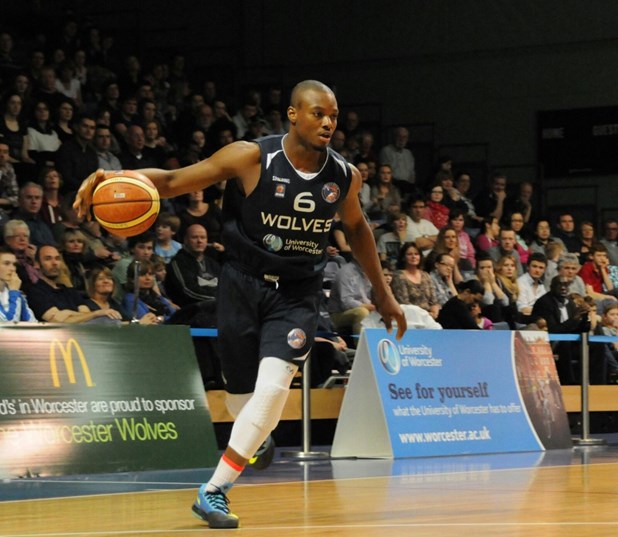 Disraeli "Dizzy" Lufadeju has played for Leeds Force and Worcester Wolves before joining the Dragons - Worcester Wolves

Hemel Storm (8-6) v Lancashire Spinners (0-15)

Saturday 3 February 2018 – 7.00pm
Hemel suffered a shock defeat in Kent last weekend as they narrowly lost out to the Crusaders, 79-76. With each passing week the title race between Solent and Loughborough continues to heat up, but if those sides do slip up it will bring Worthing, Northumbria and Hemel into play. That means the Storm can't afford any more dropped points, that starts this weekend against the Spinners. 6 wins from their remaining 9 games looks a long shot for Lancashire, but they can still make their stretch run productive by building some chemistry and working on line-ups that will be of use to them next season. The final result may not go in the visitor's favour tomorrow but so long as they can remain competitive for stretches of the contest, that will be a solid effort and something to build on.

Derby Trailblazers (6-9) v Leicester Warriors (5-9)

Saturday 3 February 2018 – 7.15pm
A massive game at the bottom of the table, the result of this game could be worth more than just the 2 points on offer to the winner. Narrow victors when these sides met in October, Derby would love to control the tiebreaker between these 2 sides, win or lose, come Saturday night. They couldn't manage that last weekend as Kent took the tiebreaker from the Trailblazers and with how close the standings are at the bottom of D1M right now, splitting tied teams could play a big role in deciding who stays and who goes for next season. Leicester have lost 2 in a row to Northumbria and Bradford so they'll want to change their form sooner rather than later, it's the wrong time of year to get on a losing streak. Of the Warriors last 9 games after this weekend, they only play 3 non-playoff sides, whereas Derby play just 1. This is a huge game.
Derby Trailblazers Head Coach Matt Shaw, "It's always tough against Leicester and I'm not expecting anything to be different this time around. They're usually a good side defensively side and that's been no different this season; they held us to just 59 points when we played them at Braunstone. Our current league positions mean this game is hugely important for both teams, so I expect it to be physical and scrappy. Hopefully our home advantage can help get us over the line."

Worthing Thunder (9-5) v Reading Rockets (8-6)

Saturday 3 February 2018 – 7.30pm
1 win in their last 5 means that Reading's title challenge is over for this year, but they can still build momentum and look to the playoffs. That's a tough task to begin this weekend though as the Rockets head to Worthing to face the Thunder. Still, the South coast side have lost their last 2 games as their own title aspirations have taken a blow. You can't imagine a Zaire Taylor side will remain in a lull for long though and Worthing will be hoping to turn things around from here. Joel Keeble will be unavailable for the rest of the season for the Rockets after making the decision to focus on his studies, but influential forward Danny Carter is continuing his return to action after making an important contribution last time out against Solent.
Worthing Thunder Head Coach Daniel Gayle, "We've dropped two important games so we've had to refocus, really take stock of what we're trying to achieve. I believe it's time for us now to get back to team basketball and focus on closing out the regular season."
Reading Rockets Head Coach Manuel Peña Garcés, "Worthing have been on a tremendous run of late and have added some really good players to their roster so we are expecting a tough game especially with the crowds they have been getting at home games and the form they have shown there. However, I really believe in this group of players and providing we are clear with our outcomes and execute in the areas that are important I think we can come away with a win."

Manchester Magic (6-6) v Team Solent Kestrels (12-3)

Sunday 4 February 2018 – 5.00pm
Following defeats in successive weekends, Manchester's hopes of silverware in the National Cup and National Trophy are now over. With a surprising .500 record in D1M, they're also off the pace there and a shot at the regular season title is now also off the table. That leaves the Magic's focus squarely on the playoffs from here on out. Manchester surely have too much talent to get involved in the relegation battle below, but with 12 points they're still firmly in the mix. Solent will hope that Manchester's down season allows them to secure the double over the North West side, they won 91-82 when the two sides met in October. More recently though Manchester went to the South coast and beat Solent to reach the National Cup Final, so this Magic team does have the quality to win here despite their current D1M record.

Team Northumbria (8-4) v Team Newcastle University (6-10) 

Sunday 4 February 2018 – 5.00pm
The North East rivalry resumes this weekend as Team Northumbria and Team Newcastle once again do battle. Northumbria won the first match up of the season between these sides as they ran out 81-69 winners in Newcastle back in October. That loss was part of a 1-7 run for the Knights to begin the year and since that stage they have been a much better team, stringing together wins to get themselves back into contention to stay in D1M. Northumbria have looked much more competitive in recent weeks and a 3 game winning streak has moved the side back up the standings. With only 4 losses so far, Loughborough have 2 to their name and Solent 3, so a title challenge for the North East side is hardly out of the question. Northumbria also have the tie breaker over the Kestrels, and still have Loughborough to play twice. Those will be big games, but the hosts can't afford to look too far ahead and drop games like the one they have this weekend.
Division 1 Women

Bristol Academy Flyers (9-4) v Team Solent Kestrels (4-10)

Saturday 3 February 2018 – 1:45pm
An early start in Bristol gets the D1W action underway for another weekend. Team Solent looked in trouble after a 20-point loss to Anglia Ruskin in mid-January, but wins over Oxford Brookes and Loughborough have helped significantly. 2nd placed Flyers are the next team up to tackle the resurgent Kestrels and they'll provide a stern test to the recent uptick in form. Bristol's loss last weekend to Team Birmingham gives league leaders Essex more breathing room than they probably need from here on out. The Flyers will still want to bounce back this weekend and keep a grip on 2nd place if they can. Bristol's Mai Zilbeti is sure to receive some MVP discussion this year and she should be able to continue her good form. If that will be enough to cool off the Kestrels remains to be seen though.

Loughborough Students Riders (6-7) v Anglia Ruskin University (3-9) 

Saturday 3 February 2018 – 4.30pm
Loughborough's unpredictable form has continued in recent weeks with an excellent win over Lancashire followed by a 22-point loss to Solent. This weekend sees Anglia Ruskin come to town and the Riders would love to pick up another 2 points to strengthen their playoff push.  3 wins in a row were vitally important for Ruskin to get them back in the hunt to stay in D1W, but after a loss last weekend to Southwark it will be a test for the Rhinos to make sure they don't return to a losing streak that could undo their hard work.

Essex Blades (11-1) v Team Birmingham Elite (5-7)

Saturday 3 February 2018 – 5.00pm
9 games remain on the season for Essex and they now have a 3 game cushion over the next closest side in the chasing pack. Their latest win came on Thursday night as they continued to bed in their new arena with an 87-46 home win over BA London Lions and they'll look to keep that form going this weekend. Cat Lutz had 31 points in that game and is no doubt a heavy favourite for MVP if Essex do indeed go on to win D1W. As difficult as this fixture may be for Birmingham, they can be delighted with picking up 3 wins in their last 4. Their most recent outing was a double digit win over Bristol and if the Elite can continue the level of play they displayed in that game here, they'll be able to push the Blades tomorrow.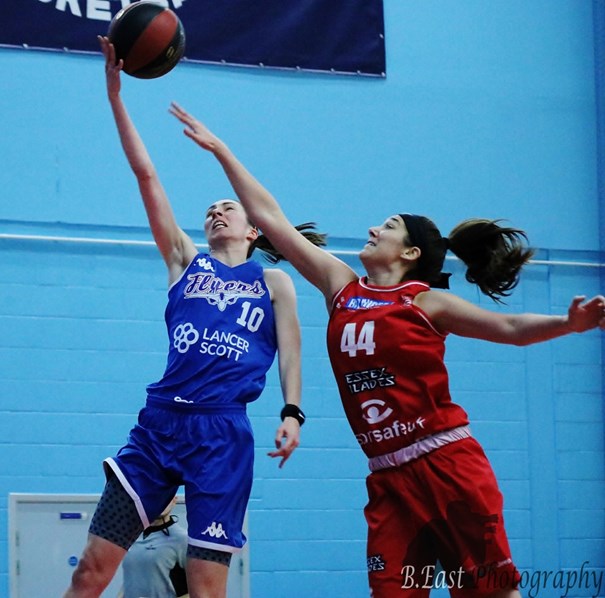 Cat Lutz (Red Kit) goes for the block against Bristol's Hannah Wallace earlier this season - B.East Photography

Oxford Brookes University (8-5) v University of Nottingham (3-8)

Saturday 3 February 2018 – 5.00pm
After a positive start to the season, a 3 game losing streak has seen Oxford Brookes tumble down the D1W standings. Occupying 3rd place behind Essex and Bristol for most of the campaign, Brookes are now down in 6th and need to get back to winning ways. With 9 games to go, Oxford still haven't played Nottingham so they're somewhat of an unknown. The visitors will hope that works to their advantage as they're in the mix for potential relegation right now. A 39-point loss to Essex last weekend won't have helped their morale, and 1 win in the last 6 is also difficult form to overcome. This is a big weekend for the newly promoted side as they play twice and need to start picking up points.

BA London Lions II (2-11) v Reading Rockets (8-4)

Sunday 4 February 2018 – 2.00pm
Another side struggling for wins, BA London Lions' defeat on Thursday night to Essex was their 7th in a row. That run has left the Lions on the bottom of the D1W standings and with injuries preventing them from putting out their strongest side, it's been a tough stretch. Dami Adeyinko did return in their Thursday night loss after missing time with a foot injury, hopefully she can create some momentum this weekend. Getting a result will also hinge on BA's ability to slow down Reading's Andrea De La Vara Gomez. She averages 25ppg in her last 3 contests and one of those games was an 82-61 win over this BA London Lions II side.

Team Solent Kestrels (4-10) v University of Nottingham (3-8)

Sunday 4 February 2018 – 2.30pm
A big fixture at the bottom of the table, both these sides would love a win here to help their fight for survival. These sides are yet to meet this year so there is no head to head to be decided this weekend and picking up the 2 points will be the primary focus. Saturday's games for both sides are sure to impact this one, especially if Nottingham can't find a way to end their current poor form. Andrea Kurkowski has been integral to Solent's recent change in fortunes so look for her to make an impact here.
Division 2 Men

Derbyshire Arrows (4-8) v London Westside (3-8)

Saturday 3 February 2018 – 6.30pm
The Patrons Cup puts paid to some of the fixtures in D2M but 4 games still make the slate, starting in Derbyshire. With a 71-51 defeat to Liverpool last time out, that result was the Arrows 4th loss in a row. With 5 teams all battling to avoid the 2 potential relegation places, it's a tough time for the Derbyshire team to go cold. A win here for either team here would be big, not just for helping their own cause but adding another loss to a rival. Recent victories over Middlesex and Liverpool have really helped Westside and upcoming games against Sussex and Team Birmingham will also be important. If the London side is going to capitalise on their upcoming run of games, Theo Deliligne is going to need to continue his good form.

Westminster Warriors (7-6) v Team Birmingham Elite (4-9)

Saturday 3 February 2018 – 6.30pm
Opting to play the day before their Patrons' Semi, Westminster Warriors welcome Team Birmingham on Saturday. With promotion to D1M now looking to be a 3 team race in Nottingham, Thames Valley and Essex, the Warriors hopes of a return to the top flight at the first time of asking are likely gone. Still, the programme has been rebuilt over the last 12 months and a long post season run would represent real progress and a solid base to build from. Birmingham would love to put a dent in those plans but they're not in the best of form entering this one. A key loss to Middlesex last weekend handed LTBC the head to head between the two sides and was the Elite's 4th defeat in a row. This is a tough road fixture for sure, but Birmingham would be delighted if they can find a way to win here before their own Semi-Final on Sunday.

London Greenhouse Pioneers (3-9) v Ipswich (6-8)

Sunday 4 February 2018 – 1.30pm
Ipswich has likely already done enough this season to ensure they don't get pulled into the relegation mix, but the same can't be said for their opponents this weekend. Pioneers recently managed to overcome Team Birmingham but that result aside their form has been troubling to say the least. These sides played out a great contest when they first met this season, with Ipswich taking a high scoring game 90-86 in OT so they do match up well. Rabi Rai was a star that day for the Suffolk side and he'll be hoping for more of the same as Ipswich aim to pick up a 7th win of the season.

Essex Leopards (8-3) v Sussex Bears (5-9)

Sunday 4 February 2018 – 4.00pm
With 3 losses to their name, Essex are the outsiders looking in at the promotion race right now. But the Leopards still have Nottingham and Thames Valley left to play, providing plenty of opportunity for their prospects to improve. Of their 11 games remaining on the season, 7 are against teams in the bottom half of the table, as it sits right now. That suggests that if Essex can get on a roll, their fixtures could help build momentum as well. Back to back losses for Sussex have meant that the Bears need to keep an eye on what is going on below them. But after this game, their fixtures are v Westside, @ Arrows, @ Team Birmingham. Those 3 games will be important and a couple of positive results will surely see the newly promoted side safe and able to concentrate on the playoffs. Joe Carter will be integral to that; the guard is capable of putting up 25+ points every time he gets on the floor. He's passed that mark twice in the last 3 games.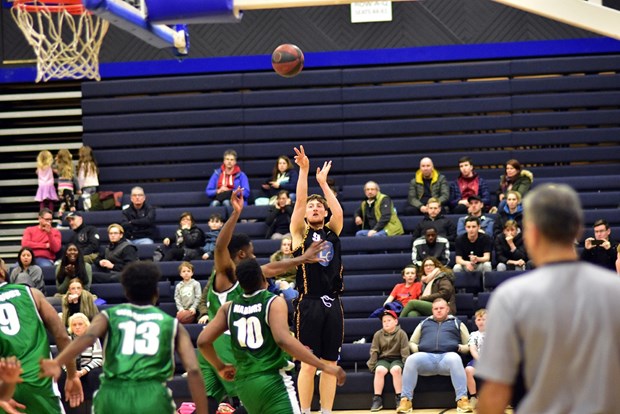 Essex's Will Ashby puts one up from the corner - Essex Leopards
Elsewhere in the NBL
Ipswich's quest for an unbeaten season in D2W North continues this week as they put their 7-0 record on the line at home to Nottingham Trent Wildcats. South leaders Sevenoaks Suns II can further extend their advantage at the top as they travel to Team Solent Kestrels II. 2nd placed West Herts Warriors don't have a game this weekend.
In D3M North, leaders Myerscough haven't let their National Shield commitments keep them from continuing a push to D2M. On Sunday they'll return to league action as they host Worcester Wolves II and try to move to 10-1. In the South, East London will focus on the Shield though and that means joint leaders Northants Tauras can make 1st place their own if they can win away to Essex Blades on Saturday.
The pick of the D4M games could well be in the Midlands this weekend as 2nd placed Derby Trailblazers II welcome 3rd placed Team Derby to Clarence Wiggins for a heated local derby. In the North, 13-0 Calderdale will take on the 7-6 Myerscough College II in Lancashire, whilst 2nd placed Blackpool entertain Tameside.
South East front runners BC Medelynas should be able to stay perfect and move to 13-0 as host a Kent team they beat 99-66 just a few weeks ago. Barking Abbey will need to win in Lewisham against the Thunder if they're going to keep up their challenge in 2nd.  And after back to back games against one another, 1st placed Huish Taunton Tigers and 2nd placed Bristol Academy Flyers II are both taking a weekend off. That leaves RCT Gladiators as the top side in action in the South West, they'll travel to Oxford to face the Stealers.