National Cup
Men

Hemel Storm v Loughborough Students Riders

Saturday 6 January 2018 – 7.00pm
In early December, this game was snowed off and is now being replayed as both teams will look to book a place in the National Cup Final later this month. The previous subplot here was that these teams met on the weekend before this game was originally scheduled to take place, providing back to back fixtures in D1M and then the National Cup. But with the snow, the rest of December then the Christmas break, it remains to be seen how much of an effect that Loughborough win in D1M will now have. Still, Loughborough took home an 86-73 win in that game and that result will be well known to both sides this weekend regardless of the time that has now passed.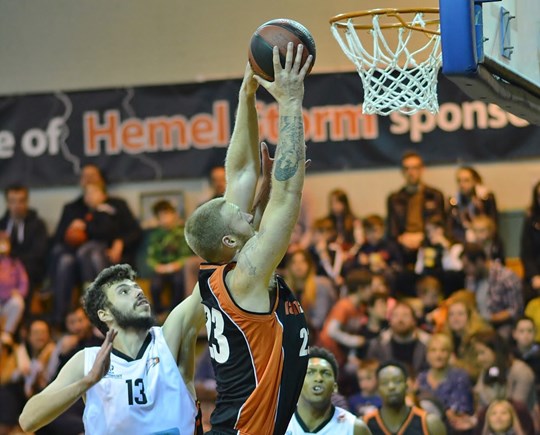 Hemel's Lee Greenan has been a great addition after signing in the summer from Ipswich - Linda Titmuss
Division 1 Men

Kent Crusaders (3-7) v Worthing Thunder (8-3)

Saturday 6 January 2018 – 4.00pm
Kent will be hoping that the winter break has cooled off Worthing's hot form as the Thunder have won 6 in a row in D1M heading into 2018. Included in that run were wins in Manchester and at home vs Loughborough, showing that Worthing are a force to be reckoned with this season behind Zaire Taylor, Brendan Okoronkwo and Jorge Ebanks. For the Crusaders, they're trending in the opposite direction. 5 straight losses will have former D1M Coach of the Year Lloyd Gardner focusing his team on a new year and a new start. Kent need to leave their previous form well behind them in 2017 if they're going to start moving up the standings.
Worthing forward Josh Goddard, "I feel that we've settled back into training nicely. We've managed to stay in shape over the festive period as we are keen to continue our winning ways and start off the business end of the year just how we finished the first half."

Reading Rockets (7-3) v Lancashire Spinners (0-11)

Saturday 6 January 2018 – 5.00pm
The only team in D1M double header action this weekend, Reading ease back into their schedule with an appealing home fixture against the winless Spinners. This game represents an opportunity for the Rockets to bounce back to winning ways after closing out 2017 with a disappointing road loss to Bradford, dropping that game 82-67.  Lancashire did show signs of life as they closed their own 2017 schedule, also taking on the Dragons before coming up short by single digits in a 79-73 defeat. If the Spinners can continue to keep games close going into the 4th quarter, there is a chance something will go their way sooner or later.
Reading Rockets Head Coach Manuel Peña Garcés "I am really looking forward to getting the players back in after the Christmas break and working really hard to be the best team we can in the second part of the season. We have had a good first part of the year but there are still a lot of improvements to be made and I know the group will come back in fresh and ready to go and rise to the challenges that lay in front of us."

Derby Trailblazers (4-7) v Bradford Dragons (5-6)

Saturday 6 January 2018 – 7.15pm
The third and final fixture of a quiet D1M Saturday, Bradford will travel to Derby with both teams buoyed by recent good form. The Dragons come into this one after victories over Reading and Spinners, with that Rockets result a particular highlight for the Yorkshire side. Derby looked to be losing ground on the teams around them before a late surge of their own, taking 2 of their last 3 to end the year. A home win against last season's league winners Northumbria and a road triumph in Manchester, this Trailblazers team has a lot to feel confident about moving into 2018. If they can grab both points here they'll be right back in the mix for the playoffs, a position that looked unlikely 6 weeks ago.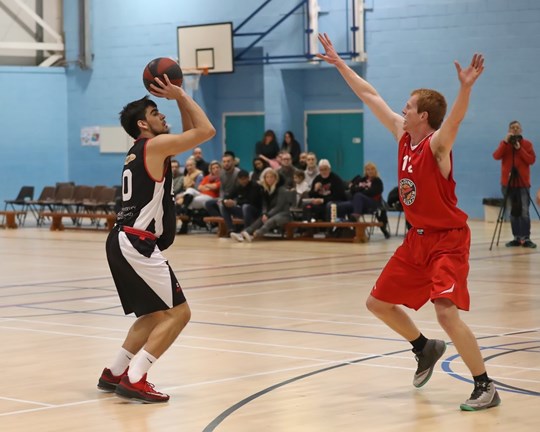 Bradford's Joaquin Calvo takes aim against Reading - Alex Daniel Photography

Team Solent Kestrels (9-2) v Hemel Storm (7-4)

Sunday 7 January 2018 – 2.30pm
A tasty tie for the neutral, league leaders Solent welcome a side who have also held the D1M top spot this season in Hemel.  With the Storm coming off the back of their National Cup Semi-Final on Saturday, it remains to be seen how that will affect them both mentally and physically. With the Kestrels enjoying an up-tempo style to their game, that might not bode well for the visitors if they are feeling the effects of 2 games in as many days, especially with Solent fresh off a break over Christmas. Still, Hemel are a well drilled outfit under Coach Youngblood and will no doubt be a tough test regardless of the circumstances.

Reading Rockets (7-3) v Team Newcastle University (4-10)

Sunday 7 January 2018 – 5.00pm
Rounding out their home double-header, Reading take on a Team Newcastle side that has grown into the D1M campaign as it has worn on. 1-7 to start the season and 3-3 since, the North East outfit will be looking to keep their momentum going into 2018. .500 basketball will be a good effort from the newly promoted side if they can maintain that pace the rest of the way. Reading's aspirations will be much higher though as they continue to jostle at the top of the standings, they'll want nothing less than full points from this weekend's pair of games.
Division 1 Women

Southwark Pride (5-4) v Team Solent Kestrels (2-8)

Saturday 6 January 2018 – 2.00pm
Southwark open their 2018 schedule with a tie that helped decide last season's D1W regular season title. But times have changed and both sides face a different fate this time round. With 4 losses to their name already, the Pride may have a tough time catching Bristol, Oxford and especially Essex, but they can still set their sights on playoff success at the very least. The Kestrels currently occupy one of the D1W's potential relegation spots in 11th. Picking up points will be the priority to move away from that position as soon as possible, but it might not happen this weekend.

Lancashire Spinners (6-3) v Essex Blades (7-1)

Saturday 6 January 2018 – 2.00pm
One of the tougher fixtures for the Blades as they control their own destiny in D1W, Lancashire are a strong outfit this season. Winning 3 straight on their own court, confidence will be high for the Spinners and that should make for a competitive game here. Like Southwark, a title charge could be out of reach unless results go their way, but the possibility of a strong finish to the season and a lengthy playoff run is certainly attainable. Essex have already defeated Lancashire 66-48 to open the season and aside from a 1-point loss to Bristol, their D1W season to date has been faultless. They'll be a tough nut to crack here but the Spinners will give it their all on Saturday afternoon.

BA London Lions II (2-5) v Oxford Brookes University (7-2)

Sunday 7 January 2018 – 2.00pm
Hoping to capitalise on any kind of slip up by Essex, Oxford Brookes will head to London to take on a Lions side that underwhelmed to end 2017. Wins against Team Birmingham and Solent suggested form might be on the up for BA after an 0-4 start, but a home loss to Loughborough to enter the Christmas break means that may not be the case. That'll be something Oxford will look to take advantage of, whilst also drawing from an 83-64 victory over the Lions to open the season back in early October. Since that initial meeting, both these sides have trended in different directions. That suggests an Oxford win this weekend, but nothing is guaranteed in the NBL.

Reading Rockets (5-3) v Bristol Academy Flyers (7-2)

Sunday 7 January 2018 – 2.30pm
December saw Reading drop a game on the road to the previously winless Anglia Ruskin, but they bounced back well to beat Loughborough in their final game of 2017. With a win over Bristol but a loss to Oxford as well as that Anglia Ruskin result, it's hard to gauge where the Rockets line up in D1W so far. They still have Essex to play twice, that will also provide a good indicator for this side. As the only team to beat Essex so far, Bristol's plan is clear. They're firmly in the mix for a run at the D1W title and will want to start 2018 with a win. The important part of the Flyers schedule looks to be in late February and early March when they play @Southwark, @Essex and v Oxford. Until then, they need to make sure they keep dropped points to a minimum.

Team Birmingham Elite (3-6) v Anglia Ruskin University (1-8)

Sunday 7 January 2018 – 4.00pm
Anglia Ruskin's season finally got underway in December as a first win of the campaign at least ended their run of defeats. With a game here against a newly promoted side, a victory would start to close the gap between the Rhinos and the pack above, providing real hope of moving away from the foot of the table in January and February. Birmingham won in their last game of 2017, a 63-55 victory over Solent, but they suffered 6 straight defeats before that. This one could be finely balanced, with the potential for both teams to really help themselves with a win.
Division 2 Men

Liverpool (7-4) v Thames Valley Cavaliers (9-2)

Saturday 6 January 2018 – 6.00pm
If Liverpool are to mount a serious challenge for a top 2 place, winning this weekend is of real importance. Anything can happen the rest of the way but after the first half of the season it could be that promotion will be decided at around the 4 loss mark. Kent and Team Newcastle only lost 3 times on their way to D1M promotion last season, so dropping a 5th game here could be bad news for Liverpool. If Thames Valley are finally going to realise their own ambition and seal promotion, this is a game they really need to win as well. David Ulph's availability could be a factor in deciding this one, he's a big player for Liverpool when they can get him on the court.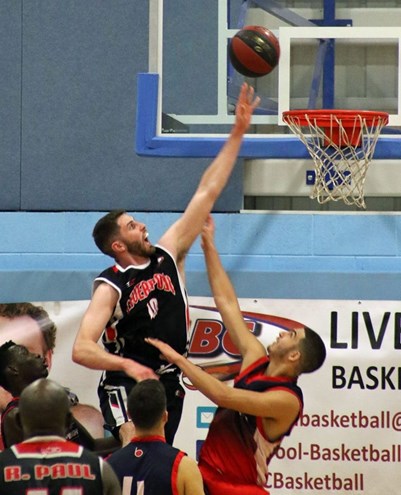 Liverpool's David Ulph has been in fine form this season - Liverpool

London Westside (2-7) v Middlesex LTBC (2-8)

Saturday 6 January 2018 – 6.15pm
After confirmation that Middlesex have been docked 4 points for 2 forfeited fixtures in 2017, they are now the side propping up D2M to begin 2018. Still, they can take immediate steps in trying to correct that as they face the team they just displaced at the bottom of the league in Westside on Saturday. LTBC triumphed when these two sides met to open the season back in October and will like their chances in this one but don't count Westside out due to their record. One of their wins this season was at home to Liverpool, showing they can be competitive on their day.

Team Birmingham Elite (4-6) v Nottingham Hoods (10-0)

Saturday 6 January 2018 – 8.00pm
Nottingham Hoods managed to make it to the Christmas break not only top of D2M, but undefeated to boot. How much longer they can keep that streak going may well determine if they can secure promotion and a potential league title. Impressively, of their 10 wins to date, 6 were on the road and once the Hoods reach February, 4 of their final 6 games are on their own court. It's a different story for Birmingham though. 1-3 at home in 2017, there hasn't been much of an advantage for the Elite when they've stayed in the West Midlands and if they're going to continue a decent first season in D2M, you feel the side need to correct that trend. This weekend will be a tough place to start though.

London Greenhouse Pioneers (2-7) v Sussex Bears (4-7)

Sunday 7 January 2018 – 1.30pm
Another side with a reasonable start to life in D2M, Sussex, like Birmingham, also have 4 wins to their name. 6 wins saw Doncaster relegated last season and 7 saw Liverpool safe, so that will be the immediate goal for the Bears. With victories over Essex and Westminster already, Sussex may feel they can aim for more ambitious goals if they can get some form together in 2018. The Pioneers will simply be looking for as many points as possible. With just 2 victories on the season, they're in the mix at the bottom. One of their wins so far was on the road in Sussex and the Pioneers would love to make it 2 for 2 on the season Sunday.

Essex Leopards (5-2) v Westminster Warriors (5-5) 

Sunday 7 January 2018 – 4.00pm
The 2nd meeting of the season between the two sides relegated from D1M a season ago, Essex will be hoping that home court advantage helps them to securing another win against Westminster. It should be a familiar affair as well with the Warriors sporting a number of former Leopards' players on their current roster. Mike Martin, Tosin Oyelese, Justin Hitchmans and Mantis Adomantis are all potential selections for the visitors this weekend against their former club. Look for the hosts to lean on captain Dougie Bennett, who spent the winter break training with the Scotland squad ahead of next April's Commonwealth Games
Elsewhere in the NBL
D2W North leaders Ipswich are getting ready for the National Cup Final later this month but begin 2018 by facing off at home against Northamptonshire Titans on Saturday before welcoming Nottingham Trent Wildcats to Suffolk on Sunday. The only game in D2W South sees 7th placed Surrey Goldhawks hosting 6th placed Folkestone Saints.
There's a 3-way tie atop D3M South entering 2018. That should be split this weekend though as leaders Northants Tauras travel to Swindon, 2nd placed Greenwich Titans host Essex Blades and 3rd placed Oxford Brookes don't have a game.
Myerscough College continue to lead the way atop D3M North and have just 1 loss to their name. They welcome Stoke-on-Trent Knights to the North West on Saturday. 2nd placed team Sunderland are only 2 points behind but have 3 more losses on the year than Myerscough, they face Worcester Wolves II this weekend.
Huish Taunton Tigers and Bristol Academy Flyers II continue to be closely matched in D4M South West, with the Tigers holding a narrow 2-point advantage at the top right now. That could stretch up to 4 points this weekend as Bristol have no game and Taunton head to Oxford to face the Hoops on Sunday.
After an unbeaten 2017, BC Medelynas continue to sit pretty at the top of D4M South East. They'll look to stay perfect on the season as they welcome Norfolk Titans to the Capital Saturday whilst 2nd placed Barking Abbey must head to Anglia Ruskin.
In the D4M Midlands division, Northants Thunder lead the way at 9-2 with Derby Trailblazers II at 8-0 in 2nd place. Those 2 meet in Northants on Sunday in what should be an excellent game. If Team Derby in 3rd want to close the gap with the top 2, they'll need to win on the road against Charnwood College Riders.
And finally, looking North in D4M sees Calderdale Explorers still without a loss at 11-0. That record will face a stiff test against 2nd placed Blackpool who at 10-1 look the main rivals to the Explorers at the moment.