Division 1 Men

 (1) Loughborough Student Riders v (8) Manchester Magic 

Saturday 7th April 2018 – 2.00pm
Key Stat: 9.8 3PM/G (Loughborough) – The Riders have been on fire from deep this season, leading the league in both three-pointers made total and per game by a large margin.
Players to Watch: Sesan Russell (Loughborough) – Russell leads the Riders as he averages 13.4ppg, while adding 2.8apg & 4.0rpg. Look for Loughborough's point guard to be a key factor in this matchup. Donte Gittens (Manchester) – Gittens has been a stat-sheet stuffer for the Magic this season, as he has dominated from the wing position. Pacing the North West side at 17.6ppg, while filling the box score with 6.2rpg, 5.3 apg, 1.6spg & 1.4bpg – the American has shown he can impact the game in a number of ways.
Game Preview: Loughborough (20-4) wrapped up the league title in dramatic fashion over the last few weekends of the season, pipping Team Solent (20-4) to the post on a head-to-head tie-breaker. They will be full of confidence heading into the post-season, as their young squad have gone from strength to strength throughout this campaign, building upon a solid playoff effort last season. Manchester (11-13) head into the post-season with a point to prove, hoping a post-season push can make up for one of their lowest finishes in D1M since their return to the top-flight.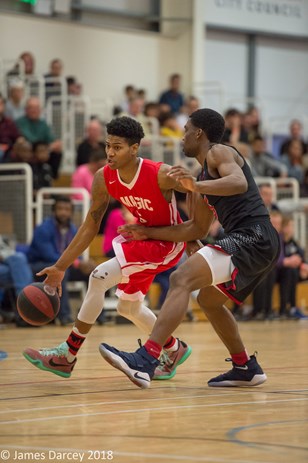 Donte Gittens on the ball for Manchester Magic - James Darcey

 (2) Team Solent Kestrels v (7) Hemel Storm 

Sunday 8th April 2018 – 4.30pm
Key Stat: 14.8 FTM/G (Hemel) – Hemel have been one of the best teams at getting to the line this season, ranking second in both FTM and FTA per game. Look for the Storm to be aggressive in the one, needing to do their work at the foul line to keep this one close.
Players to Watch: Joe Tagarelli & Herm Senor II (Solent) – All season long it has been this dynamic duo that has paced the Kestrels. Tagarelli leads his side with 18.8ppg & 10.3rpg, while Senor II adds 17.2ppg & 6.1apg. Hemel will need to keep these two quiet to have a chance in this one. AJ Roberts (Hemel) – Roberts is another stat-sheet stuffer in D1M as he leads the Storm with 16.8ppg on the season, while adding 6.1rpg, 4.6apg & 1.5spg.   
Game Preview: Team Solent (20-4) will be keen to get the post-season started after suffering a disappointing end to their league season. After leading for much of the second half of the campaign, a slip-up on the road at Reading was all it took to hand Loughborough the title. Their opponents in the first round also led D1M, as Hemel (12-12) had a hot start to the season but couldn't maintain it as a disappointing start to 2018 saw them slide down the league table.

 (3) Reading Rockets v (6) Bradford Dragons 

Sunday 8th April 2018 – 5.00pm
Key Stat: 14.0 ORB/G (Reading) – The Rockets have been dominant on the offensive boards this season, pacing D1M in this category. Led by Tim Gill, who pulls down 5.1 offensive rebounds per outing on his own, look for the battle of the boards to be critical in this one.
Players to Watch: Jerrod 'Scotty' Hendricks (Reading) – Hendricks has had an impressive season in D1M, leading Reading with 16.5ppg. The point guard also leads the squad in assists at 3.7 per outing, while being a terror on defense, ranking fourth in the league in steals at 2.7 per game. Ricky Fetske (Bradford) – Bradford has scored by committee this season, with five players averaging double figures for the campaign. However, Fetske has also been key on the glass, with averages of 16.6ppg & 10.0rpg, while adding just over a block per game.
Game Preview: Reading (17-7) were the villains in the title race, as their March win over Team Solent allowed Loughborough to swoop in and take the silverware. Their season ended on a high as they climbed to third place, so they hope Rivermead will be rocking on Sunday in this matchup with Bradford. The Dragons (13-11) have had an up and down season, but managed to grab the few crucial wins they needed to climb to the sixth seed and avoid facing Loughborough or Solent.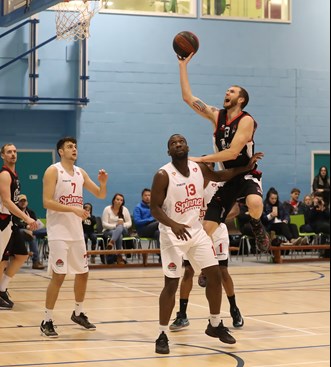 Ricky Fetske attacks the basket for Bradford Dragons - Alex Daniel

 (4) Worthing Thunder v (5) Team Northumbria 

Saturday 7th April 2018 – 7.30pm
Key Stat: 87.0 PPG (Worthing) – Worthing have been the most high-powered offense this season, leading D1M in points per game. Northumbria will have a tough job slowing down the many offensive threats that the Thunder possess.
Players to Watch: Zaire Taylor (Worthing) – Taylor has paced the league in scoring for much of the season, and took home the scoring title in D1M, averaging 26.1ppg. The veteran guard also adds 7.4rpg, 5.6apg, 3.4spg, showing he is one of the dominant talents in the NBL top flight. Malcolm Smith (Northumbria) – Smith sits third in the league in scoring behind the Worthing duo of Taylor and Marquis Mathis, as he paces the North East side with 19.5 points per outing. Second in the league in FTA per game, look for Smith to be aggressive in getting to the line in this matchup.
Game Preview: Our league champions a season ago; this season didn't go as smoothly for Team Northumbria (16-8). Falling to the bottom half of the playoff race due to a head-to-head tie-breaker against will likely fill the North East squad with a hunger for post-season success. Coach Marc Steutel's side will look to key figures in Smith and Atif Russell to lead the charge, with Russell making a big impact since his mid-season arrival. Worthing (16-8) have been one of the most exciting teams to watch this season, with talent galore at their disposal. With as powerful a 'big four' as any side in D1M, on the day it could be any of Taylor, Mathis, Jorge Ebanks and Brendan Okoronkwo who are a deciding factor in this one.
Division 1 Women

 (1) Essex Blades v (8) Loughborough Student Riders 

Saturday 7th April 2018 – 8.00pm
Players to Watch: Cat Lutz (Essex) – One of the leading scorers in D1W, Cat Lutz has been a very impressive performer for the Blades en route to their league championship. Imogen Cook (Loughborough) – The Riders leading guard, Imogen Cook, is one of the more explosive scorers in the league, able to catch fire from the three-point line at any moment. A hot shooting game from her could help the young Riders keep pace with Essex.
Game Preview: Essex (20-1) wrapped up the D1W title with a number of games to spare, so will be looking to add the playoff title to the silverware they have already brought home to their new arena. Inconsistent form for the Riders saw them drop to eighth place after strong finishes from Anglia Ruskin and Reading Rockets, but with the U18W playoffs not starting for another couple of weeks, they should have a full complement of their young Charnwood College stars.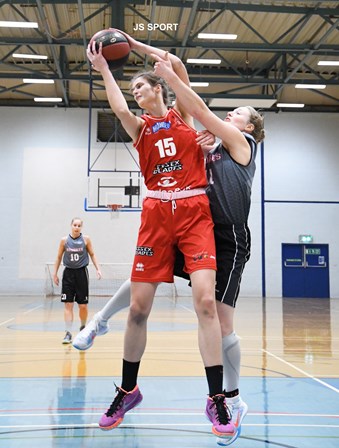 Monika Kucerkova goes up for the rebound for Essex Blades - JS Sport Photo

 (2) Southwark Pride v (7) Anglia Ruskin University 

Sunday 8th April 2018 – 2.15pm
Players to Watch: Maya Hyacienth (Southwark) – With starting point guard Megan Haines potentially out due to a late-season injury, it may be left to Maya Hyacienth to shoulder the load for the young Southwark Pride squad. A dynamic wing scorer, former England international Hyacienth will be important for the Rhinos to slow down. Jazmn Gyulai (Anglia Ruskin) – A late-season signing for the Rhinos, Gyulai could be a key to a playoff run. Averaging 25.3 points per outing in the month of March, it is clear that she will be important on offensive end for Anglia Ruskin.
Game Preview: Both teams head into this game on good form, having climbed the table significantly throughout the second half of this campaign. Anglia Ruskin are one of the stories of the NBL, after struggling to get their first win in the NBL top flight to climbing from the bottom of D1W into a playoff spot to end the season. Meanwhile, Southwark Pride stormed up the table to take the league runners-up spot, squeezing in game after game over the last couple of months. The Rhinos will head into the game high on confidence – if any lower seed are going to pull off an upset, it could very well be them.

 (3) Bristol Academy Flyers v (6) Oxford Brookes University 

Sunday 8th April 2018 – 4.45pm
Players to Watch: Liisa Juul (Bristol) – One of the key performers throughout Bristol's campaign, guard Liisa Juul will be important as they head into the post-season. As one of Bristol's leading offensive threats, she also fills up the box score as the team's leader in rebounds, assists & steals. Alice Walton & Julie Fricke (Oxford) – a dynamic back-court duo for Oxford Brookes, very little separates Walton & Fricke in their importance to Oxford Brookes' performance. Both score at a high rate, so it will be important for the Flyers to lock in on slowing them down.
Game Preview: Potentially one of the most even matchups in the D1W playoff bracket, it is strange to see these two matchup, as for so long they were the chasing pack within touching distance of Essex at the top of the table. A tough end to the season for Brookes saw them fall to the sixth seed, while Bristol were leapfrogged in the last few weeks to drop to third behind Southwark. Guard-play is vital in this one, with Mai Zilbeti and Liisa Juul matching up with the fire-power of Alice Walton and Julie Fricke – the perimeter play is going to be a very important factor.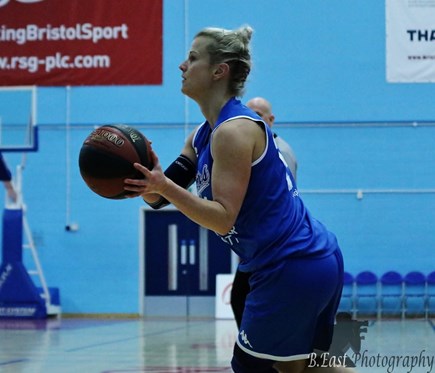 Liisa Juul lines up a shot for Bristol Academy Flyers - B.East Photography

 (4) Lancashire Spinners v (5) Reading Rockets 

Saturday 7th April 2018 – 3.00pm
Players to Watch: Shauna Harrison & Milly Knowles (Lancashire) – The junior international due of Harrison and Knowles has been a big factor in the Spinners run this season to their first D1W playoff spot since joining the top flight. Harrison has averaged 19.2ppg throughout March, while Knowles has added 15.0ppg – they will likely both prove tough matchups for the Rockets. Maria Angeles Valdeolmillos (Reading) – Valdeolmillos has been outstanding for Reading throughout the stretch run of this season, averaging 19.6 points per game during the month of March. With the Rockets other main scorer, Andrea Gomez De La Vara, potentially side-lined due to injury, the load could be completely on Valdeolmillos' shoulders in this one.
Game Preview: What a difference a season makes, for both these sides! Lancashire grabbed a top-four position, to clinch their first playoff berth in the top flight, while Reading improved significantly on their eighth place finish a season ago. From finishing last season dangerously near relegation, the Spinners have gone from strength to strength this year behind the development of their young stars. A possible return from injury for point guard Emma Cheetham could be the boost they need to go on a deep post-season run. Reading improved from 6-14 a season ago, with a winning record that almost clinched them a top-four spot – the head-to-head tie-breaker was needed to give the North West side the home advantage in this matchup. Relying heavily on their JMA Rockets academy players in their final few league fixtures – Reading will hope their young guns can step up on the big stage of the D1W playoffs.
Division 2 Men

 (1) Nottingham Hoods v (8) Middlesex LTBC 

Saturday 7th April 2018 – 6.30pm
Key Stat: 9.1 TOV/G (Nottingham) – Nottingham Hoods have looked over the basketball very well this season, with the league's fewest miscues.
Players to Watch: Tevis Robinson (Nottingham) – The Hoods' leading scorer Robinson has been an efficient performer this season in D2M, averaging 19.2ppg while shooting 55% from the field. Robinson also leads the side in minutes at just over 30 per game, so look for him to be key in this matchup. Modestas Krasauskas (Middlesex) – Krasausakas has been an outstanding performer for LTBC this season, with a number of high-scoring outbursts en route to a season average of 24.0ppg, good for third in the league in scoring. Krasauskas has also been red-hot from behind the arc, shooting 48% from deep.
Game Preview: Nottingham (20-2) were dominant this season in D2M as they managed to hold off Thames Valley to secure the title. Looking forward to bringing top flight basketball to the Wildcats Arena next season, the Hoods first will hope to add post-season silverware to their league title. Their opposition, Middlesex LTBC (9-13), fell to the eighth seed due to a costly set of points deductions, so definitely have the talent to give the Hoods some problems.

 (2) Thames Valley Cavaliers v (7) London Greenhouse Pioneers 

Saturday 7th April 2018 – 5.00pm
Key Stat: 11.4 STL/G, 4.9 BLK/G (Thames Valley) – The Cavaliers have got it done on the defensive end this season, leading the league in both steals and blocks. Abdoulaye Sylla has been dominant in both stats this season, anchoring their defense, as he has averaged 2.5spg & 2.2bpg.
Players to Watch: Martelle McLemore (Thames Valley) – McLemore has been a key figure for the Cavaliers this season, as he led the league in scoring at 24.4ppg, while adding 7.1rpg, 5.0apg & 2.8spg. Mark Raynolds (Pioneers) – Raynolds' play has been important for the Pioneers this season, with solid averages of 16.2ppg, 6.6rpg, 1.9apg & 1.2spg, while shooting 53% from the field.
Game Preview: As beaten finalists in the Patrons Cup, Thames Valley Cavaliers (18-4) head into the post-season chasing their last chance at silverware. Their playoff campaign begins with a tricky London-derby against Greenhouse Pioneers (7-15), who sneaked up into the seventh spot on head-to-head tie-breakers against Ipswich and Middlesex. The Cavaliers' talented squad, led by McLemore, Sylla, veteran Philip Perre, and young guard Robert Banks Jr, will be ones to watch as the D2M field will try to prevent Nottingham from adding the playoff crown to their league championship.

 (3) Liverpool v (6) Derbyshire Arrows 

Saturday 7th April 2018 – 5.00pm
Key Stat: 26.0 3P% (Liverpool & Derbyshire) – The combined three-point shooting percentage of Liverpool and Derbyshire is good for bottom of D2M, as both sides prop up the table in terms of 3PM, 3PA and 3P%. Look for this one to be decided nearer the basket as opposed to behind the arc!
Players to Watch: David Ulph (Liverpool) – The Liverpool big man has had a dominant campaign in D2M, finishing the season second in both scoring and rebounding, with averaging of 24.1ppg & 11.5rpg. The Merseyside squad will hope their key inside threat is on target to send them into the semi-finals. Joseph Baugh (Derbyshire) – The Arrows forward has been the go-to man this season, pacing the Derbyshire side at 18.7ppg, while pulling down 10.4 boards per outing.
Game Preview: Liverpool (15-7) had a mixed start to this seasons' campaign which quickly put them adrift of the league leaders in the D2M title race. A good second half to the season saw them secure the third spot heading into playoffs, and a with home advantage in their matchup with Derbyshire Arrows (9-13). Liverpool's 'big three' of David Ulph, Jack Hudson and Kaphel Ulett Waul will need to be on top form if Liverpool are to go on an extended playoff run.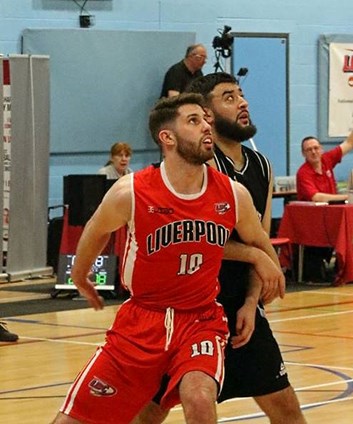 David Ulph boxing out for Liverpool - Liverpool Basketball Club

 (4) Essex Leopards v (5) Westminster Warriors 

Saturday 7th April 2018 – 6.30pm
Key Stat: 42.6 3P% (Westminster) – The Warriors have been the pace-setters in D2M from down-town this season, in terms of efficiency behind the arc. Ranking mid-table in both 3PM and 3PA, look for Westminster to take and make the open shots from behind the three-point line if Essex give them the chance.
Players to Watch: Dougie Bennett (Essex) – The Leopards point guard has been a solid performer this season, leading the team at 17.4ppg. The Big Cats floor general also adds 2.7rpg and 3.1apg, while shooting 43% from the field. Jon Johnson (Westminster) – The Warriors player-coach has had an impressive season both on the floor and behind the coaching board, both leading Westminster to the Patrons Cup title, and leading the squad with 18.2ppg. Johnson also ranks second in minutes played, seeing the floor just under 30 minutes per outing.
Game Preview: A clutch performance at the University of Worcester Arena back in February saw Westminster Warriors (14-8) claim the first D2M silverware of the season, as they took home the Patrons Cup title. They will be hoping for more of the same in the post-season, as they travel to the Brentwood Centre to face the Essex Leopards (14-8). Both league fixtures between the sides were close affairs this campaign, and it took the head-to-head tie-breaker to split the sides to give the Big Cats the home court advantages.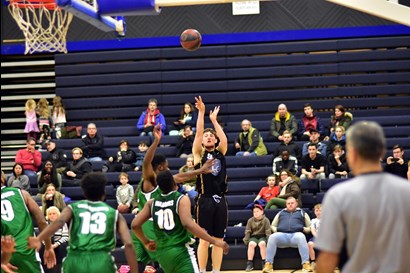 Will Ashby fires from outside for Essex Leopards - Essex Leopards
Elsewhere in the NBL
Division Two Women
(N1) Ipswich v (S4) Cardiff Met Archers II - Sunday 8th April 2018 - 4.30pm
(N2) Derbyshire Gems v (S3) Cardiff Met Archers II - Sunday 8th April 2018 - 4.15pm
(S1) West Herts Warriors v (N4) Mansfield Giants - Saturday 7th April 2018 - 2.00pm
(S2) Sevenoaks Suns II v (N3) Worcester Wolves - Sunday 8th April 2018 - 4.00pm
Division Three Men
(N1) Myerscough College v (S4) Essex Blades - Saturday 7th April 2018 - 1.00pm
(N2) Loughborough Student Riders II v (S3) East London All Stars - Saturday 7th April 2018 - 4.30pm
(S1) Greenwich Titans v (N4) University of Chester - Saturday 7th April 2018 - 7.15pm
(S2) Northants Tauras v (N3) Stoke-on-Trent Knights - Sunday 8th April 2018 - 4.30pm
Division Four Men
(1) BC Medelynas London v (8) Sheffield Sabres - Saturday 7th April 2018 - 6.00pm
(2) Calderdale Explorers v (7) Barking Abbey - Saturday 7th April 2018 - 4.00pm
(3) Team Derby v (6) Huish Taunton Tigers - Saturday 7th April 2018 - 1.00pm
(4) Bristol Academy Flyers II v (5) Derby Trailblazers II - Saturday 7th April 2018 - 3.45pm