National Cup
Men

Team Solent Kestrels v Manchester Magic

Saturday 9 December 2017 – 7.00pm
Just one game away from a trip to January's National Cup Final, both Solent and Manchester will be going all out tomorrow for the win. When these sides met in D1M in October, it was Solent that came away with a 91-82 victory. For Manchester, Stefan Gill is available after the completion of his 3 game suspension following his ejection vs Team Northumbria on 12 November. The Magic have only won 1 of their 3 games during Gill's absence and the point guard is averaging 17.5ppg on the season in D1M. The Kestrels have plenty of recent form to call upon in this one, having reached the Final of the National Cup last season whilst enjoying an 8-2 record in D1M this year. Joe Tagarelli averages 18.9ppg in the league this season and is sure to be a factor, he had 19 points when these sides last met.
Team Solent's Head Coach Matt Guymon, "Manchester are a talented and well coached team that have a lot of experience in advancing from Semi-Final games. We are expecting a very tough game that should be great one for the fans in our new arena"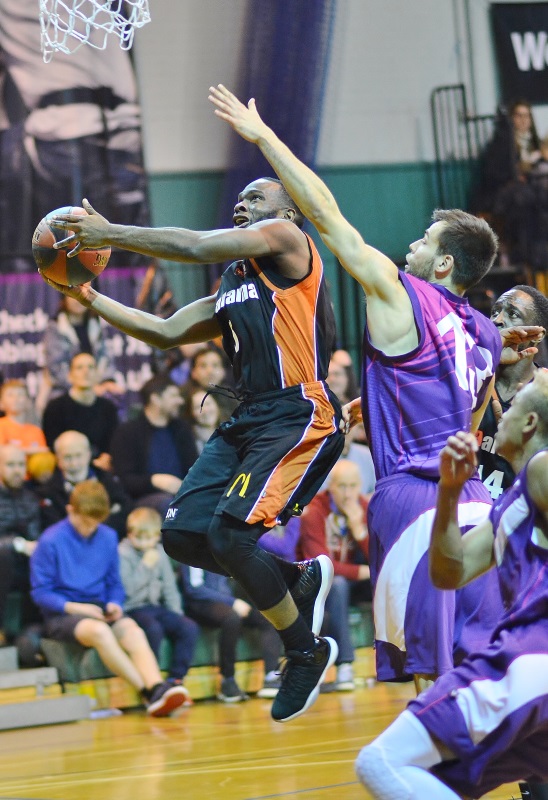 Hemel's Bode Adeluola lays one in vs Loughborough last weekend. He'll hope for more success against the Riders on Sunday - Linda Titmuss

Hemel Storm v Loughborough Students Riders

Sunday 10 December 2017 – 5.00pm
Another match up with some recent history, these two sides met in D1M just last week with Loughborough securing a commanding 86-73 win. It was the latest in a string of great performances from the Riders that have seen them secure top spot in the league with an 8-1 record. Morgan Carter has been a bright spot on offence, aided by Hosana Kitenge, Reis Pinnock and Alex Roberts. The Riders continue to share the load at both ends of the court, something that Hemel will need to find an answer for at the 2nd time of asking. The Storm will also need to look for a solution to their stuttering recent form, dropping 2 of their last 4 as they have cooled off in recent weeks.
Hemel Storm's Head Coach Robert Youngblood, "Loughborough are a really good team, well coached and they play very well together. They play hard for 40 minutes and they play great team defence, not to even speak about their offensive shooting and ball movement. We have to match their intensity, energy and speed if we're to advance to the Cup Final. Our defence has to be better than it was last week against them and we must continue to play together."
Loughborough's Head Coach Mark Jerram, "It's always interesting to play a team so close and nobody else in-between. With that, I'm sure both teams will be looking at areas to improve ahead of this weekend's game. The most interesting factor will be the adjustments both teams make. Obviously being a knockout competition, there will be a level of urgency from both teams, which always adds more to the dynamic of the game. Last week's result is in the past now, when it comes to survive and advance basketball anything can happen".
Women

Essex Blades v Derbyshire Gems

Saturday 9 December 2017 – 4.00pm
It's already been a solid campaign so far for Essex as they've coupled progression in the National Cup with a 7-1 record to top the D1W standings. No strangers to success in this competition either, the Blades won a thriller over Reading in 2015/16 to lift the National Cup, taking that game 53-52 as Reading couldn't convert on the buzzer. Ellie Shaxon and Cat Lutz provide an offensive duo that few teams have found a solution to in D1W this season. Derbyshire will be eager to rise to that challenge though as a front runner in D2W North and one of two D2W sides to make the Semi Finals this year.  Jo Claydon is playing at a high level for the Midland's outfit, averaging 23.3ppg in her last 3 league games. The Gems have already knocked out a D1W side in the form of Team Birmingham, so there is plenty of reason for optimism for an upset in this one.
Essex Blades' Head Coach Mark Lloyd, "There is absolutely no chance of us taking our eye off the ball with the Cup Semi-Final coming to Colchester this weekend. We are more than aware of the capabilities of Derbyshire, they have their on-court leader in Jo Claydon and as a team they have a "never say die attitude" that will be tough to play against. We respect their coaching staff and the depth of their team, they're a team capable of competing in Division1 but playing in Division 2 currently."
Derbyshire Gems' Coach Pete Kelly, "The strength in our team is the depth and honesty we possess. We have talent and experience in equal measure and a focus to do something bigger than ourselves. We are in only our second season as a National League team and are ambitious to test ourselves at the highest level available. We respect the quality of our opponents and recognise that Essex are at the top of the next division but the pressure lies with them. It will not be big news if they win but it will be a huge shock if we win."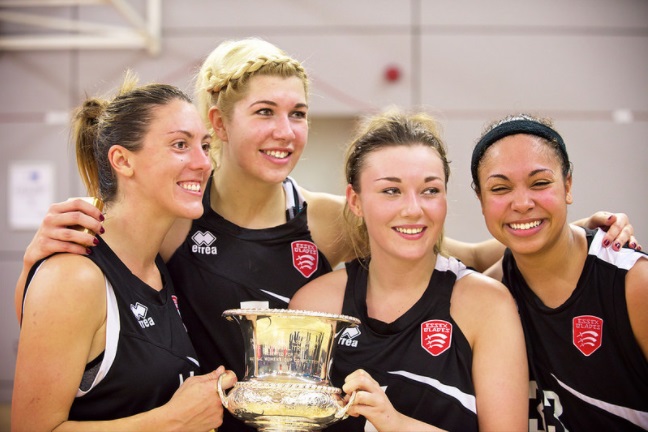 Essex Blades won the National Cup back in 2015/16 - University of Essex

Bristol Academy Flyers v Ipswich

Sunday 10 December 2017 – 4.15pm
Bristol Flyers have been on a superb run to start the season, defying some predictions based on last year's form to currently sit in 2nd place in the D1W table. Losing influential American Amani Clark has been handled without an issue by the Flyers, instead turning their offence over to Spaniard Maialen Zilbeti and enhancing the role of Liisa Juul. Bristol overcame another talented D2W side in the last round, Sevenoaks Suns II, will Ipswich fall to a similar fate? Don't count on it, especially since the Suffolk outfit have already ousted 2 D1W sides from this season's National Cup. Both Loughborough and Reading have come out on the wrong end of games against Ipswich, displaying that the D2W North leaders may be ready for bigger and better things after their first season back in the NBL.
Bristol Flyers' Head Coach Gareth Till, "The chance of winning silverware and competing in Finals is why we play. It would mean a great deal for Bristol Basketball and the Flyers. However, all our focus has to be on this weekend's Semi Final. It's going to be a very challenging game and we have to prepare fully and be at our best"
Ipswich's Head Coach Nick Drane, "We have made a good start to the season and have been able to test ourselves against some really good teams from D1W. Bristol are an excellent side and we will have to be at our best to win this game, but we are playing well and I have confidence in the players and staff. This is a great opportunity for us against a top team. We have nothing to lose".
Division 1 Men

Leicester Warriors (2-7) v Team Newcastle University (4-8)

Saturday 9 December 2017 – 3.00pm
Only 3 D1M games survive this weekend thanks in part to the National Cup, but there are sure to be some excellent match ups across the country. Leicester suffered a tight loss away to Reading last weekend and will need to use their performance level, if not the final score, to build momentum for this one. Rodney Sanders continues to be a leading light in D1M, the American is 2nd in points per game with 21.7 right now for the Warriors. Team Newcastle are a team on a roll, occupying a similar league position to Leicester at the start of the month but 3 wins in their last 4 games have helped move the Knights up the table. In those 3 wins, only Bradford have passed 62 point scored, making Newcastle's stingy defence and Sanders' high scoring an interesting sub plot in this one.
Team Newcastle's Head Coach Ian Hewitt, "A large part of the turnaround has been us gelling as a team and everyone understanding their role within the team and supporting each other in that role. The other part has been buying in to our defensive game plan each game and really valuing that. Despite having key guys missing we are playing well and enjoying our basketball"

Bradford Dragons (3-6) v Reading Rockets (7-2)

Saturday 9 December 2017, 6.15pm
On the back of a 3 game losing streak, Bradford need to regroup on their own court as they welcome a tough Reading side to Bradford College. Despite not being at the half way stage of the season yet, these sides have already met back in early November as Reading ran out comfortable winners 95-74. That result started a streak of just 1 win in their next 4 as a bright start for the Dragons has fallen by the way side. If the Dragons are going to bounce back here, look for Marcus Gooding and Rihards Sulcs to play a major part. One area that Reading could look to exploit against Bradford is on the boards as the Dragons have struggled in that department this season. In American Tim Gill, the Rockets have the best rebounder in the league right now, pulling down 13 per contest. That could create matchup problems at both ends of the court.
Reading Rockets' Head Coach Manuel Pena Garces, "This weekend we make the long journey to Bradford to take on a competitive and well coached team. Chris (Mellor, Bradford Head Coach) always prepares his teams well and at home they are a real threat so we will need to be ready for the different challenge this game will pose compared to the last time we met.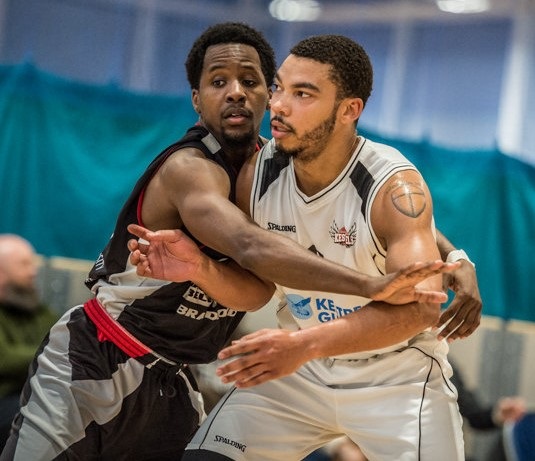 Bradford's Marcus Gooding (black kit) struggled last time out vs Team Solent Kestrels - Mirrorbox Studios

Derby Trailblazers (3-6) v Worthing Thunder (6-3)

Saturday 9 December 2017, 7.15pm
Derby are the latest team to try and solve Worthing's "Big 3" of Taylor, Ebanks and Okoronkwo. Taylor and Ebanks are combining for just over 50 points a game on the season, a huge output for any team to try and counter. If the Trailblazers are going to get something from the game, slowing down Worthing's offensive output needs to be the number one priority. As one of the lowest scoring sides in D1M so far this season, Derby won't be served well if they try to get into a free scoring battle with the South coast side.
Derby Trailblazers' Head Coach Matt Shaw, "Worthing are playing really well right now so this one will be tough, no doubt. We have to defend well for 40 minutes, that's a big key. They can score in burst so trying to prevent those runs is important.  If we can spread the scoring load ourselves, we'll have a real chance of getting another win. We have a lot of guys who are capable of chipping in with double figure points and hopefully that will make us hard to stop."
Worthing Thunder's Head Coach Daniel Gayle, "Zaire and Jorge are the veterans of the teams. Alongside their scoring, they bring a wealth of knowledge and experience to the team which is invaluable. Helping our younger players to read the game and be more effective as well as supporting our team captain, Brendan Okoronkwo, to excel in his role."
Division 1 Women

Southwark Pride (4-3) v Team Birmingham Elite (2-5)

Saturday 9 December 2017, 1.15pm
At this stage of last season, Southwark had only just suffered their first defeat of the D1W year and enjoyed a 10-1 record. This season has been a different proposition due to high player turnover but the Pride are always likely to be a competitive side regardless of their record. Last weekend Southwark lost a tight game to league leading Essex Blades, demonstrating their ability even if the result didn't go their way. Team Birmingham will have to keep that in mind on Saturday as they make a trip to the Capital on the back of 5 straight losses in D1W. It's been a rough stretch for the recently promoted side who will no doubt have one eye on their game with fellow strugglers Team Solent Kestrels next week before the side hits the Christmas break.
Southwark Pride's Head Coach Jackson Gibbons, "Essex are a very good team this year and are very well coached by Mark Lloyd as ever. In a close game they used their experience to grind out a tough win and credit to them."

Anglia Ruskin University (0-8) v Reading Rockets (4-2)

Saturday 9 December 2017, 3.45pm
Anglia Ruskin remain rooted to the bottom of the D1W table but there is plenty of reason for positivity. The Rhinos only lost to Essex Blades by 6 a few weeks ago and in Nadege Talva they have the D1W's top scorer this season with 20ppg. The end of 2017 is kind to Anglia Ruskin with this game against Reading before match ups with Team Birmingham and Team Solent as the side moves in 2018, so there is the potential for a win in the coming weeks. Reading were a game away from being in National Cup Semi-Final action but fell in the Quarters to Ipswich and will now need to focus on D1W the rest of the way. Having only played 6 games so far this season, the Rockets are set for a busy 2018 but if they can get some momentum going, they could pick up plenty of points.
Division 2 Men

Liverpool (5-4) v Sussex Bears (4-5)

Saturday 9 December 2017, 5.00pm
With the National Cup Semi-Finals dominated by D1M sides, that leaves the D2M slate unaffected. After 2 losses in a row, Liverpool are in need of a bounce back performance on Saturday against the Bears. With this game marking the start of a 4 game home stand that stretches into mid-January, the opportunity is there to be in the mix at the top of the table if the team can get back to full strength and execute. Sussex are on a slide of their own, losing their last 3 including a 104-87 home tie with Ipswich last Saturday. The opposite to Liverpool, Sussex are soon to set out on a lengthy road trip that stretches all the way into February. This trip to Merseyside marks 1 of the 5 away fixtures for the Bears in their next 6. That single home fixture is a visit from undefeated D2M league leaders Nottingham, so points could be hard to come by for the next few weeks.
Liverpool's Head Coach Delme Herriman, "We have lost 2 in a row, both of them really hurt.
Essex was a game we should have won but we didn't execute down the stretch and lost by 2, even without David Ulph. Westside was a combination of fatigue as we only had 7 players available and not executing in the 4th quarter, only scoring 11 points! Our key players played below their average. Westside played well and all 11 contributed. With our next 3 games at home we have to take full advantage of that and move back up the table."

Ipswich (5-4) v Team Birmingham Elite (3-5)

Saturday 9 December 2017, 5.00pm
It's been a mixed bag for Ipswich so far this season, with an 87-63 win over a strong Liverpool side early in the season coming with a 104-48 loss to Nottingham. It's likely that the side will continue to fluctuate as they find some form and key players return, but that success may be on its way after 2 wins in a row. A 104-87 victory last time out, Ipswich were red hot from beyond the arc and will look to keep that going. Birmingham's back to back home losses over the last few weeks have put a dent in their early season form and with upcoming games against Ipswich here, then Liverpool and Nottingham, this is a tough section of their schedule.
Ipswich's Head Coach John Ellis, "We travelled to Sussex without several key players last week and ended up with a very special offensive performance. We're looking forward to getting back towards full strength this weekend and trying to sustain our momentum."

Nottingham Hoods (8-0) v London Westside (2-6)

Saturday 9 December 2017, 7.00pm
After taking last weekend off, Nottingham Hoods are recharged and ready to continue their push for potential promotion to D1M. An unfancied side after their 10-12 record last season and with the likes of Thames Valley, Westminster and Essex all in the mix to go up this year, it is the Hoods that are currently top of the tree. Westside will have to hope that the break in Nottingham's fixture list leaves them a little rusty, though the London side did record a surprise win last time out against Liverpool. Hans Manku had 17 in that game and will look to keep his good form going.
Nottingham Hoods' Head Coach Ryan Westley, "The weekend off allowed our bodies to rest and recover after a tough beginning to the season, with lots of away games, in which the guys' professionalism and smart work has really shone. We have had 2 weeks of good practice so we are raring to go again"

Thames Valley Cavaliers (7-2) v Derbyshire Arrows (4-4)

Saturday 9 December 2017, 6.30pm
Derbyshire Arrows had struggled away from home to start the season, but an 86-82 win on the road to Team Birmingham will have left the Arrows hoping that better form is on the way. They'll have to overcome Martelle McLemore to do that, he currently averages 21.8ppg this season, and has plenty of support from Robert Banks Jr. and Philip Perre. Still, Derbyshire have scoring of their own in the shape of Joseph Baugh (19ppg), so will give this one their all.
Thames Valley Cavaliers' Head Coach Robert Banks, "Certainly, people see Martelle McLemore's on court stats, but Martelle means much more to our club. He is one of the club's founding members and plays a key role in our community basketball development programme. That community programme is one of the most important building blocks for the club and he is one of the key foundations to it. In addition, he is an excellent teammate and of high character, he can be counted on both on and off the court.  "

London Greenhouse Pioneers (2-7) v Essex Leopards (4-2)

Sunday 10 December 2017, 1.30pm
Another side that enjoyed a weekend off recently, Essex will need to make sure they are in prime form as they head to London to face the Pioneers in 1 of the 2 Sunday games in D2M. Their opponents lost a heartbreaker at home to Westminster, and it remains to be seen how the side will bounce back from that disappointment. The Pioneers will no doubt look to take the positives out of such a competitive performance rather than dwell on the final score. Expect a close game in this one as both teams could badly use a win.
London Greenhouse Pioneers Head Coach Predrag Krneta, "The Westminster game was our best performance thus far and that is something we have to take into the game this weekend. Our level of effort increased in terms of team play on both ends of the court which is another aspect that needs to continue going forward."
Essex Leopards' Head Coach Thomas Baker, "Having another weekend off wasn't ideal but it did allow us to rest a few people who were carrying some injuries. 2 games now before Christmas break and it is imperative we go in the break with a 6-2 record to ensure we are on track to get promoted back to D1M. The team have been great in practice and we reviewed some video last week as well which allowed us to pinpoint some areas where we can improve. Confidence is high and we have played well in parts in our games against Ipswich and Liverpool we will be looking to continue this at the weekend against Pioneers."

Middlesex LTBC (2-7) v Westminster Warriors (5-5)

Sunday 10 December 2017, 3.00pm
Somewhat of an unknown quantity in recent weeks, Middlesex LTBC have conceded back to back games against Derbyshire and London Pioneers that is sure to leave them with some disciplinary issues. Those off court problems shouldn't detract from a side that can compete at this level when at full strength though. That's what Westminster need to guard against this weekend, particularly on the road. Going 2-2 in their last 4, the Warriors would love to win here and end their 2017 fixtures with a victory.
Westminster Warriors' Assistant Coach Dominic D'souza, "I would say that in this league you can take nothing for granted there are no such things as easy games. We know Middlesex are a very good team, on their day they can beat anybody and playing them on their home court will not be an easy task. We expect Sunday to be a tough game against a team that will be well prepared, our coaching team has made sure that the team is well prepared for this weekend and we are looking to go into the Christmas break on the back of a positive performance."
Elsewhere in the NBL
The only D2W games this weekend are in the South as Folkstone Saints (2-2) travel to play Univeristy of Exeter (2-4) on Saturday before Cardiff Met Archers II (2-0) head to Surrey Goldhawks (1-3) on Sunday.
In D3M North, leaders Myerscough College (6-1) host a struggling Birmingham Mets (3-6), whilst 2nd placed Loughborough Students Riders III (5-3) will be hoping to capitalise on any potential Myerscough slip up as they welcome University of Chester (4-4).
D3M South front runners Greenwich Titans (6-3) have a home tie with the dangerous Northants Taurus (4-3) but will try and keep up their pace at the top. 2nd placed Oxford Brookes University (6-2) travel to East London All Stars (4-3), who would love nothing more than a win to get themselves back into the promotion picture.
Calderdale Explores (9-0) and Blackpool (9-1) continue to set the pace at the top of D4M North, with Blackpool's only loss this season coming at the hands of the Explorers. The two teams meet each other to start their 2018 fixtures, which is sure to be a cracker. This weekend Blackpool host 4th place Sheffield Sabres (6-3) whilst Calderdale take on Stockport Falcons (3-4). Derby Trailblazers II (7-0) are continuing to steamroller their way through the D4M Midlands conference, showing no sign of letting up. They face Mansfield Giants (2-6) this weekend and will look to keep that form going. In D4M South East, BC Medelynas (7-0) will put their unbeaten record on the line as they play against London Thunder Lewisham (2-5) and D4M South West leaders Huish Taunton Tigers (7-0) welcome 4th place London United (5-2) to Somerset.