Division 1 Men

Leicester Warriors 68 v 78 Loughborough Students Riders

Saturday 10 February 2018 – 3.00pm
Surprise 60-56 leaders at the end of the 3rd, Leicester couldn't hold on in the game's final quarter to record a shock win against Loughborough on Saturday. A 14-2 run to end proceedings was enough to get the Riders over the line thanks to baskets from Max Richardson, Lucien Christofis and Thomas Yome as the Warriors were left wondering what might have been. That wasn't the only impressive comeback of the game as Leicester had earlier held a double digit lead midway through the 2nd period. The visitors stormed back on that occasion to, reeling off basket after basket to move into a 6 -point lead of their own early in the 3rd. Rodney Sanders finished on 33 points for the hosts and was integral to everything Leicester did in the contest. Reis Pinnock had a rounded line of 10 points, 5 boards and 7 assists for the Riders, and guard Alex Roberts led the side in scoring with 14.

Lancashire Spinners 79 v 96 Kent Crusaders

Saturday 10 February 2018 – 5.45pm
Kent won just their 2nd road game of the season as they claimed a vital victory over Lancashire. 29 points in the opening quarter helped contribute to a 54-39 lead for the visitors at the half time interval, and the Crusaders controlled the contest the rest of the way. Shooting 52% from the field to go with 26 assists, Kent were in fine form on offence but also did enough defensively to get the win, despite a 28-point, 10 rebound double-double from Lancashire's Loick Pouale and a 20-point, 10 rebound performance from Allie Fullah. Caleb Fuller returned to form in this one for Kent with 25 points, with Micah Savery-Richards adding 19 more.
Kent Crusaders Head Coach Lloyd Gardner, "Today was a really solid win for us. We haven't played particularly well on the road so far this season and today we played with a much better energy. Defensively I thought we were pretty good, it was a really pleasing all-round performance. Going to Lancashire, it's a difficult place to play. We set the tone early with our defence and that really gave us a platform to be free in the game because we had come out with an energy and intensity in the first five minutes that we haven't seen when we've been on the road."

 Team Newcastle University 89 v 95 Worthing Thunder 

Saturday 10 February 2018 – 6.00pm
Marquis Mathis and Zaire Taylor constantly tormented Team Newcastle on Saturday as the Worthing forwards combined for 61 points. Still, the hosts managed to keep this one close as neither side led by more than 7-points at any stage. It wasn't until Mathis threw down a big dunk in the game's dying seconds that the Knights were truly out of the contest. Short-handed for the long trip North, Worthing got little from their bench outside of youngster Naseem Abu-Ramadan's 10 points in 16 minutes, leading to Jorge Ebanks and Brendan Okoronkwo playing the full 40 minutes and Zaire Taylor and Marquis Mathis very nearly doing the same. That court time allowed Ebanks to put together a 15 point, 12 assist double-double, whilst Taylor finished on 26 points and Mathis led all scorers with 35. Newcastle Captain Patrick Wrencher deserves a lot of credit for his performance in the losing effort, playing just over 37 minutes to score 34 points to go with 17 rebounds and 3 steals.
Worthing Thunder's Marquis Mathis, "We came into the week knowing we were going to be short-handed but we all just committed to communicating and figuring things out. We had a solid game plan and for the most part knew how they wanted to play. We just focused on our game plan and withstood their runs and came back with our own. The communication with a major key tonight for the victory."

Hemel Storm 76 v 92 Team Northumbria 

Saturday 10 February 2018 – 7.00pm
A loss for Hemel gave Worthing and Team Northumbria further good news on Saturday as both sides profited in the standings from the Storm's defeat. The visitors flew out to a 27-19 lead after the first quarter to set up the game in their favour. Shooting 53% from the field, including a 13/25 performance from deep also helped the North East side as they continued to stretch their lead. By the middle of the 3rd that advantage touched the 20 mark and it was all Northumbria from there. TN's point guard Lewis Champion had one of his best performances of the season as he scored a game high 29 points that involved hitting 8 of 12 from beyond the arc. Atif Russell added 21 points, 6 boards and 3 dimes, and Malcolm Smith dropped 20. An uncharacteristic performance from Hemel meant no player passed the 20-point mark, with Dave Ajumobi coming closest 18. AJ Roberts looked out of sorts to go 4-13 for 10 points, and Walid Mumuni added 11 off the bench.

Team Solent Kestrels 85 v 60 Derby Trailblazers

Saturday 10 February 2018 – 3.00pm
Team Solent recorded an expected victory this weekend as they controlled their contest with Derby from almost start to finish. A Jake Wesselingh triple to put the Trailblazers up 8-6 after 3:30 of play was as good as it got for the visitors and by half time the Kestrels lead was north of 20. Scoring just 27 points in the game's opening 20 minutes was never going to get it done for Derby and that proved to be the case as Solent cruised to the finish line after the break. Joe Tagarelli continued his dominant form on the boards to pull down 19 rebounds to go with 20 points and 5 assists, and Herman Senor II added 18 points, 7 rebounds, 5 assists and 6 steals for the Kestrels. Only Leome Francis was able to make it into double digits for Derby as he recorded a 13-point, 10 rebound double-double.
Derby Trailblazers Head Coach Matt Shaw, "We were very poor. That's not to take anything away from Solent because they're a top team and their class showed through. I was pleased with how we battled in the second half, but we still couldn't make any inroads into their lead."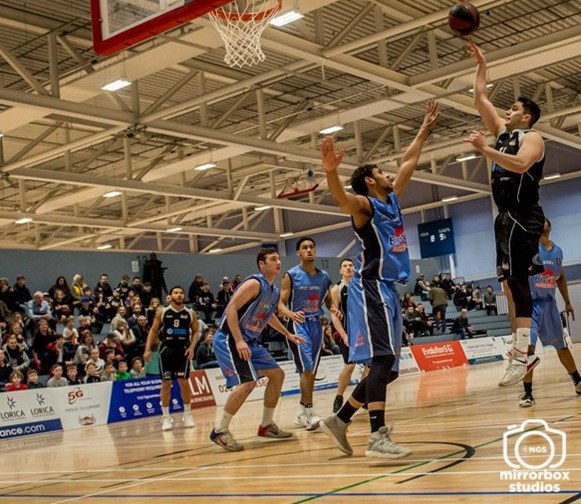 Solent's Joe Tagarelli has been a constant force for the Kestrels this season - Mirrorbox Studios

Reading Rockets 97 v 62 Manchester Magic

Sunday 11 February 2018 – 5.00pm
Reading got back to winning ways this weekend, dropping the Magic out of the playoffs in the process. Establishing a 42-30 lead at half time, Reading had put themselves in a fine position to begin the game and that proved to be the case as a 33-18 3rd quarter put the icing on the cake for the hosts. The visitors struggled to find a rhythm as they slumped to their 2nd lowest score of the season, with Ryan Lewis collecting 15 points and 7 rebounds as he went 5-18 on the day, and Stefan Gill finished on 13 despite being ice cold from deep, shooting 1-9 from range. That left Reading's Tim Gill and Scotty Hendricks to enjoy their afternoon with powerful forward Gill recording 19 points and 7 rebounds, whilst Hendricks put his versatility on show to score 19, pull down 5 boards, dish 8 assists and nab 2 steals. Dan Carter finished on 15 points as he stepped up his return to action.

Team Northumbria 88 v 83 Worthing Thunder 

Sunday 11 February 2018 – 5.00pm
Missing Atif Russell for this critical match up, Northumbria turned to MVP Malcolm Smith as the American produced the goods to record a 30 point, 11 rebound double-double on Sunday. Playing 40 minutes for the 2nd time in 2 days, Worthing Captain Brendan Okoronkwo went toe-to-toe with Smith for his own 24-point, 17 rebound double-double but it wouldn't be enough. With a short bench, the writing looked to be on the wall for the visitors as they slipped into a 22-point deficit midway through the 2nd quarter. Still, with 4 minutes left in the game, a Josh Goddard jumper reduced the Northumbria lead to just a single point. But that was as close as the South coast side would get as they couldn't produce the ending their comeback deserved. Going 1-9 from downtown meant it was an uncharacteristic off day for Zaire Taylor, but Worthing's talented guard still scored 16 to go with 9 rebounds and 4 steals to help his team's cause. Smith's performance was backed up by 16 points from Jack Preston, with Lewis Champion adding 12. A 2-win weekend puts Northumbria well into the mix at the top of the division with leaders Solent and 2nd placed Loughborough. The North East side still have the Riders to play twice, and they also own the head-to-head tie breaker with the Kestrels.
Worthing Thunder's Captain Brendan Okoronkwo, "On the second leg of a back to back, it's unacceptable to dig ourselves into a hole like we did in the first quarter, our effort level simply wasn't there. We did a great job to regroup, but in that situation, one or two mistakes and you come up short. Our goal though was to make playoffs first, home court, second then compete for the title. We still have seven games to achieve the goals in our control - right now that's a top-four finish."
Division 1 Women

Southwark Pride 72 v 68 Loughborough Students Riders (After 1OT) 

Saturday 10 February 2018 – 2.30pm
Southwark needed to use a period of OT but they just managed to sneak by Loughborough to record their 9th win of the season. Momentum was with the Pride in the extra period after they spent the majority of the 2nd half digging themselves out of an early hole. Down 23-19 after 1 and 38-27 at the half, there was much for the hosts to do after the break. Still, Southwark stuck at the task and thanks to 22 points from Megan Haines, they forced OT and ultimately grabbed the W. The result means the Riders have now won 1 in the last 6 but they were unlucky not to get a result here after 17 points from Ebony Horton.

Team Solent Kestrels 59 v 66 Essex Blades

Saturday 10 February 2018 – 3.45pm
Jodi Jerram continued her return for the Kestrels but couldn't help her side overcome league leading Essex. Solent looked to be on for a real surprise win in this one as they led by 10 after an Earleesha Jackson layup with less than 9 minutes remaining. That inspired Blades Captain Cat Lutz to spark a comeback and she scored 5 straight points to kick start her side. A 20-7 final quarter was enough to push the visitors out in front and recover from what appeared a precarious situation minutes earlier. Lutz scored a game high 28 and Essex pulled down an impressive 23 offensive boards in the contest. Jerram top scored for Solent with 15 to go with 7 rebounds.

University of Nottingham 59 v 52 BA London Lions II

Saturday 10 February 2018 – 3.45pm
For the 2nd time this season, BA London Lions II fell to University of Nottingham due to a slow start to the game. Allowing the hosts to streak out to an 11-0 start, BA were always up against it from there on out. Down 2 starters due to injury, the recovery task was even more difficult but the Lions still battled hard before coming up short. Ellie Bishop led the way for Notts' with a game high 22 points, a big difference in a tight game.
BA London Lions II Head Coach Karen Burton, "Poor defence at the start of the game meant we were on the back foot early. It's the position we have been in most games and again we came back in the second half but it was too late. Scoring from our three guards today was not enough to bring us a better performance. We have to get more contribution from our bigs otherwise it's going to be tough for the rest of the season."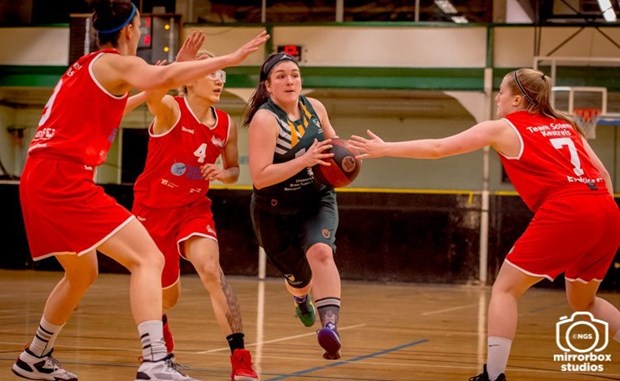 Becky O'Neil and University of Nottingham picked up a big win against BA London Lions II this weekend - Mirrorbox Studios

Oxford Brookes University 60 v 50 Team Birmingham Elite

Saturday 10 February 2018 – 5.00pm
With Southwark pressing, Oxford needed a big performance on Saturday to keep hold of 3rd place. They did just that as they ran out to a win over Team Birmingham thanks to a balanced offensive effort. Julie Fricke, Alice Walton, Jenny Dorney-Savage and Courtney Gray all made it into double digits, with Fricke leading the way with 13. Becky Brindley managed 16 with the visitors and Amani Vassell added 14, but it wasn't enough as Oxford narrowly won all 4 quarters to edge out a win.

Anglia Ruskin University 77 v 82 Bristol Academy Flyers

Saturday 10 February 2018 – 6.45pm
A slow start by Anglia Ruskin set up a come from behind performance that looked to have sent both points to hosts in this one. But a 29-12 final quarter saw Bristol steal both points themselves with a comeback win in a thrilling contest for the neutral. Down 30-17 after 1, Ruskin had it all to do but played some great basketball to eventually lead 65-53 with 10 minutes to go. Bristol then showed the sort of quality that has seem them establish 2nd place in the D1W, fighting off the Rhinos' momentum to turn the game on its head. Katrin Hulme top scored for the hosts with 18, Mai Zilbeti went one better to lead the Bristol charge with 19.

 Anglia Ruskin University 70 v 51 University of Nottingham 

Sunday 11 February 2018 – 1.50pm
Anglia Ruskin were able to bounce back from their Saturday loss to win a crucial game near the foot of the D1W table on Sunday. Unfortunately for visitors Nottingham, they couldn't build momentum from their win over BA London Lions II on Saturday and remain 2 points from potential safety after defeat here. Nadege Talva top scored for the hosts in this one to finish on 13 and a 21-6 final quarter to Ruskin took an otherwise even contest away from the travelling side late on. Rachel Byrne had 14 for Notts'.

 Reading Rockets 62 v 76 Lancashire Spinners 

Sunday 11 February 2018 – 2.30pm
28 points from Milly Knowles and 17 more from Shauna Harrison were more than enough to cancel out an impressive 25 points from Reading's Andrea De La Vara Gomez in a great game of basketball on Sunday afternoon. Edging out to a narrow 43-36 lead at the half, Lancashire let all their hard work go to waste as a slow 3rd quarter allowed the Rockets back into the contest. With 10 minutes remaining and the hosts now leading 54-52, the Spinners put their 3rd quarter woes behind them to dominate the final period and seal an important win.
Lancashire Spinners' Milly Knowles, "At previous away games we've struggled to find energy and play how we know we can, but this weekend we were able to do this to secure a big win on the road. We stuck to what we know we do well; pushing the ball, which we got some great results out of. Everyone contributed, we really showed a great example of team basketball."
Division 2 Men

 Liverpool 79 v 54 London Greenhouse Pioneers 

Saturday 10 February 2018 – 3.00pm
Despite a recent uptick in form, stifling defence from Liverpool held Greenhouse to their lowest point total since mid-October as the hosts secured an easy win. Mark Raynolds and Luca Piccini have been integral to recent Pioneers' victories but they were both largely held in check as Piccini finished on 19 points and Raynolds recorded a 15-point, 11 rebound double-double to go with 3 steals. A fast start from Liverpool saw them up 27-7 after 1 and from that point they never looked back. David Ulph's 23 point, 11 rebound double-double was a highlight for the hosts, and Jack Hudson's 7 assists, 5 boards and 11 points warrant a mention.

 Ipswich 89 v 105 Middlesex LTBC 

Saturday 10 February 2018 – 5.00pm
Middlesex made it 3 wins in a row as they continue to stake a claim for remaining in D2M. Ipswich were the latest side to fall to the in-form Lithuanian side after another entertaining and high scoring game at Copleston. Colin Dockrell lit up the score board for the hosts with 27, but Modestas Krasauskas stole the show for Middlesex to finish with 36.

 Sussex Bears 89 v 84 London Westside 

Saturday 10 February 2018 – 5.00pm
Sussex used home court advantage and 22 points from Joe Carter to record a timely win on Saturday evening. Struggling Westside will be no doubt wondering what went wrong as they led for the majority of this one before letting their advantage slip away late on. In front by double digits midway through the 1st half, as well as at stages of the 3rd, it was all downhill for the visitors from that point on as hosts fought back. Despite 19 points from Hans Manku and a 13-point, 12 rebound double-double from Theo Deleligne, Westside were powerless to halt the Sussex charge and the Bears took both points come the final buzzer.

 Nottingham Hoods 85 v 54 Derbyshire Arrows 

Saturday 10 February 2018 – 6.30pm
For the 2nd time this season, Nottingham were able to ease out to a win over the Arrows by more than 30 points. A 98-63 score line when the sides last met, this game featured a similarly one sided final total thanks to 16 points from Tevis Robinson. 3 other Hoods players made it into double digits as all but 1 of their 10-man roster made it to at least 6 points. As has frequently been the case this season, Joseph Baugh was the leader for Derbyshire and he finished with 21 points, 5 boards and 5 assists.

 Essex Leopards 73 v 63 Team Birmingham Elite 

Saturday 10 February 2018 – 6.30pm
After meeting just a few weeks ago, Team Birmingham were once again unable to prevent Essex from grabbing another victory on Saturday. An even contest through the game's first 20 minutes, both sides gave as good as they got to leave the score poised at 40-38 Essex. The Leopards were then able to pull away in the 2nd half and Birmingham's 2/22 mark from deep was something they couldn't overcome as they chased the game in vain. Essex guard Korey Callum enjoyed a team high 20 points, grabbing 7 rebounds in the process and Dougie Bennett was ever present with 16 points. George Iliev had 22 for Birmingham and David Stevic added 15 more but no other Elite player made it to double digits.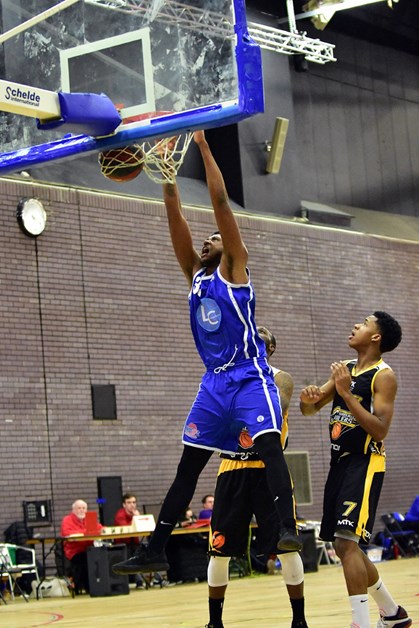 Caleb Tabanar dunks one for Essex against Sunday's opponents Thames Valley - Essex Leopards

 Thames Valley Cavaliers 89 v 104 Westminster Warriors 

Saturday 10 February 2018 – 7.00pm
In a preview of this month's Patrons Cup Final in Worcester, Westminster struck an early psychological blow as they handed Thames Valley just their 3rd loss of the season. The Warriors once again did some damage from 3-point range, with the dangerous Juan Manning having the best of it as he went 5-8 from deep to finish with 19 points to go with his 9 rebounds and 9 assists. With the visitors holding onto a 2-point lead to start the final quarter, it was their effort in that final period that made the difference in this one. A 14-3 run in the middle of the quarter did the damage for Thames Valley's hopes and the Cavs simply didn't have time to recover. Guard Prince Larty had 10 assists to go with 9 points, with Martelle McLemore leading the scoring with 23 and Robert Banks Jr adding 18 more. Justin Hitchman had 21 for Westminster to support Manning's efforts, and Jon Johnson had 17.

 Team Birmingham Elite 59 v 88 Nottingham Hoods 

Sunday 11 February 2018 – 4.00pm
Birmingham poor home form continued on Sunday as they fell to defeat against Nottingham. The victory was the Hoods' 15th on the season and coupled with results elsewhere on the weekend, they now have some breathing room in their race for the regular season title. Conceding 35 points in the 2nd quarter and scoring just 6 of their own in the 3rd were two of the biggest issues here for Birmingham as the visitors took control. Luke Mitchell was flawless for Nottingham, scoring 29 points and shooting an incredible 9/9 from 3-point range. On another day, Delaney Powell's 6/8 from downtown for 18 points would have been a highlight but Mitchell stole the plaudits on a day when the Hoods were 18-24 from deep. Daniel Penkov top scored for Birmingham with 15.

 Essex Leopards 83 v 100 Thames Valley Cavaliers

Sunday 11 February 2018 – 4.00pm
After slipping up on Saturday, Thames Valley went to Essex and maintained their unbeaten road record with a victory over the Leopards. The hosts had the better of things for most of this game before a 20-6 run for the Cavs late in the 4th blew the game wide open. In many ways it will have been a difficult result for the Leopards to take, not only leading for most of the game but also commanding the glass to pull down 30 offensive boards, but ultimately the visitors made their mark when it countered most and Essex ran out of time to respond. Martelle McLemore enjoyed a 2nd solid game on the weekend, this time scoring 26 whilst Robert Banks Jr, Philip Perre and Andre Baptiste all scored 18. Captain Dougie Bennett top scored for Essex with 16 with Jerrell Layne (11), Antonio Deogratias (11), Will Ashby (10) and Korey Callum (10) all making it into double digits.