Division 1 Men

 Loughborough Student Riders 88 v 80 Hemel Storm (OT) 

Saturday 10 March 2018 – 2.00pm
In need of every point in the chase to catch league-leaders Team Solent Kestrels, Loughborough Student Riders were pushed right to the limit on Saturday. AJ Roberts hit a key triple to keep Hemel in the game, as they stormed back to then take the lead 73-74 with 43.1 seconds to play. Sesan Russell came up clutch as he tied the game at the line, seeing the contest head into overtime tied at 74 apiece. Loughborough took take control in the extra period as they outlasted Hemel, with Russell continuing to be a key factor as he relentlessly attacked the rim. Hemel were led by Roberts' 16 points, while Russell led all scorers with 22 points as he was supported by 15 points apiece from Max Richardson and Reis Pinnock.
Riders' Coach Mark Jarram was pleased that his side pulled out the win, "This was great game for the neutral fans! Credit to Hemel, they made a vicious comeback, but fortunately our group made the timely plays and got the timely stops needed to secure the victory. We will be sure to reflect and review this game; another great learning opportunity for this team – that's what it is all about."

 Kent Crusaders 74 v 73 Team Newcastle University 

Saturday 10 March 2018 – 4.00pm
Kent Crusaders picked up a vital win this weekend in their chase for the final playoff spot in D1M, with a tough schedule to come this result was crucial against a team very close in the standings. A close game in the early going; the hosts exploded in the third quarter to take a double-digit lead into the final period. However, Newcastle weren't going down without a fight and clawed the game back, even taking the lead with two minutes to play. Key plays down the stretch from Micah Savery-Richards and Caleb Fuller gave Kent the lead that they wouldn't relinquish, despite a prayer from Mark Elderkin on the final buzzer.
Fuller led all scorers with 26 points through a dominant scoring performance, shooting 76% from the field, while adding eight rebounds, three assists and two steals. Kalil Irving also provided key support off the bench as he didn't miss a shot en route to 12 points, five rebounds, three assists and three steals. Balanced scoring from Team Newcastle saw five players reach double figures with Patrick Wrencher leading the charge with a double-double of 17 points and 12 rebounds, as he also added two assists and three steals.

 Leicester Warriors 102 v 105 Reading Rockets (OT) 

Saturday 10 March 2018 – 5.30pm
There was bonus basketball all over the East Midlands as Leicester Warriors also needed an extra period to decide this one against Reading Rockets! The score remained close for much of the game, but the Warriors took control early in the third quarter as their lead stretched out to double-digits. However, Reading fought back to tie it early in the fourth as the game went right down to the wire, with Carl Pearson hitting a huge three-pointer on the buzzer to tie it 90-90 at the end of regulation. The extra period was back-and-forth as Tim Gill and Dan Carter made big plays for the visitors, but no play was bigger than Jerrod Hendricks in the dying seconds. Tied game, Hendricks was fouled on a three-point shot on the buzzer and came up ice cold at the line, hitting all three free throws as the Rockets took the game 102-105.
Hendricks was pivotal for the visitors as he dropped a game-high 29 points, while Dan Carter added 26 points and six rebounds. Tim Gill was also instrumental around the basket for Reading, as he contributed a monster double-double of 20 points and 14 rebounds. The scoring was largely done by committee for the hosts, as all five of the Leicester starters scored in double figures. Carl Pearson led the way with 28 points, including five three-pointers, while Elliott Sentence added a 17 point and 12 rebound double-double.

 Team Northumbria 81 v 72 Derby Trailblazers 

Saturday 10 March 2018 – 6.00pm
Looking to avenge an early season defeat in the reverse fixture, Coach Marc Steutel's Team Northumbria had multiple motivations heading into this one – needing all the points they can get to solidify their position in the top four. With safety in D1M ensured for Derby, they can breathe a little easier as they play out the season even though a playoff spot is now out of reach. A good start for the hosts in this fixture is what made the difference, as Atif Russell and Malcolm Smith had key contributions in the second quarter to keep Derby at arms-length.
Smith led the hosts with 27 points, while adding seven rebounds and three steals. Russell was also crucial in the Team Northumbria win as he had a double-double of 26 points and 11 rebounds. Jake Wesselingh led the visitors with 17 points and eight rebounds, while Leome Francis had a double-double of his own, with 13 points and 11 rebounds.

 Bradford Dragons 127 v 126 Worthing Thunder (OT) 

Saturday 10 March 2018 – 6.15pm
The spectators in Bradford were treated to an offensive spectacle this weekend, as the Dragons and Thunder went shot-for-shot, with an incredible 29 made three-pointers shared between the two sides. The overtime loss sees Worthing slip out of the top four, while Bradford climbed to sixth place in a very tight D1M playoff race. In the third overtime game to be played on Saturday, there was late game storylines aplenty in this one. Eisley Swaine had the chance to put the game to bed in regulation, with the Dragons leading 114-113, but came up short at the line, missing both of his fouls shots. Zaire Taylor then had a shot at the game winning three, only to be fouled by Richard Sulcs, but could only make one of three at the line as the game headed into overtime. With the score tied at 126-126 in the extra period, Disraeli Lufadeju went to the line and made one of two free throws, giving Worthing a final shot at the win, down 127-126. Taylor had a chance at a desperation lay-in at the buzzer, but the shot bounced out and home team were victorious in the Dragons' Den.
There were plenty of impressive stat-lines in this contest, as Marcus Gooding led the way with 34 points (including nine made three-pointers) and 10 assists for Bradford. Sulcs had his own 34 point outing, while adding five rebounds, five assists and six steals in a complete performance. Ricky Fetske contributed a triple-double performance of 26 points, 13 rebounds and 10 assists. Taylor led all scorers as he gave the Thunder 37 points, 11 rebounds and six assists, as he was well supported by Marquis Mathis (26 points), Brendan Okoronkwo (24 points) and Jorge Ebanks (22 points).
Bradford Coach Chris Mellor was honest about the style of play, "It was a crazy game. Both defences decided to take the night off, so it ended up being an up-and-down, run-and-gun shoot-out. The offensive numbers were off the charts percentage-wise, and I felt we had won in regulation… then lost it… then we lost it in overtime… then won it! Luckily we just managed to come up with the one stop that mattered on the last play." Visiting Coach Daniel Gayle was disappointed after the game, "It was a crushing loss. We had a few times to ice the game but our defence let us down and to give Bradford credit, they hit some remarkable shots. This loss cost us a top-two finish in the table so we have to dig deep to hold on to home court advantage in the playoffs."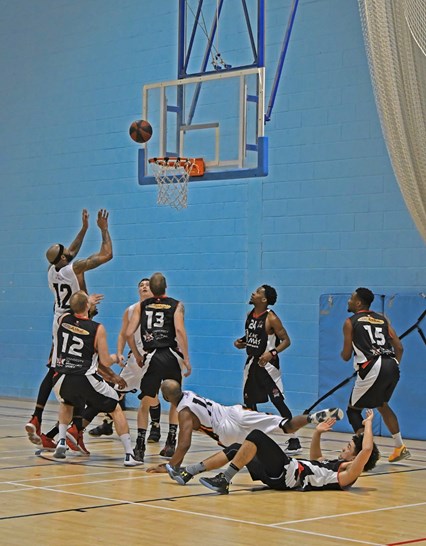 Worthing watch their last ditch effort roll off the rim in overtime - Don Crabtree

 Manchester Magic 101 v 66 Lancashire Spinners 

Saturday 10 March 2018 – 6.30pm
The woes continued for Lancashire Spinners, as the reverse fixture in the Greater Manchester derby didn't go their way, seeing them slide to 0-21 on the season. Missing the key contributions of big man Allie Fullah, and travelling with only six senior players, the undermanned Spinners were always going to be fighting an uphill battle. Competitive in the early going, the game began to slip away in the second quarter when Manchester unleashed a run to take their lead to double-digits. They didn't look back in the third quarter, holding Lancashire to just four points in the period, as their tight defence put the game firmly out of reach of the visitors.  
Donte Gittens continued his impressive season in D1M as he led all scorers with 20 points, while stuffing the stats-sheet, adding five rebounds, six assists, five steals and four blocks. The Magic had very balanced scoring in the rout, as Michael Anumba (18 points), Stefan Gill (16 points), Ryan Lewis (16 points) also added impressive scoring displays. A bright spark in the Spinners disappointing loss was the double-double performance of player-coach Anthony Purcell, who contributed 18 points and 15 rebounds.

 Manchester Magic 64 v 59 Leicester Warriors 

Sunday 11 March 2018 – 5.00pm
With both teams coming off a back-to-back, and Leicester following up their overtime thriller against Reading, it is clear that tired legs played a factor in this one. Leicester took an early lead into the half-time break behind the good play of Case Bruton and Elliott Sentence, but Manchester didn't go down without a fight on their home floor. Midway through the fourth quarter, the Magic managed to push marginally ahead of the Warriors and held that lead though the dying minutes as Stefan Gill and Richard Bell made crucial free throws down the stretch.
Donte Gittens followed up his impressive performance the day before as he led Magic again, this time contributing 16 points, nine rebounds and 8 assists. Ryan Lewis was also crucial inside for the hosts, with 10 points and 10 rebounds. Bruton led all scorers with 21 points, while adding eight rebounds in the loss.

 Reading Rockets 109 v 87 Derby Trailblazers 

Sunday 11 March 2018 – 5.00pm
Reading Rockets showed that the previous days' efforts would not slow them down in this one, as they exploded for 34 points in the first quarter, with some hot shooting from behind the arc. Derby were more competitive throughout the rest of the contest, but the damage was done early on as the travelling Trailblazers could never challenge the hosts double-digit lead. Two wins over the weekend has done wonders for the Rockets in the standings, as the they jump from fifth to third in the congested playoff race. With Solent and Northumbria coming up, these were important wins in their plight for home advantage in the first round.
Jerrod Hendricks was again impressive for the victors, leading all scorers with 26 points. Sydney Donaldson was hot from behind the arc, going 4/5 from three-point range en route to 23 points. Tim Gill again was crucial inside, posting a double-double of 17 points and 13 rebounds. Leighton Elliot-Sewell led Derby with an efficient 19 points, shooting 88% from the field.
Division 1 Women

 Southwark Pride 45 v 51 Essex Blades 

Saturday 10 March 2018 – 2.15pm
Heading into a double-header weekend, Essex Blades needed both wins to secure the league title with games to spare, and they began the job on Saturday with a tight win over Southwark Pride. In a low-scoring game overall, neither time struggled to find the basket early on, but the scoring slowly dried up as defence became a real factor in this one as the young Pride squad battled hard against the league-leaders. Cat Lutz led all scorers with 11 points for Essex, as Karla Powesland added 10. The only player to reach double-figures for the home side was Mia-Jaye Sarkodee-Adoo, as she led with 10 points.
Blades' Coach Mark Lloyd was very complimentary of his young opposition, "This weekend has started off tough playing a well organised and coached team deserved near the top of the table. Southwark really pushed us today – they are an incredibly talented young team and will be there or thereabouts come playoff time." Southwark Coach Jackson Gibbons echoed this sentiment in a game that got away for the Pride, "Mark Lloyd has done a fantastic job with the Blades team this year, in a low scoring game which both teams struggled at times, Essex made all the plays in the final five minutes when it counted and showed why they are riding high in the league. This was great experience for our young team."

 Team Solent Kestrels 56 v 57 Reading Rockets 

Saturday 10 March 2018 – 6.00pm
Team Solent Kestrels had the game snatched from them on Saturday, as Reading Rockets grabbed a crucial result in the D1W playoff race. The hosts were comfortable early on at St. Mary's, taking a narrow lead into the half-time break; Reading were ready to fight their way back into the game and midway through the fourth they took their first lead since early in the second quarter. Key scores from Rockets guards Brenda Kipewu and Rene Moses gave Reading a narrow lead that they would not relinquish. Maria Angeles Valdeolmillos hit a vital free throw to stretch the lead to four, meaning Jodi Jerram's buzzer-beating three-pointer could only bring them within one point.
Angeles Valdeolmillos led all scorers as she posted 17 points for the visitors, while captian Maike Delow did the hard work on the boards, pulling down 14 rebounds to go with her six points. Earleesha Jackson had a double-double for the hosts, with 15 points and 14 rebounds; while Andrea Kurkowski added 15 points of her with eight rebounds.

 Bristol Academy Flyers 62 v 68 Oxford Brookes University 

Saturday 10 March 2018 – 6.00pm
The first of a crucial back-to-back for Bristol against two playoff-bound teams came against Oxford Brookes on Saturday, where a win for the visitors made the race for second place much tighter down the stretch here in D1W. With very little separating the two teams throughout the contest, it was Oxford who pulled marginally ahead in the second half as they led from the break to the buzzer. A spirited fightback from Bristol saw them fly right back into it, as Liisa Juul and Fiona Fox made big shots to bring the Flyers within one point. However, Alice Walton and Jenny Dorney-Savage held their nerve and made vital plays down the stretch to lead Oxford to victory.
Walton led all scorers with 19 points and six rebounds, while Julie Fricke gave Oxford a key scoring punch off the bench as she added 17 points. Juul was impressive for the home side as she contributed a double-double of 13 points and 10 rebounds, while Fox added 13 points of her own in the loss.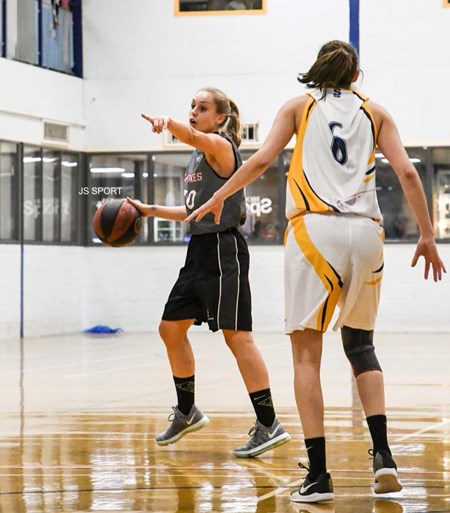 Alice Walton was crucial again this weekend for Oxford Brookes - JS Sport Photo

 Anglia Ruskin University 78 v 74 Lancashire Spinners 

Saturday 10 March 2018 – 6.45pm
Anglia Ruskin have now solidified their chances of grabbing the final playoff spot in D1W, with a vital win over Lancashire who have had mixed results since the turn of the year. The Rhinos are now 8-3 since their 0-8 start the season, bouncing back from a tough start and showing real progression along the way! A tight game in the early going saw this game go the Spinners way in the third quarter as they unleashed their scoring potential, however down the stretch the game went the way of the hosts. Crucial errors in the fourth quarter allowed Anglia Ruskin to capitalise and hit big shots on their way to taking back the lead and taking the win in this one.
Recent signing Jazmin Gyulai led the Rhinos with 27 points, with Nadege Talva adding 16 points. The young duo of Milly Knowles and Shauna Harrison were again instrumental in this one, as they led Lancashire with 19 points and 16 points, respectively. Gyulai was glad her team pulled out the win in the end, "Today's game was tough for us, as we played against a very good team who are above us in the league. I think this win gave us a bit of a confidence so hopefully we can go into next game brave, looking for another win. It was an intense game throughout, we had our ups and downs, but I think we won because we wanted to win more than the other team."

 Bristol Academy Flyers 74 v 61 Lancashire Spinners 

Sunday 11 March 2018 – 1.30pm
The second game of back-to-backs for both sides, this was sure to be crucial as both teams were seeking to make amends for their losses the previous days. Lancashire powered to an early double-digit lead and looked to be in control, but Bristol quickly flipped the switch and were able make the plays needed to tie the game at the half-time break. The hosts then really stamped their authority on the game, tightening up their defence throughout the third quarter as they gradually grew their lead as the Spinners didn't threaten.
After being held scoreless against Oxford, Mai Zilbeti gave Bristol her usual scoring punch in this one, as she had 26 points and four assists off the bench. Liisa Juul again showed her class as she contributed a double-double of 19 points and 12 rebounds for the hosts, while adding four assists. Milly Knowles had a big double-double of her own, as she had 16 points and 17 rebounds, while Shauna Harrison led the visitors with 19 points and eight assists.

 Loughborough Student Riders 51 v 35 BA London Lions II 

Sunday 11 March 2018 – 3.45pm
Needing multiple wins in their last few games, the loss here for the Lions all but secures their fate in the bottom two of D1W. In another low scoring game, it was the visiting side that were the leaders early on, as Loughborough had to fight back to tie it at the half. With the Riders holding a narrow one-point advantage heading into the final period, it really was anyone's game. However, the visitors will look back thinking what could have been as they faltered in the last ten minutes, as the Riders held them to just three points, while scoring 17 of their own to pull away.
Ebony Horton led the hosts with 13 points, backed up by Imogen Cook's 11 points. Macy Spinks led the Lions with seven points in the loss.

 Essex Blades 79 v 47 Oxford Brookes University 

Sunday 11 March 2018 – 5.00pm
The toughest of back-to-backs saw Oxford travel to the top two this weekend and, after getting the job done at Bristol, they didn't quite have enough to challenge the league-leaders in this one. Essex showed their class from tip to buzzer as Oxford never really challenged. The win had bigger implications outside of the fixture, as the results from this weekend secured Essex the league title with three games to spare! Congratulations to the Blades, who now have three games to tune up before they turn their attention to adding more silverware in April when the playoffs get going.
Cat Lutz continues to show her scoring prowess as she led all scorers with 21 points, as Ellie Shaxon added 14. Alice Walton led Oxford with 13 points to complete a solid weekend, but the Blades managed to keep Julie Fricke quiet as she only had 7 points on the day.
Blades' Coach Mark Lloyd was elated about his side clinching the title, "We are obviously ecstatic about winning the Division 1 title - a reflection on all the hard work by firstly the players but also staff and a host of people behind the scenes. It's been an amazing month or so with the opening of the fabulous new Essex Sport Arena and now this title to go alongside the BUCS Premier Division South title we secured last month."
Division 2 Men

 Liverpool 94 v 76 London Westside 

Saturday 10 March 2018 – 5.00pm
A dominant double-double of 32 points and 17 rebounds from big man David Ulph was enough to spur Liverpool to victory as they climbed to third in the table. London Westside on the other hand will need a miracle last few weeks of the season if they are to survive in D2M – with Nottingham Hoods up next, this will be a tough ask.
Kaphel Ulett-Waul added 20 points for Liverpool in the win, while Jack Hudson stuffed the stat-sheet with 16 points, 11 assists and eight steals. Robert Odia had 17 points and five rebounds for Westside in the loss. Liverpool Coach Delme Herriman said after the game, "After a three-week break with no games and inconsistent practices, I was unsure how our team would perform. We played well against Westside as we lead by nine at the half, and were able to extend it to 18 by end of the game. Credit to Westside who never gave up and kept fighting to the end."

 Ipswich 95 v 100 Sussex Bears 

Saturday 10 March 2018 – 5.00pm
Sussex Bears clinched victory from the jaws of defeat in this one, as 45 points from Joe Carter was enough for the Bears to tie Ipswich at 7-13 in the race for the final few playoff spots in D2M. Ipswich seemed to be in control in this one, leading by as many as 17 points in the second quarter, but the second half was all Sussex as the Bears clawed their way back into it to take the game.
To go along with his scoring outburst, Carter added nine assists and five rebounds for the visitors, while Ryan Wilson paced the hosts with 33 points, five rebounds and five assists.

 Nottingham Hoods 102 v 85 Essex Leopards 

Saturday 10 March 2018 – 6.30pm
Nottingham Hoods were able to clinch promotion with their win over Essex on Saturday, as they can no longer be caught by the chasing pack to fall out of the top two. Multiple key performances led to the victory over the Big Cats, as Delany Powell led Nottingham with 28 points and six rebounds. David Watts added 27 points of his own, while adding 13 rebounds. Dougie Bennett led all scorers as he paced the visitors with 29 points, and grabbed five rebounds.

 Thames Valley Cavaliers 96 v 59 Team Birmingham Elite 

Saturday 10 March 2018 – 7.00pm
A win here for the Cavaliers means the title race continues for another weekend, but the West London side have also clinched promotion to D1M with this victory. With multiple games to come over the next couple of weekends, it remains to be seen if Team Birmingham can drag themselves out of the bottom two – they will hope for a Westminster Warriors victory when they welcome London Greenhouse Pioneers to Capital City Academy tomorrow evening.
A big 17 point, 19 rebound double-double from Abdoulaye Sylla helped Thames Valley on their way to victory, as they were led in scoring by Martelle McLemore who poured in 19 points. The shorthanded Birmingham side were led by 15 points off the bench from Dylan Andrews. Cavaliers' Coach Robert Banks was pleased with his squad's style of play on the day, "We have been quite disappointed with our team's play in recent matches as our energy levels have been very low, leading to poor effort on defence and poor ball movement. We knew that Team Birmingham Elite were coming to play hard, with high energy and that they have excellent coaching and very good shooters. Fortunately, this week we returned to playing our style of basketball. We had much better ball movement en route to 27 assists, with all but one player registering at least one assist."

 Middlesex LTBC 69 v 71 Derbyshire Arrows 

Saturday 11 March 2018 – 3.00pm
A fightback down the stretch from Middlesex wasn't enough in the one, as the travelling Arrows found their mark and came home with the narrow victory. A tight game throughout the closing stages saw Modestas Krasauskas and Joseph Baugh trading buckets, with Krasausakas hitting back-to-back threes to give LTBC the lead. Baugh was not to be phased as he hit the crucial game-winner with six seconds to play, giving the Arrows a crucial win in their hunt for the final playoff spot.
Marius Talijunas led all scorers as he poured in 30 points for the hosts, while the aforementioned Baugh led Derbyshire with 24 points as he shot 75% from the field. Arrows' Coach Jonny Kelly was pleased with the overall performance, "It was very refreshing to be able to put together a solid 40 minutes of Arrows Basketball. We managed to manipulate the pace of the game and force Middlesex into the shots we wanted them taking. We focused on a lot of things since our disappointing performance against Pioneers, and it was great to see that focus and drive in our performance this weekend. We are finally starting to understand the level of detail we need on the defensive end and I hope that more good performances are to come."

 Essex Leopards 52 v 89 Liverpool 

Saturday 11 March 2018 – 4.00pm
Wrapping up the weekend, both Liverpool and Essex were playing the second half of their back-to-backs, as Liverpool made the long trip down to the Brentwood Centre. The North West side put together a complete performance, as the Big Cats never really threatened, picking up a crucial win to leapfrog Essex in the race for third place.
David Ulph again led the visitors, with a double-double of 22 points and 11 rebounds, while Kaphel Ulett-Waul added 20 points and five rebounds. Jack Hudson was again crucial as a facilitator as he contributed 19 points, eight assists and four steals. Shaq Lewis led a balanced scoring effort for the Leopards with his double-double of 10 points and 12 rebounds. Liverpool Coach Delme Herriman was glad his team grabbed the crucial win, "Sunday was a huge test for us as Essex have been playing great basketball and were ahead of us in the table. We came out fired up and ready to go, dominating the game from start to finish with a fantastic team performance."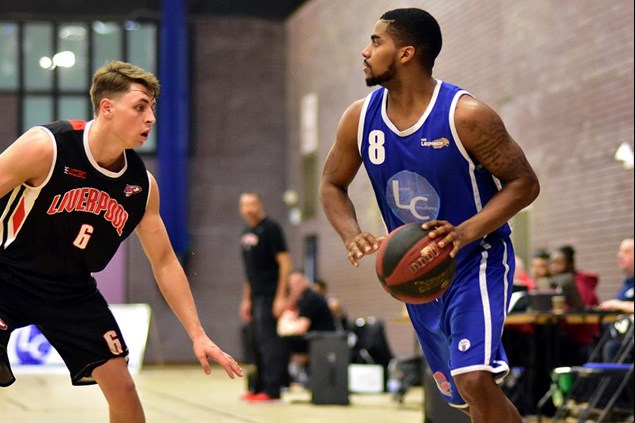 Jack Hudson guarding Korey Callum in Liverpool's win - Paul Phillips