Division 1 Men

Loughborough Students Riders 80 v 69 Bradford Dragons

Saturday 13 January 2018 – 2.00pm
A shorthanded Bradford couldn't keep up with high flying Loughborough as the Dragons fell to defeat on Saturday. Naming just 7 players on the bench and with Jayden Martin not logging any minutes, it was always going to be a tough ask for 6 players to get a result. That proved to be the case as all 12 Riders' players received court time, with only 2 of the 12 failing to see at least 10 minutes of action. It was a typically balanced approach from the hosts who are able to exhibit strength in depth on a weekly basis. Guard Sesan Russell finished with 19 points, 5 rebounds and an assist and Alex Roberts added 12 points and 6 assists but there were plenty of Riders players who contributed in this one. Ricky Fetske's 9 points, 14 boards and 5 assists to go with Rihard Sulcs' 24 points, 8 rebounds and 3 dimes provided the majority of the resistance for Bradford.
Loughborough Head Coach Mark Jarram, "We put a better performance on the court today and that we can be proud of.  Bradford are a talented scoring team and we knew our defence had to be better, holding that team to 69 was excellent.  We have many things to address this second half of the season and we will be looking to improve every week towards the playoffs."

Leicester Warriors 76 v 67 Worthing Thunder

Saturday 13 January 2018 – 3.00pm
Worthing came unstuck on the road as their 7 game win streak came to an end at the hands of Leicester. The Thunder were able to control large periods of the game before falling away in the 4th quarter as the Warriors moved ahead. It was a season low in scoring for Worthing as Leicester time and again made life difficult for their opponents thanks to an impressive defensive effort. Zaire Taylor was held to 20 points, and Luke Attfield scored 15 off the bench but Leicester's Rodney Sanders' 25 led all scorers.
Worthing Head Coach Daniel Gayle, "It's a heart breaking loss, especially when we held the lead for the majority of the game. Leicester did a great job on the defensive end keeping us up to a season-low in scoring. All we can do now is watch tape and hope to regroup next week."

Kent Crusaders 85 v 80 Manchester Magic

Saturday 13 January 2018 – 4.00pm
Kent managed to end their recent losing streak at the expense of Manchester, who head into next weekend's National Cup Final on the back of a close loss. Caleb Fuller continued his strong form for the Crusaders as he dropped 30 points to go with 7 boards in 33 minutes of action. With a tight final score, it no doubt hurt the visitors to see some of their big players unable to find rhythm here. Donte Gittens managed 24 points but could only go 1-7 from beyond the arc, whilst Stefan Gill finished up 3-20 shooting. Manchester's 36% FG percentage proved to be too much to overcome as Kent lead for all of the 2nd half, seeing their lead close in on 15 at its peak.
Kent crusaders Head Coach Lloyd Gardner, "I think today was a great game for us. I thought we played really well through large stretches. We felt it has been a performance that was coming for us, even though we'd gone down and continued to take a couple of losses before Christmas and last week at Worthing"

Lancashire Spinners 75 v 78 Derby Trailblazers

Saturday 13 January 2018 – 5.45pm
So close to a first win on the season, Lancashire must continue to wait after coming out on the wrong end of a tight game this weekend. Derby overcame a slow start, dropping the opening quarter 25-15, as well as a number of unavailable players to battle through and grind out a narrow win. Matt Ward-Hibbert led the Blazers with 31 points and eight rebounds, while Jake Wesselingh converted seven of twelve three-point attempts on his way to 23 points. Meanwhile, Simeon Esprit worked hard on the glass, pulling down a team-high eleven rebounds, seven of which came at the offensive end. 3 separate Spinners enjoyed a double double, with Loick Pouale (19pts, 10rbs), Allie Fullah (18pts, 13 rbs) and Harold Trobo (14pts, 10 rbs) all contributing for the hosts.
Derby Trailblazers Head Coach Matt Shaw, "I'm delighted with the way the guys battled throughout to make sure we got the win. We started slowly, but did a great job re-grouping and getting back into the game. After the first quarter, I thought we defended pretty well, but Spinners made it really tough for us throughout and we had to work hard for everything,"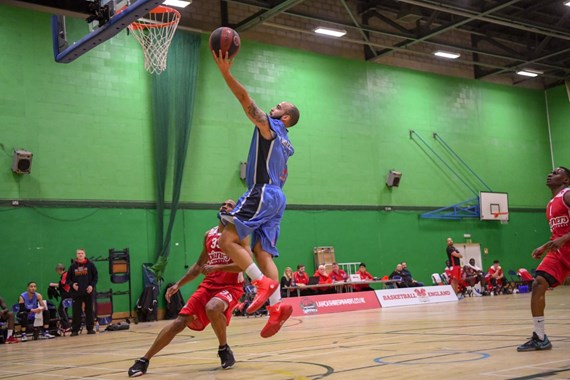 Derby's Matt Ward-Hibbert lays one in vs Lancashire - Alan Mousley

Hemel Storm 88 v 81 Reading Rockets

Saturday 13 January 2018 – 7.00pm
Hemel snapped a 3 game losing streak to take their home encounter against Reading on Saturday. The win was well timed for the Storm who can now head into next weekend's National Cup Final on the back of a victory and a solid team performance. Reading hit the ground running, enjoying a 16-6 opening to the first quarter, but an 18-7 run to end the 2nd from Hemel meant a 48-42 advantage to the hosts at the break. That gap closed up at 65-64 Hemel with 10 minutes to play, meaning it was anyone's contest from there. Reading got into foul trouble early in the final frame, allowing Hemel regular trips to the line, and along with points off turnovers the Storm stretched their lead. With 2 minutes to go the Hemel lead had passed 10 and that proved to be too large a gap for Reading down the stretch. AJ Roberts led the way for Hemel with 25 points and 6 rebounds, and Bode Adeluola was a constant creator, collecting 8 assists. Reading's Declan Soukup was 2 rebounds short of a triple double as his 10 assists along with 12 points and 8 boards were an impressive effort. Scotty Hendricks and Sydney Donaldson both finished with 20 points for the Rockets as well.
Hemel Storm Head coach Robert Youngblood, "We knew it would be a battle, Reading has undoubtedly one of the most talented rosters in the country and we'd lost to them away by a point earlier in the season. They started the game extremely well and at a high tempo just as we expected them to. But we got back on terms and our fourth quarter defence was fantastic and a key to the win."

Team Solent Kestrels 65 v 86 Team Northumbria

Saturday 13 January 2018 – 8.00pm
League leaders Solent slipped to a heavy defeat on Saturday but were able to retain top place in the D1M standings. The Kestrels shot 32% from the floor, including 4/26 from deep as they never really got going against last season's regular season winners. A 26-13 Northumbria 2nd period was where the damage was done and from there the visitors were firmly in control. Malcolm Smith's 18 points were valuable but Atif Russell put up 19 and led all scorers as one of 4 Northumbria players to make it into double digits. Blayne Freckleton 14 points (including 4-8 from deep) were also a plus. Herman Senor II was the leader for Solent, he had 15 points and 9 assists.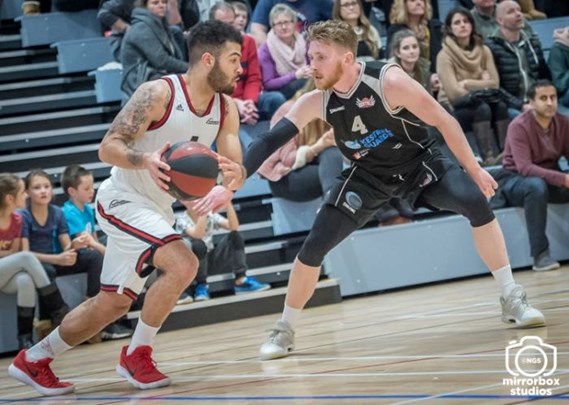 Northumbria's Lewis Champion sized up his man - Mirrorbox Studios

Leicester Warriors 82 v 90 Team Northumbria

Sunday 14 January 2018 – 1.30pm
Northumbria were able to make it 2 wins in 2 days as they went to Leicester and defeated the Warriors on Sunday. Atif Russell was once again on form as he scored 24 points, with support from Lewis Champion who finished on 19. It was a fast start that helped the Northumbria cause, up by double digits by the end of the 1st quarter. The momentum increased in the 2nd to give a commanding 48-26 lead at the half. From there the North East side were always in control despite a spirited attempt at a comeback that helped Rodney Sanders put up a game high 27 points in the losing effort.
Division 1 Women

Loughborough Students Riders 67 v 73 Team Birmingham Elite (After 1OT)

Saturday 13 January 2018 – 3.30pm
Team Birmingham were able to pick up a timely win as they battled their way to a close victory against Loughborough on Saturday afternoon. The win needed a quarter of over time to settle the tie but with Birmingham collecting momentum throughout the 2nd half that served them well in the extra period. Down 39-28 at the break, Elite continued to scrap throughout the 2nd half and a 21-8 3rd quarter actually saw them leading with 10 minutes to go before going on to eventually seal the win. Lucy Humphries led all scorers with 18 points for Birmingham with team mates Amani Vassell (17 points) and Lucy Buxton (16 points) offering solid support. Riders' Imogen Cook had 17 points to pace her side in reply.

Bristol Academy Flyers 66 v 41 University of Nottingham

Saturday 13 January 2018 – 4.00pm
Tough opposition defence and a slow start doomed University of Nottingham as they limped out to a 30-12 half time deficit that they couldn't overcome. Both teams struggled shooting the ball, with Bristol's 29% only narrowly outpacing Nottingham's 26%, but a 63-48 rebounding advantage for the hosts meant they enjoyed a significantly higher number of shots during the game. That was clearly evident from Bristol's 26 2nd chance points, considerably higher than 2 managed by Nottingham and another key factor in this one. Hannah Wallace scored 15 for the Flyers, with Mai Zilbeti going one better to score 16 herself, and Fiona Fox grabbed 12 boards. Deborah Somoye's 17 points and 8 rebounds were both team highs for Nottingham.

Essex Blades 79 v 63 Reading Rockets

Saturday 13 January 2018 – 5.00pm
A professional effort from the D1W leaders allowed Essex to record their 9th win of the season and take another step towards the regular season title. Cat Lutz was once again in impressive form for the hosts as she scored 30, with Reading's Andrea Gomez De La Vara going toe to toe with the American to record 26 points of her own. A 31-9 opening period somewhat set the tone for this one, though Reading did fight back in the 2nd to reduce their arrears to 53-40 at the half. The Blades were able to control the game from there though after a lower scoring 2nd half.

Oxford Brookes University 60 v 68 Lancashire Spinners

Saturday 13 January 2018 – 5.00pm
A week after a heavy loss to Essex, Lancashire bounced back with a solid victory against high flying Oxford. The result puts a dent in the title aspirations of the hosts, but it did help to show just how much parity there is at the top of D1W this season. A tight one throughout, neither team was able to really get a grip on the game but Shauna Harrison was a factor throughout as her 30 points meant Lancashire were always in with a shout. Captain Alice Walton high scored for Brookes with 19 but her efforts were in vain.

Anglia Ruskin University 77 v 57 Team Solent Kestrels

Saturday 13 January 2018 – 6.45pm
Anglia Ruskin are currently one of the hottest teams in D1W and used another win this weekend to move themselves off the foot of the standings. The victory also moved the Rhinos out of the potential relegation places with the team going from strength to strength. Katrin Hulme's 20 points, 10 rebounds and 3 assists were a big help to the hosts, and Nadege Talva was in her usual form to add 16 points and 5 boards. Both players helped Anglia Ruskin establish a lead early that continued to grow before passing 20 points by half time. Megan Jenkins, Yu Hou and Chloe Lammas all finished on 10 for Solent who have now replaced Ruskin at the bottom of the league.

BA London Lions II 39 v 76 Southwark Pride

Sunday 14 January 2018 – 2.00pm
18 points from Megan Haines and 17 more from Maya Hyacienth were enough to help Southwark seal a win on Sunday and move up to 4th place in the D1W table. A largely even 1st half ended 31-25 to the Pride, but it was in the 2nd half that last year's playoff champions moved through to gears to establish a winning position. The youthful London roster continued to work hard in an attempt to get back into the contest but it wasn't to be despite 13 points from Dami Adeyinka.
Division 2 Men

Liverpool 93 v 69 Ipswich

Saturday 13 January 2018 – 5.00pm
Liverpool secured a comfortable home victory against Ipswich to set up their crunch game with Nottingham the following day. 33 points from David Ulph easily led all scorers and helped to get the Merseyside team off to a fast start. Up 24-5 after the opening quarter, Liverpool further improved as a 26-17 2nd period left them up 50-22 at the half. 23 points from Rabi Rai were a bright spot for the visitors but they were mostly out of this one after the first 20 minutes.

London Westside 55 v 81 Westminster Warriors

Saturday 13 January 2018 – 6.15pm
Westside couldn't secure back to back D2M wins after they lost this weekend to a strong Westminster side. The victory moved the Warriors to .500 as they seek to cement a playoff spot. With the visitors more than doubling their opponents rebound numbers, 50-24, Westminster were able to control the game for the most part and their lead increased the further the game wore on. Tosin Oyelese's 17 points, 6 rebounds and 3 assists were a good effort for the Warriors, and Julius Joseph added 16 points coming off the bench. Theo Deleligne was the only Westside player to make it into double digits, he finished with 22.

Nottingham Hoods 86 v 99 Thames Valley Cavaliers

Saturday 13 January 2018 – 6.30pm
The Hoods are unbeaten no more, but they should still be delighted with their league position despite this setback. Thames Valley brought their A game on Saturday, giving the hosts a lot to think about and the variety clearly did the trick. 5 separate Cavs all made it into double-digits, with Hakeem Sylla and Martelle McLemore both netting 24 points each. Delaney Powell led his Nottingham side with 20 points but the current league leaders just couldn't keep up as the Cavs scored well throughout.
Thames Valley Head Coach Robert Banks, "Winning away at the Hoods home court is clearly one of the highlights of the season thus far. Nottingham is one of the best teams in the NBL this year at any level, they are tall, talented, deep, well coached and committed. We are pleased to have been able to play hard and come away with a win. It was an outstanding team effort, with 5 players scoring in double figures and every player on the team contributing. We look forward to having at least one more match with the Hoods on the 4th of February as I am sure it will be another outstanding match between two up and coming outfits."

London Greenhouse Pioneers 76 v 49 Team Birmingham Elite

Sunday 14 January 2018 – 1.30pm
An easy win for London Greenhouse will have no doubt been a welcome sight as the side continued to battle at the bottom of D2M. A 12 point, 17 rebound double double from Miodrag Vidakovic was a huge boost to the hosts, though 4 other Pioneers made it into double digits, including Mark Raynolds on 17. The score here became more lopsided the longer the game wore on, with the London lead never dropping below 10 in the second half and stretching close to 30 by the end of the 4th. Captain David Stevic had 15 points for the visitors.

Nottingham Hoods 76 v 60 Liverpool

Sunday 14 January 2018 – 3.00pm
A strong bounce back performance from Nottingham meant they returned to winning ways at the first time of asking with victory over Liverpool on Sunday. Tevis Robinson was the catalyst for the Hoods this time, collecting 24 points and David Watts chipped in 15 more. David Ulph was restricted to 18 points, meaning Liverpool's Kaphel Ulett-Waul led the way with 20. It was a solid performance from the hosts, but after another loss Liverpool may well need to concentrate on the playoffs from here on out.

Derbyshire Arrows 69 v 81 Essex Leopards

Sunday 14 January 2018 – 3.30pm
A loss for the Hoods was good news for Essex as they continued their good form, beating Derbyshire on the road this weekend. After taking control in the early going, the Leopards were pegged back in the 2nd quarter to leave the scores well balanced at 33-32 Essex at the break. That lapse seemed to spur the visitors on as they took control once again in the 3rd, securing a lead in the middle of the 3rd that they'd never relinquish. Dougie Bennett continued his fine form for the Leopards to drop 27 points, adding a trio of assists for good measure. Teammate Jerrel Layne went 4-8 from deep, which helped him to reach 21 points. Joseph Baugh had a great game for the Arrows despite the result, 23 point, 18 boards and 4 assists is a quality effort regardless of the result.
Essex Leopards Coach Tom Baker, "It was another strong performance from us. We battled hard throughout and earned this victory. Credit to Derbyshire they responded well in the 2nd second quarter. However, the guys showed great discipline and determination to play the second half with our style throughout."

Middlesex LTBC 92 v 72 Sussex Bears

Sunday 14 January 2018 – 4.00pm
30 points from Modestas Krasauskas and 29 more from Arunas Giedtraitis was more than enough to help Middlesex see off Sussex on Sunday afternoon. Giedtraitis also collected 12 rebounds on his way to a double double, as both men players a key part in the home team's win. It was a fixture with plenty of individual talent on display as Sussex's Joe Carter was also in fine form, pouring in 36 points. Still, back to back losses on the weekend won't have helped the Bears' cause.
National Shield
London Thunder Lewisham 68 v 78 Myerscough College
Saturday 13 January 2018 – 3.00pm
D3M North leaders Myerscough booked their place in the National Shield Semi-Final after a hard fought win in Lewisham. Eduards Sirmbardis was the man of the moment for Myerscough as he led all scorers with 15 points, whilst youngster Michael Adebayo top scored for the hosts with 10. Down by 18 at the half, Thunder tried to rally in the 3rd and did close the gap, but it wasn't enough come the final buzzer.
Birmingham Mets 88 v 76 Manchester Giants II
Sunday 14 January 2018 – 1.00pm
Birmingham Mets made it 3 wins out of 3 against Manchester Giants II this season, knocking them out of the National Shield in the process. Doing so required a strong fight back in the 2nd half as a sluggish start left the home side down early. Points from Daniel Belgrave and Berny Kanyida helped close the gap before the Mets enjoyed a lead of their own in the 3rd and from there, they held on for the win. Belgrave had 23 and Kanyinda 22, Graham top scored for Manchester with 23.
WLV Albion 56 v 73 Team Solent Kestrels II
Sunday 14 January 2018 – 2.00pm
The only home team to lose in the Quarter-Finals, a great effort on the road from Solent meant the National Shield adventure is over for WLV. Despite the long journey up to the West Midlands, the Kestrels were still able to put together a fine performance and grab the victory, and a place in February's Semi-Finals as a result.
East London All Stars 93 v 79 Barking Abbey Crusaders
Sunday 14 January 2018 – 5.30pm
Down 29-16 after the first quarter, Barking found themselves chasing a game they would never be able to catch in this one.  That was despite 16 points each from BA's Ade Adebayo, Robin Bedford and Spryos Kapsalos as East London held their nerve to secure a spot in the Semi-Finals.
Barking Head Coach James Vear, "I was proud of our fight today. We were down by 20 at one point and we fought back to take the lead, I feel like we had chances to break the game open and win it but we missed shots I think we would usually hit. We will learn from this and come back stronger."