National Cup
Women

Bristol Academy Flyers 72 v 74 Ipswich

Saturday 16 December 2017 – 3.00pm
Ipswich produced a fantastic display on Saturday to upset D1W side Bristol Academy Flyers and book a place in January's National Cup Final. A 21-7 2nd period put Ipswich into the driving seat in the contest, leading 38-29 at the half time break. Bristol showed their class and fought hard to reduce the gap as the game went on, eventually pulling level late in the 3rd. Both teams battled for the advantage from there and the hosts did pull out to a lead of their own in the 4th, going up 65-63 after a Mollie James 3 pointer. From there, the game remained tied for the most part, locked up at 69 with a minute to go, and at 71 with 19 seconds on the clock. Ipswich's Harriet Welham then stepped into the spotlight, hitting a clutch 3 pointer with 17 seconds to go that would ultimately prove to be the game winner. Maialen Zilbeti did have a shot near the buzzer for the Flyers, but it wasn't to be as the clock ran out.
Welham's efforts down the stretch were in keeping with the rest of her performance on a day when she scored 23, adding 6 rebounds and 2 assists, with Ashleigh Pink scoring 18 more. Credit must go to Ipswich defensively for keeping Zilbeti and Liisa Juul bottled up, they finished with 6 and 9 points respectively. That left Hannah Wallace to carry the load for the Flyers, she finished with 23 points, 5 boards and 3 dimes.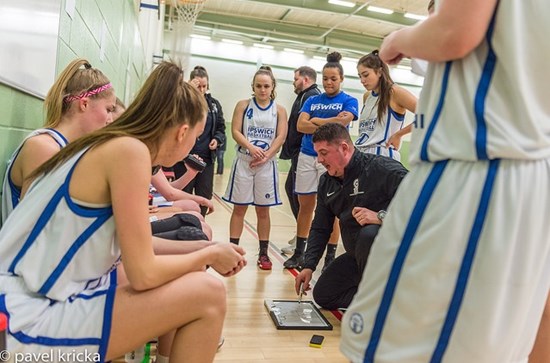 Ipswich Head Coach Nick Drane gives a timeout during their National Cup Semi Final win - Pavel Kricka
Division 1 Men

Team Newcastle University 54 v 79 Team Solent Kestrels

Saturday 16 December 2017 – 4.00pm
One of the longest trips of the NBL season wasn't for nothing as Solent went up to Newcastle on Saturday afternoon before returning with 2 points. Despite their time on the road, the Kestrels came out firing from the off and established a 40-23 lead by half time. From there, it was all one-way traffic as points from Nathan Schall, Hermon Senior II and Joe Tagarelli saw Solent pull away and put the game to bed in the 3rd. At 65-36 with 10 minutes to go, the damage had been done for the Knights who slipped to another defeat. Schall finished with 14 points, with Senior scoring 13 more for the visitors. Ben Seipt led the way for Newcastle with 13. Not known at the time, the win along with results elsewhere would lift the Kestrels to top spot in D1M, a great place to occupy during the Christmas break.

Lancashire Spinners 73 v 79 Bradford Dragons

Saturday 16 December – 5.45pm
The Spinners put together a solid performance against Bradford but their wait for a first win of the season in D1M goes on. Down by no more than a score for stretches of the final quarter, Lancashire couldn't find a way to string baskets together and the Dragons just kept their noses in front. After the early going, many would have been forgiven for writing this one off as Bradford established a comfortable 49-32 advantage after the first 20 minutes. From there though, solid performances from Loick Pouale, who finished with 8 points, 11 rebounds and 7 assists, and Harold Trobo, who led all scorers with 29, helped to get the hosts back into the contest. After such a fightback, it'll no doubt be a disappointment for the Spinners that they couldn't get something from this game, but plenty of positives can be taken from the fact they managed to make the final score as close as it was. Ricky Fetske was busy on the boards for Bradford, pulling down 16 rebounds to go with 8 points, and Eisley Swaine continued his good form for the season with a well-rounded 12 point, 6 rebound and 8 assist performance.

Manchester Magic 84 v 88 Derby Trailblazers

Saturday 16 December 2017 – 6.30pm
Derby pulled off the kind of performance that saw them become so competitive last season, rolling back the clock to upset the Magic on their own court. Derby really did dominate for long stretches of this one, building a lead throughout that reached 20 points late in the 3rd. It was only thanks to a huge Manchester fight back in the final 10 minutes that kept the score as close as it was come the buzzer. Leighton Elliot-Sewell's 23 points and 9 rebounds were solid for the Trailblazers, Matt Ward-Hibbert came off the bench to score 23 of his own and captain Oli Stanley put together an 11 point, 10 rebound double-double. Manchester's Stefan Gill was lively throughout, scoring 22 whilst dishing up 5 assists, and Donte Gittens scored 20. Bigs Lee Goldsbrough and Ryan Lewis combined for 25 rebounds, but it wasn't enough for the Magic who fall further off the pace in D1M.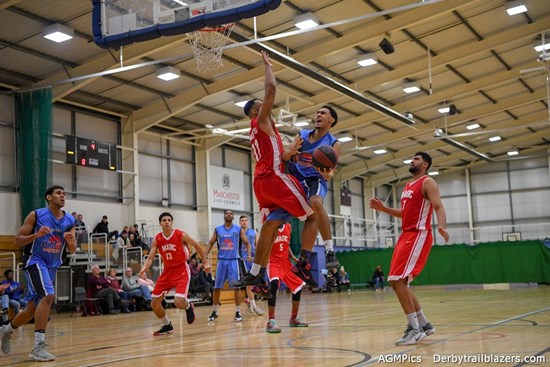 Derby's Leighton Elliot-Sewell battles to the basket against Manchester - Alan Mousley

Hemel Storm 77 v 83 Leicester Warriors

Saturday 16 December 2017 – 7.00pm
Leicester went to Sportspace in Hemel and quietened the raucous crowd, leaving with both points and timely D1M victory. Mentally the Warriors deserve credit for getting back into a game that they were in control of before letting it slip. Up 28-13 after an impressive first quarter, Leicester went cold that point on to find themselves down by 4 heading into the 4th. The Warriors successful comeback did owe to some sloppy play from the Storm, who went just 11/20 from the free throw line in the contest, including 3/10 during the final 10 minutes. The nail in the Hemel coffin came during the game's final minute when Leicester's Elliot Sentence hit a jumper before ever present American Rodney Sanders stroked in a triple to make the score 81-77 to the visitors. From there, the Warriors saw out the game.
Despite the result, Hemel's Coaching Director Dave Titmuss stressed that the Storm have come a long way in the last 12 months, "We shouldn't forget that this time last year we were sitting one place above the relegation zone. This year we're still on track for at least a top four finish and qualification for a home draw in the D1M Play-Offs, and we have a chance to advance to the National Cup Final. We have plenty to look forward to and to build on for the second half of the season."

Worthing Thunder 82 v 80 Loughborough Students Riders

Saturday 16 December 2017 – 7.30pm
Last second heroics from Zaire Taylor were enough to lift Worthing over Loughborough and place the Thunder firmly in the D1M title conversation. With the score poised at 78-74 Worthing with a little under a minute to go, the game was set up perfectly for those in attendance to enjoy a real dual between Taylor and Loughborough's Lucien Christofis. Taylor went first, sinking a free throw to put the hosts up by 5, before Christofis came straight back with a huge 3 to narrow the gap back to 2.  Taylor once again hit a free throw to make it 80-77 Worthing with 20 seconds to go, but Christofis wasn't going quietly. Another bomb from deep tied the scores up at 80 with just a few seconds left to leave the Riders looking at OT. Taylor had other ideas though, hitting from close range after a Worthing time out to leave the Riders heading home empty handed and allowing local rivals Solent to steal top spot in D1M.
"It's moments like this that every basketball player loves, and I thrive on moments like this," Taylor said following his game-winner. "Back home, every kid on the street that had a basket would shoot hoops and count down in their head and make the winning shot. That's the second time I've done that this season and it's great to keep our unbeaten home record going. Credit though to the Riders, they were a tough, physical team. We got beat up tonight. But so did they."
Taylor finished with 20 points to go with 8 boards and 6 assists, and Captain Brendan Okoronkwo played all 40 minutes to lead the team with 22 points, adding 6 rebounds to the Worthing cause as well. Loughborough as always shared the load on offence, but Christofis' prowess from beyond the arc helped him to finish on a game high 23 points, including 7/14 from deep. Morgan Carter recorded a double-double with 16 points and 13 rebounds.

Team Northumbria 75 v 68 Kent Crusaders

Sunday 17 December 2017 – 4.00pm
Unlike Solent, Kent's long trip to the North East came with little reward as the Crusaders came out 2nd best to Team Northumbria on Sunday. Reigning MVP Malcolm Smith was in strong form for the hosts, leading him to a 26-point game, but Kent's Caleb Fuller was every bit his equal, dropping 29 on a 9-14 shooting performance to go with 8 rebounds. Very much a game of two halves, it was Northumbria who started the brighter, turning a 24-16 opening quarter into a 47-26 lead at the break. Kent turned things around in the 3rd, with Fuller hitting his stride alongside Pierce Maslen and Micah Savery-Richards, and the visitors reduced their deficit to single digits with 10 minutes to go. Kent continued their efforts into the 4th, but they'd ultimately given themselves too much to do. Fuller did tie the score at 60-60 with just over 4 minutes to go, but the Crusaders couldn't sustain the pace that had allowed them back into the game.  5 points each from Smith and the experienced Siman Stewart in those final 4 minutes helped Northumbria seal a valuable win on a weekend when other title hopefuls had faltered.     
"It was another Jekyll and Hyde performance from us unfortunately," Crusaders Head Coach Lloyd Gardner commented. "Yet again we gave up a big lead at the start of the game, got ourselves down 20 points in the first half. It's frustrating because we had played pretty well, we were close on a lot things and the first half it just didn't work for us. Second half, things were a lot better. We came together, we played with great energy, all credit to the guys, for us to tie the game at 60 was an incredible achievement. Then we didn't have the quality of execution down the stretch that Northumbria did and they were able to win the game."
Division 1 Women

Southwark Pride 59 v 65 Oxford Brookes University

Saturday 16 December 2017 – 2.00pm
Southwark left themselves with much to do in 2018 after falling to 5-4 on the season after a loss to Oxford Brookes. Captain Alice Walton once again led the way for the visitors, as she has on multiple occasions this season so far. She finished on 19 points and helped to orchestrate a 23-11 2nd quarter that left the Pride in a hole they couldn't escape from.  The longer the game went on, the harder it became for Southwark to get back into things, ultimately running out of time. Megan Haines scored 20 for the hosts, but her efforts would be in vain.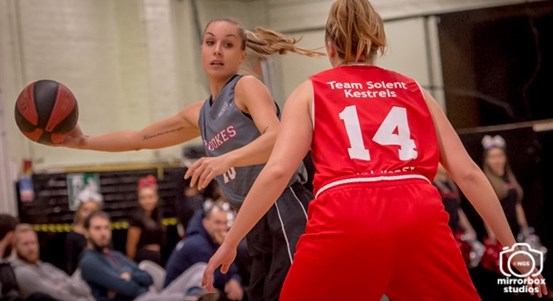 Alice Walton has been an influential part of Oxford's season so far - Mirrorbox Studios

Team Solent Kestrels 55 v 63 Team Birmingham Elite

Saturday 16 December 2017 – 3.15pm
Solent couldn't end 2017 with a victory, instead falling to an 8th loss on the season as the Kestrels will occupy one of the potential D1W relegation spots over Christmas. Birmingham shot 50% from the floor, including 40 points from the paint as Solent couldn't find an answer for Lucy Humphries (14 points, 7 boards) and Lucy Buxton (16 points, 7 rebounds). Both forwards enjoyed productive outings, allowing Guard Becky Brindley to cause problems from the perimeter as she finished on 15. That kind of production saw Birmingham establish an 8-point lead at the half and that advantage that passed the 20-point mark by the time the 4th quarter arrived. By then, the game was long since decided. Megan Jenkins' 19 points were a bright spot for the Kestrels on an afternoon when they had little to cheer.

Reading Rockets 75 v 68 Loughborough Students Riders

Saturday 16 December 2017 – 3.30pm
Reading used a 28-14 3rd quarter to establish a lead over Loughborough that they wouldn't relinquish. It was a timely win for the Rockets who can enjoy possession of a playoff position to end 2017, whilst Loughborough must keep looking for an answer to their own inconsistencies. Imogen Cook hit a 3 pointer with just over 2 minutes left in the game to make things interesting for the Riders, especially with Reading holding a 16-point lead when the quarter began, but that was as close as Loughborough would come. Had the Rockets let this one slip away, they would have been disappointed with their efforts. Instead, Andrea Gomez De La Vara's 19 point and 13 rebound double-double was enough to secure the win, though Cook's 30 points for the Riders were a great effort despite the result.
Division 2 Men

Liverpool 72 v 47 Team Birmingham Elite

Saturday 16 December 2017 – 5.00pm
Liverpool limited Team Birmingham to just 20 first half points on their way to a valuable win as they continue their D2M promotion push. Jack Hudson and David Ulph did the damage on the offensive end with 22 points each, though it was a whole team effort to limit the visitors for the full 40 minutes. A 26-9 opening quarter set the tone for the contest and the Merseyside team will be delighted to have secured both points in their final game of 2017.

Sussex Bears 89 v 111 Nottingham Hoods

Saturday 16 December 2017 – 5.00pm
Nottingham were able to complete the 2017 section of their schedule unbeaten, extending their run of wins into double digits at 10. The Hoods led from the tip as well, with David Watts scoring the first points of the game with a 3-pointer for Nottingham before the Hoods moved on from there. The lead touched 30 late in the first half, and barring a Sussex fight back midway through the 3rd quarter, the D2M leaders looked comfortable throughout. Watts finished with 32 points, assisted by Delaney Powell who had 28 points to go with 4 rebounds and 6 assists, and Tevis Robinson came close to a triple-double, dropping 22 points, 9 boards and 8 assists. Tomas Seduikis' 28 points and 8 rebounds were the highlight for Sussex.

Thames Valley Cavaliers 99 v 90 Ipswich

Saturday 16 December 2017 – 7.00pm
Martelle McLemore was once again in fine form for Thames Valley, helping to lift his side to a win over Ipswich. The free scoring guard poured in 32 points to go with 10 rebounds and 6 assists on an afternoon when the Cavs displayed their usual offensive firepower. Ipswich will have been pleased that they managed to match their opponent for large stretches, something a number of teams have been unable to do this season. Things could have got even better for the visitors as a Rabi Rai layup midway through the 4th tied the scores at 77. But from there, Thames Valley once again pulled away with McLemore scoring 12 points down the stretch to put his side back in control and seal the win.

Essex Leopards 94 v 89 Middlesex LTBC

Sunday 17 December 2017 – 4.00pm
A solid 4th quarter display saw Essex secure both points after a back and forth contest with Middlesex LTBC on Sunday. Both sides were free scoring in the early going, leading to a 29-26 opening period before a more measured 2nd quarter and a 50-49 Essex lead at the half. From there, both sides traded blows with LTBC managing to grab an occasional lead but every time the former D3M side managed to establish the advantage, the Leopards pegged them back. Breaking the stalemate, 14 points in the final quarter from Shaq Lewis allowed the home side to move away and seal the win. Lewis's exploits in the 4th contributed to his final line of 29 points and 7 boards, Will Ashby added 22 more, including 5 3-pointers, as well as 8 assists and 4 rebounds. Jamel Felix top scored for LTBC with 22, collecting 7 rebounds and 3 assists, and Daniel Szatkowski scored 21 to go with 7 rebounds.
Elsewhere in the NBL
With Ipswich on National Cup duty, Derbyshire Gems were able to grab a share of 1st place in D2W North after a 53-50 win over Mansfield Giants. In D2W South, Sevenoaks Suns II suffered their 1st loss of the season, going down to West Herts Warriors 61-48, That result allowed the Warriors to leapfrog the Suns and move into 1st place.
Northants Tauras' 92-84 victory over Team Solent Kestrels II creates a 3-way tie at the top of D3M South as Greenwich Titans, Oxford Brookes and Northants now sit on 12 points. Myerscough continued to pick up points as the leaders of D3M North, though this weekend their victory came via a 20-0 forfeit against Doncaster Danum Eagles.
Calderdale Explorers remained unbeaten on the season, moving to 11-0 atop the D4M North standings after a 99-83 victory over Barrow. Wins for the top 3 in D4M Midlands mean it's as you were in the standings heading into the Christmas break. Leaders Northants Thunder won away at Mansfield 91-73, whilst Derby Trailblazers II hammered Nottingham Trent Hoods 132-78 and Team Derby also won, topping University of Nottingham 95-59 on the road.
In D4M South East, Barking were able to pull level with BC Medelynas at the top after a 90-70 win over Richmond, though BA currently have 2 losses to their name whereas Medelynas remain unbeaten. And in D4M South West, Huish Taunton Tigers continued their good form to beat Oxford Stealers 82-49 and retain top spot.