Division 1 Men

 Loughborough Student Riders 64 v 63 Team Northumbria 

Saturday 17 March 2018 – 2.00pm
A good weekend for Loughborough Student Riders sees us with a new leader at the top of D1M! For the first time in many weeks, Team Solent Kestrels fall to second-place after their loss to Reading, and Loughborough were able to capitalise with two important wins in their home back-to-back.
Their exciting narrow victory over Team Northumbria went right down to the wire, as Coach Steutel's side found a way back into the game after being down double digits with eight minutes to play. The visitors tied the game by relentlessly attacking the basket, with drives from Tom Devitt and Malcolm Smith tieing the game at 63-63 with 15 seconds to play. However, with two seconds to play Devitt was called for an unsportsmanlike foul, sending Alex Roberts to the free throw line. Roberts was able to split the pair of foul shots to seal a one-point victory for the Student Riders.
A balanced scoring effort from the Riders saw Sesan Russell lead with 12 points off the bench, while Roberts added 11. Dan Hemingway was also crucial for the home side as he contributed 10 points and eight rebounds. Lewis Champion paced Team Northumbria with 15 points to lead all scorers, while adding five assists. Smith continued his good run of late with a double-double of 13 points and 10 rebounds.

 Team Newcastle University 68 v 72 Leicester Warriors 

Saturday 17 March 2018 – 3.00pm
Late three-pointers from Joey Bennett and Matt Brown weren't enough to pull Team Newcastle back into this one, as Leicester Warriors took their win tally for the season up to nine. Despite a couple of key wins over the last few weeks, Leicester fall just short of a playoff spot this season, as Manchester and Hemel have clinched the last two spots. After playing their final game of their maiden season in the top flight, Team Newcastle can hold their heads high, finishing with a record of 7-17. Coach Ian Hewitt is sure to be pleased to remain in D1M for another season, as the side look to build to make a playoff push next season.
Patrick Wrencher led an even attack for the home side with 14 points and nine rebounds, while Bennett added 11 points and nine rebounds. 20 points apiece from Rodney Sanders and Case Bruton got the job done for Leicester, as Bruton also added 10 rebounds and Sanders dished out five assists.

 Reading Rockets 78 v 66 Team Solent Kestrels 

Saturday 17 March 2018 – 5.00pm
A vital win for Reading allows them to leapfrog Team Northumbria into third place, while the loss sees Team Solent drop to second place behind a surging Loughborough Student Riders. With Worthing in fifth still snapping at the heels of the sides in third and fourth place, the final two games for the Rockets and for Team Northumbria will be crucial as they look to lock up home advantage in the playoffs.
Reading raced out to a double digit lead in this one and never looked back, leading from tip to buzzer as they held off the numerous attempts by the Kestrels to cut the deficit. They were paced by an impressive 27 points from Jerrod 'Scotty' Hendricks, who also contributed five rebounds, four assists and five steals. Sydney Donaldson and Declan Soukup also added 19 points and 14 points, respectively, while big man Tim Gill was locked in around the rim as he pulled down 15 rebounds to go with his 13 points. Herman Senor II led the visitors with 15 points, but was held to just 30% shooting from the field. Joe Tagarelli was held to just 11 points, one of the few times this season he has been limited to less than 15 points.
Rockets' captain Danny Carter was pleased his team grabbed a hard-earned win, "Great team win against an extremely strong and well coached Team Solent side. They've been the team to beat all season and had our number three times already this year. We are hitting a bit of form at the right time of the year, heading into the playoffs, and are much more focused on what we can control as a group and moving from there." Carter added, "It's a testament to the effort all the guys are putting in Monday to Friday, to go and get a great win like that on the weekend."
 Coach Manuel Pena Garces is excited looking ahead, "We have had some good weeks at the right time and we are really excited about the next games ahead; this weekend it was special for a number of reasons. A good performance against great team, getting the victory and a special surprise to our owners Mr. & Mrs. Johnson's for their 50th Wedding Anniversary at the end of the month."

 Manchester Magic 66 v 88 Bradford Dragons 

Saturday 17 March 2018 – 6.30pm
Manchester will be pleased their playoff spot is already secure, as they dropped this game to Bradford on Saturday, a win which allowed Bradford to jump up to sixth place in D1M. The Dragons jumped out to an early lead, and their double digit lead at the half soon ballooned to 20+ through a dominant defensive performance in the third period.
Michael Anumba was a spark off the bench for Manchester, as he led all scorers with 24 points, while adding seven rebounds. Stefan Gill also added 11 points off the bench, as the Magic starters struggled, with Donte Gittens limited to just 10 points – below his season average of 18.4 per game. A balanced performance from the Dragons saw six players hit double figures, led by 18 points from Ricky Fetske. Rihard Sulcs added 16 points, nine rebounds and seven assists; while Marcus Gooding contributed 15 points, eight rebounds and 6 assists.

 Hemel Storm 95 v 85 Kent Crusaders 

Saturday 17 March 2018 – 7.00pm
Hemel righted the ship on Saturday, putting an end two a two-game skid with their win over Kent Crusaders. The win sees Hemel into seventh place as they continue to jockey with Manchester and Bradford over the final few weeks of the season. A tight game early on saw Kent holding a narrow lead at the half-time break, but a good third quarter from the home side tied everything up heading into the final 10 minutes. Hemel took by the game storm in the final period, with a 30-point offensive explosion, as Wayne Yeboah scored 15 of his 19 points in the final stanza. 
Yeboah added six rebounds and four assists to go with his 19 points, while big man Lee Greenan matched his scoring tally with 19 points of his own, also pulling down nine rebounds. AJ Roberts added 18 points and six rebounds in the home win. Caleb Fuller led all scorers for the visitors with 30 points, as he was supported by 15 points from young big man Theo Hughes.

 Worthing Thunder 81 v 74 Derby Trailblazers 

Saturday 17 March 2018 – 7.30pm
Worthing grabbed a vital win over Derby on Saturday to keep up the pressure on the top four, as the south coast side still have a chance to secure home advantage in the first round of the playoffs.  A three-point game until two minutes to go, the Thunder were able to clinch the win in this one behind key scores from Brendan Okoronkwo, who scored seven points in the final four minutes.
Okoronkwo led all scorers with a 27-point outing, as he shot 73% from the field. Zaire Taylor supported with 21 points, to go along with seven rebounds, seven assists and four steals. The visiting Trailblazers were led by 18 points from Kadeem Thompson, while Oli Stanley added a double-double of 16 points and 12 rebounds. Kayne King made a real impact on the game with his 10 rebounds and six assists, despite a quiet scoring night of just two points.

 Leicester Warriors 82 v 71 Hemel Storm 

Sunday 18 March 2018 – 1.30pm
Leicester were able to grab two big results this weekend, going two-from-two in their double-header. Unfortunately, the good run of form has come a little too late in the season for the Warriors to make a playoff push, with Manchester slightly too far ahead to be caught. However, the Warriors will hope for a better chance at the playoffs next season, if they can carry their good momentum from the second half into the early portion of next season. The loss for Hemel sees them well in the mix with Bradford and Manchester, needing key results next weekend to grab the sixth seed to avoid Loughborough or Solent in the playoffs.
Yeboah continued his good form from the day before, as he paced the visitors with 17 points, supported by 15 points from Jack Burnell. Case Bruton was again a key performer for the Warriors, as he contributed 18 points to lead the home side to the win.

 Loughborough Student Riders 91 v 75 Worthing Thunder 

Sunday 18 March 2018 – 2.00pm
Loughborough were D1M leaders overnight on Saturday, as they saw the Kestrels fall to defeat in Reading, after the men in purple had taken down Northumbria. The Riders then solidified their position at the top of the table with another win, taking down Worthing on Sunday to extend their winning streak to five games. A good end to the first quarter from the Riders saw them jump out to an early lead, and they never looked back, extending their lead in the third quarter.
Lucien Christofis led Loughborough with 19 points and four assists, well supported by 14 points and nine rebounds from Dan Hemingway. Max Richardson also added a double-double of 12 points and 10 rebounds. The Thunder stars had a good day scoring the ball, but unfortunately Worthing lacked any punch off the bench, with only four different scorers on the day. Zaire Taylor led the attack with 28 points and eight rebounds, supported by 21 points and eight rebounds from Brendan Okoronwo. Marquis Mathis added 20 points and six rebounds, as James Grinham was the only other scorer with six points.
Riders' Coach Mark Jarram commented after the wins, "We picked up two tough wins this weekend. At this stage of the season we are working towards trying to get everything together and happening at the same time. This group can play really well, but we are working on the discipline to make it count every possession."

 Kent Crusaders 64 v 77 Team Northumbria 

Sunday 18 March 2018 – 2.30pm
Team Northumbria were able to bounce back from their loss the previous day in Loughborough, as they travelled south to grab a win over the young Kent Crusaders side. The Crusaders themselves will be disappointed with their weekend's work, going zero-for-two in their double-header. The win for Northumbria sees them hold onto fourth position for now, heading into a crucial final few game-days of the season.
Northumbria did their damage early on in this one, taking a 17-point led into the half-time break, holding on to their double digit lead throughout, despite a spirited fight-back from the Crusaders in the final quarter. Another balanced effort for Team Northumbria saw Lewis Champion and Blayne Freckleton lead with 15 points apiece, while Siman Stewart added 12 points and eight rebounds. Theo Hughes had another good game for Kent, as he led all scorers with 18 points, while adding six rebounds.

 Derby Trailblazers 79 v 81 Manchester Magic 

Sunday 18 March 2018 – 4.15pm
Manchester were able to bounce back from their loss the day before to get the win over Derby in a crazy back-and-forth game. The visiting Magic were the aggressors early on, as they came out of the blocks fast, jumping out to a 9-27 first quarter lead. Manchester continued their strong play into the break, as they led by 23 points heading into the second half. However, Derby showed they could still make a game of it, getting the lead under 20 heading into the final 10 minutes. The incredible comeback continued throughout the fourth quarter, as the Blazers came all the way back to tie it at 77-77 with 2:54 to play.
Lee Goldsbrough got the go-ahead basket to go for Manchester, then Ryan Lewis iced it at the line to put Magic up by four. Leighton Elliot-Sewell's buzzer-beating tip-in could only bring Derby within two, as the fight-back came up just short. Trailblazers' Coach Matt Shaw had mixed feelings after the loss, "I was really pleased the way he guys battled and the heart we showed to come back from 29 down. But our first half display was awful. It's frustrating for the guys because they gave everything in the second half but it just wasn't quite enough."
Donte Gittens led the Magic with 16 points and eight assists, while Stefan Gill also added 16 points off the bench. Leome Francis led the Blazers with 17 points and seven rebounds, while Elliot-Sewell came off the bench to add 16 points and 16 rebounds.​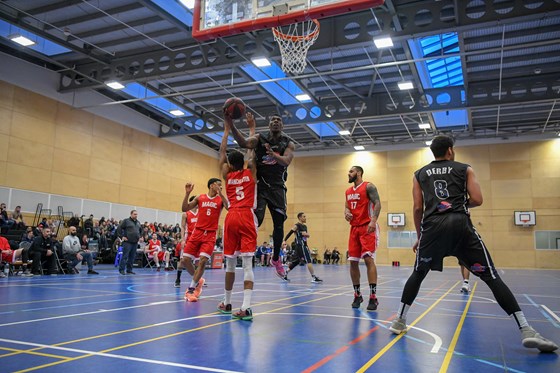 Leome Francis attacks the basket for Derby Trailblazers - Alan Mousley

 Bradford Dragons 111 v 74 Lancashire Spinners 

Sunday 18 March 2018 – 4.15pm
Bradford were able to grab back-to-back wins this weekend, following up their road win over Manchester with a successful return to the Dragons' Den. Lancashire kept pace early, and even led near the start of the second quarter, but the Dragons found their rhythm with a dominant third quarter to put the game to bed. Missing key contributors Allie Fullah and George Davis, the visitors were unable to challenge a Bradford side that showed their quality as the Spinners began to tire. An even fourth quarter showed the Spinners still had some fight in them, but the damage was done as Bradford ran out as comfortable winners.
Ricky Fetske led all scorers with a 25-point, nine-rebound effort; while Rihard Sulcs had another good showing off the bench qith 18 points and nine rebounds. Young guard Eisley Swaine had an impressive showing as he dished out 14 assists, to go along with 12 points. The Spinners were led by 21 points from Loick Poule, supported by 17 points, eight rebounds and four assists from Reiss Haggith.
Division 1 Women

 Reading Rockets 64 v 89 Anglia Ruskin University 

Saturday 17 March 2018 – 2.00pm
Anglia Ruskin extended their winning streak to four games on Saturday, continuing to show they are one of the most in-form sides in D1W. The Rhinos travelled over to Reading in search of a key win as they jostle with the Rockets and Riders for the last few playoff seeds. Reading had the best of Anglia Ruskin in the early going, but impressive offensive performances from the Rhinos in the second and fourth quarters swung the game in their favour as they took home the victory.
Jazmin Gyulai followed up an impressive performance last weekend for the Rhinos with a season-high 35 points, as Katrin Hulme added 19. Reading's Maria Angeles Valdeolmillos and Paula Romero Tarrega paced the Rockets with 16 points apiece, while Brenda Kipewu added 15 points in the loss.

 Lancashire Spinners 62 v 45 Loughborough Student Riders 

Saturday 17 March 2018 – 2.30pm
In need of a couple of important results, Lancashire Spinners headed into another busy weekend off two losses in their back-to-back a week ago. Losing on the road to Loughborough in January meant both pride and a potential head-to-head tie-breaker was on the line for the North West side. A balanced game early on saw Lancashire edge in front, then they really made their presence felt in the second quarter; limiting the Riders to just eight points. An even second half saw the Spinners do enough to keep the travelling side at bay, as they comfortably ran out as winners to creep back into top four contention.
Imogen Cook led a disappointing offensive effort for the Riders with eight points, as Holly Davies and Michelle Bradley added six points apiece. Shauna Harrison led all scorers with 17 points, while Milly Knowles contributed 12.

 University of Nottingham 78 v 75 Team Solent Kestrels 

Saturday 17 March 2018 – 3.00pm
In a crucial battle at the foot of the table, it was Nottingham who grabbed a vital win over their relegation rivals, Team Solent. Playing their final game of a maiden campaign in the top flight, Nottingham left it late to take control of this one. The Kestrels manage to build a 12-point lead midway through the second quarter, but the Nottingham girls in green weren't to be defeated, cutting Solent's lead to one point at the break. Key scores down the stretch from Deborah Somoye gave Nottingham a lead that they would not relinquish, despite last ditch efforts from Jodi Jerram.
Although Team Solent were defeated on the day, we saw one of the most impressive performances of the D1W season, as Earleesha Jackson dropped 30 points, 17 rebounds and three blocks for the visiting side. Andrea Kurkowski added 19 points and four rebounds in the loss. Nottingham were paced by Eleanor Bishop who had 19 points, including going 5-6 from behind the arc, while Frances Musson added 16 points and six rebounds off the bench.

 Bristol Academy Flyers 67 v 37 BA London Lions II 

Saturday 17 March 2018 – 4.00pm
A quick start from the Flyers saw off any chance of a surprise result on Saturday at SGS WISE Arena, as Bristol jumped out to a double digit lead and never looked back. With Southwark, Lancashire and Oxford all chasing second place, the result here was important as Bristol continued to chase the second seed heading into the playoffs.
Liisa Juul was the top performer on the day for Bristol, as she had a double-double of 15 points and 12 rebounds, while also adding five assists. Fiona Fox and Mai Zilbeti also supported by adding 12 points apiece. The performance of Dami Adeyinka was a bright spot for the Lions, as she had 13 points and two assists. Macy Spinks also showed the strength of BA's guard play, as added seven points and two rebounds.

 Oxford Brookes University 65 v 76 Essex Blades 

Saturday 17 March 2018 – 5.00pm
In what was always going to be a tough game against the league champions, Oxford kept this one close throughout, but Essex showed their class to keep the home side at arms length to take home the spoils. The loss for Oxford allowed Lancashire to leapfrog them in the table, as they dropped out of the top four.
Karla Powlesland had an impressive 22-point outing for Essex, as Cat Lutz supported with 19 points. Alice Walton was the standout performer for Oxford with 24 points, as Courtney Gray added 13 in the loss. 
Essex Blades' Coach Mark Lloyd was happy with the contributions off the bench, "Oxford really started strong - clearly wanting to make amends for the result last weekend and the game proved to be a closely fought one throughout. I was really pleased though with the contribution from our bench today - lead by Amy Andrews who had an outstanding game - we are showing more depth to our squad as we rotate and get some rest for some of the players!"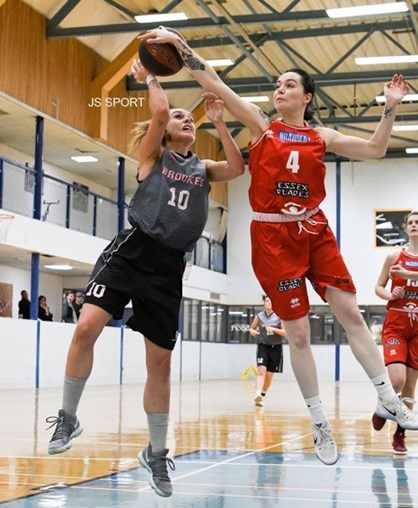 Amy Andrews rejects Alice Walton's shot at the basket for Essex Blades - JS Sport Photo

 Team Birmingham Elite 68 v 74 Southwark Pride

Saturday 17 March 2018 – 6.00pm
Team Birmingham dropped a close one at home to a young traveling Southwark Pride side, as their back-to-back NBL takeover weekend got off to a disappointing start. Southwark led early on after an impressive first quarter, and Birmingham could never quite close the gap to make it a contest, despite a late fight-back.
Lucy Humphries led the home side with 20 points, while Amani Vassell added 19 points. Megan Haines led the Pride as she poured in 29 points, as the only player in double figures for Southwark.

 Southwark Pride 59 v 76 Lancashire Spinners 

Sunday 18 March 2018 – 2.00pm
With both teams heading into the second half of their back-to-backs coming off wins the previous day, spirits were high heading into this one. The Spinners made the long journey south to the City of London Academy, in need of a win in this game to solidify their chances of finishing in the top four. A good start to each half saw Lancashire build a solid lead in this one, as they held on despite a good final period from the home side.
The dynamic duo of Shauna Harrison and Milly Knowles led the visitors to victory, with 25 and 23 points respectively. Megan Haines was side-lined due to injury in this one, and it was Chandera Jones-Aryeh who stepped up to lead the Pride with 12 point, as Ashana Hinds added 11.

 BA London Lions II 60 v 68 Anglia Ruskin University 

Sunday 18 March 2018 – 3.00pm
Anglia Ruskin extended their winning streak on Sunday, as an improved performance from the Lions saw them come just short of grabbing the result. A good start from BA was saw them trail by just two points after the first period, but the Rhinos took control in the second quarter by limiting the Lions to just eight points. A tightly contested second half saw the Lions do their best to make a game of it, but the damage had already been done as Anglia Ruskin were able to hold them off to take the win as they jumped up to seventh place.
Another good performance from Dami Adeyinka saw her lead BA with 20 points, well supported by 12 points from Macy Spinks and 11 points from Sade Orija. Nadege Talva led all scorers with 28 points, as Jazmin Gyulai added 14.

 Team Birmingham Elite 65 v 53 Oxford Brookes University 

Sunday 18 March 2018 – 5.00pm
Team Birmingham ended their double-header on a high with an impressive win over Oxford Brookes, as they look to pull away from the bottom two spots. After a good start from Oxford, the visitors led by seven points at the break. It took an impressive second half comeback from the home side to take control of this one and eventually run out winners by a double digit margin.
Rebecca Brindley and Claire Gold led the home side with 19 points apiece, supported by 12 points from Lucy Humphries. Alice Walton continued her good run of form with 26 points, but as the only Oxford player in double figures, it wasn't enough in the loss. 
Division 2 Men

 Derbyshire Arrows 72 v 84 Westminster Warriors 

Saturday 17 March 2018 – 3.30pm
With such narrow margins separating the playoff bound teams in D2M and those on the outside looking in, Derbyshire headed into this game in search of a result that might have seen them into one of the final playoff spots. Unfortunately, that was not to be the case as Westminster showed their class with an explosive second quarter performance, giving them a lead that they never looked back on. Despite a fight-back from the Arrows that cut the lead to just six points midway through the final period, the travelling Warriors held on for the victory.
Matt Wilson was key to the Arrows' effort in this one, as he led with 18 points and nine rebounds. Joseph Baugh added 13 points and eight rebounds, while Andreas Lycoudis contributed 13 points and three assists. Juan Manning led Westminster with 17 points, seven rebounds and three assists, while Lawrence Brown was a spark off the bench with 14 points and six rebounds.
Arrows' Coach Jonny Kelly was pleased with the fight showed at times in this game, "We played a good game, but we had six minutes in the second quarter when it all fell apart for us. Other than that, we were excellent and to get it back to within six points with three minutes to go was a great reaction. We are still young and learning but we are keen to stop having lessons and to give some before the season closes."

 London Westside 53 v 83 London Greenhouse Pioneers 

Saturday 17 March 2018 – 4.00pm
Important back-to-back wins this weekend against capital city rivals London Westside have spring-boarded London Greenhouse Pioneers into eight position, as they cling to the final spot in the D2M playoffs. The losses may have also decided Westside's fate at the foot of the table, with just three games remaining to add to their tally of four wins so far this season.
On Saturday at St. Mary's, the Pioneers led throughout, as a minor fight-back by Westside to start the second half saw the lead dip below 10 points. A strong final 15 minutes from the visiting side saw them comfortably run away with the win. Thomas Martin led all scorers with 22 points and seven rebounds for the Pioneers, while Mark Raynolds added 16 points and nine rebounds. The play of Max Hufschlag was a bright spot for Westside, as he had an efficient 17-point outing, while adding eight rebounds. Hans Manku added 13 points as a spark off the bench.

 Ipswich 71 v 94 Thames Valley Cavaliers 

Saturday 17 March 2018 – 5.00pm
A good start from Ipswich saw them take a quick 6-0 lead in this one, but Thames Valley quickly tied it at 11-11, before taking the lead and never looking back. An explosive second quarter saw the Cavaliers' lead grow to 28 points at the half, and the lead never dropped below 20 as the visitors comfortably grabbed their 17th win of the season.
Ipswich captain Colin Dockrell led the home side with a double-double performance of 20 points and 11 rebounds, including five made three-pointers; while Ryan Wilson added 15 points, five rebounds and five assists. Martelle McLemore led all scorers with 24 points to pace the Cavaliers, while Robert Banks Jr supported with 21 points and five rebounds. Abdoulaye Sylla was all over the box score as he pulled down 13 rebounds, while adding eight points and six assists.
Thames Valley Cavaliers' Coach Robert Banks was happy with his squad, "Coach Deppisch and I were very happy to see a continued return to form by our team. We knew going into this match that Ipswich has excellent size, outstanding shooters and that they have a history of shooting exceptionally well at home. To come away with a win, we understood that it would take an exceptional defensive effort with a lot of patience and discipline, which are few areas that we have really struggled with this season." Coach Banks added, "It was great to see a continued step in the right direction. Hopefully over the next few weeks we can continue to progress to be prepared for the playoffs."

 Team Birmingham Elite 57 v 71 Liverpool 

Saturday 17 March 2018 – 8.00pm
A hot start for Team Birmingham saw them well on their way to a potential underdog upset on Saturday against third-placed Liverpool. Leading by 15 points midway through the second quarter, Liverpool came to life and a quick two-minute flurry of scores cut the deficit to just one point at the break. A strong end to the third quarter saw Liverpool build their own double digit lead, and they never looked back, taking the victory on what must have been a frustrating evening for the home side.
A balanced effort from Team Birmingham saw plenty of contributors, as Conor Lynch led with 12 points and nine rebounds off the bench. David Ulph continued his stand out season for Liverpool and he had a 30-point outing, while pulling down eight rebounds. Kaphel Ulett Waul continued his good form throughout March, as he added a 17-point, 11-rebound double-double.

 London Greenhouse Pioneers 82 v 70 London Westside 

Sunday 18 March 2018 – 1.30pm
In the reverse of the fixture the day before, Westside had a much better showing as they travelled to City Sport on Sunday. A back-and-forth first half saw Westside take the lead midway through the second quarter, but Pioneers held a narrow one-point lead at the break. A dominant five minutes from the Pioneers saw their one-point lead balloon to almost 20 as multiple players contributed to build the deficit. A short-lived fight-back from Westside saw Pioneers weather the storm and eventually run out winners to grab an important victory.
Luca Piccini led the home side with 23 points, five rebounds and four assists in the win, as Thomas Martin was again a key scorer as he added 17 points. Hans Manku and Max Hufschlag were again instrumental in the Westside effort, with 16 and 10 points respectively. Mbombo Yegba added 14 points in an improved scoring effort compared to the previous day.
Pioneers' Coach Predrag Krneta was pleased to pick up the two wins, "A great weekend for us as we were able to pick up two vital wins and put ourselves in position to compete for a playoff spot. We are still yet to play a single game all year with a full healthy roster and our position in the table definitely doesn't reflect the collective ability of our group. However after the tough season we've had, making the playoffs alone at this stage is an achievement and remains our number one goal." Coach Krneta continued, "Our focus now turns to the upcoming games vs Essex who we have yet to see this season, we know that another successful weekend puts us in a great position and we believe that with everyone healthy no one will want to see us in the first round."

 Liverpool 87 v 77 Westminster Warriors 

Sunday 18 March 2018 – 2.00pm
Liverpool finished their back-to-back weekend on an impressive victory over Westminster Warriors on Sunday, a vital win in the race for third place. Despite not having the services of big man David Ulph, the North West side were able to take control of this one in the second half. Westminster led early on, but couldn't sustain their good play as Liverpool used a good second quarter to build their lead, and kept the momentum going either side of the halftime break to really take control.
Uche Umekue had a clinical day, as he led Liverpool with 31 points, shooting 68% from the field, while adding five rebounds and three steals. Kaphel Ulett Waul built on his good performance against Birmingham to contribute 24 points and eight assists; while Jack Hudson added nine points, 10 rebounds and six assists. Westminster relied on the efforts of player-coach Jon Johnson who led with a double-double effort of 23 points and 12 rebounds, while Florian Damptey supported with 11 points and seven rebounds. 

 Middlesex LTBC 74 v 58 Essex Leopards 

Sunday 18 March 2018 – 3.00pm
The final game of the D2M weekend saw Middlesex grab an important win in the quest for survival. With a four-point deduction now applied after forfeiting games against London Greenhouse Pioneers and Derbyshire Arrows, Middlesex have quickly found themselves dropping from the playoff race into the depths of the relegation battle. The win sees LTBC two points clear of Birmingham near the foot of the table, but with their final three games coming against Westminster Warriors (both home and away) and Thames Valley Cavaliers, it will be difficult for Middlesex to pick up points from here on out.
The victory against Essex Leopards may have already done the job to secure LTBC's safety as they weathered the storm of an early hot start by the visitors to gradually pull away as they controlled the second half. Modestas Krasauskas continues his streak of high scoring games as he dropped 32 points and seven rebounds, supported by 13 points from Marius Ceponis. The visitors were paced by 15 points from Jerrel Layne, as Jamie Rodwell and Shaq Lewis added 13 points apiece.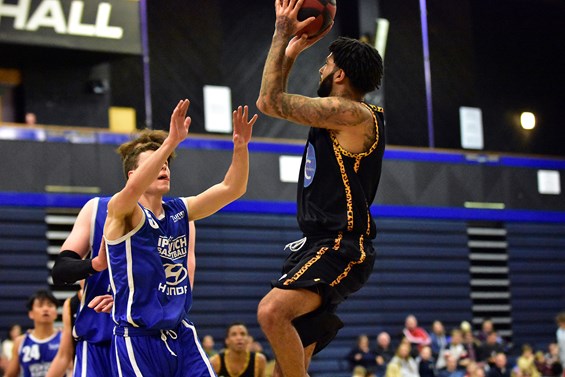 Jerrel Layne lines one up for Essex Leopards - Dave Ryan
Elsewhere in the NBL
Division Two Women
Ipswich were crowned league champions in D2W North a couple of weeks ago to bring home an impressive league and cup double. Harriet Welham's 32 points spurred them to a 31-88 victory over Worcester Wolves this weekend, as Ipswich now head into a double-header next weekend, with high hopes of securing a perfect 15-0 league season. West Herts Warriors may have grabbed the D2W South title with a vital 58-51 win over Sevenoaks Suns II, as 19 points from Jenny Stenzel helped them to victory.
Division Three Men
D3M North was decided on Saturday, as victory for Myerscough College over WLV Albion clinched them the league title, behind 23 points from Dave Walsh. Despite a loss on Sunday to Loughborough Student Riders II, the young Myerscough side now head into the D3M playoffs with high hopes as the number one seed.
D3M South was also decided on Sunday, as Team Solent Kestrels II denied Northants Tauras the title with a 97-79 victory. Greenwich Titans could only cross their fingers as their fate was decided at St. Mary's, but they were crowned victorious after an exciting three-way title race with Northants and East London All-Stars has gone right down to the wire.
Division Four Men
Derby Trailblazers II tied things up at the top of D4M Midlands with a win over Shropshire Warriors, as the final weekend of the season will decide which Derby club take home the title. Both Derby-based sides have double-headers against Nottingham and Birmingham next weekend, as Team Derby take on University of Nottingham and City of Birmingham Rockets, while Derby Trailblazers II face Nottingham Trent University Hoods and Birmingham Mets II.
A surprise loss for Blackpool at home against Manchester Magic II takes them out of the playoff race in D4M North, meaning Calderdale Explorers can no longer be caught at the top of the league. Sheffield Sabres grabbed a 64-80 win over Stockport to keep the pressure on the other teams at the top, as the race for second place now heats up with teams vying for playoff seeding.
BC Medelynas London held serve in D4M South East, to take their season record to 16-0, meaning that hopes of a perfect season rest on the final few games. D4M South West continues to be as tight as ever, but Huish Taunton Tigers were able to take advantage of the opportunity this weekend, losing out 75-74 on the road at Southampton University Sharks, then having their game against Thames Valley Cavaliers II called off due to the snowfall.