National Cup
Men's Final

Hemel Storm 94 v 77 Manchester Magic

Sunday 21 January 2018 – 3.30pm
For a full review of the NBL National Cup Final, please click HERE.
Women's Final

Essex Blades 58 v 67 Ipswich

Sunday 21 January 2018 – 1.00pm
For a full review of the WNBL National Cup Final, please click HERE.
Division 1 Men

Team Newcastle University 92 v 61 Lancashire Spinners

Saturday 20 January 2018 – 6.00pm
21 points from Joey Bennett helped Team Newcastle do the double over Lancashire this season. The Spinners must wait for a first win on the D1M season and this result is a set back after their recent uptick in performances. A slow 2nd half where the visitors were outscored 51-28 was instrumental in a one sided final score. Loick Pouale top scored for Lancashire with 19.

Loughborough Students Riders 89 v 56 Derby Trailblazers

Saturday 20 January 2018 – 6.15pm
Derby's recent good form counted for little as they were handed a heavy defeat by Loughborough on Saturday. Derby came up short in the 2nd half as Loughborough poured on the points to eventually outscore the visitors 56-26 over the game's final 20 minutes. 4 players made it into double digits for the hosts, with guard Sesan Russell leading the way on 19. Matt Ward-Hibbert had 18 for Derby, and captain Ollie Stanley recorded a double-double of 10 points to go with 10 boards.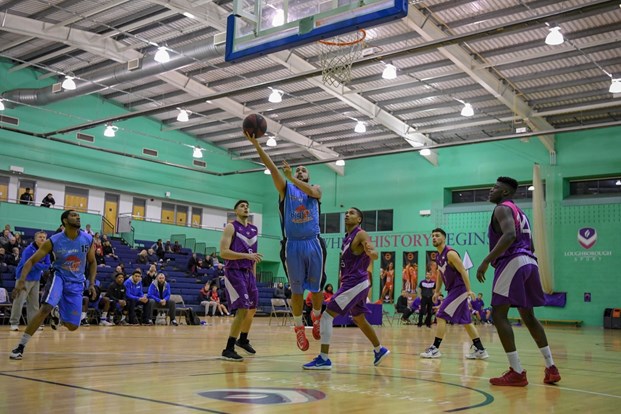 Matt Ward-Hibbert lays on up for Derby - Alan Mousley

Bradford Dragons 95 v 86 Kent Crusaders

Saturday 20 January 2018 – 6.15pm
Bradford produced a solid display to record a timely win in their efforts to steer clear of the D1M relegation zone. The same can't be said of Kent who currently occupy the 2nd potential relegation spot with 11 games to go on their season. The game looked to be firmly in the hands of the Dragons at one stage, but credit to Kent as they fought back to keep the result in the balance until deep in the 4th. Marcus Gooding enjoyed a 30-point outing for the Dragons and Ricky Fetske had his usual double-double performance, this time coupling 19 points with 10 boards. Caleb Fuller was restricted to 18 points for the Crusaders, with Tim Shodipo and Dwayne Orija both scoring 20.
Bradford Dragons Head Coach Chris Mellor, "Offensively I thought we played well. We moved the ball and our execution was good. Defensively we weren't great but, credit to them, they have several guys that can cause problems off the dribble and also hurt you from the perimeter. Even though we had a twenty-point lead at one point, the game was still in the balance until pretty much the final two minutes."
Kent Crusaders Head Coach Lloyd Gardner, "It was a frustrating performance after the way we played last week. We were hoping we could continue with that. It was our defensive execution primarily, but we were taught a lesson of the quality of this league and how you can't take any time off whatsoever. All credit to Bradford, they played extremely well offensively and we struggled to slow them down."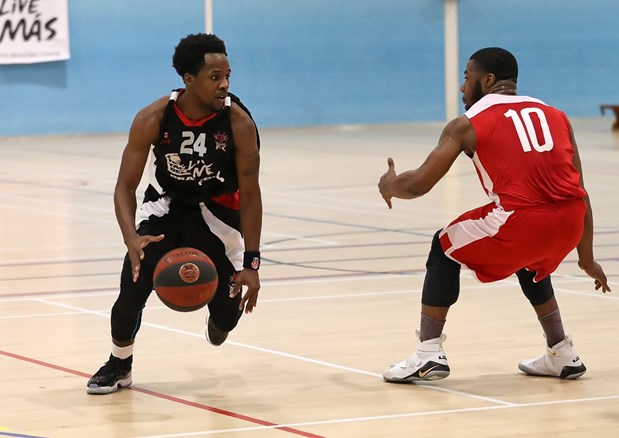 Bradford's Marcus Gooding was key to the Dragons' win this weekend - Alex Daniel Photography

Worthing Thunder 85 v 90 Team Solent Kestrels

Saturday 20 January 2018 – 7.30pm
Worthing were unable to celebrate Marquis Mathis' debut with a win as his former team Solent escaped with both points on Saturday night. A strong 3rd quarter showing helped the Kestrels to record a statement victory in this top-of-the-table contest, with a 19-0 run changing the game in Solent's favour early in the 2nd half. Jorge Ebanks led Thunder with 18 points, eight rebounds and five assists. Zaire Taylor flirted with a triple-double by adding 16 points, 11 assists and eight rebounds and Aiman Rezk posted a double-double of 15 points and 10 rebounds. Solent's Joe Tagarelli had a game high 29 points to go with 10 rebounds and Herman Senor II scored 20.
Worthing Thunder Head Coach Daniel Gayle, "This was a hard loss for us tonight and our title dreams now rest on other results after this one. I thought we had things figured out when we went on a run in the second but they went on a run themselves in the third and it changed things."

Team Solent Kestrels 70 v 59 Reading Rockets

Sunday 21 January 2018 – 3.00pm
Reading's poor form goes on as Team Solent continued their march to a potential D1M title with another win on Sunday. It means the Kestrels escape a tough double header weekend with 2 wins from 2 and they look a formidable side at the moment. The game hung in the balance late in this one, with either side capable of winning. A late burst from Solent that included 5 points from Joe Tagarelli was enough to get the leaders home though. It was Tagarelli that led the way for his side, finishing with 17 points, 10 rebounds and 3 assists, with Louie Kirkman, Elliot Dadds, Herman Senor II and Jake Eynon all making it to double digits. Dan Carter scored 13 and added 8 boards on his return to Reading's team after 11 weeks out, Scotty Hendricks and Sydney Donaldson scored 12.
Division 1 Women

Reading Rockets 82 v 61 BA London Lions II

Saturday 20 January 2018 – 3.30pm
Reading were able to use a fast start to get ahead of BA London Lions II on Saturday, controlling the game the rest of the way. A 25-15 first quarter, powered by some great outside shooting allowed the Rockets to set the tempo and despite a valiant chase, the Lions couldn't get back into the game. Andrea De La Vara Gomez had 21 for the hosts, with Brenda Kipewu adding 17. Youngster Loren Christie put up 19 in reply for BA, Macy Spinks and Dami Adeyinka had 10 each.
BA London Lions Head Coach Karen Burton, "I'm disappointed with the first half. We allowed Reading too much freedom on the perimeter and they do two things well, shoot the three and penetrate the key; we were sloppy on both those things today. Second half was much better, we slowed them down took them out of rhythm, but it was too late to impact the game. Dami (Adeyinka) had a quiet game for her, the first one of the season, Macy Spinks did a much better job of looking to create and score and Loren was our inside threat today which for her was a much better performance."

Loughborough Students Riders 67 v 59 Lancashire Spinners

Saturday 20 January 2018 – 4.00pm
A shorthanded Lancashire side couldn't come away with a win against Loughborough on Saturday, despite 29 points from Shauna Harrison. Imogen Cook had 23 for the Riders in reply during a tight contest that the Spinners may be left to rue come the end of the season. Down 36-32 at the half, the game gradually slipped away for the visitors as they never really found a way to get themselves in front.
Lancashire Spinners forward Shauna Harrison, "I think that we really pulled together as a team today, considering we only had six available players fit to play. We implemented what we have done in recent practices in the game, but unfortunately on the day it just wasn't enough."

Oxford Brookes University 57 v 66 Team Solent Kestrels

Saturday 20 January 2018 – 5.00pm
A great 2nd half performance allowed Solent to stun high flying Oxford and record their first D1W win since November. A close game at the half with Oxford up 26-24, the Kestrels outscored their opponents 42-31 the rest of the way to secure a vital win. Andrea Kurkowski top scored with 21, adding 9 rebounds in the process. Earleesha Jackson (15 points) and Mel Curson (14 points) both made important contributions for the visitors. Julie Fricke top scored for Oxford, finishing on 13, and Alice Walton managed 12 in a full 40 minutes of action. It was a long afternoon for Brookes though as they shot 31% in the game, including 1/13 from beyond the arc.

BA London Lions II 44 v 51 Bristol Academy Flyers

Sunday 21 January 2018 – 2.00pm
BA London Lions slipped to a 2nd defeat in as many days but did produce a better performance against Bristol on Sunday. Largely in control of the fixture until a damaging 3rd quarter where they scored just 4 points, the Lions struggled from that point before falling away to defeat. Demi Adeyinka was back to leading the way for BA after a quiet Saturday, she had 13 whilst Fiona Fox top scored for Bristol with 12.
BA London Lions II Head Coach Karen Burton, "Playing back to back is always a difficult ask, especially against two of the better teams in Division 1. However, today's game was a massive step forward. We came out with great execution tempo and defensively we took Bristol out of everything they wanted to run. The learning curve is we must concentrate and finish on the offensive end and find ways to score when we go through a dry patch. We gave Bristol the game in the third quarter, they definitely didn't beat us we gave it away."
Division 2 Men

Ipswich 93 v 84 Derbyshire Arrows

Saturday 20 January 2018 – 7.00pm
Derbyshire couldn't continue their good recent form on Ipswich's court as they slipped to defeat this weekend. Joseph Baugh maintained his recent good form with 28 points and the Arrows looked in control of the contest at the half, leading 46-37. But Ipswich changed gears in the 3rd quarter and turned their deficit into a lead of their own behind 20 points from Ryan Wilson and 19 from Rabi Rai. Up 71-65 with 10 minutes to go, the hosts held their nerve from there to secure the W.

Essex Leopards 64 v 76 Nottingham Hoods

Saturday 20 January 2018 – 7.00pm
Nottingham Hoods took another big step towards D1M promotion on Saturday as they went down to promotion rivals Essex and claimed a win. As the 4th quarter started, the Hoods held on to a narrow 57-54 lead and although the period started with a Jerrell Layne 3-pointer to tie the game for the hosts, a scoreless 4 minutes in the quarter proved to be their downfall. Layne's 12 points were a high for Essex, with Dougie Bennett finishing on 11 and Will Ashby adding 10. Delaney Powell top scored in the contest with 20 for Nottingham to go with 6 boards. Luke Mitchell, Tevis Robinson and Andrej Slavik all had 10.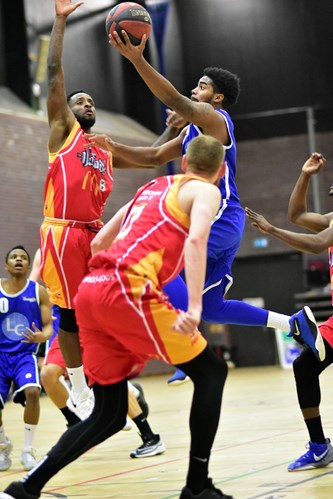 Leopards' Jerrell Layne - Essex Leopards

Team Birmingham Elite 67 v 84 Essex Leopards

Sunday 21 January 2018 – 4.20pm
Despite that loss on Saturday, Essex rebounded on Sunday to get back to winning ways against Team Birmingham. The Leopards started the brighter of the two sides and by the half time break they were sitting pretty at 51-28. The visitors eased off in the 4th, allowing their advantage to decrease somewhat but by that stage the contest was all but over. Youngster Daniel Penkov led all scorers for Birmingham with 26, though no other Elite player made it into double digits. Will Ashby had 19 for Essex, with Shaq Lewis adding 18.
Elsewhere in the NBL
Sevenoaks Suns II took their tilt with Cardiff City to hand the Welsh side their first loss of the season in D2W South. The final score was 70-53 as the battle at the top of that division continues to get tighter between Sevenoaks and West Herts Warriors.
Myerscough College continued their winning ways as they easily handled Worcester Wolves II 97-66 on Sunday. Team Sunderland were able to keep the pressure on the D3M North leaders though as they managed an 84-66 win against Sheffield Hallam Sharks.
East London All Stars demolished Swindon Shock 87-48 in their D3M South game as the former D2M side try to catch league leaders Northants Tauras.
Derby Trailblazers II retained their unbeaten record in D4M Midlands, but they had to work for it. A narrow 83-79 win at home to City of Birmingham Rockets was a closer result than some would have predicted, but it takes the Blazers to 10-0 nevertheless. Northants Thunder remain top after a 99-54 victory on the road in Nottingham, and 2nd place Team Derby also won easily, collecting a 91-67 W against Birmingham Mets II.
Top side Huish Taunton Tigers took on 2nd place Bristol Academy Flyers II in D4M south West this weekend and it didn't disappoint! Taunton put together a stunning 4th quarter comeback to claim a slender 74-73 win. That result come prove vital come the end of the season. And in D4M South East, BC Medelynas continue to crush all in their path. The league leaders visited 3rd placed Kent Crusaders II on Sunday and came away with a commanding 99-66 win.