Division 1 Men

Manchester Magic 61 v 73 Loughborough Student Riders

Saturday 24 March 2018 – 6:30pm
Loughborough began their D1M clinching weekend with a road victory over Manchester thanks to 14 points apiece from Max Richardson and Alex Roberts. Short on numbers, Magic used just 7 players in the contest compared to the 11-man rotation implemented by their opponents. Despite that, it was a slow start that doomed the hosts here though as a poor 1st half showing left Manchester trailing 36-20 at the break, with a 25-12 2nd quarter going the way of the Riders. Lee Goldsbrough put together a 12 point, 10 rebound effort but Loughborough were too strong as they took the first game of a double header between these sides.

Hemel Storm 87 v 101 Team Solent Kestrels

Saturday 24 March 2018 – 7:00pm
30 points from Joe Tagarelli helped Solent navigate a tricky test on the road to Hemel, but their win counted for little as title rivals Loughborough also picked up a win on Saturday. Tagarelli added an impressive 15 boards to his points total for a dominant performance, with Herman Senor II completing an 18 point, 10 assist double-double of his own. Hemel enjoyed 19 points from captain Bode Adeluola but Solent were in charge of this one for the duration, leading from late in the 1st quarter and keeping their advantage north of the 10-point mark the rest of the way.

Team Northumbria 91 v 110 Reading Rockets

Saturday 24 March 2018 – 4:00pm
American Scotty Hendricks produced one of his best performances of the season to help lift the Rockets past Team Northumbria and into possession of 3rd place in the D1M standings. Hendricks finished on 32 points to go with 4 steals and 8 assists on afternoon where he could do little wrong. 24 points from Blayne Freckleton and 20 each from Malcolm Smith and Atif Russell kept the North East side in touch but Reading offensive performance was more than enough to get them over the line. The difference on the score board flirted with the 20-point mark in both the 3rd and 4th quarter as this Rockets team are hitting form at just the right time with the playoffs around the corner.

Worthing Thunder 74 v 55 Kent Crusaders

Saturday 24 March 2018 – 7:30pm
Worthing kept their hopes of a 4th placed finish alive as they held Kent to their 2nd lowest point total of the season on the way to a straightforward win. Marquis Mathis led Thunder with a double-double of 20 points and 20 rebounds, whilst Zaire Taylor added 15 points with Brendan Okoronkwo getting a double-double of 12 points and 13 rebounds. Enjoying plenty of scoring and a dominant effort on defence, it was no surprise Thunder led from start to finish. Micah Savery-Richards top scored for Kent with 22. Worthing can now claim 4th place if they beat Manchester in D1M's only remaining fixture. A loss will leave the Thunder in 5th, with Northumbria claiming a top 4 finish instead.
Thunder Forward Marquis Mathis, "Happy with the win and happy that it was a total team performance. We were comfortable with every possession we had, we felt good about ourselves and we need one more win to stay at home for the playoffs, which we want because we love playing in front of our home fans."

Bradford Dragons 96 v 81 Derby Trailblazers

Saturday 24 March 2018 – 6:15pm
Bradford finished their regular season with a home win that helped the Dragons to secure 6th seed in the playoffs. Marcus Gooding continued his recent good form with another 25 points, taking his average to 23ppg since this article suggest the American was "struggling to make the same impact he did last season." The Dragons established their hold on this game the further it wore on, with their lead steadily increasing throughout. 25 points from Kadeem Thompson wasn't enough to halt that trend for Derby, who were without Matt Ward-Hibbert.
Bradford Dragons Head Coach Chris Mellor, "We didn't play great defensively, but credit to Derby. They were missing a couple of key players but played hard and made things difficult at times. It's another win though and rounds off a decent last few weeks for us."

Loughborough Student Riders 79 v 75 Manchester Magic

Sunday 25 March 2018 – 6:30pm
Loughborough claimed the D1M title after a nail-biting win at home to Manchester. Their tied record of 20-4 with Team Solent is just enough as the Riders hold the head-to-head tiebreaker with the Kestrels. A big dunk from Donte Gittens pulled the Magic to within 2 at 77-75 with a little under a minute to play, and after a turnover from Max Richardson, the Riders faithful were left fearing the worst. Needing a win to guarantee the title and a loss sending the spoils to Solent, the whole of Loughborough will have breathed a sigh of relief when Lee Goldsbrough's 3-point shot couldn't find the basket. That left the visitors to send Loughborough to line, where they managed to seal the win and with it, the D1M regular season title. Reis Pinnock had 18 points, 6 rebounds and 5 dimes for the hosts, with captain Stefan Gill leading the way for Manchester with 25 points.
Loughborough Student Riders Head Coach Mark Jarram, "What an achievement!  This group is so special and unique. We have found ways to win and it is so amazing to do it with pretty much an U21 team of full time students. It has been a roller coaster season but I love these guys and the time and attention they give to me, the programme and each other.  In just our second season in this league it involves so many people within the team and behind the scenes in order to achieve something like this and I appreciate all the players and staff that came before this moment to help work towards it.  We'll enjoy this as you never know when it might come around again, we'll breath and then get ready for the playoffs."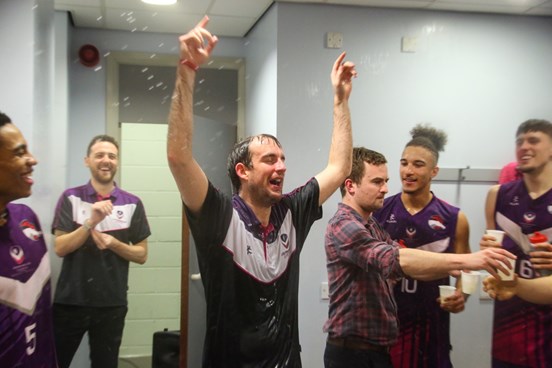 Loughborough Coach Mark Jarram celebrates post game after the Riders clinch D1M - Joe Pinchin

Team Solent Kestrels 94 v 65 Kent Crusaders

Sunday 25 March 2018 – 5:30pm
For the 2nd time in two days, Solent secured a valuable victory that was made academic by the Riders also picking up 2 points. The Kestrels did all they could in their final game, easily seeing off Kent whilst hoping for a Loughborough slip up that never came. Caleb Fuller had a team high 25 for the visitors but with Kent trailing 75- 47 going into the 4th quarter, this game was over well before the buzzer. Tagarelli had 18 for Solent, with Jake Eynon adding 14 more as the Kestrels must settle for 2nd place and turn their attention to the post season.

Lancashire Spinners 73 v 105 Reading Rockets

Sunday 25 March 2018 – 3:45pm
The Rockets did what was required to seal 3rd place yesterday, handing the Spinners their 24th and final loss of the D1M season. It was Reading's 9th win in a row as they continue to build towards the post season and a home tie with Bradford in the 1st round. American Tim Gill was unstoppable throughout as he scored 38 points to go with an impressive performance controlling the boards. Trailing 33-18 at the end of 1, the damage was done early for the Spinners who never looked likely to recover.

Hemel Storm 116 v 93 Derby Trailblazers

Sunday 25 March 2018 – 1:30pm
After finishing in the top four in each of the last 3 seasons, it has been a campaign to forget for Derby. Two losses on the weekend confirmed the Trailblazers as 12th placed finishers, though the Midlands side will avoid relegation. The win takes Hemel to a record of 5-8 since the Christmas break and 7th seed in the upcoming playoffs, a far cry from the lofty position the Storm held after the season's opening 3 months when a top 4 finish looked likely. With Derby once again missing Ward-Hibbert plus others, the task of finishing the season on a high was always going to be difficult. 20 points each from Tom Adorian and Bode Adeluola made that a reality in a game that Hemel led for the duration once they'd cancelled out Derby's opening basket. Leome Francis' performance of 26 points and 12 boards deserves mention despite the Derby loss.

Team Northumbria 75 v 68 Leicester Warriors

Sunday 25 March 2018 – 4:00pm
Northumbria were able to finish their campaign with a win and put the pressure on Worthing in the battle for 4th place. A slow start by Leicester spotted Northumbria a 22-8 advantage after the 1st quarter and the hosts built on that to lead by more than 20 as half time approached. A spirited fight back from Leicester got them within touching distance at multiple points in the 2nd half before the hosts finally pulled way. Carl Pearson was the Warriors' catalyst as they tried to get back into the game, the point guard finished with 25 points to lead all scorers. Malcolm Smith had 20 for the hosts in reply. Northumbria's victory against the Warriors means the Thunder must now win their remaining game against Manchester to leapfrog the North East side into the top 4, otherwise that position will belong to Coach Steutel's men
Division 1 Women

Reading Rockets 73 v 62 Team Birmingham Elite

Friday 23 March 2018 – 8:00pm
The impending end to the regular season and the recent poor weather led to a rare NBL triple-header this weekend for both of these teams. Reading started their 3 game stretch with the win thanks to a team high 18 points from Maria Valdeolmillos Gomez. Becky Brindley exploded for 39 points for the visitors but she proved to be Birmingham's only consistent source of scoring as no other player made it into double digits.

Lancashire Spinners 58 v 43 Southwark Pride

Saturday 24 March 2018 – 2:00pm
The Spinners won a game with huge playoff implications as Southwark couldn't end their regular season with a victory. The Pride are now all done with a 14-8 record, whilst Bristol sit in 3rd on 14-7 and Lancashire are 13-8 in 4th. Both the Flyers and Spinners do have a game to play though so there are plenty of ways the season could yet end. The North West team took care of the task at hand here though thanks to 16 points from Shauna Harrison and a defensive effort that allowed the visitors to score just 14 1st half points. Outscoring Southwark 23-12 in the game's final quarter put the contest to bed as the Spinners how now beaten the Pride twice in as many weeks.

Reading Rockets 77 v 86 Essex Blades

Saturday 24 March 2018 – 1:30pm
Despite sealing the D1W title some time ago, Essex are continuing their momentum right up to the playoffs in impressive fashion. Cat Lutz was in her usual fine form to score a game high 28, but the Blades didn't have this one all their own way. Trailing 65-56 heading into the 4th quarter, Essex needed to pull out all the stops to come from behind and seal the win. Falling away late for the loss means the Rockets will now have to settle for 5th seed in the playoffs rather than being in the mix for a top 4 spot, but they're still a team with a lot of quality that should do well in the post season despite big time player Andrea Gomez De La Vara potentially missing the rest of the campaign through injury.

Team Birmingham Elite 59 v 71 Team Solent Kestrels

Saturday 24 March 2018 – 1:30pm
Team Solent recorded a vital road victory in their quest to avoid a bottom 2 finish in D1W, with Earleesha Jackson putting together a 27 point, 9 rebound performance for the Kestrels. Becky Brindley was once again on song for Birmingham as she had 27 points to go with 5 rebounds and 5 assists, but for the 2nd time in 2 days, no other Elite player made it into double digits on the score board. The game swung back and forth with Solent leading in the early going thanks to a 16-12 opening quarter before the hosts wrestled back the advantage in the 2nd quarter to lead at the half. A 23-6 run over the last 6 and a half minutes of the 3rd quarter decided the game for Solent though as they build a lead they wouldn't relinquish.

Anglia Ruskin University 54 v 60 Loughborough Student Riders

Sunday 25 March 2018 – 1:00pm
Despite the win, Loughborough couldn't grab victory by the required margin to claim the head-to-head tie breaker against Anglia Ruskin and must settle for 8th seed in the post season. If the Riders had won by 12 or more they would have claimed 7th seed, dropping Ruskin to 8th. Imogen Cook had a fine performance for the Riders with 21 points, and Barbara Gonzalez-Palacious scored 16 for Anglia Ruskin.

Bristol Academy Flyers 50 v 59 Southwark Pride

Sunday 25 March 2018 – 1:45pm
Bouncing back from the disappointment of a loss on Saturday, Southwark claimed an important win on the road in Bristol on Sunday. Southwark had the best of the 1st half and looked in control of the game until Bristol began to battle back in the 3rd quarter thanks to Fiona Fox, who finished with 14 points and 9 boards. Credit to the London side though, they regained their composure to execute down the stretch, scoring 17 of the last 21 points in the game. Kadija Conteh, Maya Hyacienth and Mia Jaye Sarkodee-Adoo all scored 13 for the Pride. The victory means that if both the Spinners and Flyers fail to win their final game, the Pride will be the #2 seed in the playoffs.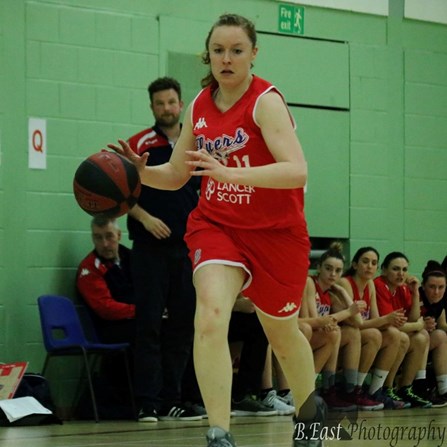 Bristol's Fiona Fox moves the ball - B.East Photography

Team Birmingham Elite 61 v 64 Reading Rockets

Sunday 25 March 2018 – 4:00pm
Team Birmingham fell to their 3rd defeat in as many days Sunday as they lost out once again to Friday night's opponents Reading. The Rockets came from behind for the win as they trailed 48-47 heading into the final quarter and Maria Valdeolmillos Gomez was once again a thorn in the Birmingham side as she finished with a game high 23 points. Regardless of if Birmingham win their remaining game or lose it to make a 3-way tie between Birmingham, Nottingham and Solent on 7-15, University of Nottingham will be the side finishing 11th as one of D1W's bottom 2 sides.
Division 2 Men

Derbyshire Arrows 70 v 54 Team Birmingham Elite

Friday 23 March 2018 – 7:45pm
It was a busy weekend in D2M as the action spilled over to Friday night with so many games to fit in. A solid win for the Arrows strengthened their claims for a playoff position thanks to a 15 point, 16 rebound double-double from Joseph Baugh. Napthali Nembhard added a further 16 points for Derbyshire as Birmingham shot just 25% from the floor. Despite their offensive woes, Keanan Williams shone brightest for the visitors with 15 points, 5 boards and 3 assists.

London Greenhouse Pioneers 66 v 75 Essex Leopards

Friday 23 March 2018 – 8:30pm
It has been a disappointing final month of the season for Essex but winning their final game of the season against Derbyshire will still see them secure a top 4 finish. They got their weekend off to the best possible start with a comfortable win against the Pioneers that wasn't as close as it appeared after the Leopards eased off in the final quarter. Up 62-46 to begin the 4th, the visitors did what they needed to do to seal the win after a balanced team performance that saw seven different players contribute at least 7 points. Shaq Lewis top scored with 11, whilst Tom Martin led all scorers with 23 for Greenhouse.

Sussex Bears 54 v 78 Liverpool

Saturday 24 March 2018 – 5:00pm
Liverpool finished their regular season on a high as they beat Sussex to secure 3rd seed in the playoffs. David Ulph put in a typically strong performance for the visitors as he finished with 25 points and 11 rebounds, and Jack Hudson added a further 18 points. Sussex struggled in large parts to keep up, trailing 45-21 at the half and ultimately no player passed the 15-point mark. Joe Carter came closest, he finished on 14. James Felstead's 9 points and 14 rebounds were a good effort despite the loss.
Liverpool's David Ulph boxes out in a recent tie with London Westside - Liverpool

Derbyshire Arrows 78 v 76 Thames Valley Cavaliers

Saturday 24 March 2018 – 6:30pm
The Arrows pulled off one of the wins of the season as they downed Thames Valley after a thrilling game at Queens Park Sports Centre. Derbyshire moved into the lead inside the last minute of the game thanks to a clutch 3 pointer from Andreas Lycoudis, setting up a breath-taking finish. Prince Larty then Sam Toluwase both missed shots in close succession for the visitors, allowing Lycoudis to secure the rebound. But the youngster then turned the ball over to present the Cavs with one final opportunity. Toluwase ended up going to the line with a little over 10 seconds remaining, but when the experienced forward only hit 1 of the two shots, Joseph Baugh was able to go to the line and seal the win for the Arrows. The 2 point further strengthened Derbyshire's 6th position, though the loss did little to affect 2nd placed Thames Valley outside of the obvious loss of momentum with the post season just around the corner.

London Westside 86 v 96 Nottingham Hoods

Saturday 24 March 2018 – 6:15pm
Bidding to get out of trouble near at the bottom of the table, London Westside gave it their all against Nottingham but couldn't pull off an unlikely victory. The Hoods once again turned to Delaney Powell and Tevis Robinson for the bulk of the work on offence, with the talented duo contributing 43 of the visitors' points. Max Hufschlag was once again a positive for Westside, he finished with 22 points and 7 rebounds as the Frenchman helped to keep his side in this one for large stretches. Trailing by just 5 at the half, Nottingham enjoyed the best of the action in the 3rd to stretch their lead into double digits with 10 minutes to go. Ultimately, that proved too much for the hosts to overcome.

Team Birmingham Elite 92 v 72 Ipswich

Saturday 24 March 2018 – 8:00pm
Key performances from Keanan Williams, Conor Lynch and Dan Penkov helped Birmingham to an important win as they fight to survive the D2M trap door. Penkov led the way with 18 as Lynch and Williams added 17 and 14 respectively, with Lynch also controlling the boards to add 11 rebounds. Birmingham shot 55% from the floor and their offensive prowess paid off late as they swept Ipswich aside in the game's final quarter to win by 20.

Westminster Warriors 83 v 71 Middlesex LTBC

Saturday 24 March 2018 – 2:00pm
Westminster started their weekend well to keep their chances of a top 4 finish alive after a solid victory over Middlesex. The reigning Patrons Cup champions once again shot well from beyond the arc, going 7-11 in the contest as Juan Manning enjoyed 19 points and Jon Johnson and Tosin Oyelese both finished on 15. LTBC were slow to get going against their cross-town rivals and subsequently trailed 39-27 at the half. Westminster pressed home that advantage to lead by 19 going into the 4th, and Middlesex couldn't muster a comeback despite getting their deficit down to single digits at one stage. Dan Szatkowski top scored for the visitors with 30 points.

London Westside 73 v 49 Derbyshire Arrows

Sunday 25 March 2018 – 6:30pm
Despite their excellent performance against Thames Valley on Saturday, Derbyshire slumped to defeat away to Westside on Sunday as they scored just 5 point in the 3rd quarter. Defying their position in D2M, Westside led this one from start to finish and were comfortable leaders thanks to their efforts in that 3rd quarter. Levi Edwards top scored with 15 points in just under 24 minutes of action and Mbombo Yegba enjoyed a 12 point, 11 rebound double-double for the London side. With Joseph Baugh held to just 6 points, Sheu Matewe stepped up to lead the Arrows with 13.

Middlesex LTBC 84 v 77 Westminster Warriors

Sunday 25 March 2018 – 4:00pm
Another side unable to replicate their Saturday performance, Westminster lost out to Middlesex in the 2nd meeting between these 2 sides in as many days. Daniel Szatkowski was once again in stunning form, pulling down 11 boards to go with 29 points in just 27:31 of action. Jon Johnson did all he could to pull his side to another victory, but his 35 points and 7 rebounds wouldn't be enough as Juan Manning, Tosin Oyelese and Justin Hitchman all struggled. Westminster can still claim 4th spot if they can better Essex's result next weekend as the Warriors take on leaders Nottingham and Essex play Derbyshire.

Essex Leopards 87 v 78 London Greenhouse Pioneers

Sunday 25 March 2018 – 4:00pm
The Leopards managed to keep the prospect of 4th place in the own hands after Sunday's win over a spirited Pioneers side. Essex looked good in the 1st half to head to the break up by double digits at 42-32, but Greenhouse fought hard in the 3rd to reduce their deficit to just a single point as the 4th quarter began. They couldn't keep that pace up though, falling away late as the Leopards claimed both points. Shaq Lewis once again top scored for the hosts, scoring 21 points to go with 10 rebounds, and just as he did on Friday night when these 2 sides met, Tom Martin top scored for the Pioneers with 30 points.

Nottingham Hoods 83 v 59 Sussex Bears

Sunday 25 March 2018 – 2:00pm
Sussex couldn't finish their season with a win as they lost out in Nottingham yesterday, but that is no great shame against a Hoods team that has been beaten just once this year. The Bears were held to 5 points in the 3rd quarter and at that stage they were already trailing 45-32. That period of play decided the game as the hosts were firmly in control from there. Tevis Robinson strengthened his MVP claims with 28 points and 8 boards, and Tomas Seduikis top scored for Sussex with 21, adding 10 rebounds.