National Trophy
Semi-Finals

Manchester Magic 74 v 91 Team Northumbria

Sunday 28 January 2018 – 5.00pm
An outstanding 37-point, 13 rebound double-double from Northumbria's Atif Russell allowed the North East side to book a place in February's National Trophy Final. Russell was a constant presence throughout, showing a balanced skill set as he also recorded 4 assists and went 5-8 from 3-point range. A 29-16 3rd period spelt trouble for the hosts in this one as the Northumbria lead stretched into double digits by the time the quarter was over. Manchester's Stefan Gill had 22 points, 4 rebounds and 6 dimes in reply, but it wasn't enough.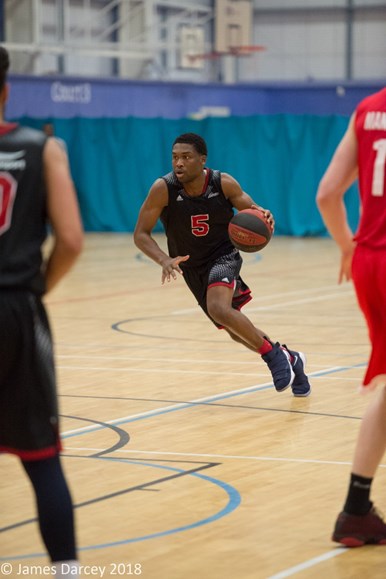 Atif Russell was in unstoppable form for Northumbria in the National Trophy - James Darcey

Team Solent Kestrels 68 v 59 Loughborough Students Riders

Sunday 28 January 2018 – 5.00pm
A strong opening to the 4th quarter was enough to help Solent slip past Loughborough in a close match up between 2 evenly matched sides on Sunday. With the Kestrels leading 56-51 as the 4th began, baskets from Hector Senor II and Joe Tagarelli enabled the hosts go on a 9-0 run. With a little under 4 minutes to go, Jonas Dieterich hit a triple to get Loughborough on the board in the quarter but the lead for the Kestrels was big enough that they were able to hold on until the buzzer. Senor II finished with 14 points, and Tagarelli had 13. Sesan Russell continued his fine form for the Riders with 14 points in the losing effort.
Division 1 Men

Leicester Warriors 77 v 88 Bradford Dragons

Saturday 27 January 2018 – 3.00pm
Bradford won a 2nd game in a row this weekend as they hit the road and defeated the Warriors in Leicester. The victory also allows the Dragons to stay ahead of the chasing pack in the race for the last few playoffs spots. Ricky Fetske's 21 points led the way for the visitors as a strong 4th quarter showing made the difference here. Elliott Sentence had a game high 26 for the Warriors and Rodney Sanders was largely kept in check as he scored 15. Bradford's uptick in form will be put to the test next weekend as they host leaders Solent. For Leicester, the loss here and results elsewhere on the weekend means they now sit in 12th, one of the two potential relegation spots in D1M.

Kent Crusaders 82 v 79 Derby Trailblazers

Saturday 27 January 2018 – 4.00pm
Kent pulled off a close victory over fellow strugglers Derby on Sunday, also securing the head to head tiebreaker against the Trailblazers in the process. Should the two sides finished tied on points at the end of the season, Kent will take the higher of the two places and with both these sides perched above the D1M trap door right now, that could be huge. Dwayne Orija came up big for the hosts in this one scoring 22 points including a big 3 in the final minute and Leighton Elliott-Sewell was back amongst the points for Derby as he made a return to action, he had 26. Kayne King's performance was one of note, he managed 10 rebounds and 13 assists for the visitors in one of the rarer double-doubles that you'll see.
Kent Crusaders Head Coach Lloyd Gardner, "I thought it was a fantastic victory for us. It really was a step up performance from the guys. Not in terms of the quality of our play, but being able to grind out a win, we were out-rebounded, short-handed on the inside, I just thought we found a way to stay in the game and be successful. We managed to piece it together in the fourth quarter, even when we were down seven late. I was tremendously proud of that effort and it's a huge win for us. Hopefully it'll give us some momentum into the second half of the season."
Derby Trailblazers Head Coach Matt Shaw, "It was a frustrating loss for us as we put ourselves in a great position to get a big victory on the road. We were up 77-70 with just a few minutes remaining and we really didn't make great decisions down the stretch. Full credit to Kent though; they hit some big shots and defended very well in the closing stages. I really feel for the guys, because they gave anything they had and that's all I can ask. They were crushed afterwards, but we have to use that disappointment to motivate us to put things right in the coming weeks. We have some very big games coming up, starting with Leicester next weekend"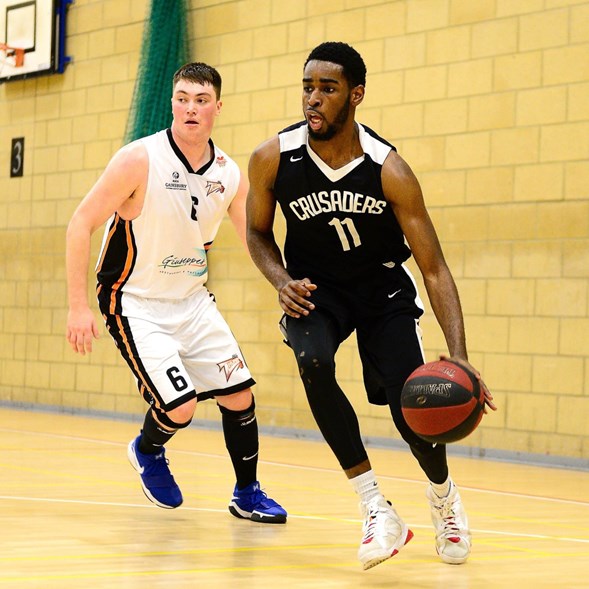 Dwayne Orija was a big part of Kent's success this weekend - Graham Hodges

Lancashire Spinners 79 v 98 Loughborough Students Riders

Saturday 27 January 2018 – 5.45pm
Loughborough put in a professional performance to see off Lancashire on Saturday. A solid 34-21 2nd quarter from the visitors put them up by 16 at the end of the half and meant the Riders were always in control from there. With Loughborough conceding just 2 turnovers in the contest, Lancashire were provided with few easy looks throughout. Still, Harold Trumbo was able to put together a double-double of 24 points and 10 boards to go with 5 assists for the Spinners, and Loick Pouale added 21 points as well. Sesan Russell had 24 for the Riders, despite going 2-9 from deep, and Morgan Carter scored 16.

Kent Crusaders 79 v 76 Hemel Storm

Sunday 28 January 2018 – 3.00pm
Kent made it 2 from 2 on the weekend as they shocked National Cup winners Hemel on Sunday. An impressive 4th quarter comeback was completed when Micah Savery-Richards hit a jumper with 1:24 left in the game to put the Crusaders up 77-76 before the hosts iced the contest from the line. Hemel led by as many as 9 with less than a minute to go in the 3rd, but Kent battled the Storm momentum to slowly turn the game back in their favour. Dwayne Orija was once again the focus for Kent, scoring 19 to go with 7 rebounds, and Dean Wanliss put together a great performance with a 16-point, 13 rebound double-double.  Cup Final MVP AJ Roberts was quiet in this one, scoring 13, leaving Hemel captain Bode Adeluola to take the lead as had 14 points to go with 5 boards and 8 assists.
Kent Crusaders Head Coach Lloyd Gardner, "After the high of the win on Saturday, I thought we carried it over well today. We had to change things up and be creative. The guys did an excellent job of learning; we spoke before about adjustments we could make to deal with a team that has the quality Hemel does. The guys learnt on the fly and did an excellent job of trying to piece things together that caused Hemel problems. Again I thought everyone throughout the roster, even with the injuries, stepped up and contributed positively."
Division 1 Women

Reading Rockets 84 v 72 Oxford Brookes University

Saturday 27 January 2018 – 1.30pm
Oxford fell to their 3rd defeat in a row this weekend thanks to a Rockets' side inspired by Andrea De La Vara Gomez. The Spaniard finished with a game high 28 points and was firmly a difference maker in this one. After an even opening quarter, the hosts began to turn the screw and by the half time break they were up 44-29. From there Oxford couldn't find a way back into the contest despite 15 points each from Julie Fricke and Alice Walton.

Lancashire Spinners 63 v 37 BA London Lions II

Saturday 27 January 2018 – 2.00pm
A 14-4 3rd quarter to the Spinners proved to be decisive in this contest as Lancashire bounced back from last weekend's loss in Loughborough at the first time of asking. Missing a number of key players, including leading scorer Dami Adeyinka to a foot injury, it was always going to be difficult for the Lions to get a result and that proved to be the case. Millie Knowles scored 21 for the hosts and Shauna Harrison had 14 more with both players contributing during that pivotal 3rd quarter. Macy Spinks had 13 in reply for BA.
BA London Lions II Head Coach Karen Burton, "It was always going to be a tough ask with no Dami due to a foot injury and still no Nikita, Dimitria, also missing Lizzy, we were on the back foot. Credit to the players we played hard, I felt we missed opportunities we should have made. If these had been converted I believe the outcome may have been different, however, we didn't so onto the next one. It doesn't get any easier playing top of the league on a Thursday night and a game at the weekend we must win."

Southwark Pride 60 v 48 Anglia Ruskin University

Saturday 27 January 2018 – 2.30pm
Southwark were able to pick up a 3rd win in a row on Saturday, ending Anglia Ruskin's recent hot streak in the process. Despite the loss, the Rhinos previous 3 victories have helped them off the bottom of the table and provided life to their season. The Pride jumped out to a fast start in this one and were up 17-9 by the end of the 1st. They were equally impressive coming out of the half time break and used that effort to see out a comfortable victory. Megan Haines led all scorers with 27 for the hosts, whilst Katrin Hulme had 19 for Ruskin.

University of Nottingham 51 v 90 Essex Blades

Saturday 27 January 2018 – 3.00pm
University of Nottingham couldn't provide an upset on their own court as leaders Essex Blades continued their winning ways. The victory pushes the Blades' streak up to 4 in D1W and with 9 games left on the season, the league title is getting closer with each passing week. The visitors started well here before moving through the gears leading up to half time, amassing a 43-27 lead by the break. From there the game was in the bag but Essex were still able to extend their advantage in the 2nd half. Cat Lutz enjoyed 21 for the Blades, with Jasmine Ogunjimi adding 18 more.

Team Solent Kestrels 66 v 44 Loughborough Students Riders

Saturday 27 January 2018 – 6.00pm
After dropping down D1W like a stone, the Kestrels have now won 2 games in a row and look a lot more like the side that took the league title a year ago. Andrea Kurkowski's 22 points were big in a low scoring contest and Solent were also strong defensively though out. That was most apparent during a 1st half where the Riders were limited to just 17 points. Although the visitors picked their game up after the break, it was too much to ask to get back into the contest. Going 2/20 from beyond the arc didn't help Loughborough either as the hosts were good value for their 4th win of the campaign.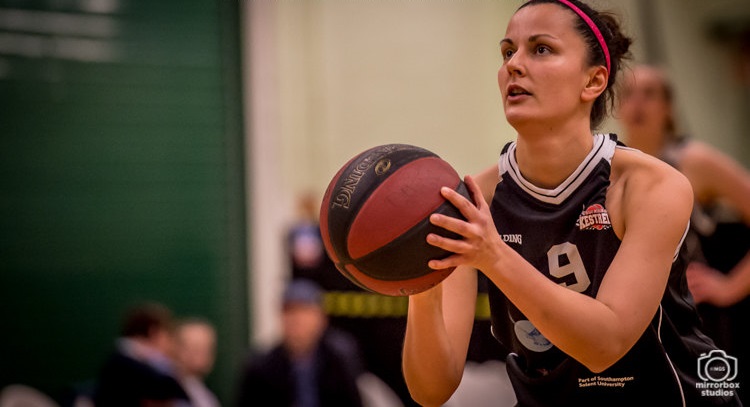 Andrea Kurkowski goes to the line for Solent - Mirrorbox Studios

Team Birmingham Elite 61 v 51 Bristol Academy Flyers

Saturday 27 January 2018 – 6.00pm
Team Birmingham were able to overpower Bristol down low on Saturday evening to put a serious dent in the Flyers title hopes. Heavily outrebounding their opponents thanks to the efforts of Lucy Buxton, Lucy Humphries and Claire Gold, the Elite were also able to score well in the paint to record a timely victory. With Anglia Ruskin's recent form and Solent picking up back to back wins, Birmingham needed this win to keep hold onto the final playoff spot in 8th. Amani Vassell's 14 points led the way for the hosts, and Mai Zilbeti scored 17 for Bristol.

University of Nottingham P v P Oxford Brookes University

Sunday 28 January 2018 – 3.15pm
This game was postponed and will be played at a later date.
Division 2 Men

Ipswich 97 v 103 Nottingham Hoods

Saturday 27 January 2018 – 5.00pm
With lots of scoring this game provided plenty of entertainment for the home crowd but in the end Nottingham just did enough to get the win. A close game throughout the 1st half, there was little to separate these sides. Ipswich were sluggish out of the blocks in the 3rd and that drop off proved to be their undoing once the final buzzer had sounded. Ryan Wilson poured in 31 for the hosts, with Delaney Powell scoring 25 for the Hoods in reply.

London Westside P v P Essex Leopards

Saturday 27 January 2018 – 6.15pm
This game was postponed due to an issue with the venue. The game will be rearranged and played at a later date.

Westminster Warriors 92 v 70 Sussex Bears

Saturday 27 January 2018 – 6.30pm
A 6-8 shooting performance from deep helped Julius Joseph and Westminster triumph over Sussex on Saturday. Joseph finished with 18 points on the day and his Warriors side were red hot from long range, knocking down 69% of their shots (18/26). Joe Carter played all 40 minutes for the Bears and had 26 points, including 3/3 from range himself, but it wasn't enough. The win also gives Westminster the head to head tiebreaker over Sussex, an important edge for 2 teams currently battling for playoff position.

Thames Valley Cavaliers 85 v 66 London Greenhouse Pioneers

Saturday 27 January 2018 – 7.00pm
Martelle McLemore and Robert Banks Jr once again provided impressive performances for Thames Valley as the duo provided over half the Cavs' points on Saturday night. McLemore had 23 points to go with 12 rebounds and 8 assists as he flirted with a triple-double once again, where as Banks Jr scored 26 to go with 8 dimes. It was tough for the visiting Pioneers to keep up and as the game wore on they fell further and further off the pace. By the start of the 4th it was 67-43 to the hosts and that cushion allowed Thames Valley to see the final 10 minutes out comfortably. Tom Martin top scored for Greenhouse with 22.

Team Birmingham Elite 62 v 73 Middlesex LTBC

Saturday 27 January 2018 – 8.00pm
Middlesex secured a vital road win on Sunday as they continued their efforts to lessen the gap to the teams above them. Modestas Krasauskas was instrumental to LTBC's success as he racked up 27 points in 36 minutes of play. He also went 5-8 from beyond the arc, helping his side take control. Birmingham had the best of it in the early going but midway through the 2nd, the visitors began to pull away. They enjoyed their largest lead at 16 but nerves began to show when Birmingham got the deficit down to just 6 with 1:52 left in the game. Augustas Slimas immediately dropped a triple to extend the visitors' lead though and from there Middlesex were able to hang on. David Stevic top scored for Birmingham with 19.

Derbyshire Arrows 51 v 71 Liverpool

Sunday 28 January 2018 – 3.30pm
Derbyshire dropped their 4th game in a row on Sunday, coming up short at home to Liverpool. Kaphel Ulett Waul and David Ulph both recorded double-doubles to do the majority of the damage as the visitors used just 6 players in the contest. Big man Ulph played all 40 minutes and scored 19 to go with 12 rebounds, with point guard Ulett Waul enjoying a game high 24 to couple with his 11 boards. The Arrows managed to get 13 points off the bench from Przemek Milak, but the hosts only totalling 17 points in the 2nd half was a major reason for defeat here.
Elsewhere in the NBL
Ipswich won their first game back in action in D2W North after claiming the National Cup, they managed to beat 2nd placed Derbyshire Gems 85-66 on Saturday. Sevenoaks Suns II are now in sole possession of 1st place in D2W South after their 85-48 win away to Folkestone, whilst West Herts Warriors fell to a narrow defeat against Cardiff Met Archers II, 63-60.
Myerscough College continued their winning ways this weekend and look destined for a shot at promotion to D2M. They beat WLV Albion on the road this weekend, 80-64 was the final there. In the South, East London All Stars managed to go top of D3M for a few hours at least after they beat Southwark Pride 62-45. Northants Taurus have tied things up at the top once again now though as they ran out comfortable 116-76 victors against Cardiff City on Sunday.  
In the return leg of the 1st plays 2nd games in D4M South West, Bristol Academy Flyers II came out on top this time as they beat Huish Taunton Tigers 57-54. That means Bristol now control the head to head between the two teams should there be a tiebreaker at the end of the season.
The unbeaten sides in D4M remained that way this weekend but South East leaders BC Medelynas were made to sweat as 5th placed Chelmsford took them to OT on Saturday. Medelynas did eventually pull out the win 109-104 after 3 extra periods! In the North, Calderdale won with little fuss on Sunday as they came away with a 96-65 victory away to Sefton, and Derby Trailblazers II were also winners, taking the points from Nottingham Hoods II 72-57.