Patrons Cup
Semi-Finals

Thames Valley Cavaliers 78 v 77 Nottingham Hoods

Sunday 4 February 2018 – 4.30pm
The final few moments of this thrilling match up with no doubt be a talking point for a long time to come, but that shouldn't overshadow what was an excellent game of basketball on Sunday afternoon. With the score at 78-77 Thames Valley and only seconds left on the clock, Nottingham's Tevis Robinson couldn't get a last gasp jumper to land as the buzzer sounded. The reason for the miss was an Abdoulaye Sylla block for the hosts, but the legitimacy of that block is likely to spark debate that will go on and on. The decision of goaltend or legal block could come down to the allegiances of the person viewing the incident, but the contest as a whole was a worthy advert for the game. Thames Valley should receive credit for orchestrating a 4th quarter comeback as they trailed 61-54 with less than 9 minutes to go in the game. To do it, the Cavs rode a balanced attack throughout with 4 players all reaching double digits on the scoreboard.  Martelle McLemore led the way with 16 points to go with 9 rebounds, with Sylla adding 15 points alongside 16 boards for the double-double. Delaney Powell top scored for the Hoods with 21, Andrej Slavik and Tevis Robinson both had 12.

Team Birmingham Elite 53 v 68 Westminster Warriors

Sunday 4 February 2018 – 5.00pm
Thames Valley's opponents in this month's Patrons Cup Final will be Westminster after they saw off Team Birmingham on Sunday. A strong 2nd quarter put the Warriors in control of this one as they went into the half time break up 41-24. From there the London side didn't relinquish their lead and held on to book a place in the Final. These two sides met the previous day in D2M league action, with Westminster taking that contest in London as well, making for a great weekend for the Warriors and one to forget for the Elite.
National Shield
Semi-Finals
Myerscough College 86 v 81 East London All Stars
Saturday 3 February 2018 – 1.00pm
North triumphed over South in the battle of the D3M leading lights on Saturday afternoon as Myerscough secured a place in the National Shield Final. 26 points from Konrad Kantorski and 20 more from Mate Okros helped Myerscough to get the win, with both players contributing to the hosts 50-43 lead at half time. The All Stars did manage to rally in the 3rd to close the gap but with both sides upping their game in the final quarter, the hosts kept themselves in front to the final buzzer. Daniel Delgado scored 19 for the visitors to lead the team.
Birmingham Mets 68 v 75 Team Solent Kestrels II
Sunday 4 February 2018 – 4.30pm
20 points from Daniel Belgrave weren't enough to keep Birmingham Mets from falling to Team Solent Kestrels II on Sunday. An even game at 48-48 going into the last 10 minutes of play, that 4th quarter belonged to the visitors the longer it wore on. Richard Mann top scored for the Kestrels II with 15 and Jordan Walker finished on 13.
Division 1 Men

Loughborough Students Riders 102 v 44 Kent Crusaders

Saturday 3 February 2018 – 2.00pm
Kent fell to their largest defeat of the season on Saturday as Loughborough cruised to an easy win.
The visitors were restricted to just 20 1st half points as the Riders scored at will to establish a dominant 48-20 lead at the break. The distance between the sides only grew from there to give a very one sided final score. Guard Sesan Russell went 6-9 from deep to help him drop 26 points in the contest, adding 5 boards and 3 dimes for good measure. Pierce Maslen and Micah Savery-Richards both had 10 for Kent.
Kent Crusaders Head Coach Lloyd Gardner, "There's not a whole lot to say about our performance really. We took an old fashioned beating today. In multiple areas we didn't come to play. Obviously Loughborough are a good team, they showed that today but if we're being honest I don't think they event got out of second gear. It's really disappointing on the back of last weekend's performance where we played pretty well to beat Hemel, we just didn't show up today and proved to ourselves once again if we don't show up with energy and quality in this league we'll be beaten and that's exactly what happened today. We need to take this as a lesson and look forward and realise we can't come with a performance like this and expected to get anything but beaten heavily as we were today."

Bradford Dragons 81 v 84 Team Solent Kestrels

Saturday 3 February 2018 – 6.15pm
Solent managed to survive a late Bradford rally in the 4th quarter to maintain their grip on top spot in D1M. Up 70-62 as the final period began, the Dragons fought doggedly to close the gap. Unfortunately for the home fans cheering on their side, they fell just short. Joe Tagarelli continued his potential MVP campaign as he had 25, and Herman Senor II maintained his good form to score 22 more. Ricky Fetske and Marcus Gooding did the damage for the hosts as they scored 22 and 20 respectively.

Hemel Storm 109 v 75 Lancashire Spinners

Saturday 3 February 2018 – 7.00pm
Lancashire were unable to record their first win of the season as their game in Hemel resulted in a sizable defeat. 5 different players all made it into double digits on the scoreboard for Hemel, and all but 1 of their side managed to score a basket in a balanced performance. Shooting 55% from the floor, it was an enjoyable offensive effort from the Storm as the Spinners struggled to create pressure defensively. Harold Trobo's 21 points were a bright spot for the visitors, but Lancashire's focus will now be on their home tie with fellow strugglers Kent next weekend as they look to secure a first win on the season.
Hemel Storm Head Coach Robert Youngblood, Coach Youngblood said, "These can be difficult games if you go into them with the wrong attitude. But I thought we gave a professional performance and got a solid win that keeps us in a top four League spot. We had consistent performances from everyone and the 27 points from Spinners' turnovers was a credit to our defensive intensity. We have some tough games ahead of us starting next week with Northumbria who are one place below us in the League and like us are challenging for a top-four finish to guarantee a home draw in the Play-offs."

Derby Trailblazers 78 v 86 Leicester Warriors

Saturday 3 February 2018 – 7.15pm
In a crucial game at the bottom end of the D1M table, Derby will be frustrated that they let this game slip through their grasp. After building a double digit lead during the 2nd quarter, Leicester began to turn the screw from there and by the middle of the 3rd, the Warriors had moved in front themselves. That was a position the visitors wouldn't relinquish, building a double digit advantage of their own before a late flurry from the hosts narrowed the score line in the game's final moments. Elliott Sentance and Rodney Sanders both had good games for Leicester, with Sentance scoring a team high 22 to go with 19 more from Sanders. Matt Ward-Hibbert led the resistance for the visitors with 24 points, and captain Oli Stanley collected a double-double with 11 points and 13 rebounds. This win provides Leicester with the valuable head to head tie breaker between these two sides, something that could be crucial as the battle to avoid D1M relegation gets tighter with each passing week. After this weekend's games, there are 5 teams all on 12 points, spanning from the last potential relegation spot in 12th to the final playoff spot in 8th. Very tight indeed!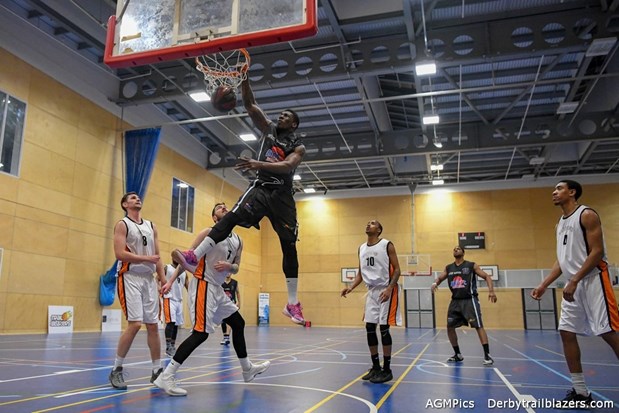 Leome Francis hammers one home for Derby, but it wasn't enough to stop Leicester grabbing the win - AGM Pics

Worthing Thunder 90 v 86 Reading Rockets

Saturday 3 February 2018 – 7.30pm
Worthing continued their title push at the expense of Reading this weekend as Zaire Taylor and new signing Marquis Mathis combined for 55 points. With the game evenly poised at 69-66 Worthing heading into the last, a 9-0 run by Reading to open the quarter put them in the lead at 75-69. Worthing were able to fight the momentum though and a 7-0 run of their own put the Thunder back in charge.  From there the score swung back and forth as a triple from Sydney Donaldson pushed the Rockets back in front, but 7 points in the game's final 4 minutes from Taylor were enough to help Worthing across the line. Taylor's 28 points went with an impressive 7 steals, and Mathis added 10 boards to go with his 27 points for the double-double. Ed Potter recorded a double-double of his own to lead the Rockets, coupling 17 points with 11 rebounds in just over 19 minutes of play. Tim Gill also got in on the act with 16 points and 12 rebounds, whilst Donaldson finished on 15.
Worthing Thunder's Marquis Mathis, "It was a tough game but we played well as a team and remained focused when they put pressure on us. Credit to Reading though, during my time with Solent last season, they were so tough and it hasn't changed. But we wanted to come out and take care of business, this is an important period for us and we need to keeping winning to stay in the title hunt."

Manchester Magic 83 v 84 Team Solent Kestrels

Sunday 4 February 2018 – 5.00pm
A rousing Manchester comeback was all for nothing as visitors Solent managed to steal both points at the Amaechi on Sunday to continue their title push. With time ticking away in the 2nd, the hosts managed to push their lead into double digits but Solent fought hard to limit the damage and went into the break down by just 5 at 41-36. Limiting Manchester to 11 points in the 3rd meant the Kestrels could build a lead of their own. With a little over 4 minutes left in the game's final quarter, a Herman Senor II triple put the visitors up by 7 and the tie appeared to be heading the way of the league leaders. A jumper from Donte Gittens narrowed the score though before Stefan Gill threw an alley-oop pass to Michael Anumba to energise the crowd and reduce the deficit to just 3.  From there the Magic forged ahead, leading by 3 with 90 seconds to go. Trading baskets, Solent began fouling to stay in the game and Donte Gittens hit 1 of 2 from the line to make the game 83-81 Magic with 13 seconds left. Senor II was left to be the hero for the Kestrels though, drilling a dagger 3 on the buzzer to deflate the crowd and send the Solent bench into celebration. Gittens played all 40 minutes for Manchester and recorded a rounded line of 21 points, 5 rebounds and 7 assists. Fellow guard Gill was also in solid form as the veteran scored 16 to go with 4 dimes. Senor II's final second effort allowed him to finish on 25 points as he too played all 40 minutes, collecting 10 assists to record a double-double. Joe Tagarelli was quiet as he scored just 8, allowing Chris Scarlett (5-8 from 3-point range) and Jake Eynon (4-6 from deep) to fill the void, scoring 15 and 17 respectively.

Team Northumbria 94 v 86 Team Newcastle University (after 1OT) 

Sunday 4 February 2018 – 5.00pm
Team Northumbria sealed a 2nd win of the season over their local rivals on Sunday thanks to 23 points from Blayne Freckleton. The talented point guard also pulled down 6 rebounds and served up 5 assists during a productive afternoon. Despite the difference between these sides in the D1M standings, a period of OT was needed to split the two teams after neither side could put the game away in regulation. A Thanasis Ioakeimidis layup for Newcastle with 42 seconds left in the game tied the scores at 77 and ultimately proved to be the final scoring in the quarter. Ioakedimis would miss from the line, with Atif Russell failing to connect on a jumper for the hosts before Frank Urli finished the quarter with an off target 3 for the Knights. Freckleton then scored 7 of his sides 17 points in the extra period to help them secure the win in OT. Atif Russell continued his recent fine form as he grabbed 10 rebounds to go with 19 points and 4 assists and Joey Bennett top scored for Newcastle with 19 in the losing effort.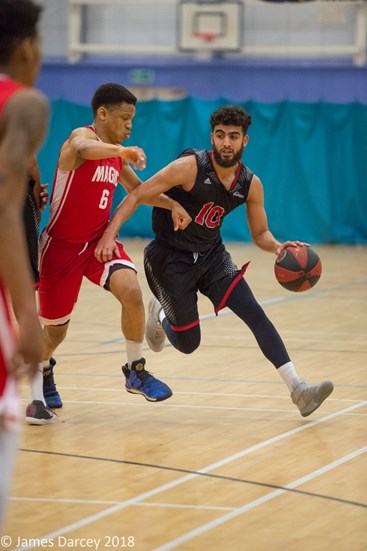 Blayne Freckleton was in great form for Northumbria this weekend - James Darcey
Division 1 Women

Bristol Academy Flyers 58 v 44 Team Solent Kestrels

Saturday 3 February 2018 – 1:45pm
After a slow start to the game, Bristol were able to hit their stride the fastest here to record a valuable win over Solent. With the score at 11-9 to the visitors after the initial 10 minutes, it was the home side that went through the gears in the 2nd, leaving the Kestrels behind as they established a 29-18 lead at the break. Despite connecting on just 2 of their 18 3-point attempts, Bristol were able to exploit other avenues to score and were presented with multiple opportunities to do so thanks to 43 turnovers from their opponents. That disparity in productive offensive possessions ultimately led to the Flyers success as the two sides were relatively similar when shooting the ball from the floor. Hannah Wallace had 12 for the hosts, with Mai Zilbeti the only other Flyer to reach double digits with 11. With a short-handed roster, youngster Chloe Lammas stepped up for the Kestrels to score a game high 14.

Loughborough Students Riders 61 v 72 Anglia Ruskin University

Saturday 3 February 2018 – 4.30pm
Loughborough slipped to a 4th loss in their last 5 games after defeat to Anglia Ruskin on Saturday.  An even contest throughout, the Riders struggled during the all-important final quarter and that eventually sealed their fate. With the score at 47-47 going into the 4th, it was the visitors who were able to step up their game and that was enough to secure a 4th win on the season for the Rhinos. Loughborough's Ebony Horton has a game high 21 points, with Nadege Talva and Katrin Hulme scoring 21 apiece for the visitors.

Essex Blades 67 v 50 Team Birmingham Elite

Saturday 3 February 2018 – 5.00pm
Team Birmingham were the latest side to fall to defeat at the hands of Essex as the Blades moved their record on to 12-1. Birmingham started brightly here and were surprise leaders after 1, up 16-12. That slow start sparked Essex into life though and from there they went on a tear. Taking over the 2nd quarter they turned that early deficit into a 39-29 half time lead. That allowed the league leaders controlled the game to see out the win. Cat Lutz and Monika Kucerkova top scored with 10 each as the Blades spread the ball around well on offence. Lucy Humphries and Lucy Buxton were the focal point for the Elite as they scored 17 and 16 respectively.

Oxford Brookes University 60 v 51 University of Nottingham

Saturday 3 February 2018 – 5.00pm
Oxford Brookes started off a bad weekend for Nottingham as they snapped a 3 game losing streak on Saturday. Ines Guerreiro's performance was a highlight for the visitors as she scored 18, but no other Nottingham player managed to pass 6 points. Courtney Gray had no such problems for Brookes as her 18 points were backed up by 15 from captain Alice Walton and 11 from Julie Fricke.

BA London Lions II 40 v 67 Reading Rockets

Sunday 4 February 2018 – 2.00pm
BA London Lions II's losing streak continued on Sunday as they fell to defeat at home to Reading. Down 16-7 after 1 and 35-17 at the half, the young Lions side were left chasing the game after the break and never really found a way to recover. Dami Adeyinka was once again solid and finished with 19 for the hosts, but Andrea Gomez De La Vara's 24 points and 19 more in support from Brenda Kipewu were more than enough for the Rockets.
BA London Lions II Head Coach Karen Burton, "It is the first time I'm disappointed with the team. We have always – no matter how the game was going – stayed on the same page and stuck to what we know works for us. Today we went away from it. Individual play and too many careless turnovers cost us the game, along with missed opportunities due to lack of concentration. Dami again managed to find the basket and kept up her contribution to the team as the only player in double figures. Back to the drawing board tomorrow to find contributors from elsewhere within the team to halt the poor performance and get back to being the better team we are."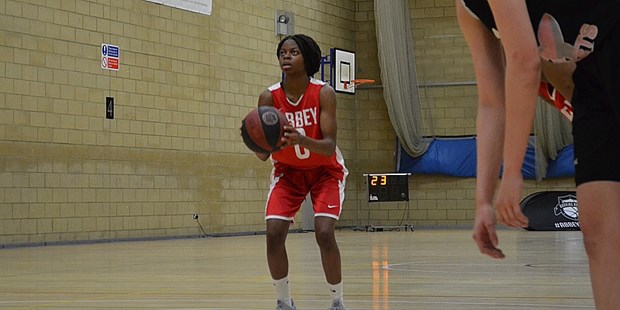 BA London Lions II fell to another disappointing defeat this weekend, but Dami Adeyinka was able to continue her good form - Barking Abbey

Team Solent Kestrels 57 v 43 University of Nottingham

Sunday 4 February 2018 – 2.30pm
A double loss weekend for Nottingham meant that by Sunday night the newly promoted side had joined BA London Lions II in the potential relegation spots at the foot of D1W. Defeat to Solent was Nottingham's 4th in a row and the side need to pick themselves up quickly ahead of a crunch tie with the Lions next weekend. With Ines Guerreiro unable to make the same contribution she managed 24 hours earlier, the visitors struggled for production and shot just 24% (16/65) from the floor. Those shooting woes were exacerbated by going 4/25 from beyond the arc. It meant that as the Solent lead passed into double digits in the 2nd half, Nottingham had no answer. Millie Crouch finished as top scorer for Notts with 11, whilst Earleesha Jackson scored 17 and pulled down 13 boards.
Division 2 Men

Derbyshire Arrows 77 v 73 London Westside

Saturday 3 February 2018 – 6.30pm
Derbyshire took a big step towards D2M survival, as well as securing a potential playoff spot, at the expense of London Westside. Victory puts the Arrows into 7th, but more importantly creates a 2 win gap between the Derbyshire side and the potential relegation places. A slow start looked to have doomed Westside but the London outfit fought hard in the 3rd quarter to get back into the game, despite eventually falling short. The Arrows can thank Joseph Baugh for another game winning performance as the talented forward was once again in top form. 27 points to go with 12 rebounds were a difference maker as only Andreas Lycoudis joined Baugh in double figures for the hosts. Max Hufschlag was impressive in defeat for the visitors, he put up a 17 point, 14 rebound double-double, and Levi Edwards scored 16.

Westminster Warriors 97 v 70 Team Birmingham Elite

Saturday 3 February 2018 – 6.30pm
Westminster started how they meant to go on this weekend against Birmingham, defeating them at home in D2M before travelling to the West Midlands on Sunday to dispatch the same opponents in the Patrons Cup. Up by a single point at the half, the Warriors turned it on in the 2nd half to run out comfortable winners. Their performance was capped by a 35-18 final quarter as Juan Manning, Florian Damptey and Julius Joseph all impressed. Both Manning and Joseph were on fire from long range, with Manning going 6-7 from deep to finish on 22 points, whilst Joseph dropped 21 total after shooting 5-7 from beyond the arc. Damptey collected 18 points in just under 17 minutes of action. Birmingham were also impressive from 3-point range as they went 10/15 as a team, but it wasn't enough to catch Westminster. David Stevic and Janis Steda both finished on 15 points for the visitors.

London Greenhouse Pioneers 79 v 62 Ipswich

Sunday 4 February 2018 – 1.30pm
Greenhouse used a stout defensive effort to limit Ipswich to just 24 2nd half points on their way to a valuable victory in D2M. The Pioneers started slowly but turned the game on its head during a dominant 3rd quarter that helped to seal the win. Mark Raynolds recorded 24 points, 7 rebounds and 3 assists as the Greenhouse forward led all scorers, with Jonny Hall dropping 21 for the visitors to go with 7 boards.

Essex Leopards 88 v 76 Sussex Bears

Sunday 4 February 2018 – 4.00pm
Continuing their promotion push, Essex overcame a stubborn Sussex side at the Brentwood Centre on Sunday thanks to 26 points from captain Dougie Bennett. The Leopards grew into the game as it wore on and by early in the 3rd quarter the home side's lead was firmly into double digits. From there, Bennett, Will Ashby (16 points), Korey Callum and Caleb Tabanar (11 each) pushed the Essex advantage past 20. Taking their foot off the gas late on allowed the Bears to catch up near the end of the game but the result was never in doubt despite 31 from Tomas Seduikis.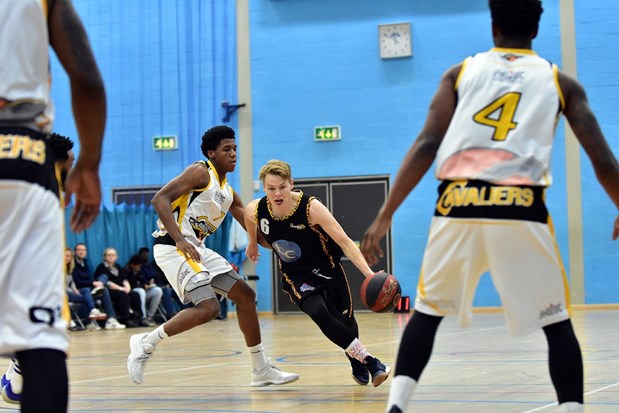 Dougie Bennett has been an instrumental player for Essex this season - Essex Leopards
Elsewhere in the NBL
There were no problems in D2W for the North and South leaders this weekend as both recorded straightforward victories. Northern frontrunners Ipswich saw off Nottingham Trent Wildcats 121-77, and Sevenoaks Suns II ran out easy 83-34 winners away in Solent against the Kestrels II.
D3M North leaders Myerscough had a great weekend, coupling their victory in the National Shield Semi-Final with another league win. This time they grabbed a victory at home against Worcester Wolves II, taking that one 76-52. Northants Tauras had to work hard to take sole possession of 1st in D3M South, but they eventually triumphed 100-94 away to Essex Blades.
D4M South East leaders BC Medelynas made short work of Kent Crusaders II for the second time in nearly as many weeks, running away to a 108-66 win to retain top spot. Barking Abbey had to grind out a win in Lewisham to keep pace in 2nd place, but a 69-49 win over the Thunder allows BA to keep the pressure on.
D4M North's Calderdale remained unbeaten as they recorded a 71-65 win on the road to Myerscough College, but Derby Trailblazers II slipped to their first defeat of the season in D4M Midlands after an 87-72 loss to rivals Team Derby.