Division 1 Men

Team Newcastle University 67 v 70 Loughborough Students Riders

Saturday 3 March 2018 – 3.00pm
Loughborough Student Riders (2nd, 15-4) rode north this weekend to face a tricky double-header in the North East as they visited Newcastle (11th, 7-15) and Northumbria (4th, 13-6). The Riders needed to go two from two to keep pace with league leaders Team Solent Kestrels (1st, 18-3), and they did so, picking up two vitals wins.
The first came on Saturday in a close one versus Newcastle, as a back-and-forth game came down to the final possessions as Reis Pinnock and Morgan Carter iced the game with clutch plays down the stretch. Sesan Russell led a balanced effort for the road team with 13 points, as Max Richardson added 12. Newcastle Head Coach Ian Hewitt reflected on the loss, "I was proud of our efforts considering we are missing key personnel.  We put ourselves in a position where we could have taken the game.  We have two games remaining and we hope to continue with our recent performances."

Team Northumbria 80 v 68 Bradford Dragons

Saturday 3 March 2018 – 6.00pm
In the only other game on Saturday to survive the weather, Team Northumbria (4th, 13-6) continued their assault on home-court advantage in the playoffs as they defeated Bradford Dragons (7th, 9-11) in the first game of their own back-to-back. Bradford were coming in on good form, picking up two wins last weekend, but struggled to contain Northumbria's firepower in this one.
Blayne Freckleton led the way with a complete performance, as he contributed a near triple-double of 16 points, 9 rebounds and 10 assists. Atif Russell led all scorers with a double-double of his own, with 21 points and 14 rebounds, while Malcolm Smith added 20 points, 7 rebounds and 6 steals. Ricky Fetske had 18 points and 16 rebounds in the loss for Bradford.

Team Northumbria 77 v 86 Loughborough Students Riders

Sunday 4 March 2018 – 2.00pm
In the second half of both Northumbria and Riders' back-to-backs, the East Midlands side took home the victory over Team Northumbria (4th, 13-6). Down by five at the half, Coach Steutel's side came out fighting in the third quarter to tie the game. However, Loughborough (2nd, 15-4) weathered this fightback to regain control and finish their busy weekend on a high. Lucien Christofis led the Riders with 20 points, while Sesan Russell was again instrumental as he added a double-double of 16 points and 10 rebounds, while adding four steals. Malcolm Smith led all scorers as he paced Northumbria with 25 points.
Riders' Head Coach Mark Jarram was pleased with his side's successful weekend, "Excellent weekend for the group, two hard fought wins. Credit to both Newcastle and Northumbria, both games went back and forth for the full 40 minutes. We were disappointed in our recent performances and looked at this weekend as an opportunity to work on some things and try to get back on track. There are so many lessons to be learnt every game for these guys and that's all part of their journey."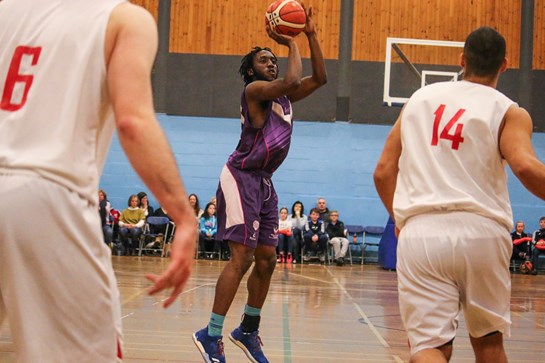 Sesan Russell was instrumental in Loughborough's wins this weekend - Cameron McLay/Basketball Scotland

Leicester Warriors 74 v 88 Team Solent Kestrels

Sunday 4 March 2018 – 2.20pm
Team Solent Kestrels (1st, 18-3) followed up their impressive National Trophy victory from last weekend with a win over Leicester Warriors (10th, 7-12) to maintain their status as top dogs in D1M. Herm Senor II was again on top form, following up his MVP performance with 26 points on 62% shooting, while adding 4 rebounds and 3 assists. Joe Tagarelli was also instrumental in the win, as he contributed 16 points and pulled down 8 rebounds; while Chris Scarlett added an efficient 14 points in just 16 minutes off the visitors' bench. Case Bruton paced the home side with 25 points and 9 rebounds, while Carl Pearson added an all-round stat-line of 18 points, 8 rebounds and 7 assists.
Division 1 Women

University of Nottingham 65 v 60 Southwark Pride

Saturday 3 March 2018 – 6.00pm
Only three games survived the weather this weekend in D1W, with University of Nottingham (10th, 6-14) facing a tough back-to-back against two of the top four. They hosted one of the hottest teams in the league, as Southwark Pride (4th, 11-5) were coming off a six-game winning streak, undefeated in 2018 so far. Nottingham's form has been up and down as of late, picking up an impressive win over Lancashire Spinners (5th, 10-6), but struggling overall so far since the New Year.
The win over Southwark has boosted Nottingham's plight to stay out of the bottom two, and pushes them one win away from a playoff spot in a very tight D1W league. The home side were led by a balanced scoring effort as Rachel Byrne led with 13 points, while Eleanor Bishop, Efi Basoukou and Becky O'Neill added 11 points apiece. Megan Haines continued her impressive form in D1W, leading all scorers with 22 points, having averaged 21.5 points throughout the Pride's win streak.

Oxford Brookes University 58 v 64 Loughborough Student Riders

Saturday 3 March 2018 – 5.00pm
With the league title now looking out of reach as Essex Blades (1st, 15-1) continue their dominance, Oxford Brookes University (3rd, 11-7) will be looking to solidify their position in the top four to secure home advantage in the playoffs. A tricky test awaited them this weekend as they faced a double-header versus the leagues two East Midlands sides.
First up was Loughborough Student Riders (7th, 8-11) who have continued their inconsistent form in recent weeks, having not strung two victories together since the turn of the year. However, it was the Riders who came out on top in this one, behind 15 points from guard Imogen Cook, and 12 points from Ebony Horton. Sara Montanes led all scorers with 17 points in the loss for Oxford.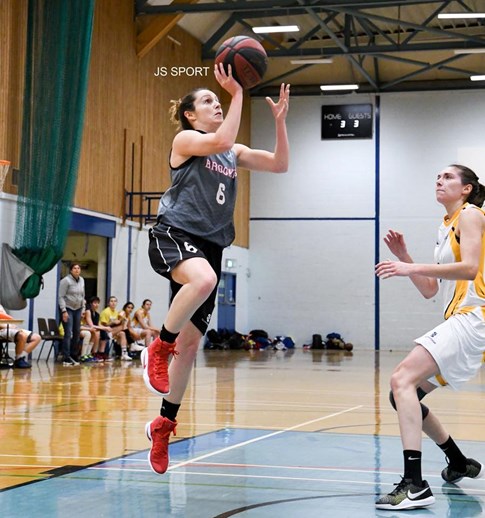 Julie Fricke continues here outstanding season for Oxford Brookes - JS Sport Photography

University of Nottingham 42 v 53 Oxford Brookes University

Sunday 4 March 2018 – 1.30pm
In the second half of back-to-backs for both teams, it is that clear that fatigue played a factor, with much lower score-lines than their previous days' encounters. Oxford (3rd, 11-7) jumped out to an early narrow lead, clinging to a 4-point lead at the half. They took control in the third quarter as they made their defensive presence known, limiting Nottingham (10th, 6-14) to a single point, which came from an Alice Kostopoulou free-throw. Eleanor Bishop led the girls in green with 14 points, as Ruth Bentley and Carlotta De Mergelina added 7 apiece. Julie Fricke led the visitors with 13 points.
Division 2 Men

London Westside 88 v 78 Ipswich

Saturday 3 March 2018 – 6.15pm
London Westside (12th, 4-12) bounced back from a heart-breaking overtime loss last weekend to Thames Valley Cavaliers (2nd, 15-3) as they got the best of Ipswich; helping in their plight to survive in D2M. The home side jumped out to an early lead and maintained a high level of play throughout to control the contest. Paul Yegba shone for Westside as he had a double-double of 18 points and 13 rebounds, while Robert Odia also had 18 points as he added a spark off the bench. Ryan Wilson continued his good form as he led all scorers with 23 points and 5 rebounds, while Cameron Hawes added 19 points and 4 assists off the bench.

Sussex Bears 90 v 100 Thames Valley Cavaliers

Saturday 3 March 2018 – 2.00pm
A last second loss in the Patrons Cup final last weekend sees Thames Valley Cavaliers (2nd, 15-3) coming out with a point to prove as they look to continue to snap at the heels of D2M leaders Nottingham Hoods (1st, 17-1). A tight game early on saw Thames Valley take control late in the second quarter and they never relinquished the lead, despite a surge from Sussex (8th, 6-13) midway through the fourth.
The loss sees Sussex drop into the final playoff spot, but with Nottingham and Liverpool (4th, 10-7) still to play, they will need to pick up a couple of key results to maintain their playoff push. Robert Banks had an impressive scoring display as he dropped 29 points on 60% shooting, supported by Philip Perre and Martelle McLemore who added 24 points apiece. Joe Carter matched Banks' efforts as he had 29 points for the Bears, while adding 7 rebounds and 11 assists.

London Westside 65 v 83 Essex Leopards

Sunday 4 March 2018 – 4.00pm
Snow couldn't stop play down in Brentwood, as the Leopards (3rd, 11-5) made the most of a cancellation by Derbyshire Arrows (9th, 6-10) to fit in a rearranged game – as they hosted on behalf of London Westside (12th. 4-12), who had an unexpected double-header to contend with! Coming off an important win the day before, Westside couldn't continue their good form at The Brentwood Centre, as the Big Cats built up their lead with good spurts in the first and third quarters. It was a balanced effort by the Leopards as all 12 players were on the floor for at least 10 minutes, and 11 of the 12 got on the scoresheet.
They were paced by 24 points from Will Ashby, who also added 5 rebounds and 5 assists. Paul Yegba followed up a good performance the day before with another impressive scoring output, as he contributed 20 points and 13 rebounds for Westside in the loss.
Essex Leopards' Head Coach Thomas Baker was pleased with the game, "Really strong performance for us this weekend. At times we played some fantastic basketball which lead us to have a convincing lead. We are still pursuing excellence along this journey of ours which means we are focusing on behaviours within our performance and we will continue to look to improve every single game as we look for a strong season finish moving into the post season playoffs."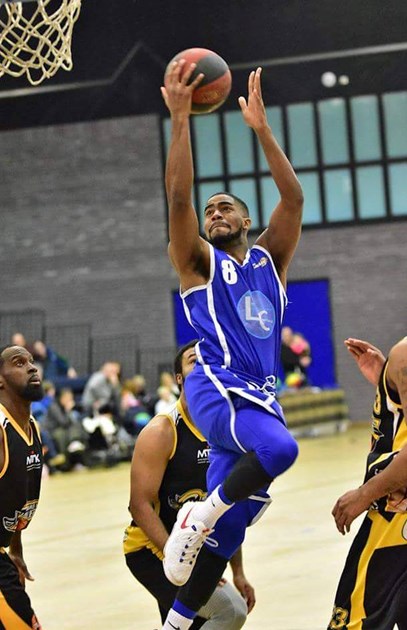 Korey Callum glides to the rim for the Big Cats - Essex Leopards

Middlesex LTBC 87 v 81 London Greenhouse Pioneers

Sunday 4 March 2018 – 4.00pm
On a good run of form in recent weeks, Middlesex (6th, 7-10) have won four of their last five games to make a run at solidifying a playoff spot. Pioneers (10th, 5-12), winners of two of their last five, need a few key victories as the bottom places in the league get ever closer, but unfortunately this was not their day. A back-and-forth game saw the lead change hands throughout the first half, but it looked like Pioneers had taken controlled of it, as they led throughout the third quarter.
The fourth quarter proved crucial in this one, as Middlesex went on a big run to tie the game midway through the period – then scoring the final nine points of the contest to clinch the win. Modestas Krasausakas led Middlesex with 22 points and 4 rebounds, supported by Jamel Felix who added 19 points and 6 rebounds. Luca Piccini led all scorers with 26 points in the loss for Pioneers.
Around the NBL
Division Two Women
Only two games survived the weather in D2W, but in one of the fixtures that did take place West Herts Warriors (2nd, 9-2) keep within touching distance of Sevenoaks Suns II (1st, 10-1) at the top of D2W South with a 63-49 win over Surrey Goldhawks (4th, 5-6) behind 19 points from Jenny Stenzel. In D2W North, Derbyshire Gems (2nd, 8-4) grabbed a 64-46 home win over Worcester Wolves (3rd, 6-5), with Jo Claydon leading all scorers with 17 points.
Division Three Men
In D3M North, there were wins for University of Chester (2nd, 9-7) and Loughborough Student Riders II (4th, 9-5) who are jostling for playoff seeds behind league-leaders Myerscough College (1st, 14-1) who benefitted from a forfeit by Manchester Giants II (8th, 5-11). In D3M South, Northants Tauras (1st, 12-3) had to come from behind to grab a 94-91 overtime victory over the leaders of the chasing pack, East London All Stars (2nd, 11-5).
Division Four Men
At the top of D4M Midlands, Derby Trailblazers II (1st, 16-2) kept up the pace with a 117-69 victory over Mansfield Giants (12th, 3-15). With Calderdale Explorers' (1st, 16-1) and Blackpool's (2nd, 14-4) fixtures both falling foul of the bad weather, Sheffield Sabres (3rd, 14-5) kept up their good form in D4M North with a 79-49 win over Manchester Magic II (8th, 7-12). The Sabres were paced by 27 points from Atif Khan.
The sole fixture to take place in D4M South East was a bottom of the table clash between Cambridge Cats (9th, 4-11) and Norfolk Titans (10th, 3-13), as the Cats took home the spoils 70-59 behind 29 points from Sam Richardson. There was an upset in D4M South West as Reading Rockets II (6th, 9-7) pinched a game off Bristol Academy Flyers II (2nd, 13-3), which hurts the Flyers who are needing everything to go their way in order to catch Huish Taunton Tigers (1st, 14-2) at the top.