National Cup
Men

Hemel Storm 103 v 86 Loughborough Students Riders

Saturday 6 January 2018 – 7.00pm
Hemel were able to ride some hot shooting from beyond the arc and 26 points from AJ Roberts to book their place in the National Cup Final. Bode Adeluola chipped in with 9 points, 5 rebounds and 12 assists as Hemel controlled much of the contest, leaving Loughborough to ponder what might have been. Leading for all but the briefest of moments in the 2nd quarter, the Hemel advantage passed the 20 mark midway through both the 3rd and the 4th on an afternoon when the hosts shot over 50% from 3-point range (10/18). Sesan Russell top scored for the Riders, he had 17 points to go with 3 rebounds and 4 assists.
Division 1 Men

Kent Crusaders 73 v 84 Worthing Thunder

Saturday 6 January 2018 – 4.00pm
Kent worked hard throughout in this one but ultimately came up short as Worthing continue their D1M title push. With the Thunder looking comfortable at 70-54 after 3 quarters, Kent dug deep and began to cause the visitors some problems. Forcing their opponents into foul trouble early, the Crusaders were able to begin trimming their deficit before Worthing's Zaire Taylor fouled out, followed by captain Brendan Okoronkwo shortly after. The left Jorge Ebanks, still recovering from a shoulder injury, to take charge and see out the remainder. Taylor scored 30 points before his departure, along with 8 boards and 7 assists, whilst Aiman Rezk dropped 21 and pulled down an impressive 21 rebounds to go with 4 blocks. Caleb Fuller had 29 points in reply for Kent, adding 6 rebounds and a couple of assists.
Worthing's Aiman Rezk, "Kent are a young talented team I thought it was going to be another close game between us like our first encounter with them. I'm just happy we started the year off right."
Kent's Head Coach Lloyd Gardner, "I feel really frustrated after the game today. Defensively we did a pretty good job, then finally in the fourth quarter they got in foul trouble and we were able to make a little push to make it an interesting game. But we just didn't play with enough poise down the stretch to get the win. I can't knock our guy's effort, I'm proud of them today, but we know this is a tough league, teams like Worthing have got really good players, so we have to come ready to play and we've got to just keep fighting."

Reading Rockets 107 v 67 Lancashire Spinners

Saturday 6 January 2018 – 5.00pm
Reading started 2018 with a bang as they piled on the points against Lancashire on Saturday. A tight game in the early going, the Spinners were able to match their hosts and had the score tied at 36 mid way through the 2nd quarter. From there, Reading showed their dominance, going on a 71-31 run up to the final buzzer to seal an emphatic win. Tim Gill was dominant throughout, finishing with 34 points and 16 rebounds for the hosts. Declan Soukup scored 17 more, and Scotty Hendricks finished on 16. Allie Fullah's double-double of 20 points and 11 rebounds was never likely to be enough for Lancashire on a day when 4 separate Rockets scored 15 or more.

Derby Trailblazers 90 v 79 Bradford Dragons

Saturday 6 January 2018 – 7.15pm
From a team in trouble to a side sitting in the playoff places, Derby recorded another win this weekend as they saw off Bradford. Double-Double efforts from Matt Ward-Hibbert (29pts, 11rbs), Oliver Stanley (10pts, 16rbs) and Kayne King (12 pts, 18ast, plus 8 rbs) plus an impressive performance from Jake Wesselingh (25 pts) all contributed to a great performance from the Trailblazers. Ricky Fetske's 23 points and 10 rebounds helped to keep Bradford competitive, but it was always going to be a tough ask with so many Derby players in such fine form.
Trailblazers Head Coach Matt Shaw, "For Kayne to get eighteen assists at this level is truly impressive, I can't recall any other Trailblazers player putting those sorts of numbers into the assist column, so I fully expect it's a club record. His all round play has been outstanding the last month or so,"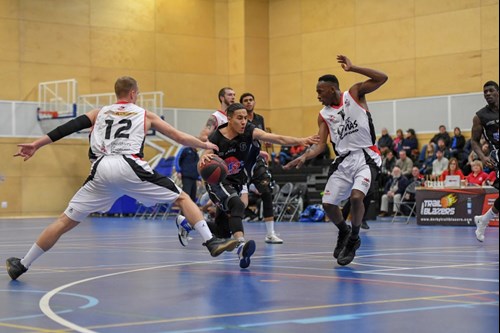 Derby's Kayne King was a constant provider with 18 assists this weekend - Alan Mousley/AGM Photos

Team Solent Kestrels 87 v 86 Hemel Storm

Sunday 7 January 2018 – 2.30pm
In a game that lived up to its hype before tip, Solent just managed to come out on top in a battle between two title hopefuls. Down 76-64 early in the final quarter, it was a gutsy effort from the visitors to get back into the game, especially having played a tough Cup Semi-Final just 24 hours before. With 4 minutes to go, Hemel's Tom Adorian tied the game up with at 83, before Adorian popped up once again with less than a minute remaining to give the visitors a slender 86-85 lead. The game would remain that way until just 3 seconds remained on the clock, when an AJ Roberts foul on Herman Senor sent the American to the line. He made no mistake, sinking both shots to bury Hemel and seal 2 valuable points for the Kestrels. Those final free throws took Senor to a team high 22 points, with Elliot Dadds and Joe Tagarelli scoring 15 each as Tagarellia added 10 rebounds to give himself a double-double. Bode Adeluola and AJ Roberts both played well, with Adeluola scoring 22 to go with 3 rebounds and 2 assists, and Roberts recording 6 boards and 3 dimes to go with 14 points. Adorian's 4th quarter spark led his team back into the game and helped him to record an 18 point, 11 rebound double-double from the bench.

Reading Rockets 63 v 67 Team Newcastle University

Sunday 7 January 2018 – 5.00pm
Team Newcastle recorded a real upset on Sunday, grinding out a low scoring victory on the road against Reading to put a dent in the Rockets' title challenge. The Knights limited the hosts throughout, allowing them few easy looks and opportunities to get into a rhythm. A surprising 23-15 opening quarter was converted to a 34-27 Newcastle lead at the half. Still, Reading kept chipping away behind some vocal home support and eventually found a breakthrough, tying the scores late in the 4th as a Declan Soukup triple made it 60-60 with 2 minutes to go. Points from Newcastle's Matt Brown and Patrick Wrencher, before a Tim Gill hit back with a 3 pointer for Reading made it 64-63 Newcastle with 20 seconds left, With Reading fouling, the Knights held their nerve from the line to secure the win. Wrencher and Romonn Nelson both finished on 16 for Newcastle, and Joey Bennett added 14 more. The visitors also did a good job limiting Gill, who recorded just 10 points and 8 boards, leaving the bulk of the scoring to Ed Potter, who had 15 points and 8 rebounds, and Scotty Hendricks who added 12.
Division 1 Women

Southwark Pride 63 v 46 Team Solent Kestrels

Saturday 6 January 2018 – 2.00pm
Megan Haines 24 points were vital to Southwark's efforts as they continued their march up the D1W standings. The win came at Team Solent's expense, who continue to struggle this season. Earleesha Jackson scored 14 points and collected an impressive 15 rebounds for the Kestrels but the hosts' offence faltered too often, leaving them shooting just 32% from the floor and 0/6 from deep. Trailing 51-35 heading into the final quarter, it was always going to be a tall order for the visitors to get back into the game and that ultimately proved to be the case.

Lancashire Spinners 53 v 81 Essex Blades

Saturday 6 January 2018 – 2.00pm
Essex tightened their grip on the D1W top spot after an impressive win on the road against Lancashire. Cat Lutz was once again the catalyst for the Blades as she enjoyed 25 points, with Jasmine Ogunjimi adding 16 more. When Lancashire did try to mount a fightback, the visitors consistently found an answer. Taking any fight back and using it as an opportunity to instead increase their own lead, Essex took the 3rd period by 11 and then the 4th by 10 to put the finishing touches on a comfortable victory.

BA London Lions II 62 v 73 Oxford Brookes University

Sunday 7 January 2018 – 2.00pm
Oxford moved to 8-2 on the season after a well-deserved 73-62 win in London on Sunday afternoon. Brookes were able to keep their opponent at arms' length for the duration, maintaining a healthy cushion for most of the contest as time slowly ebbed away. Captain Alice Walton was once again influential, scoring 17, but American Julie Fricke top scored with 21 as 2nd placed Oxford continued to keep pace with Essex.

Reading Rockets 82 v 71 Bristol Academy Flyers

Sunday 7 January 2018 – 2.30pm
Reading pulled off a brilliant comeback win to stun high flying Bristol and take both points on Sunday. It was a great team effort from the Rockets as well with every member of their starting 5 making it into double digits. The pick of the performances came from Brenda Kipewu for her 17 points, 7 rebounds, 6 assists effort but every member of the side played a part in this one. The real story was the Rockets' ability to overturn a 60-48 deficit at the start of the final quarter, taking the last 10 minutes 34-11 to seal the win. Liisa Juul and Fiona Fox both had 17 points for Bristol but it wasn't enough to stop Reading roaring back.

Team Birmingham Elite 67 v 74 Anglia Ruskin University

Sunday 7 January 2018 – 4.00pm
After a first win of the season last time out, Anglia Ruskin made it 2 in 2 with a road victory over Birmingham. The majority of the damage for the Rhinos was inflicted by Katrin Hulme, who scored 31, and Nadege Talva who added 29 as the duo combined for 60 of the visitors 74 points. 40 minutes each for Birmingham's Lucy Humphries and Becky Brindley wasn't enough to slow the momentum, though both put in solid performances in a losing effort. Quality shooting was on display in this one, with Birmingham at 82% and Ruskin at 68% from the floor, but it was the Rhinos that escaped with a win here.
Division 2 Men

Liverpool 71 v 91 Thames Valley Cavaliers

Saturday 6 January 2018 – 6.00pm
Liverpool were powerless to resist as Thames Valley took another step towards potential promotion on Saturday. Martelle McLemore played the full 40 minutes and gave the hosts very little to cheer, dropping 37 to go with 10 boards and 4 assists. Liverpool's David Ulph was kept largely in check by the Cavs as well, allowing Jack Hudson to top score with 16. After a fairly even first half, both sides will have been happy with a 34-32 Cavs lead after 2. Midway through the 3rd it was Liverpool who had moved in front by 6 but it didn't last as Thames Valley reeled their opponents in before seizing the advantage themselves to move into a winning position.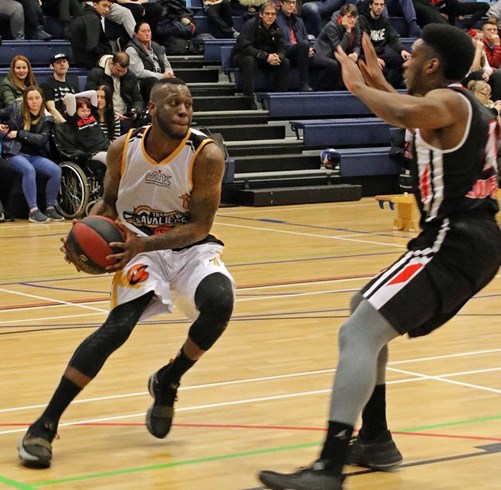 Martelle McLemore was too much for Liverpool to handle this weekend - Liverpool

London Westside 71 v 67 Middlesex LTBC

Saturday 6 January 2018 – 6.15pm
It was a valuable win for Westside on Saturday evening as they survived a slow 2nd half to take both the points against Middlesex. Points from Hans Manku, Theo Deleligne and Robert Odia allowed the home side to build a 50-35 lead at the break, but Westside couldn't match that level of play the rest of the way. That left the door open for Middlesex, but despite closing the gap they couldn't capitalise. The game remained close throughout the 4th with only a basket or two separating the sides, but Westside just kept their noses in front come the buzzer.

Team Birmingham Elite P v P Nottingham Hoods

Saturday 6 January 2018 – 8.00pm
This game was postponed and will be replayed at a later date.

London Greenhouse Pioneers 82 v 85 Sussex Bears

Sunday 7 January 2018 – 1.30pm
Contrasting fortunes at the start of each half decided this one for London Greenhouse as Sussex were able to claim a valuable win. The hosts got off to a great start as they powered out to a 27-14 first quarter lead, but that advantage was cancelled out by a poor 3rd quarter showing that left the score at 65-64 Pioneers heading into the last. Kevaun McKenzie's 8 4th quarter points kept the game close for the home side, but with a 3-point lead as time ticked away, Sussex were in the driver's seat down the stretch. A last gasp effort from Maurice Gilbert wasn't to be, signalling an end to a highly competitive game. McKenzie's 4th quarter efforts led him to a total of 14 points, with Luca Piccini pacing the Pioneers on 17. Tomas Seduikis led all scorers for Sussex on 21, adding 7 rebounds. Joe Carter's efforts off the bench also shouldn't be underestimated, he added 15 points, 9 boards and 5 dimes to the Sussex cause.

Essex Leopards 75 v 73 Westminster Warriors

Sunday 7 January 2018 – 4.00pm
Essex Leopards thrilled the home crowd as they powered back from a 15-point first half deficit to beat Westminster Warriors 75-73. Deep in this one, Westminster's Jon Johnson had 2 shots from the line in a 75-72 Essex game. Johnson hit the first but couldn't convert the 2nd. The Warriors gathered the rebound and Johnson put up another effort, only to see it miss the mark. From there, the hosts were able to run out the clock and seal the win. It was a tough way to finish for Johnson who had been solid throughout, finishing with a game high 24 points to go with 12 rebounds. Leopards' guards Dougie Bennett and Will Ashby both had a productive afternoon, with Bennett scoring 18 and Ashby dropping 20 more as the Leopards just held on.
Essex's Head Coach Tom Baker, "Not many teams will be beat Westminster twice, so it's a great win for us. They're always tough to play against, and they used their size well to give us problems."
Elsewhere in the NBL
D2W North leaders Ipswich were simply too much for Northamptonshire Titans on Saturday, taking that game 166-51 to stay unbeaten.
In D3M South, leaders Northants Tauras kept up their winning ways but were made to work hard by a tough Swindon side before securing a 103-89 victory. 2nd placed Greenwich Titans held off Essex Blades to win 75-62 to keep things interesting at the top.
Myerscough recorded yet another win in D3M North, seeing off Stoke-on-Trent Knights 96-43, but Team Sunderland also won, topping Worcester Wolves II 71-62. Those 2 sides meet in Myerscough next weekend in what is sure to be great game.
Taking advantage of a gap in the Bristol Flyers II schedule, Huish Taunton Tigers were able to beat Oxford City Hoops this weekend, 73-57, to stretch their lead at the top of D4M South West to 4 points.
Another week, another win for BC Medelynas as they kept up their good form to go to 9-0. Their latest success was 108-67 against Norfolk Titans, offering further evidence this side might be able to go the distance in D4M South East this season.
In the D4M Midlands division, the battle between 1st and 2nd went the way of Derby Trailblazers II as they won 103-79 against Northants Thunder to move to 9-0. A 111-65 Team Derby victory means for the time being, there is a 3-way tie at the top of that division on 18 points.
Calderdale Explorers took another step towards an undefeated season by beating their closest rivals Blackpool. The game finished 83-74 to the Explorers, who look a very formidable opponent at this level right now.