Division 1 Men

 (1) Loughborough Student Riders 73 v 71 (8) Manchester Magic (OT) 

Saturday 7th April 2018 – 2.00pm
Loughborough were the first team to punch their ticket to the semi-finals on Saturday, but Manchester pushed them all the way as they forced an extra five minutes. The league champions held a comfortable lead at the half, but Coach Paul Middleton's side came out determined on defense in the third, holding the Riders to just five points. A back-and-forth game down the stretch ended with Magic's Stefan Gill tipping the ball in at the buzzer, forcing the overtime period. There was nearly a second overtime period as Donte Gittens tied the game at 71-71 with a shot from deep, but the Magic then sent Max Richardson to the foul line to ice the game for the Riders. Loughborough will now host Worthing Thunder in the semi-final.
Gittens led all scorers as he had 23 points for the Magic, in a full 45 minutes of game-time. He added seven rebounds and two assists to his scoring output. Forward Ryan Lewis contributed a double-double of 17 points and 11 rebounds. Lucien Christofis went perfect at the foul line on his way to leading the Riders with 17 points, supported well by 11 points from Alex Roberts and 10 points from Richardson. Young big man Hosana Kitenge had a monster game off bench with a big 18 rebounds, 10 on the offensive glass, to go with his nine points – in just under 22 minutes on the floor.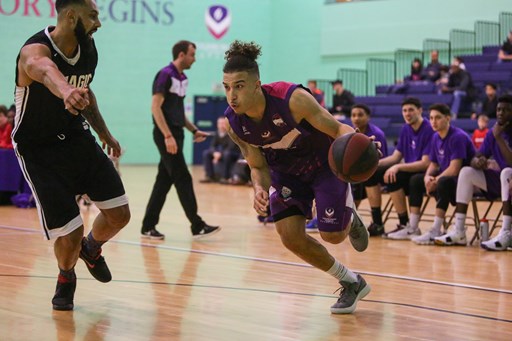 Lucien Christofis drives for the Riders en route to 17 points - Joe Pinchin

 (2) Team Solent Kestrels 72 v 82 (7) Hemel Storm 

Sunday 8th April 2018 – 4.30pm
In one of the biggest upsets of the weekend, National Trophy winners' Team Solent Kestrels were defeated by our National Cup champions, Hemel Storm. Hemel took this game by storm early on, and managed to build a five point led at the half. Seven points in the final stanza from Hemel captain Bode Adeluola was enough to spur them to a surprising victory, as they held on down the stretch. The perks of defeating the higher seed means that Hemel now have the opportunity to host Reading Rockets at Sportspace in the semi-final.
Herm Senor II led the home side with 27 points, four rebounds and seven assists; while Joe Tagarelli was kept quiet by his high standards, adding 14 points and five rebounds. AJ Roberts was key for Hemel, as played a full 40 minutes, scoring 19 points, five rebounds and six assists. Adeluola and David Ajumobi were also crucial, adding 14 points apiece; while there was a double-double for Tom Adorian who contributed 11 points and 10 rebounds.

 (3) Reading Rockets 89 v 78 (6) Bradford Dragons 

Sunday 8th April 2018 – 5.00pm
Another matchup that went down to the wire, Bradford were right in this one – a five-point gap with 1:34 to play – but then had to send Reading to the line as they chased the game. It took the final period to really separate the teams, as Declan Soukup was instrumental with nine points personal in the quarter. The third seeded Rockets will now make the short trip to Hemel Storm in the semi-final, hoping to put an end to the plucky seventh seed's run thus far.
Soukup was influential throughout the game as he shot 57% from the floor, en route to 26 points, nine rebounds and five assists. Tim Gill contributed 15 points and nine rebounds, while Danny Carter and Jerrod 'Scotty' Hendricks added 14 points apiece. Marcus Gooding put in a good performance for the visitors, knocking down five triples on his way to a 25-point, seven rebound effort. Swingman Jermaine Laing added 19 points and four assists, while Rihard Sulcs pulled down 10 rebounds to go with his 17 points in a double-double outing.

 (4) Worthing Thunder 98 v 89 (5) Team Northumbria 

Saturday 7th April 2018 – 7.30pm
Worthing Thunder are the final team to book their ticket in the semi-finals, as they outlasted Team Northumbria on Saturday evening. The South-coast side led from tip to buzzer, as they quickly jumped out to a double-digit lead in the first quarter and never looked back, despite the best efforts of Team Northumbria. Worthing will now travel to Loughborough for their semi-final, hoping to upset the league champions.
The home side had only four scorers in this one, with all four in double digits. Marquis Mathis led the efforts with 26 points and 10 rebounds; while James Grinham added 24 points off the bench as he knocked down an impressive eight three-pointers. Captain Brendan Okoronkwo had a complete game with 22 points, seven rebounds, six assists; while Jorge Ebanks flirted with a triple-double as he added 15 points, nine rebounds and eight assists. Zaire Taylor completed the scoring effort with a quiet game by his standards, contributing 11 points, nine rebounds and four assists. Atif Russell was clinical off the bench for the North East side, as he shot 70% from the field on his was to a 26 point, 10 rebound double-double. Siman Stewart was also impressive on the glass in this one, as he added 15 points and nine rebounds.
Division 1 Women

 (1) Essex Blades 87 v 49 (8) Loughborough Student Riders 

Saturday 7th April 2018 – 8.00pm
Essex held serve on their home floor on Saturday evening to book their place in the semi-finals with a dominant performance against Loughborough. A balanced game in the early going ended with the Blades holding a narrow lead after the first quarter. However, they have done countless times this season, the league champions showed their quality throughout and gradually pulled away from the young Riders squad. The second half was all Essex as they showed they are going to be the team to beat down the stretch in D1W.
The play of point guard Imogen Cook was a bright spark in the loss for Loughborough, as she led the visitors with 20 points. Chloe Compton added 12 points as the only other scorer in double figures for the Riders. Cat Lutz led all scorers as her 24-point effort paced the Blades, with Amy Andrews and Karla Powlesland also having good showings, adding 15 points and 14 points respectively.

 (2) Southwark Pride 59 v 67 (7) Anglia Ruskin University 

Sunday 8th April 2018 – 2.15pm
Southwark were knocked out on Sunday at the hands of Anglia Ruskin, as the Rhinos carried their momentum from the regular season into this post-season matchup. Southwark, as expected, were without stand-out point guard Megan Haines – making the task of stopping the Anglia Ruskin guards much tougher. Nadege Talva started strong for the visitors, scoring their first nine points of the game. The first quarter started with 20-4 run in favour of the travelling Rhinos, and they held a 24-11 lead after 10 minutes. This lead was cut to just five points at the half as Southwark showed pride to make a game of it, buoyed by six points from Maya Hyacienth in the second quarter. The contest was an even battle in the second half, but Anglia Ruskin were able to keep the young Pride squad at arms length as they ran out winners. Southwark will be disappointed to not repeat their deep playoff run from last season, as the Rhinos move on to face Bristol.
Maya Hycienth ended a good first season for Southwark by leading all scorers with 22 points, supported by seven points apiece from Chandera Jones-Aryeh and Esther Oluade. Katrin Hulme had a good outing for Anglia Ruskin, as she led the Rhinos with 18 points. Jazmin Gyulai added 10 points, while Talva finished with nine.

 (3) Bristol Academy Flyers 53 v 66 (6) Oxford Brookes University 

Sunday 8th April 2018 – 4.45pm
Oxford were the second side in D1W to cause an upset on Sunday, defeating the higher seeded Flyers squad. The result was made even more impressive with the fact that Oxford were without one of their lead guards Alice Walton. Bristol looked comfortable early on in this one, as strong play led by Fiona Fox gave them an early lead. Oxford were quick to counter, and counter they did. Taking the lead, a lead that peaked at 18 in the second quarter, the Brookes squad led by 15 at the half-time break and never looked back. Oxford will now travel to Cambridge to face a surging Anglia Ruskin squad who maintained the momentum of the league season with the upset over Southwark.
Bristol had no one outstanding performer on the day, as their good team play led to them scoring by committee. Fox, Liisa Juul and Hannah Till led the effort, chipping in eight points apiece. Juul added 12 rebounds and two assists, while Fox also contributed five rebounds, four assists and four steals. Oxford were spurred to their victory by a 20-point effort from guard Julie Fricke, who also added six rebounds and four assists; while being a consistent disruption on the defense with an impressive seven steals. Courtney Gray was dominant around the basket with a double-double of 16 points and 16 rebounds; while Paula Romero Lozano came off the bench to match her scoring total with 16 points of her own, to go with seven rebounds, 6 assists and four steals.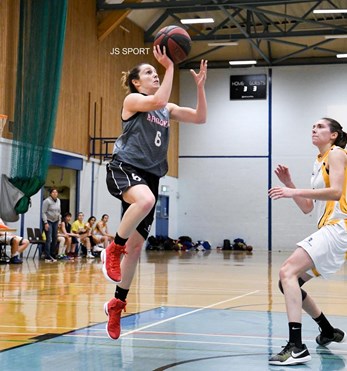 Julie Fricke was instrumental in Oxford's victory - JS Sport Photo

 (4) Lancashire Spinners 72 v 64 (5) Reading Rockets 

Saturday 7th April 2018 – 3.00pm
Lancashire Spinners came out of the blocks well in this one as they scored 14 points unanswered in the first four minutes, leaving Reading reeling. The North West led 22-6 at the end of the first period, as Kyra Smith led with a quick six points to start the game. The Rockets weren't down and out as their second quarter performance showed they were ready to battle, as Maria Angeles Valdeolmillos began to find her stroke with a seven point run to start the period. The Lancashire had peaked at 19 points (30-11), but Reading then went on a 5-17 run as the Spinners' reserves faltered. The third quarter saw the teams trade baskets, as Jadzea Quinn and Valdeolmillos both stamped their mark on the game; as they both led their teams in scoring nine points apiece in the quarter. Paula Romero Tarrega found her mark in the final period for Reading, with eight points in the quarter, but this wasn't enough as Quinn and Erin Hikin iced the game at the foul line. Lancashire will now move on to the tough task of a trip to Essex Blades
Smith led the effort for Lancashire with 18 points, and was supported by 11 points from Quinn. Shauna Harrison had 10 points; Milly Knowles added eight in a game where she was hampered by foul trouble. Brenda Kipewu had an impressive game for Reading as she controlled the tempo, leading all scorers with 20 points. The Spanish guard pairing of Valdeolmillos and Romero Tarrega were also clinical throughout as they added 19 apiece.
Division 2 Men

 (1) Nottingham Hoods 97 v 77 (8) Middlesex LTBC 

Saturday 7th April 2018 – 6.30pm
Middlesex came out strong in this one, with the early minutes going their way behind the impressive play of Marius Talijunas. Nottingham steadied the ship well, coming back to lead at the end of the first quarter, then blowing the game open with an impressive second period; never looking back as Middlesex didn't challenge the rest of the way. The Hoods will now host Patrons Cup champions' Westminster Warriors, who upset Essex Leopards at The Brentwood Centre.
A balanced scoring effort from the home side saw five players in double digits, led by 18 points and six rebounds from David Watts, while Janes Casimiro Mestre added 17 points and six rebounds off the bench. Tevis Robinson struggled from deep in this one, but still had an impressive double-double performance with 15 points and 10 rebounds. Daniel Szatkowski had a big game for Middlesex in the loss, as he dropped 28 points to lead all scorers. Modestas Krasauskas added 19 points, while Talijunas contributed 18 points and nine rebounds.

 (2) Thames Valley Cavaliers 93 v 77 (7) London Greenhouse Pioneers 

Saturday 7th April 2018 – 5.00pm
Thames Valley were able to book their place in the semi-final after outlasting a third quarter fight-back from the travelling Pioneers. The matchup went the Cavaliers way in the early going, as they built a 15-point lead midway through the second period. The Pioneers weren't going to give up as the came back to build a lead of their own with 13 minutes to play. The hosts showed their class in the final quarter as Robert Banks Jr took things into his own hands with nine points in the final period en route to a 29-point outing. Thames Valley will now host Liverpool in their semi-final.
Banks' 29 points led all scorers, as he shot 80% from the floor, including three makes from deep and adding five rebounds and four steals. Martelle McLemore contributed 22 points, six rebounds and four assists; while Prince Lartey played the role of facilitator in this one with 14 assists to go with nine points of his own. Miodrag Vidakovic had a double-double of 20 points and 10 rebounds in the loss, while it was Mark Raynolds who led them in scoring with 23 points.

 (3) Liverpool 95 v 57 (6) Derbyshire Arrows 

Saturday 7th April 2018 – 5.00pm
Despite a balanced start in this one, the Arrows' season came to an end at the hands of a dominant Liverpool side. Derbyshire challenged the hosts early, behind five early points from Napthali Nembhard, but couldn't sustain it as Liverpool gradually built a commanding lead throughout a clinical second quarter offensive performance. Liverpool travel to Uxbridge College for the semi-finals, hoping to upset the Cavaliers.
Arrows' forward ended a good season on a high in this one, with a double-double effort of 24 points and 12 rebounds, while adding four assists. He didn't get a lot of help on the scoreboard in this matchup, with Nembhard the only other Derbyshire player to hit double figures, with his 10 points and seven rebounds. David Ulph was crucial for Liverpool in this one, shooting 70% from the floor en route to 27 points and 12 rebounds. Andre Gayle knocked down five triples off the bench on his way to 25 points and eight rebounds.

 (4) Essex Leopards 80 v 84 (5) Westminster Warriors 

Saturday 7th April 2018 – 6.30pm
Westminster Warriors, winners of the Patrons Cup earlier this season, put in another clutch performance on Saturday as they knocked out Essex Leopards on their home floor. The Warriors were in control for the majority of the game, but a late fight-back in the fourth by The Big Cats culminated in a Shaq Lewis bucket tying the score-line at 76-76 with 1:53 to play. The Leopards then had four consecutive empty trips as Westminster got the stops they needed to take back control. Juan Manning was clinical at the line, going 4-for-4 in the final two minutes to ice the game. The Warriors now face the tough task of a trip to the Wildcats Arena to match up with the league champion Hoods.
Westminster player-coach Jon Johnson was critical in this one, playing a full 40 minutes and dropping a jaw-dropping 41 points on 65% shooting, including capitalising on 14 of his 17 trips to the foul line. Johnson also added 10 rebounds, five assists and two steals. Manning contributed 12 points and six rebounds; while Mantas Adomaitis came off the bench to add 12 points of his own. The Big Cats were led by 23 points from Will Ashby, who added four rebounds and three steals. Lewis had an efficient 15 point, 8 rebound effort; while young Oaklands' star Jordan George came off the bench to support with 14 points, five rebounds and three assists.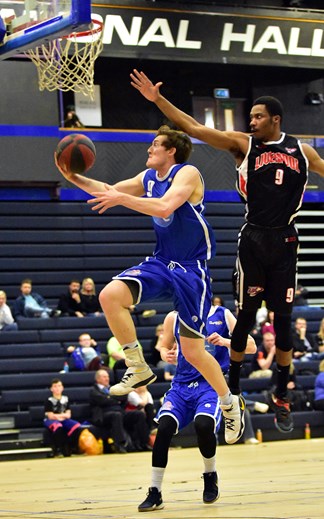 Will Ashby's 23 points weren't enough to carry Essex Leopards to victory - Essex Leopards
Elsewhere in the NBL
Division Two Women
(N1) Ipswich 77 v 68 (S4) Cardiff Met Archers II - Sunday 8th April 2018 - 4.30pm
(N2) Derbyshire Gems 70 v 54 (S3) Cardiff Met Archers II - Sunday 8th April 2018 - 4.15pm
(S1) West Herts Warriors 66 v 51 (N4) Mansfield Giants - Saturday 7th April 2018 - 2.00pm
(S2) Sevenoaks Suns II 53 v 52 (N3) Worcester Wolves - Sunday 8th April 2018 - 4.00pm
Division Three Men
(N1) Myerscough College 75 v 71 (S4) Essex Blades - Saturday 7th April 2018 - 1.00pm
(N2) Loughborough Student Riders II TBC v TBC (S3) East London All Stars - Saturday 7th April 2018 - 4.30pm
(S1) Greenwich Titans 20 v 0 (N4) University of Chester - Saturday 7th April 2018 - 7.15pm
(S2) Northants Tauras 116 v 103 (N3) Stoke-on-Trent Knights - Sunday 8th April 2018 - 4.30pm
Division Four Men
(1) BC Medelynas London 102 v 82 (8) Sheffield Sabres - Saturday 7th April 2018 - 6.00pm
(2) Calderdale Explorers 58 v 74 (7) Barking Abbey - Saturday 7th April 2018 - 4.00pm
(3) Team Derby 89 v 54 (6) Huish Taunton Tigers - Saturday 7th April 2018 - 1.00pm
(4) Bristol Academy Flyers II 90 v 109 (5) Derby Trailblazers II - Saturday 7th April 2018 - 3.45pm