National Cup
Men

Team Solent Kestrels 74 v 80 Manchester Magic

Saturday 9 December 2017 – 7.00pm
25 points from the returning Stefan Gill were enough to help Manchester Magic add another National Cup Final trip to their string of recent successes in the NBL. Solent managed to tie up the game at 41-41 as the end of the first half loomed, but Gill and Donte Gittens both hit timely shots from beyond the arc to make it 47-43 Manchester after 2. From there, the visitors took control and the lead flirted with, and passed into, double digits as the 2nd half wore on. A late rally from the Kestrels, powered by star man Joe Tagarelli who finished with a 15 point, 16 rebound double double reduced the deficit but a comeback wasn't to be.

Hemel Storm P v P Loughborough Students Riders

Sunday 10 December 2017 – 5.00pm
Manchester will have to wait a little longer to find out their opponents for January's National Cup Final though as Hemel and Loughborough couldn't overcome a snowy Sunday make their game happen. That one will be rearranged as soon as possible and we'll bring you more when we have it. It was a recurring theme for the majority of the NBL games scheduled to be played this past Sunday!
Women

Essex Blades 81 v 50 Derbyshire Gems

Saturday 9 December 2017 – 4.00pm
Derbyshire Gems battled valiantly against D1W leaders Essex Blades before eventually succumbing to the quality of the hosts. Essex got off to a fast start, powered by Cat Lutz and Monika Kucerkova, and turned a 21-11 advantage after the 1st quarter into a commanding 44-21 lead at the half. Jo Claydon helped to rally the travelling Gems in the 3rd, finishing with 14 points, but the Blades were never really in the mood to let their lead slip as they eased to the final buzzer. Lutz finished with 24, Kucerkova had 21.

Bristol Academy Flyers P v P Ipswich

Sunday 10 December 2017 – 4.15pm
Another Sunday fixture that fell to the snow, Ipswich started out on their cross-country journey but had no option but to turn back due to the conditions. Like the Hemel Loughborough game, this one will be rearranged as soon as possible.
Division 1 Men

Leicester Warriors 78 v 59 Team Newcastle University

Saturday 9 December 2017 – 3.00pm
Leicester Warriors were able to record a timely win this weekend to edge a little further up the D1M table, securing both points in their home tie against Team Newcastle. Rodney Sanders put in yet another impressive display to lead all scorers with 21 points. With the standings tight near the bottom, Leicester started quickly and took the initiative after a good 1st quarter. Newcastle battled to try and get into the game from there but the Warriors refused to let it happen, gradually increasing their lead throughout. Kingsley Pinda top scored for the Knights with 14.

Bradford Dragons 82 v 67 Reading Rockets

Saturday 9 December 2017, 6.15pm
Bradford once again turned on the style against one of the top sides in D1M, getting the best of Rockets to send them back to Reading empty handed. Having given Loughborough their only loss of the season and with a win over Hemel to their name as well, this weekend's game was another example of the Dragons playing to the level of their opponents, using their quality to secure an important 2 points. Having won by 21 points when these sides met a month ago, Manuel Pena Garces' has every right to feel confident in his Reading side, but that soon disappeared as the hosts built a sizable 1st quarter lead. The worst was yet to come for the Rockets as points from Marcus Gooding, Eisley Swaine and Rihards Sulcs pushed the Dragons' advantage towards 15 in the 2nd. Reading battled though and continued to chip away at the Bradford lead. 4 points was as close as they would get with 3 minutes gone in the final quarter before Swaine scored another timely basket, a triple from long range, to make it an 8-point game once again. From there, Bradford were able to secure the win.
Swaine finished with 19 points for Bradford, to go with 4 boards and 7 assists. Sulcs had 19 points and 9 rebounds, whilst forward Ricky Fetske scored 18 with 8 rebounds and 4 assists. Scotty Hendricks led the charge for Reading with 19, with Tim Gill scoring 16 more to go with 9 rebounds.
A triumphant Bradford coach, Chris Mellor commented after the game, "It was a good team performance. We were tough defensively and we competed well on the boards. I was pleased with our composure and our discipline and it was exactly what we needed after losing three straight."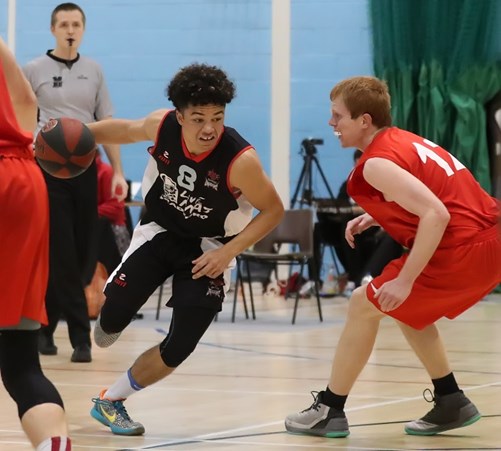 Eisley Swaine had a great game from Bradford again Reading on Saturday - Alex Daniel Photography

Derby Trailblazers 82 v 91 Worthing Thunder

Saturday 9 December 2017, 7.15pm
A failure to contain Zaire Taylor and a sluggish 1st quarter ultimately condemned Derby Trailblazers to defeat against Worthing on Saturday. Trailing 32-9 after the initial 10 minutes of action, it was an uphill battle from there for the hosts. A stern talk from Trailblazers Head Coach Matt Shaw at the half lifted the side to a more competitive level, closing the gap in the 3rd quarter to 8 points going into the final period. But it was too little, too late as Derby fell to 3-7 on the season and into a 3-way tie with Kent and Leicester for 10th, 11th and 12th. Taylor finished with an impressive 34 points, Jorge Ebanks added 17 more. Matt Ward-Hibbert top scored for Derby with 18.
Derby Head Coach Matt Shaw, "I think the first quarter was a disaster really. We didn't play well and they were excellent. I felt we did some things that allowed them to find their rhythm which didn't help, and we struggled to score even when we got good looks. In the third we played really well and tried to make it a contest. We managed to slow down Zaire Taylor a little, but ultimately the damage had been done. One thing is certain, we have to regroup quickly before we play Manchester Magic next Saturday."
Division 1 Women

Southwark Pride 59 v 56 Team Birmingham Elite

Saturday 9 December 2017, 1.15pm
Saturday's victory over Team Birmingham could spell trouble for the rest of D1W as Southwark finally appear to be a side hitting their stride this season. Maya Hyacienth's 21 points led all scorers for the Pride on a day when Birmingham put together an impressive 4th quarter fight back that ultimately fell just short. Trailing 53-43 going into the 4th, the Elite rallied hard behind Lucy Humphries (who finished on 15) but in the end they couldn't quite get back into the game.

Anglia Ruskin University 63 v 60 Reading Rockets

Saturday 9 December 2017, 3.45pm
There was plenty of seasonal cheer for the Rhinos on Saturday as they picked up their first win of the season. It was no surprise that their efforts were led by Nadege Talva as the French national finished with a team high 17 points. All tied up at 26 during the break, Ruskin showed real confidence to stay the course and claim a win after struggling so far this season. Hopefully the victory breathes some confidence into the side as they look to move up the table.
Division 2 Men

Liverpool 20-0 Sussex Bears

Saturday 9 December 2017, 5.00pm
There was no game in Liverpool as Sussex suffered problems fielding a side, leading to a 20-0 forfeit.

Ipswich 55 v 66 Team Birmingham Elite

Saturday 9 December 2017, 5.00pm
After putting up 104 points against Sussex Bears, Ipswich were brought back down to Earth by some stifling defence from Team Birmingham Elite. The Suffolk side shot just 24% from the floor, and their touch from beyond the arc, so apparent in the win over Sussex, deserted them as they went 4/37 from deep. Credit to Birmingham as they ground out a low scoring win thanks to 14 points apiece from Ritvars Lacitis and Janis Steda.

Nottingham Hoods 70 v 57 London Westside

Saturday 9 December 2017, 7.00pm
Nottingham Hoods have just 1 more game to go against Sussex in order to complete the first half of their season unbeaten as they moved to 9-0 after the win over Westside. The London side couldn't raise their game for a 2nd week in a row after their previous win over Liverpool but they did lead 33-30 at the break. A 21-6 3rd quarter solved that problem for the Hoods though, who stayed in control from there to secure the win. Delaney Powell impressed for the hosts with 25 points in just 21 minutes of action, but David Watts' 20 points, 8 boards and 6 assists was an all-round performance to enjoy. Theo Deleligne was the leader for Westside with 15 points and 9 rebounds in a full 40 minutes of play. 

Thames Valley Cavaliers 115 v 90 Derbyshire Arrows

Saturday 9 December 2017, 6.30pm
The pre-match talk from Cavs Head Coach Robert Banks focussed on what leader Martelle McLemore brings to the club off the court, but his on court prowess was on full display again this weekend as he fell 1 assist short of a triple double. Instead, he had to make do with a line of 30 points, 10 boards and 9 dimes but young talent Robert Banks Jr. wasn't to be outshone, leading all scorers for Thames Valley with 32. A 38-26 final quarter gave the score line a somewhat flattering look, but in truth the hosts were always in control despite 5 Arrows' players reaching double digits. Andreas Lycoudis, Napthali Nembhard and Matt Wilson all had 14. 

London Greenhouse Pioneers P v P Essex Leopards

Sunday 10 December 2017, 1.30pm
As a Sunday game, this was one of the many to be claimed by the weather and it will be made up at some point in 2018.

Middlesex LTBC P v P Westminster Warriors

Sunday 10 December 2017, 3.00pm
Another snowy demise to this one, but again the game will be made up in 2018.
Elsewhere in the NBL
The majority of the action in the lower leagues took place on Saturday, for understandable reasons. Folkestone Saints and University of Exeter contested a thriller in Kent before the visitors came away 57-55 winners in the D2W South.
In D3M South, East London All Stars made a statement of intent as they hammered Oxford Brookes University 90-49. The All-Stars will be itching to secure promotion back to D2M as soon as possible and results like that will certainly help their cause. East London's plight was also helped as current leaders Greenwich Titans fell to the ever dangerous Northants Tauras 115-85. The weather took care of D3M North leaders Myerscough's game on Sunday, but Loughborough Students Riders III were able to pull level at the top with Myerscough after a tight 69-66 win over University of Chester.
Calderdale Explorers and BC Medelynas both remained unbeaten in the D4M North and South East, respectively. Calderdale topped Stockport Falcons 74-68, whilst Medelynas easily handled London Thunder Lewisham, taking that one 107-76. Bristol Academy Flyers II managed to keep pace up near the top of D4M South East, winning on the road 78-49 vs Gloucester Saxons and D4M Midlands leaders Derby Trailblazers II couldn't get their game in on Sunday against Mansfield. That allowed City of Birmingham Rockets to leapfrog the Trailblazers thanks to a 100-75 win over Charnwood, and Northants Thunder did the same thing, moving into 2nd place with a 76-43 W over Birmingham Mets II. Derby will be hoping their displacement is only temporary once they are able to return to action.