How did you get into refereeing?
As a former professional basketball player, I missed being on the court and decided to become a referee to be involved again with the game I love. I contacted Simon Unsworth back in 2007 and he advised me of the steps I needed to take to referee National Basketball League (NBL) games. I duly started a Level One referee course and I'm now a FIBA-accredited official.
What have been your greatest refereeing successes to date?
In terms of your own personal development, you're always climbing the ladder while you're officiating and every single step is a big achievement. The highest position on the officiating ladder for me – or anybody else for that matter – wouldn't be possible now without scaling those initial rungs first.
I started out with my very first nomination to the local league and – throughout different stages of my career – I have been appointed to the NBL; refereed Under 18 and Senior National Cup finals; been selected to the group of British Basketball League (BBL) officials; passed the Level Four referee course; officiated BBL finals, international games and international tournaments; become a FIBA referee and been invited to the EuroLeague group of officials. All of it has been a huge success in my eyes.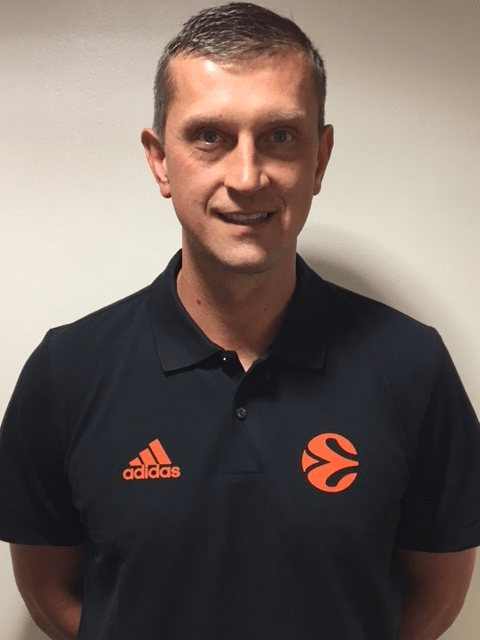 EuroLeague Referee - Eduard Udyanskyy
What are you most excited about Euroleague?
It's all a learning process and the rewards from it will come afterwards.
Officiating at the top club competition in Europe will definitely bring a lot of challenges on - and off – the court, but I'll also gain great knowledge and experience. It will be my first year in the league and I need to work hard to earn the trust of not only the players and coaches, but my co-officials too. The EuroLeague Basketball officiating department does a lot of work with officials to minimise mistakes during the game. There are rules and video tests every week and an assessment of each game with your own personal coach. I believe, with all of that support and by working hard, you can get to the top. The reward afterwards is amazing as there is always 'a great view from the top.'
What advice would you give to young people to get into refereeing?
Never give up whenever you make a mistake in the game and somebody tells you that you will never become a good referee. Learn from the mistake and move forward. Don't ever quit either if you don't get the appointment you wanted; carry on working hard and you will be rewarded.
You should also just simply listen to feedback and take it on board as people are giving it to help – and not destroy – you. It's something that should be appreciated as, if you didn't receive any feedback after games, it could be the case that people feel that: you are not receptive to their opinions so they don't want to waste their time anymore as they're thinking to themselves: 'There's no hope left.'
What preparation have you done ahead of being selected?
I've always adopted a professional approach and regularly work on my fitness levels. Basketball is getting faster and the players are very athletic. There can be no excuses when you are not in the right position to make the correct call.
I take that same attitude into each and every game. It doesn't matter if it is a U18 game or a BBL final.
How were you selected?
That's a question for Richard Stokes, the EuroLeague Director of Officiating, not me!
All I know is that I received an official invitation to the 27th Clinic for EuroLeague Basketball Officials and – without a moment's hesitation – I readily accepted it.