Ipswich waited until 5:04 were remaining in the 4th quarter to grab their first lead of the game in the WNBL National Cup Final. From there, they held on to convert that lead into a famous 67-58 victory and the perfect ending to their fairy tale in this year's competition. Down by as many as 17 points early, it was a wild end to a brilliant advert for the game.
MVP honours went to Ipswich's Harriet Welham as she recorded a team high 19 points to go with 7 rebounds, 5 assists, and 2 steals. She was a constant spark for her side throughout, providing momentum when Ipswich trailed early, and instrumental in getting the champions over the line in the 4th quarter.
The main contributor to Ipswich's slow start was their woes from behind the arc. With Ellie Shaxon getting the scoring underway for Essex with a triple and her team mates also coming out firing, a 26-12 opening quarter put Ipswich up against it. The Blades finished the quarter 6/8 from 3-point range, where as their opponents were made to toil as nothing dropped, going 0/7 from deep. Even at such an early stage, the noise inside the UEL was deafening as both sides filled every seat available and provided tremendous levels of support throughout.
Jasmine Ogunjimi was another reason for the lopsided early score line as the Essex guard showed a balanced repertoire to pad the Blades' lead in the 2nd. She opened the quarter with another 3 pointer, but from there Ipswich began to show signs of life. Esther Little's baseline drive and sweet drop pass inside led to an easy basket for Maya Price under the rim, before a turnover from Shaxon was punished by Ipswich's first successful deep ball of the game to make the score 29-17. They were 0-10 at that point and the wait for something to fall from distance was certainly hurting their chances.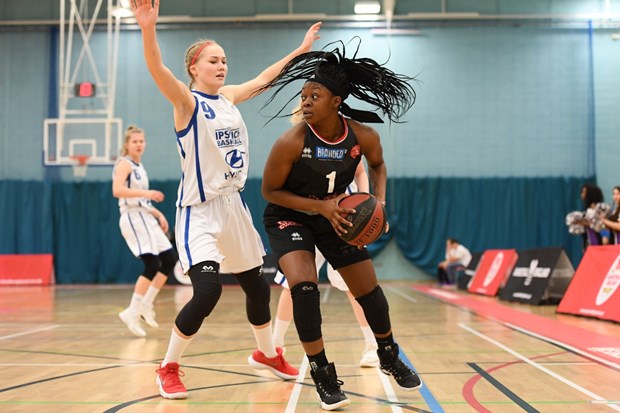 Ogunjimi (black kit) finished with 15 points, 3 assists and 5 rebounds, playing the full 40 minutes
Baskets for Monika Kucerkova and captain Cat Lutz once again took momentum back to Essex before Coach Drane called an Ipswich time out with 3:51 left in the half. It proved to be a timely intervention as straight out of the break eventual MVP Welham stroked a 3, before Ipswich forced a turnover and Ester Little dropped a 3 of her own. That only proved to ignite the already vocal Ipswich fans in attendance and at 37-28 with the Essex lead below 10 at half time, it was game on.
The main obstacle for Ipswich looked to be continuing their momentum straight after the interval, but that proved no issue as Maya Price opened the scoring in the 3rd before Little popped up once again to trim the Essex lead to 5. That scoring sparked an 8-0 run that got Ipswich right back into the contest and with 7:29 still remaining in the period, the game was firmly in the balance. Seeing their side gaining steam, those in the bleachers clade in Ipswich blue just kept cranking out the noise.
Points from Lutz and Kucerkova kept Essex narrowly in front, but their early architect for success, Ogunjimi, couldn't find her range as she went 0-5 from the floor in the 3rd. At the other end of the court, Ipswich were heating up. That was certainly true from beyond the arc as Ashleigh Pink and Welham both recorded triples to leave the score at 44-42 Essex after 3. Behind their bench, the Essex fans were doing their all to get their team going, making for a true Cup Final atmosphere.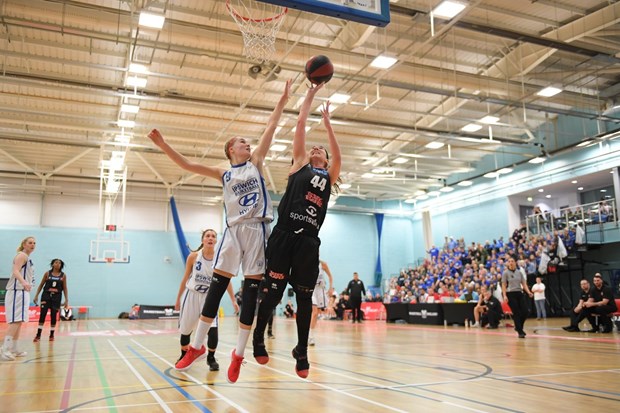 Essex captain Cat Lutz (black kit) battles at the rim
The Blades looked to have fought off the Ipswich momentum to begin the final quarter, with Shaxon getting the scoring underway before Kurcerkova went to work down low. The 6'2" forward scored a basket in the paint and drew the foul, but was unable to convert from the line to leave her side in front by 5 once again.
But Ipswich dug deep and that began to spell the end for the Blades. An initial 3 ball from Pink took the score to 52-50 Essex, and after a further bucket from the Division 1 side, Welham struck from deep to make it a 1-point game at 54-53. A mid-court turnover led to an easy breakaway for Little, but more importantly it handed Ipswich their first lead of the game at 55-54. That sent the Ipswich fans into overdrive, as every basket from there threatened to take the roof off the UEL.
Essex continued to battle but were powerless to resist as Ipswich's youthful side grew in confidence. Their comeback was complete and they continued to press as their lead increased. The Blades tried to get Kurcerkova going in the paint but a stout defensive effort from the Suffolk side meant Essex came up empty there to. Eventually the seconds ticket by to confirm Ipswich as National Cup champions, sealing a historic comeback after a tremendous game of basketball.
"People use the term fairy tale a bit too often, but to play in front of a huge crowd against the best team in the country, to be down by well into double figure, that just shows the character of these girls," said Ipswich Head Coach Nick Drane. "We told our team to hang in there, just get within 10, just get within 5. Essex are the best team in the country, I can't say enough about them as people and coaches, I've got nothing but admiration for them but I'm delighted with this win!"
Essex Head Coach Mark Lloyd knew where his team had come undone, but had nothing but praise for Ipswich, "Bottom line is we just didn't play well enough down the stretch, I've got to give them credit where it's due," he said. "They're to be respected, and we respected them, but all we can really do is give them credit for capitalising on us not being on our best form. At the end of the day we didn't play as well as we can, and they played exceptionally well. They deserved the win."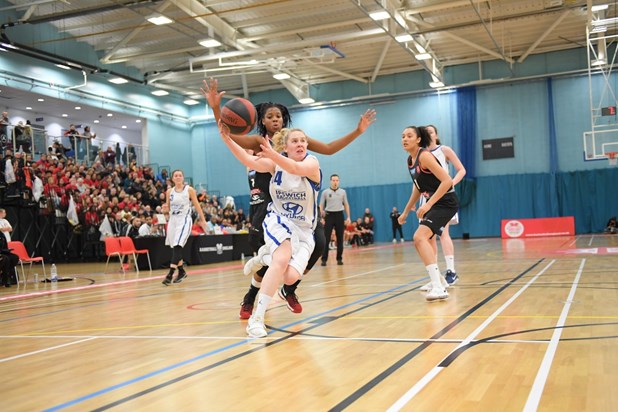 Harriet Welham caused problems for Essex throughout on her way to a game high 19 points.
MVP winner Welham orchestrating the Ipswich comeback and said her side never lost faith, "We knew it was going to be a game of two halves and luckily it went our way. It was a really good win in the end, we fought all the way and finally got the win."