Basketball England is delighted to announce that Sam Messam and Chris Bourne have been selected as Apprentice Coaches to work with the Men's Team England side in the build up to next year's Commonwealth Games.
The field of applicants was impressive, understandable given the unique and invaluable opportunity on offer. Both Sam and Chris now have the chance to work alongside the Team England coaching staff and players, developing their coaching experience and gaining a first-hand insight into how a national team trains and prepares for a major international tournament.
"I am really excited and honoured to be given this opportunity. I'm looking forward to learning as much as I can and contributing to a successful programme," said Bourne, who alongside Messam is currently in Manchester for the ongoing Men's camp.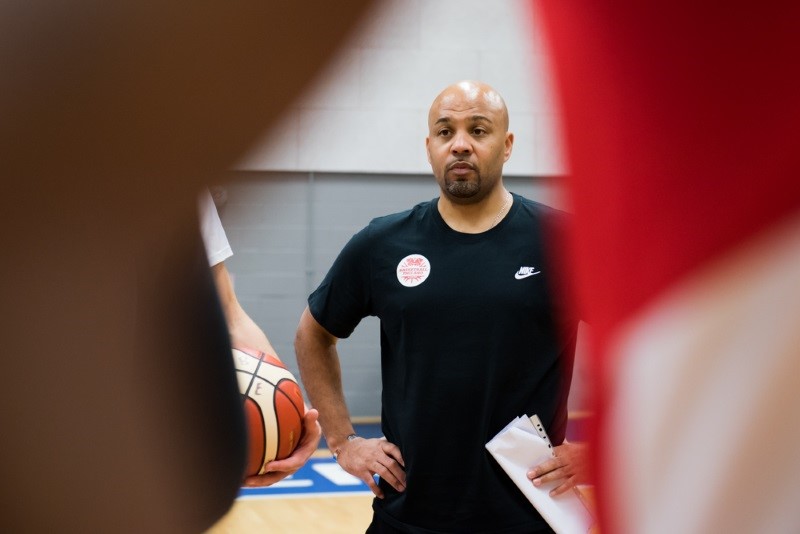 "This is such a great opportunity," said Messam. "I've got experience at the different levels of the sport, but this is something brand new to me. This is really important to my development and hopefully I can advance, progress, and really find out where I'm at."
The acumen of both coaches is of a very high standard. Messam is one of only 3 people who hold the UKCC Level 4 Coach award for basketball, something he has worked towards after more than 25 years in the sport. Having being involved at various levels of the Basketball England Performance Pathway, including time with the England Under 16s, Under 17s and Under 18s, Sam has also gained significant experience of the Regional Development Tournament structure with Yorkshire. "This role is an incredible opportunity and I can't wait to contribute to the Commonwealth programme in any way that I can," he said.
Since moving on from a playing career that involved a stint in the BBL with the Bristol Flyers, Chris has been involved with the England Under 15 programme as both an assistant and an apprentice as well as becoming a constant figure for the South West Regional Performance Centre and the area's RDT teams. His ties to the Flyers still remain as he works extensively with their youth programme, particularly with the Under 14 to Under 18 sides in the National League. Currently working towards his level 3 coaching award, he has a number of aspirations for the future, including obtaining his FIBA Europe Coaching Certificate (FECC). "I'd love to take on a greater role with our national teams going forward. Any experience I can gain from this apprenticeship to help prepare me for that will be very valuable," said Bourne.
Talent Development and Performance Manager Vladan Dragosavac said, "This programme represents a great opportunity for two aspiring coaches who are looking to take the next steps in their development. I'm thankful to Coach Kapoulas and his staff for supporting both Sam and Chris at the preparation camps, and both coaches are sure to get a great deal from the experience."