From modest beginnings, the Gloucester Saxons Girls programme is now thriving and providing an opportunity for a large group of players in the area to enjoy basketball. The club as a whole is just 2 years old but their original membership has ballooned from around 40 when the Saxons began to nearly 150 today.
That growth of the club's girls' programme has been important to that expansion. When the Saxons launched their programme with just a handful of players at the first session, a significant push on social media and digital platforms means that gradually more and more young females became interested in the sport. Using Basketball England Satellite Club Funding, the Saxons have now been able to increase the sessions they can offer at Under 12 and Under 15 age groups, and their Under 11 side is also beginning to get off the ground.
With the dedicated work of Director of Basketball Danny James and his team of coaches and volunteers, the Saxons have utilised a number of avenues to make sure even more local girls can get involved. In September 2017, a link was established with the charity Fizzy Pigs so the club could provide coaching sessions and social opportunities to the charity's members, who are part of the home schooling network. Many of the participants had turned to home schooling due to bullying, or struggles in social situations, or mental issues like anxiety or depression. So many players enjoyed the sessions that they quickly gained the confidence to transition to the club full time, with a particularly high up take in the girls that were involved. Now those players who once struggled to get involved in group activities are loving the sport, never miss a session and thrive in a team environment.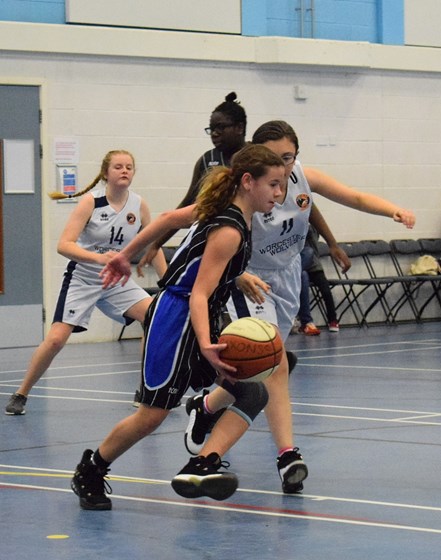 For those wishing to move on to a more competitive form of the game, they can play GLOZBALL. With an unmistakable title, GLOZBALL is the brand name for the central venue competitions which take place every weekend throughout the year. Initially funded by Basketball England 18 months ago, the leagues have developed beyond belief. The structure offers developing players, teams, coaches and officials an opportunity to play in a relaxed, community setting, something that is particularly appealing to young female players. Teams travel from as far away as Worcester, Hereford, Wiltshire, Stroud, Exeter and North Somerset and they do it because of GLOZBALL's community feel, focus on development and the fun on offer. Each event has a celebratory atmosphere with volunteers and parents providing refreshments, baking cakes and getting involved, helping to provide an amazing on court atmosphere for those playing. The proof is clear to see as the tournament has grown from 7 teams to 49 this season, with 4 different clubs originally providing sides and 12 doing so now.
The provision of Satellite Club funding has helped GLOZBALL grow and increased the participation sessions the Saxons can offer. With so many girls benefiting in particular as the club overcomes a number of barriers that can inhibit participation, there is no reason the Saxons won't continue to grow in the future. Current England Under 15 and Great Britain Under 16 hopeful Molly James only started playing basketball at the club 2 years ago but she has already begun to breakthrough at the elite level of the sport. Her story is inspiring others within the club and if she can do it, others can as well.