For Siobhan Prior, this year's Commonwealth Games represent the completion of a journey that's come full circle. From receiving her first cap for England in 2006 before she'd even turned 18 to suiting up on the Gold Coast as part of Team England in 2018, her story has been a long time in the making. The path has been far from perfect, with pitfalls and tough decisions along the way, but it's not something the Nottingham native would swap for the world.
It's fitting that Nottingham is where Prior makes her living as a professional within the WBBL, after the city played such a key role in her upbringing and early basketball career. The Wildcats are intertwined with the Prior family, with former England player Pauline and former England coach Chris both integral to the Wildcats. For Siobhan, they're just mum and dad, but Pauline and Chris both played a huge role in getting their daughter into the sport. "I don't really remember my first encounter with basketball. I know it has always been part of my life. It was a family game," recalls Prior. "Some of my earliest memories are watching players like Andrea Congreaves and Tracy Killingly play for England, whilst I ran around the side lines cheering and cartwheeling. I also remember taking the long trips to Rhondda to watch mum play in the National League. She was so good. So fast and such a good shooter. I remember always wanting to be like mum. That's why I wear number 4, because she did. Both mum and dad will be travelling to Australia to support me here too, nothing I've achieved would have been possible without them."
At an early age, the countless hours watching role models of the women's game laid the seeds of thought within Prior that basketball was something she could dream of doing at the highest level. "The amazing thing about growing up at Wildcats was that it was such a successful club that produced a lot of international players," she enthused. "I had so many role models at my fingertips. From a young age I saw Wildcats' players succeeding in the National League and internationally. I remember Sam Parry, Sam Proctor, Natalia Marshall, Emma Pass and Jo Sarjant (a 2006 Commonwealth Games Bronze medallist), just to name a few, all playing for England. They always made time for me. To help me, to tell me off, to inspire me, to guide me and they showed me that I could aspire to playing for my country too."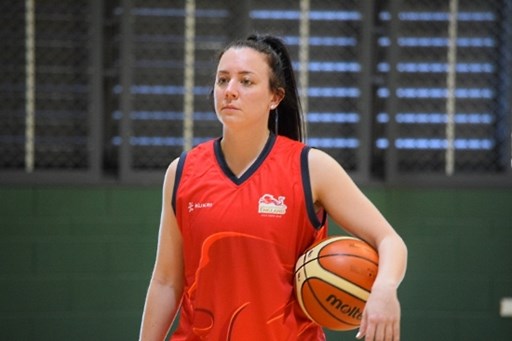 Progressing along the next stage of her journey as a player required influence from a different section within the Wildcats though. As much as she learnt from the English players she watched every day, the import players for Nottingham showed Prior that she could play basketball at a high level in other countries, including the USA. 4 successful years at Loyola University Maryland helped progress the talented shooter as a person as well as a player, and it was an experience she loved. "It was a huge challenge for me but I got so much better being there and practicing with better players every day. By my junior year, I was playing a lot and loved it. I learned a lot about myself there and overcame a lot of challenges. I've found that if you're willing to put yourself in a position where you are out of your comfort zone and a small fish in a big pond, you always get better."
Prior's early career wasn't without it's bumps in the road. Her first opportunity as a professional was in Greece's top flight but upon her arrival, off the court problems within the club began to surface that were out of Prior's control. That led to her return to the UK where shortly after, another offer to play came her way. This time the contract was in Spain, but she was hesitant to accept given the poor experience she'd received in Greece. The pull of playing for her hometown Wildcats ended up being too great, and the rest as they say, is history. Those early professional experiences did teach Prior a lot about the game though, "Since talking to a number of the senior players during GB camps, I realise now that the first year pro is always the hardest. Maybe I should have stuck it out but I don't regret not doing so. I've come to learn that everyone has their own journey and that's ok."
Since those fledgling days as a pro, Prior has helped the Wildcats progress into a consistent WBBL contender. Regular season winners in 2015/16 and 2016/17, 3 straight WBBL Playoff Finals, plus the 2017/18 WBBL Cup, the prospects of further silverware in the future are also bright. But for the former England age group player, she still faces one challenge that all players can relate to. "Self-doubt, definitely. I know most people probably face it but I think it's important to be open and honest. It's often something that people don't admit but I doubt myself sometimes," Prior confesses. "The longer I've played and the more experienced I've become, the less I feel it but it's something I'm always working on. A quote I learned in college helps me all the time, "I was always looking outside myself for strength and confidence. But it comes from within, it's there all the time."
And now that she's becoming a regular member of the Great Britain squads, plus the role she'll be taking up for Team England, Prior's career will no doubt continue to go from strength to strength. The work she's put in to make that happen and the things she learned along the way have led to a number of realisations that will hold true for any young player coming into the sport. "You will always make mistakes if you are pushing yourself and putting yourself in a position to improve. You have to accept that this is part of the process and don't beat yourself up if you don't succeed all the time. It's one of the hardest things to do but it's really important if you are going to enjoy your journey and not just travel it."
Follow Siobhan and the rest of Team England on Twitter and Instagram.  
Keep up to date with Siobhan on Twitter @Shevy_P and Instagram @siobhanprior