Derby Trailblazers and Team Newcastle University go head-to-head in the L-Lynch Trophy Final in what is tipped to be an 'intense exciting showdown'. 
Taking place on Sunday, 2 January at Sheffield's Ponds Forge, the two mid-table NBL1 rivals will be out to get their hands on the first piece of silverware in the 2021/22 season. 
The Trailblazers earned their final spot by defying the odds and beating second in the league Team Solent Kestrels, whilst Team Newcastle saw off the Reading Rockets in a hard-fought home win.      
The final should prove to be a gripping contest, with both teams' talented rosters coming back refreshed from the Christmas break and with recent league wins in their minds.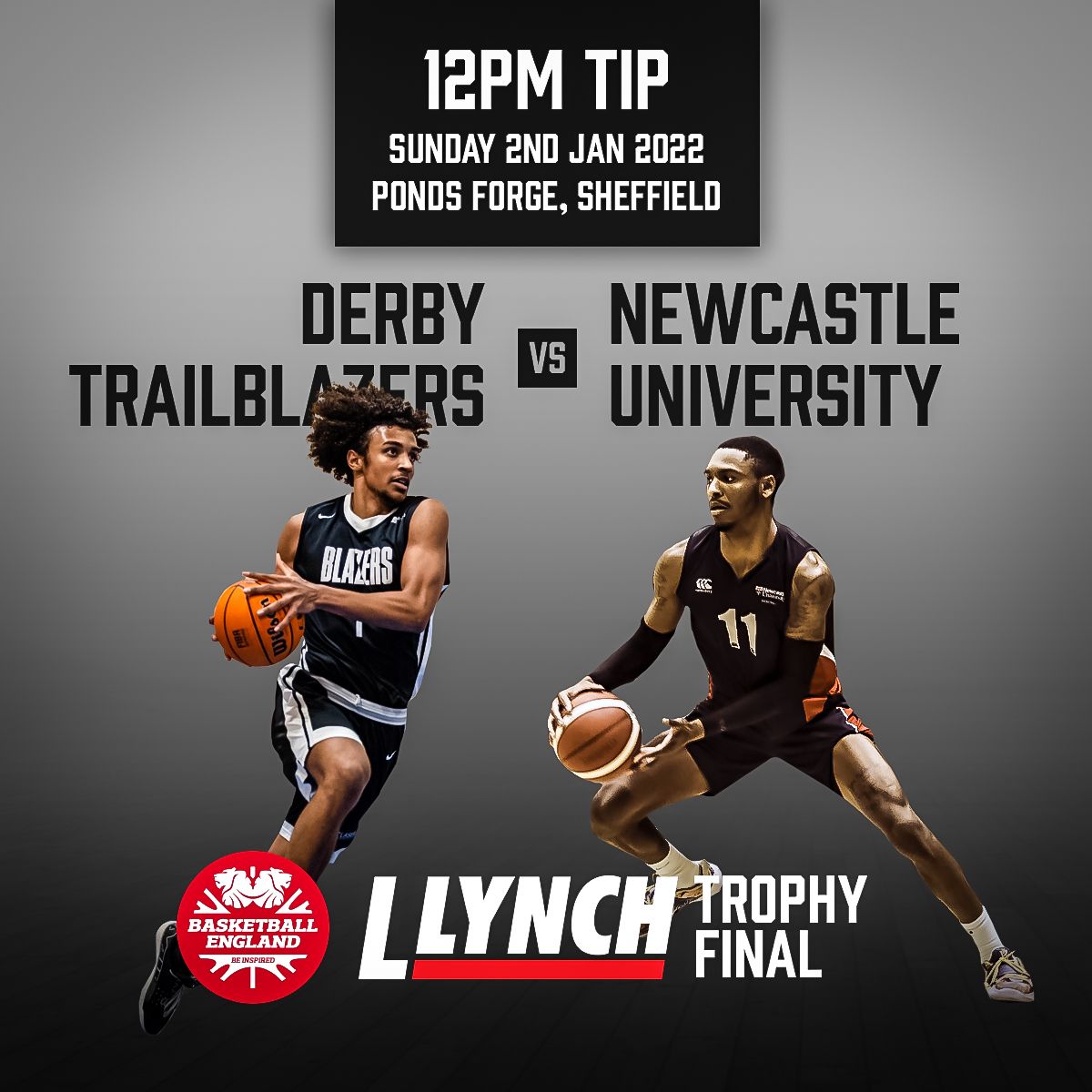 For the Trailblazers, they'll be looking to put the clamps on Newcastle's dangerman Ronald Blain, who is the league's second-top scorer, currently averaging 29.9 points-per-game (ppg), as well as 10 boards. Also on their radar will be Brandon Federici – 24.4 ppg – and playmaker David Moya, who is the league's kingpin when it comes to assists.  
Three-point maestro Jonas Dieterich will be the Trailblazer's proverbial thorn in Newcastle's side if he gets hot on the night, especially if he's backed up by top shooting from Blazers talismen Malcolm Smith and Ryan Bruggeman.  
'A great advert for NBL1 basketball'
"It should be a very exciting final and hopefully a game that will be a great advert for NBL1 basketball," said Derby Trailblazers Head Coach Matt Shaw. 
"We've had some great games with Newcastle over the last few seasons. Mark has done a phenomenal job since taking the reins. They have a potent attack from behind the three-point line and create so many match-up challenges for teams in our league. They play at pace but also can wind the shot clock down and find the open man late. We will have our hands full trying to contain them.  
"We have probably played our best two games of the season in the L Lynch Trophy. Our quarter-final away win over [Nottingham] Hoods and the semi-final comeback against Solent. So, we will go into the game hoping to keep that trend going. It's been a great competition and we are very thankful for the support L Lynch has shown the sport during a rocky period."  
'Extremely proud'
Team Newcastle University Head Coach Mark Elderkin, said:  
"Making the L Lynch Trophy final was an extremely proud moment for our club. I will be very proud to walk out with our lads and share the court with Derby and Matt Shaw.  
"There seems to be something about Newcastle vs Derby over the past two seasons that brings out the best in both teams. Two teams with very different styles that should make for an intense and exciting final.  
"This is set to be a great advert for the division, and we can't wait for a shot at the trophy." 
This will be the second final of the NBL1 invitational competition, which was launched during last year's disrupted COVID-19 season, with clubs having to play behind closed doors and fans watching all the action online. It is run and administered by NBL1 clubs and sanctioned by Basketball England.   
Double bill - get tickets
Additionally, this season's final is the precursor to the BBL clash between Sheffield Sharks and Leicester Riders. The BBL's current first and second place will be looking to exert dominance over one another in their first game of the new year.  
Tickets give entry to both games.