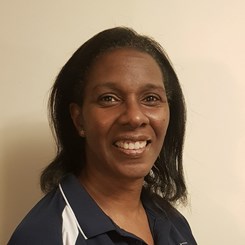 SADIE MASON
I n d e p e n d e n t   m e m b e r
Date Appointed:
December 2020
Committee duties:
People Committee Chair
Background:
As a 10-year England international from 1984 to 1994, Mason has been involved in the game at all levels for most of her life. 
A former GB Students player at the World University games of 1983, '85 and '87 and a National League player with London Central YMCA Bobcats and clubs in Edinburgh and Glasgow, she has more recently been a team manager, working with the GB and England Under-18s at seven FIBA European Championships between 2012 and 2018. 
Mason has twice been a national delegate at the FIBA World Congress and is a qualified coach, referee, table official and UKCC basketball coach assessor. 
A University of Brighton graduate and the CEO of Active Sussex, her professional background spans over 30 years in retail finance, plus organisational management and corporate governance. 
Mason still has the playing bug and is the current captain of the GB Masters Women's team and is involved in developing a recognised performance level programme for male and female players aged 35+ years (maxi-basketball) to continue playing internationally.