2022 Basketball England Awards
Basketball England is proud to announce the winners of the 2022 East Midlands Region Volunteer Awards. 
The Basketball England awards programme has returned for 2022 and sees nominations gathered from the public across the 10 English regions, with winners selected in partnership with the Regional Management Committee Chairs.  
East Midlands Regional Chair, Martin Ford, paid tribute to the region's winners, saying: "Congratulations to all of the winners in the East Midlands. We are very fortunate to have a fantastic cohort of clubs, coaches, officials and volunteers in the East Midlands so it's only fitting that we recognise them for their outstanding contribution to our sport." 
Amongst the winners are the Northampton School for Girls (Education Institution of the Year). Basketball is a part of the culture at this school with over 150 girls are actively involved in extra-curricular basketball every week. The school provides sessions for those of all abilities, but have seen continued success throughout their 5 teams from U12 to U19. 
Also recognised is Lucie Wilson-Grey (Young Volunteer of the Year). It is not unusual to see Lucie at the Basketball Centre from 9am until 7pm every Saturday where she helps coach and referee with Junior Ballers Sessions, table officiates National League games, serves tea and coffee in the tuck shop and then supports other teams from the crowd, all of this whilst she continues to play. 
The full list of winners is as follows: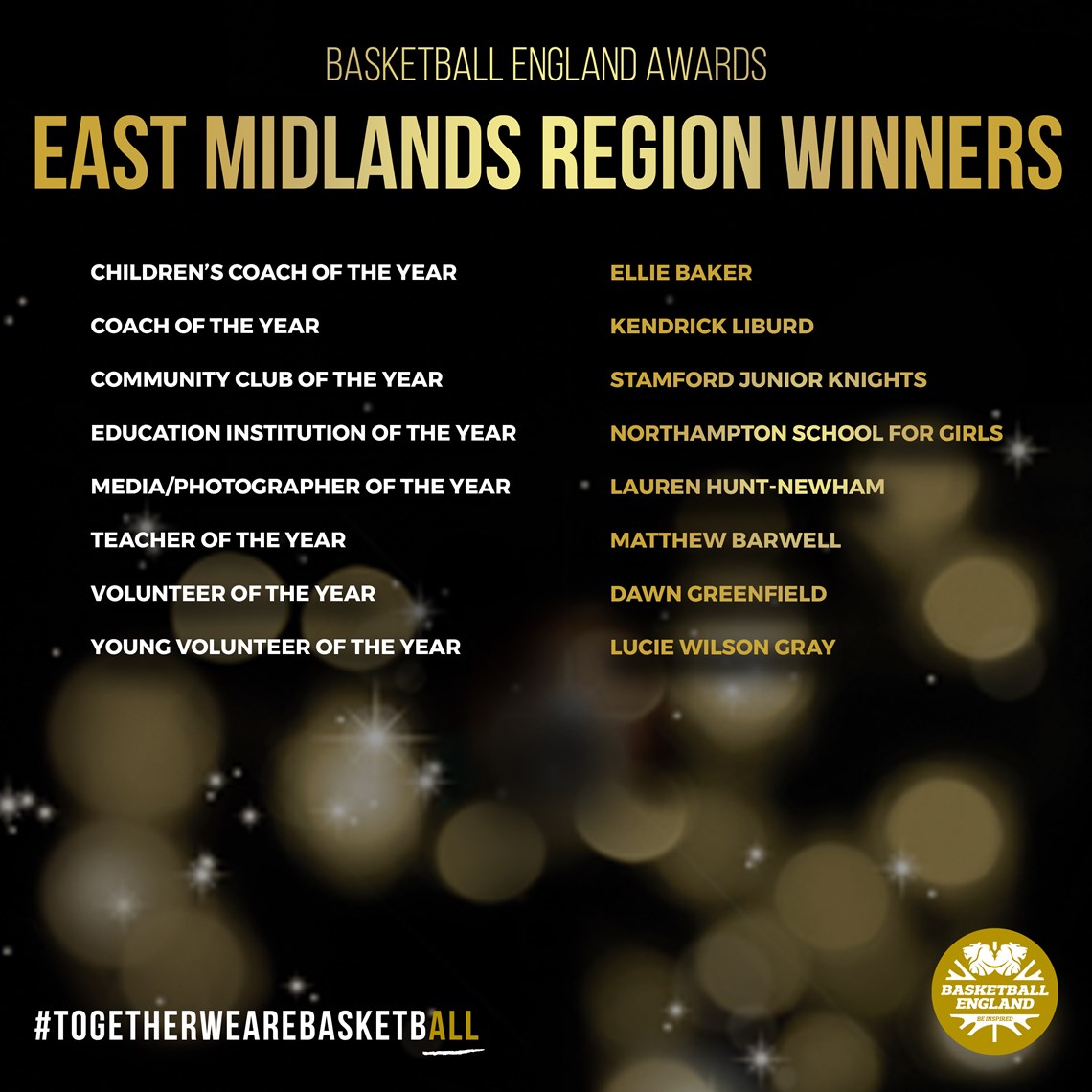 "Congratulations to all of our winners in the East Midlands Region!" said Gail Richards, Senior Delivery Manager for Basketball England. "The Region has a number of worthy recipients, and the strength of the region is reflected in the quality of the award winners. In a time of constant change, their dedication to the sport has not wavered." 
All of the regional winners across the 12 award categories will be reviewed by a panel, with a total of three nominees per category then being shortlisted to be considered for National Awards. Basketball England will be hosting the awards online once again this year with further information to be released in due course. 
EAST MIDLANDS Regional Management Committee
.
What is the purpose of a Regional Management Committee?
The Regional Management Committee (RMC) is made up of volunteers who truly have passion for the sport. They are elected/appointed to their roles and believe in developing the sport for all. They have a rich knowledge of sport with expertise in all aspects of the game; clubs, officiating, coaching, women and girls to name a few. The Regional Management Committee work with local leagues and Area Associations to ensure quality basketball delivery occurs in the region as well as to help develop the sport across the region.
The Regional Management Committee contribute feedback from a regional level into the national discussion and direction that Basketball England take in its' strategy.
Regional Management Committee:
Chair / Derbyshire - Martin Ford
Vice Chair - Mandy Payne
Secretary - Julia Booth
Treasurer - Leon Hall
Regional Registrar - TBA
Referee and Officiating Officer - Alison Muir
Regional Talent Manager - Danny Williams
Communications and Feedback - Scott Burchnall
Welfare and Safeguarding Officer - TBC
Leicestershire - Richard Pierce
Northampton - Martin Spencer
Lincolnshire - Barry Saunders
Nottinghamshire - Jeff English
Mini-basketball - Austin Grant