2022 Basketball England Awards
Basketball England is proud to announce the winners of the 2022 East Region Volunteer Awards. 
The Basketball England awards programme has returned for 2022 and sees nominations gathered from the public across the 10 English regions, with winners selected in partnership with the Regional Management Committee Chairs.  
Commenting on the achievements of the winners,  East Interim Regional Chair Graham Hiscock said: "Congratulations to all the East Region Winners for this year's Basketball England Awards. The positive effect you have on basketball in your clubs and communities is of massive importance and fully appreciated by the East Region and County  Associations." 
Amongst the winners are Jameel Woolnough (Young Volunteer of the Year). Jameel became involved in the Beccles Bombers club as a player weeks before the outbreak of the COVID-19 but since the return to play began he has been influential in the resurgence of the club's senior programme and a critical member of staff in supporting the rapidly expanding junior programme at the club. 
Also recognised is PJ Russell (Coach of the Year). PJ is a hardworking coach who has been involved at various levels of the game but has made his mark with his work with the Herts County team and East Aspire programme. is a fantastic guy. He has boundless energy, a passion and drive for the game and knowledge beyond his years.  
The full list of winners is as follows: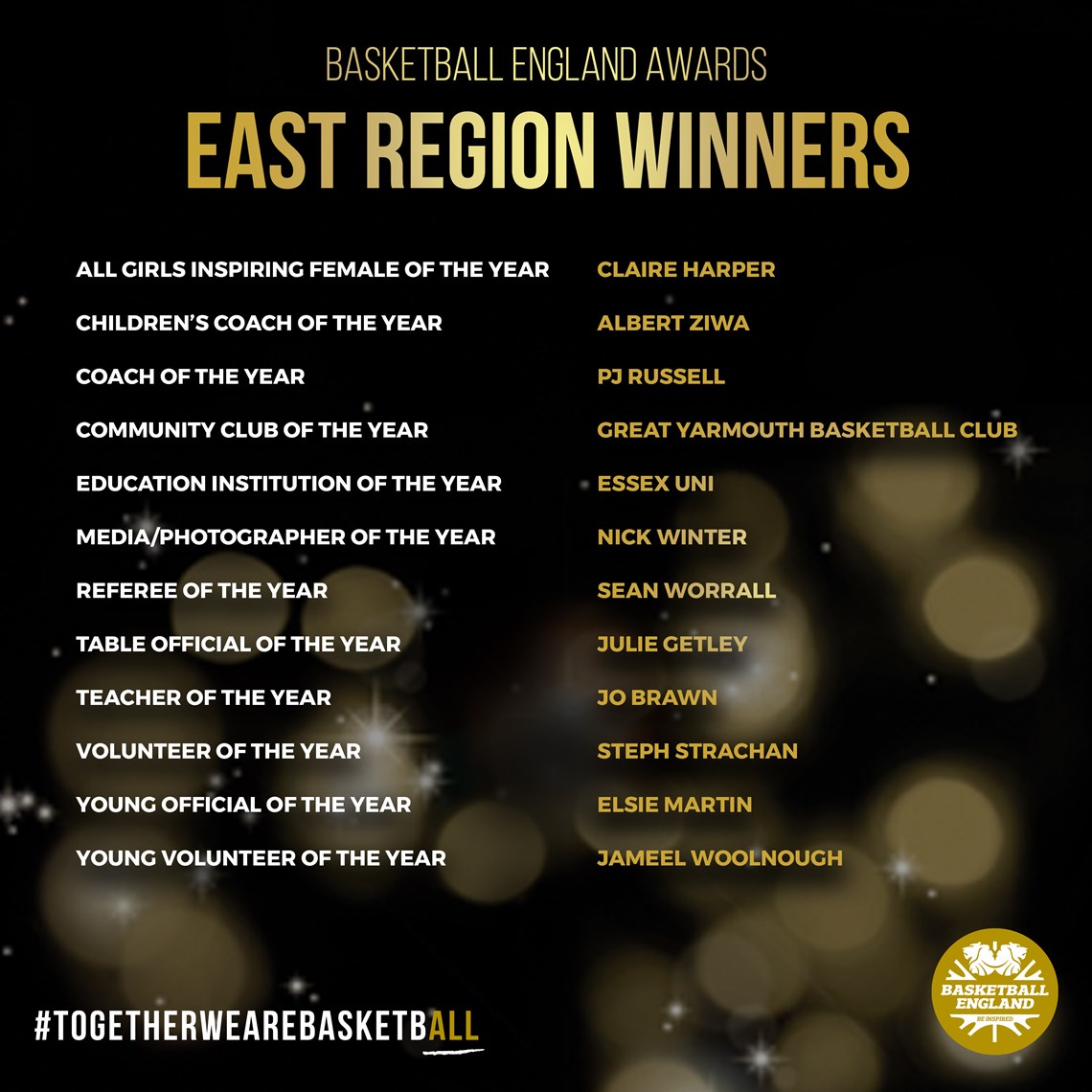 "Congratulations to all of our winners in the East!" said Duncan Whalley, Chief Operations Officer for Basketball England. "The East Region is one of the biggest in the Country so it's an especially fantastic achievement for all of the Regional winners to be recognised for their work throughout the last year".  
All of the regional winners across the 12 award categories will be reviewed by a panel, with a total of three nominees per category then being shortlisted to be considered for National Awards. Basketball England will be hosting the awards online once again this year with further information to be released in due course. 
EAST Regional Management Committee
.
What is the purpose of a Regional Management Committee?
The Regional Management Committee (RMC) is made up of volunteers who truly have passion for the sport. They are elected/appointed to their roles and believe in developing the sport for all. They have a rich knowledge of sport with expertise in all aspects of the game; clubs, officiating, coaching, women and girls to name a few. The Regional Management Committee work with local leagues and Area Associations to ensure quality basketball delivery occurs in the region as well as to help develop the sport across the region.
The Regional Management Committee contribute feedback from a regional level into the national discussion and direction that Basketball England take in its' strategy.
Regional Management Committee:
Chair - Vacant
Vice-Chair / Cambridgeshire - Graham Hiscock
Secretary / Norfolk - Terry Reaves
Treasurer / Cambridgeshire- Terry Reaves
Schools Officer - Gavin Nayler
Volunteer and Clubs Officer - Vacant
Officials Officer - Sean Worrall
Leagues and Competition Officer - Paul Newman
Women and Girls Officer - Vacant
Coaching Officer - Cat Sadler
Regional Registrar - TBC
Welfare Officer -  TBC
Regional Talent Manager - James Bamfield
Hertfordshire - Graham Hiscock
Essex - Dan Seaman
Bedfordshire - Enrique Alonso
Cambridgeshire - Ryan Mills
Norfolk - Claire Harper
Suffolk - Josh Carson