2022 Basketball England Awards
Basketball England is proud to announce the winners of the 2022 London Region Volunteer Awards. 
The Basketball England awards programme has returned for 2022 and sees nominations gathered from the public across the 10 English regions, with winners selected in partnership with the Regional Management Committee Chairs.  
London Regional Chair, Patricia Fairclough OBE, paid tribute to all the winners announced: "Volunteers are a reliable source of unsung heroes and are all truly appreciated for their services to basketball, we are pleased that the work of all these winners is recognised and extend our congratulations.  
"The number of volunteers within the region has grown significantly, providing outstanding services to the increased number of Basketball England projects thus creating more teams, encouraging more competitions, and providing opportunities for progression that require role models and mentors to retain the impact in participation among our youth in a unique and diverse region. It's encouraging to see the young achievers who are our future role models." 
The full list of winners is as follows: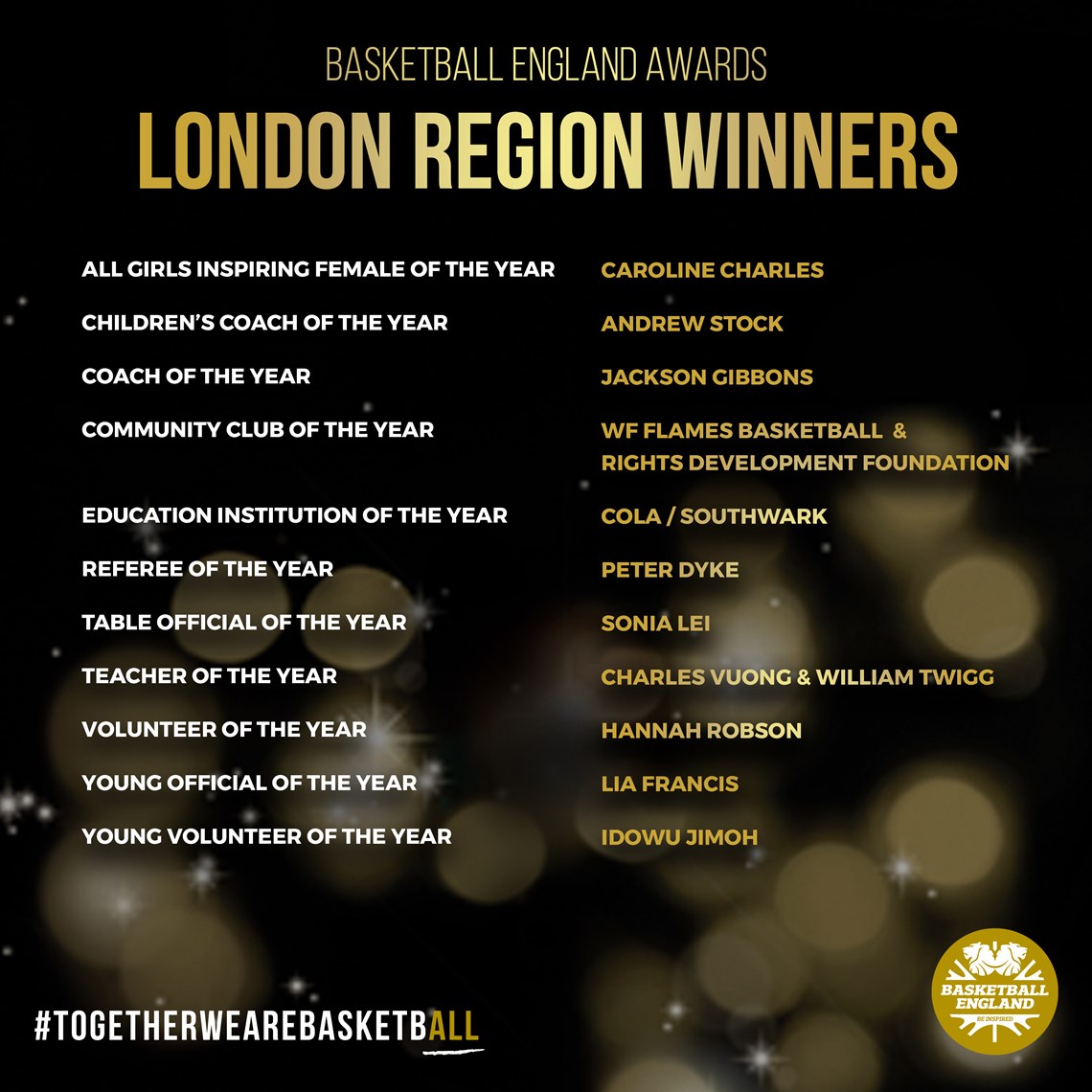 "Congratulations to all of our winners in London!" said Gail Richards, Senior Delivery Manager for Basketball England. "There are many, many amazing people involved in our game across London but special recognition must go to the very deserving award winners. The time and effort that they dedicate to our sport is invaluable. Congratulations to all the London Regional winners." 
All of the regional winners across the 12 award categories will be reviewed by a panel, with a total of three nominees per category then being shortlisted to be considered for National Awards. Basketball England will be hosting the awards online once again this year with further information to be released in due course. 
LONDON Regional Management Committee
.
What is the purpose of a Regional Management Committee?
The Regional Management Committee (RMC) is made up of volunteers who truly have passion for the sport. They are elected/appointed to their roles and believe in developing the sport for all. They have a rich knowledge of sport with expertise in all aspects of the game; clubs, officiating, coaching, women and girls to name a few. The Regional Management Committee work with local leagues and Area Associations to ensure quality basketball delivery occurs in the region as well as to help develop the sport across the region.
The Regional Management Committee contribute feedback from a regional level into the national discussion and direction that Basketball England take in its' strategy.
Regional Management Committee:
Chair - Patricia Fairclough OBE
Secretary - Ozan Ture
Treasurer - Patricia Fairclough OBE 
Regional Registrar - Peter Dyke
Welfare Officer - Patricia Fairclough  
Safeguarding Officers - Dominic Ng & Ozan Ture
Regional Talent Manager - Sterling Muschett
Refereeing Officer - John Letizia
Table and Officiating & Statistican Support Officer- Ian Forde
League and Competition Officer - Roger Bacchus 
Media Officer - Aaron Senior
Coaching Officer - Robert Banks
AssignR Officer - Aaron Senior
All Girls Officer - TBC
U12 Competitions Officer - Leroy Sauerwine