2022 Basketball England Awards
Basketball England is proud to announce the winners of the 2022 North East Region Volunteer Awards. 
The Basketball England awards programme has returned for 2022 and sees nominations gathered from the public across the 10 English regions, with winners selected in partnership with the Regional Management Committee Chairs.  
Commenting on the achievements of the winners, North East Regional Chair Howard Leighton said: "I would like to take this opportunity to congratulate all the Basketball England North East Region Award Winners and thank them for their work and commitment to the development of Basketball within the North East Region." 
Amongst the winners are Danny Morgans (Children's Coach of the Year). Danny re-discovered his passion for coaching over the last year at Darlington Storm and the impact he has had on the children he coaches has been phenomenal. Danny is always the picture of positivity with his players, helping them understand the dynamics of the game. 
Also recognised is Jesmond Park Academy (Education Institution of of the Year). This sporting programme has had a massive impact on the students self-confidence, self-esteem, mental and physical well-being. All of the children in the club are encouraged to join community clubs, which the vast majority have done, extending their friendship groups and increasing their time on the court and competing in competitions 
The full list of winners is as follows: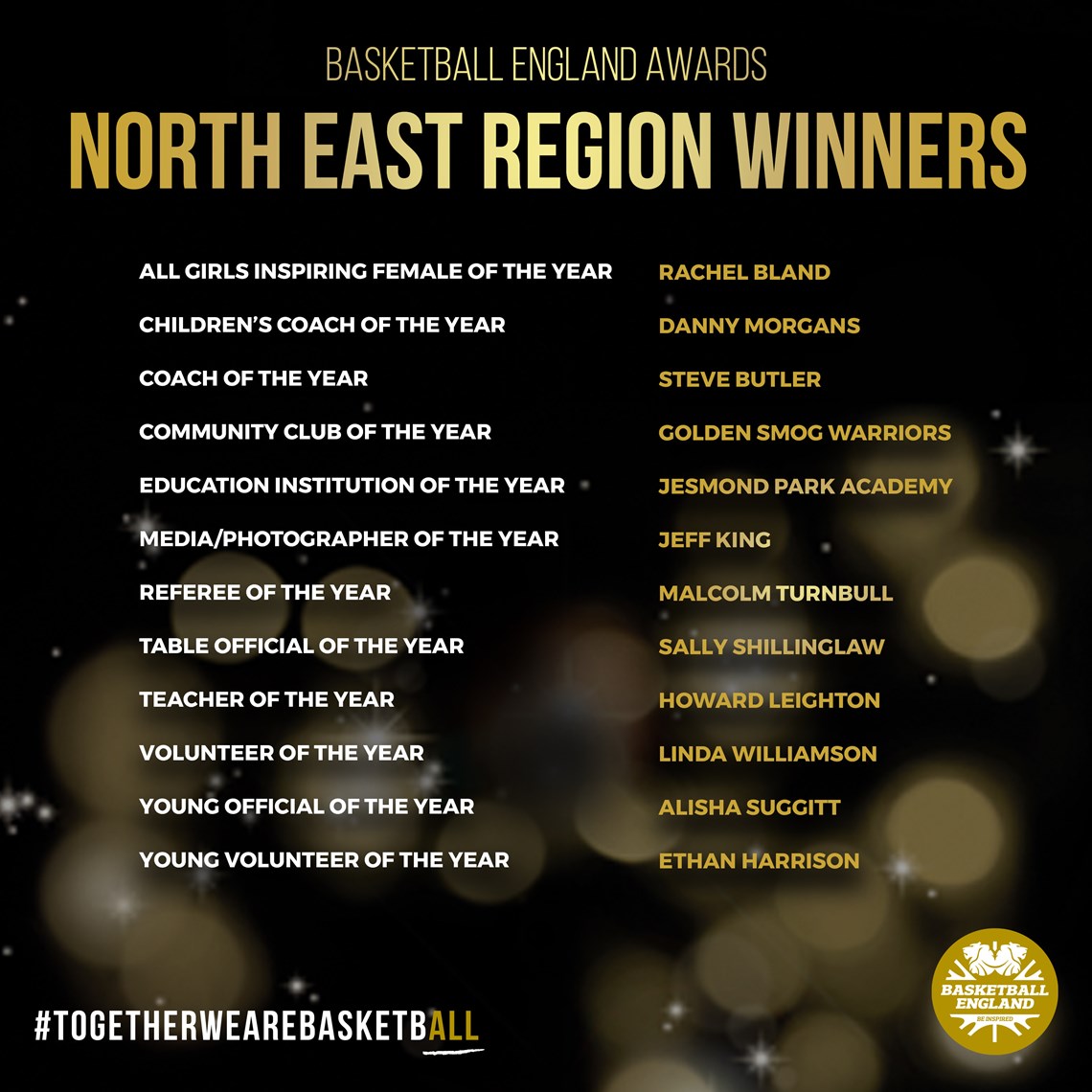 "Congratulations to all of our winners in the North East!" said Duncan Whalley, Chief Operations Officer for Basketball England. "It is a credit to the North East Region that they were able to select a winner in each category, highlighting the strength of the Basketball community across the region. Well done to all involved and the winners who were rightly recognised for their contributions." 
All of the regional winners across the 12 award categories will be reviewed by a panel, with a total of three nominees per category then being shortlisted to be considered for National Awards. Basketball England will be hosting the awards online once again this year with further information to be released in due course. 
North EAST Regional Management Committee
.
What is the purpose of a Regional Management Committee?
The Regional Management Committee (RMC) is made up of volunteers who truly have passion for the sport. They are elected/appointed to their roles and believe in developing the sport for all. They have a rich knowledge of sport with expertise in all aspects of the game; clubs, officiating, coaching, women and girls to name a few. The Regional Management Committee work with local leagues and Area Associations to ensure quality basketball delivery occurs in the region as well as to help develop the sport across the region.
The Regional Management Committee contribute feedback from a regional level into the national discussion and direction that Basketball England take in its' strategy.
Regional Management Committee:
Chair - Howard Leighton
Secretary - Vacant
Treasurer - John-Paul Heron
Regional Registrar - Vacant
Welfare and Safeguarding Officer - Howard Leighton 
Regional Talent Manager - Neal Hopkins
Refereeing Officer - Alan Richardson
Communication and Feedback Officer - Phil Darling
Table & Officiating Officer - Mark Patton
League & Competition Officer - Graham Heath & Local League Chairs x 2 
Club & Volunteer Officer - Susan Hunter