2022 Basketball England Awards
Basketball England is proud to announce the winners of the 2022 South East Region Volunteer Awards. 
The Basketball England awards programme has returned for 2022 and sees nominations gathered from the public across the 10 English regions, with winners selected in partnership with the Regional Management Committee Chairs.  
South East Regional Chair, Sten Mayunga, paid tribute to the Regional winners, saying: "A huge congratulations to all the winners who have been acknowledged for their outstanding contribution to basketball this year. The South East is in good hands with such an amazing workforce that continues to grow the game of basketball." 
Amongst the winners is Daniel Fatomide (Coach of the Year). Daniel has been integral in supporting players to find playing opportunities for when they graduate - seeking potential clubs and coaches for them, and offering advice for their next steps. Not only does he support players within the basketball club, but also the coaches. Daniel has also been a key figure in the students' experience within sport at the University of Portsmouth. 
Also being recognised for their contribution is Brenda Holden (Volunteer of the Year). In the last two years, Brenda has given up so much of her time to rebuild the local Horsham Basketball Club alongside working her day job and caring for her husband and son, both with serious medical conditions. Before lockdown, the club only had two teams, and now with the time and effort she took to build capacity, Hawks now has a mini's group, two U12s, two U14s, an U16s, U18s, men's and women's teams. 
The full list of winners is as follows: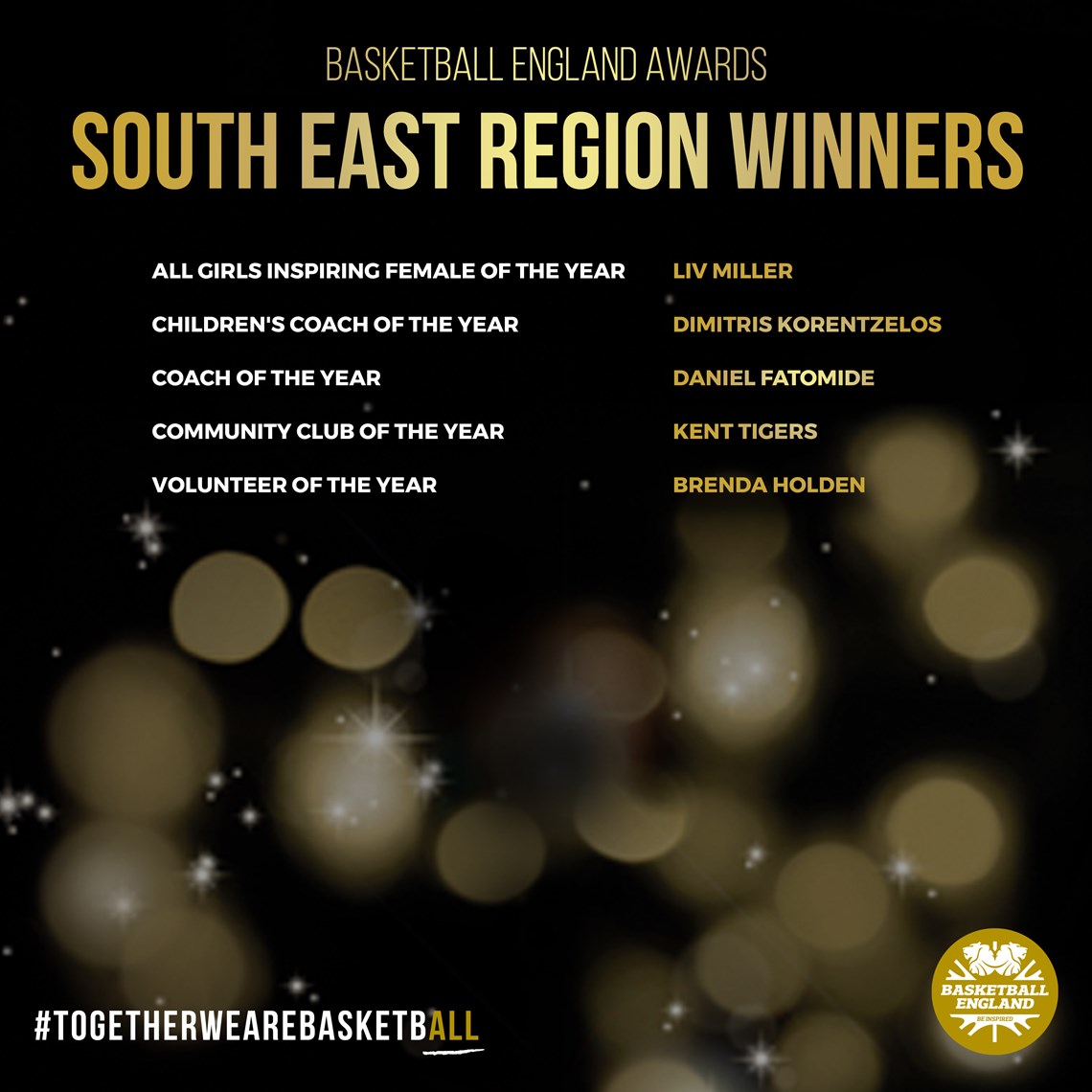 "Congratulations to all of our winners in the South East Region!" said Pete Griffiths, Head of Participation for Basketball England. "The South East region continues to grow and thrive thanks to people like those being recognised for their contributions today. Congratulations to all of the winners in the South East."  
All of the regional winners across the 12 award categories will be reviewed by a panel, with a total of three nominees per category then being shortlisted to be considered for National Awards. 
SOUTH EAST Regional Management Committee
.
What is the purpose of a Regional Management Committee?
The Regional Management Committee (RMC) is made up of volunteers who truly have passion for the sport. They are elected/appointed to their roles and believe in developing the sport for all. They have a rich knowledge of sport with expertise in all aspects of the game; clubs, officiating, coaching, women and girls to name a few. The Regional Management Committee work with local leagues and Area Associations to ensure quality basketball delivery occurs in the region as well as to help develop the sport across the region.
The Regional Management Committee contribute feedback from a regional level into the national discussion and direction that Basketball England take in its' strategy.
Regional Management Committee:
Chair: Sten Mayunga
Secretary: Lee Westbrook
Treasurer: Gianni Lozzi
Regional Registrar: Martin Marshall
Welfare Officer: Eduardo Aguilar
Regional Talent Manager: James Bamfield
3X3 Development Officer: Vacant
Club Officer: Vacant
Coaching Officer: Jerry Jaranilla
Communication and Webmaster: Brian Mayunga
Inclusive Basketball Officer: Bridget Hayward
Marketing Officer: Vacant
Officials Development Officer: Nik Bedwell
School Officer: Vacant
Women and Girls Officer: Vacant
Crawley Basketball Rep: Pending
East Kent Basketball Rep: Brian Steele
Kent County junior Basketball Rep: Stephen Maragh
Medway Basketball Rep: Andy Worster
Surrey Basketball Rep: Warren Bob
Sussex Basketball Rep: Nik Bedwell