2022 Basketball England Awards
Basketball England is proud to announce the winners of the 2022 South West Region Volunteer Awards. 
The Basketball England awards programme has returned for 2022 and sees nominations gathered from the public across the 10 English regions, with winners selected in partnership with the Regional Management Committee Chairs.  
Commenting on the achievements of the winners, South West Interim Regional Chair Graham Biggs said: "Congratulations to all of the winners in the South-West. We are very fortunate to have a fantastic cohort of clubs, coaches, officials and volunteers so it's only fitting that we recognise them for their outstanding contribution to our sport". 
Amongst the winners are Plymouth Basketball Club (Community Club of the Year). The club utilise their charity status to raise awareness of the sport and raise money to support the delivery of their community programmes across Plymouth. The club work very closely with local leagues and associations to encourage young adults and parents onto courses and increase the number of volunteers within the city. 
Also recognised is Lindsay Chapman (Table Official of the Year). Not only is Lindsay dedicated to being the best table official that she can be, but she also dedicates lots of her own time to developing young women into officials, being the driving force behind a new women's programme in Plymouth. She is a great ambassador for the sport and a good role model for young women. 
The full list of winners is as follows: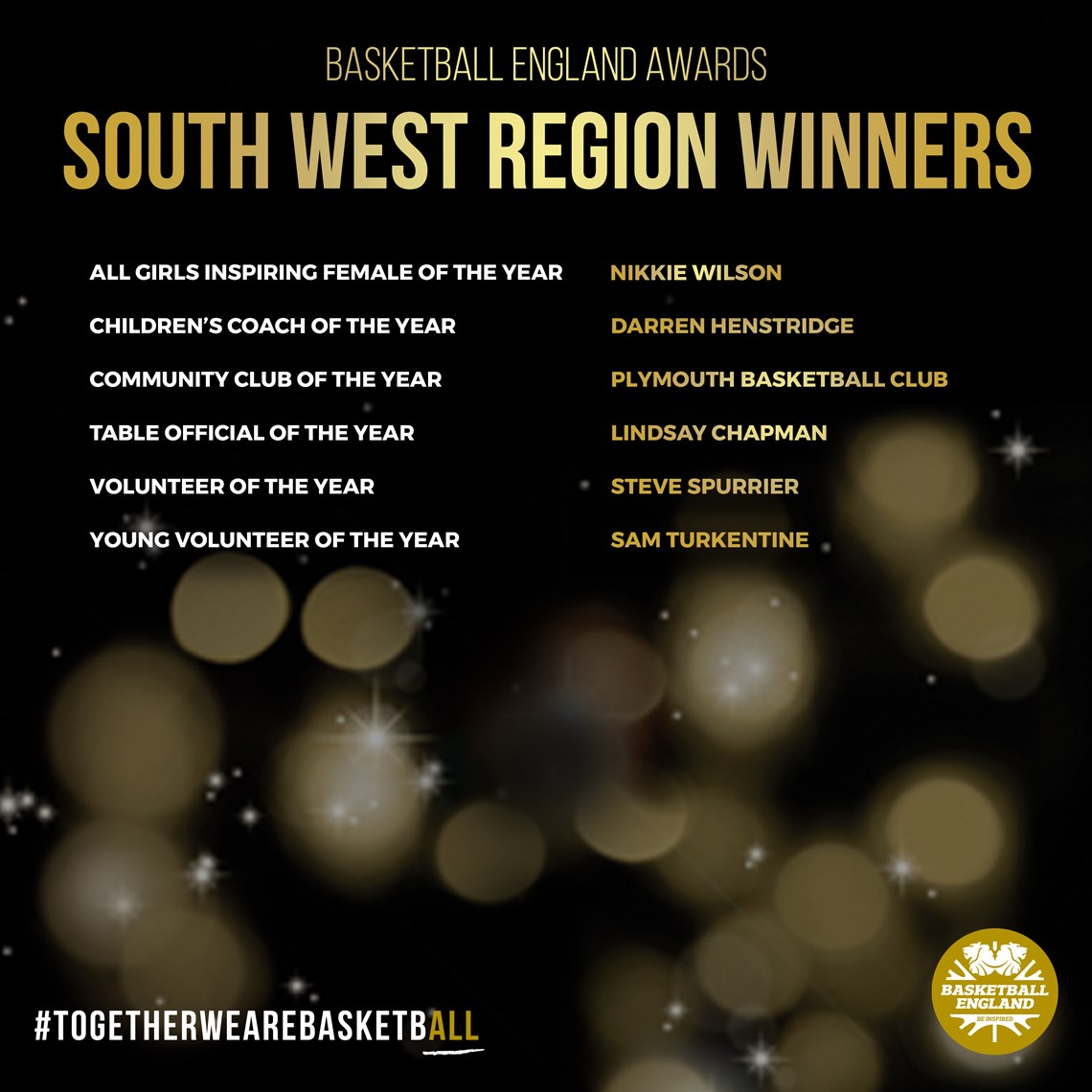 "Congratulations to all of our winners in the South-West!" said Duncan Whalley, Chief Operations Officer for Basketball England. "The quality of the winners in the South-West highlights the great work that is taking place within the region at such an important time for our sport." 
All of the regional winners across the 12 award categories will be reviewed by a panel, with a total of three nominees per category then being shortlisted to be considered for National Awards. Basketball England will be hosting the awards online once again this year with further information to be released in due course. 
SOUTH WEST Regional Management Committee
.
What is the purpose of a Regional Management Committee?
The Regional Management Committee (RMC) is made up of volunteers who truly have passion for the sport. They are elected/appointed to their roles and believe in developing the sport for all. They have a rich knowledge of sport with expertise in all aspects of the game; clubs, officiating, coaching, women and girls to name a few. The Regional Management Committee work with local leagues and Area Associations to ensure quality basketball delivery occurs in the region as well as to help develop the sport across the region.
The Regional Management Committee contribute feedback from a regional level into the national discussion and direction that Basketball England take in its' strategy.
Regional Management Committee:
Chair - TBC
Vice Chair - Geoff Steer 
Secretary - Paula Charity
Treasurer - TBC
Regional Registrar - TBC 
Welfare Officer - TBC
Coaching Officer - Jay Marriott
Regional Talent Manager - Danny Williams
Officials Officer - Richard Stokes
Communication and Feedback Officer - Graham Biggs